Kings Island Soak City 2017
---
Kings Island's waterpark, Soak City, in Mason, Ohio, is just three-and-a-half hours south of Cedar Point and its waterpark, Cedar Point Shores, near Cleveland, Ohio, on Interstate 71. Kings Island's Soak City, like Cedar Point Shores, has had a nice addition to its ride line-up in 2016 in Tropical Plunge. For 2017, KI's Soak City got new food offerings. Come take a look!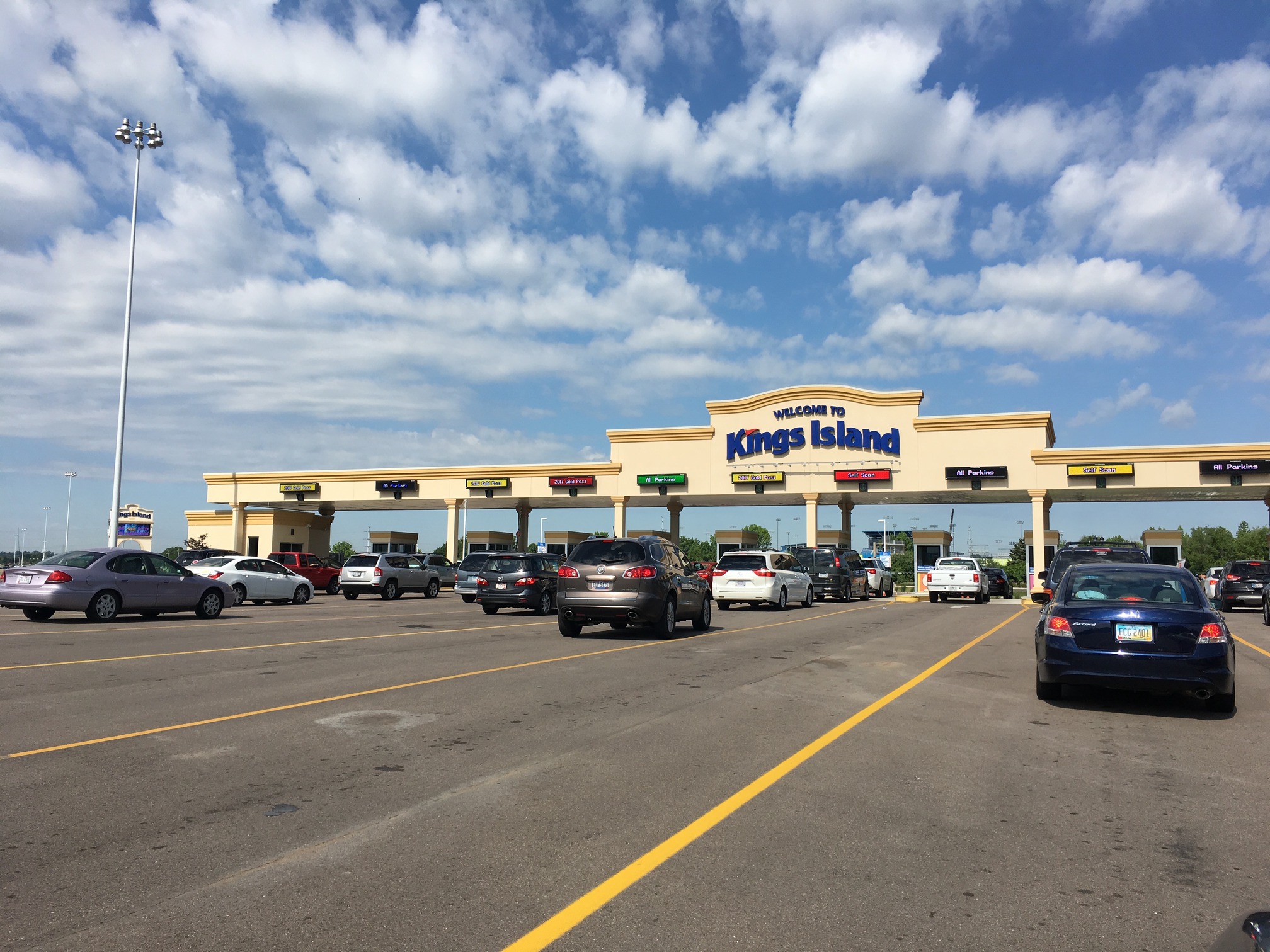 The toll plaza for parking is new for 2017 and replaces the gate that was initially closer to Soak City; all Kings Island/Soak City visitors come through here. The passenger pick-up/drop-off area is still near the big sign at the main park. Parking is $20 for general and $30 for preferred. Go with General and park near Soak City. Soak City also has plenty of accessible parking.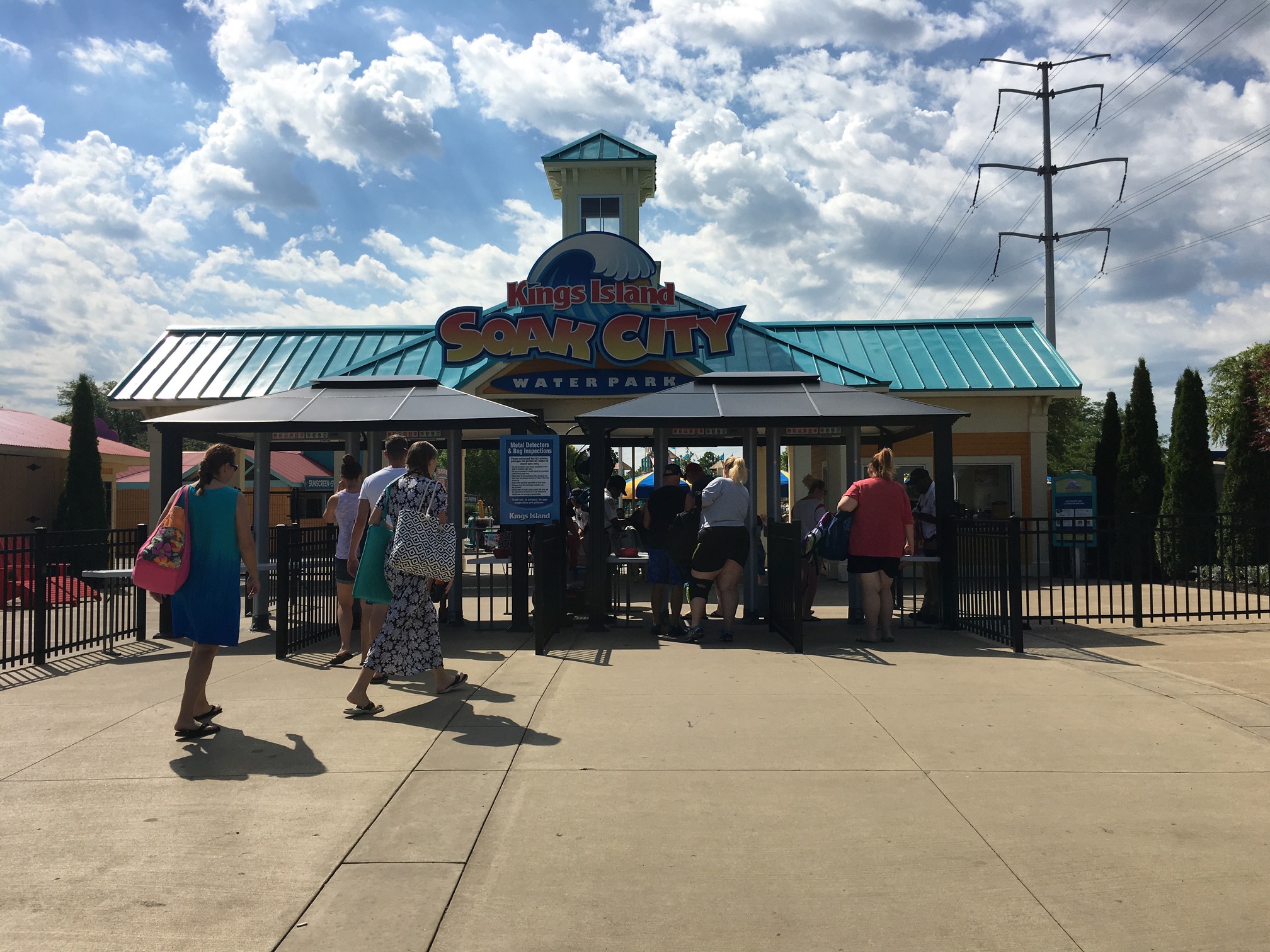 This is the main entrance to Soak City. There is another entrance by the Subway/Showerhouse area whereby visitors at the main park can enter the waterpark. There are metal detectors here and bags will be searched. Soak City opened Memorial Day weekend and closes on Labor Day; usually closing at 7 or 8 pm in the evening. General admission is $67.00; with an after 4 pm price.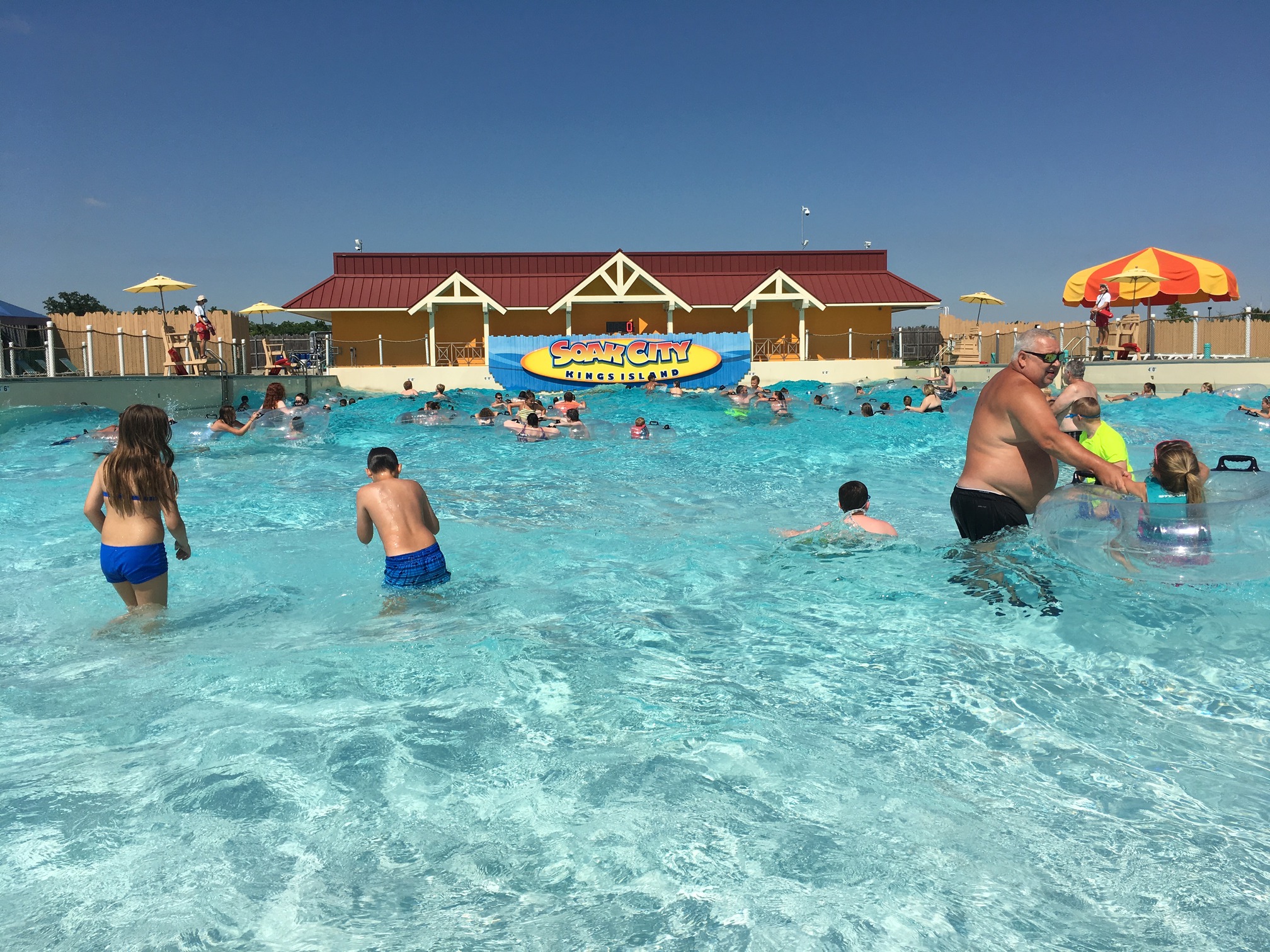 Tidal Wave Bay was added in 2012 as part of the waterpark's rebranding to Soak City. This level-four attraction has inner tubes for riders if they want them and the waves come up about four feet high in this 42,000-square-foot wave pool. Dive-in movies are held here at night.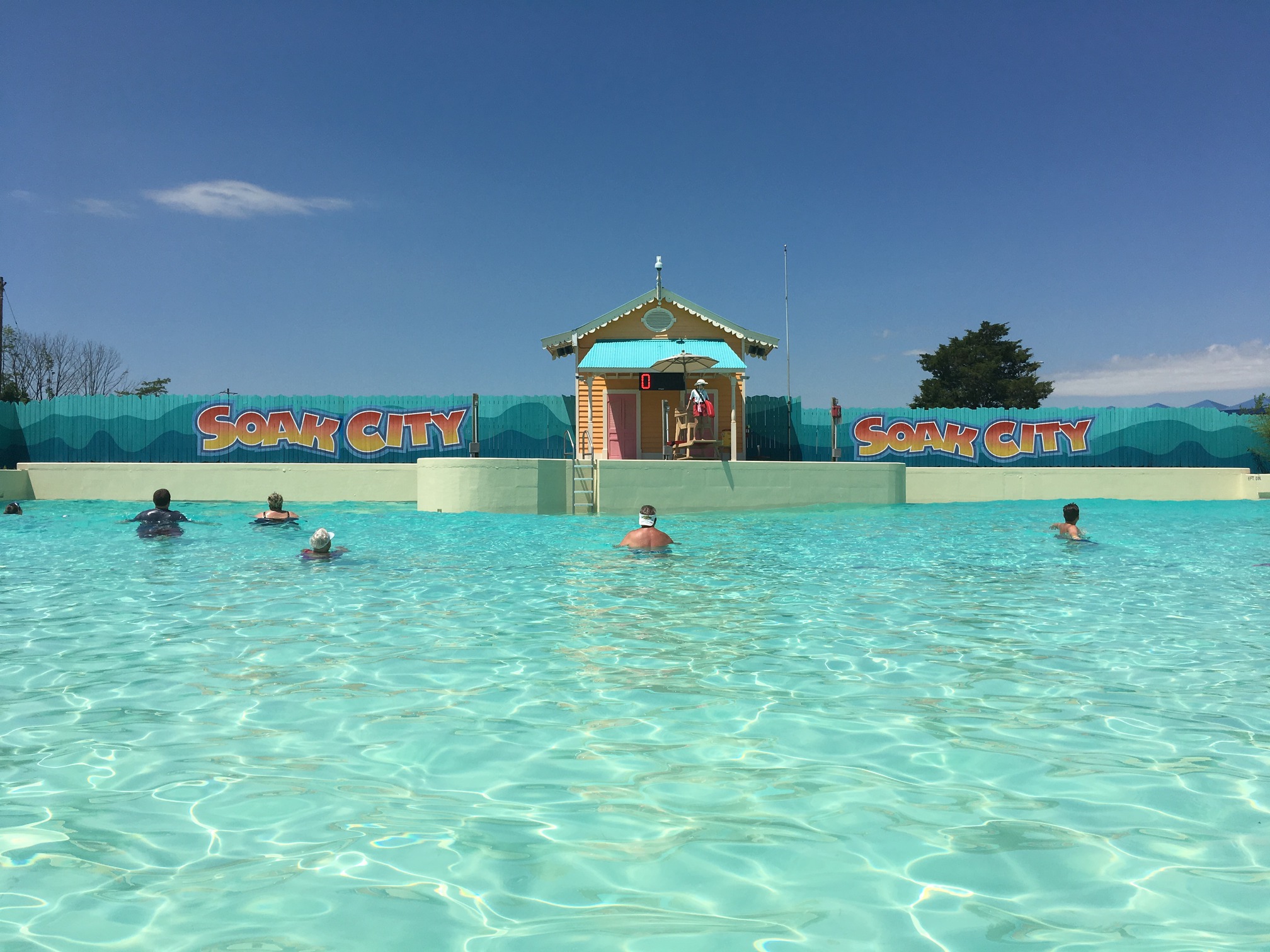 Breakers Bay, like Tidal Wave Bay, rates a "level four" on the Cedar Fair thrill-o-meter, though after many visits perhaps it should really be a level-three attraction. Waves are much, much gentler in this 36,000-square-foot wave pool than at Tidal Wave Bay. As with Tidal Wave Bay, it's best to get here early to get a chair under the large umbrellas out of the sun.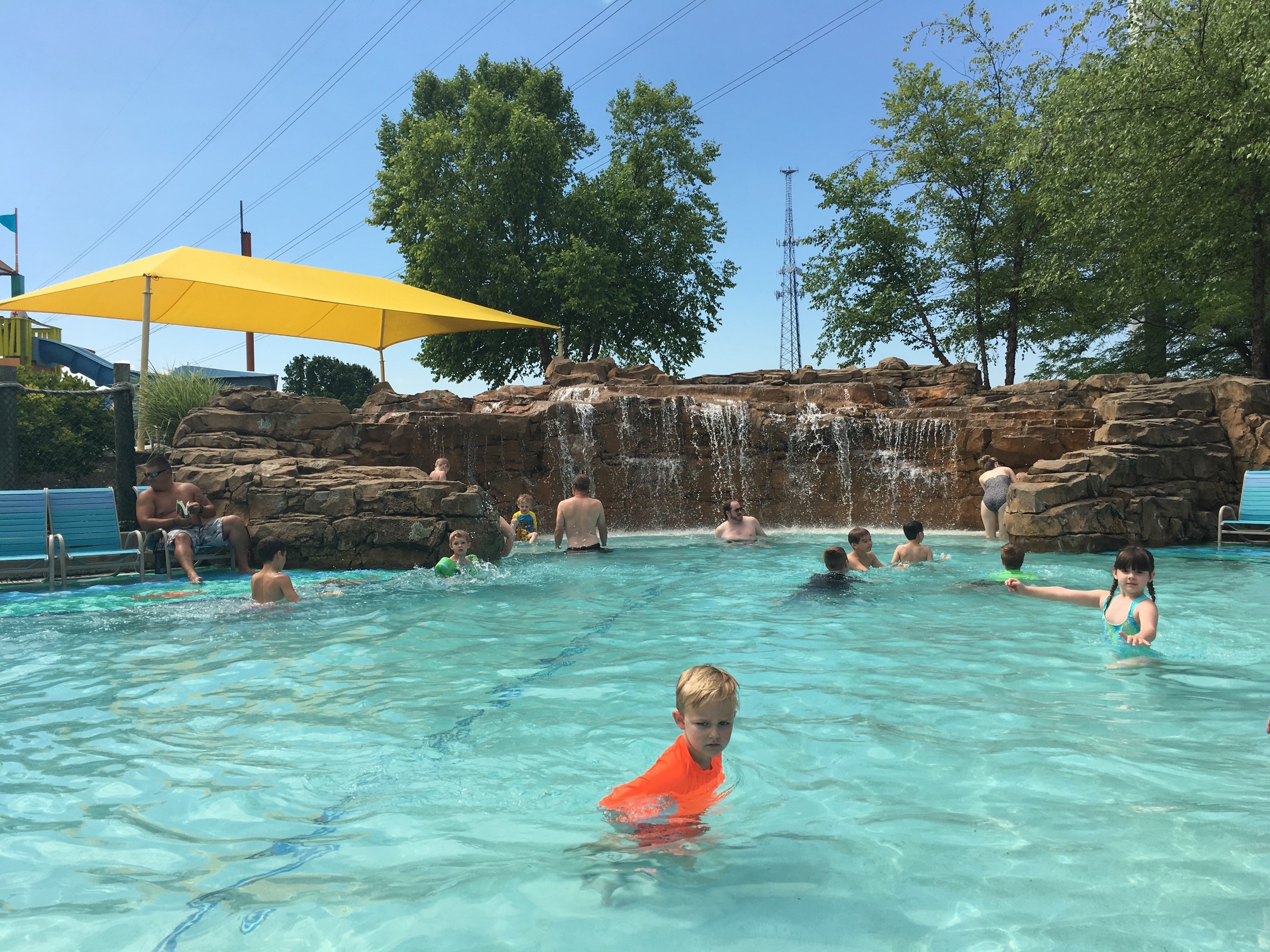 Coconut Cove has a level-one rating on the thrill-o-meter and is listed as a mild attraction. This lagoon-style pool has a lounging area for parents, including the daddy under the yellow sunshade, and has a cascading waterfall. Coconut Cove is one of the first things seen when entering at the main Soak City gate, and the children's attractions are laid out one right after another.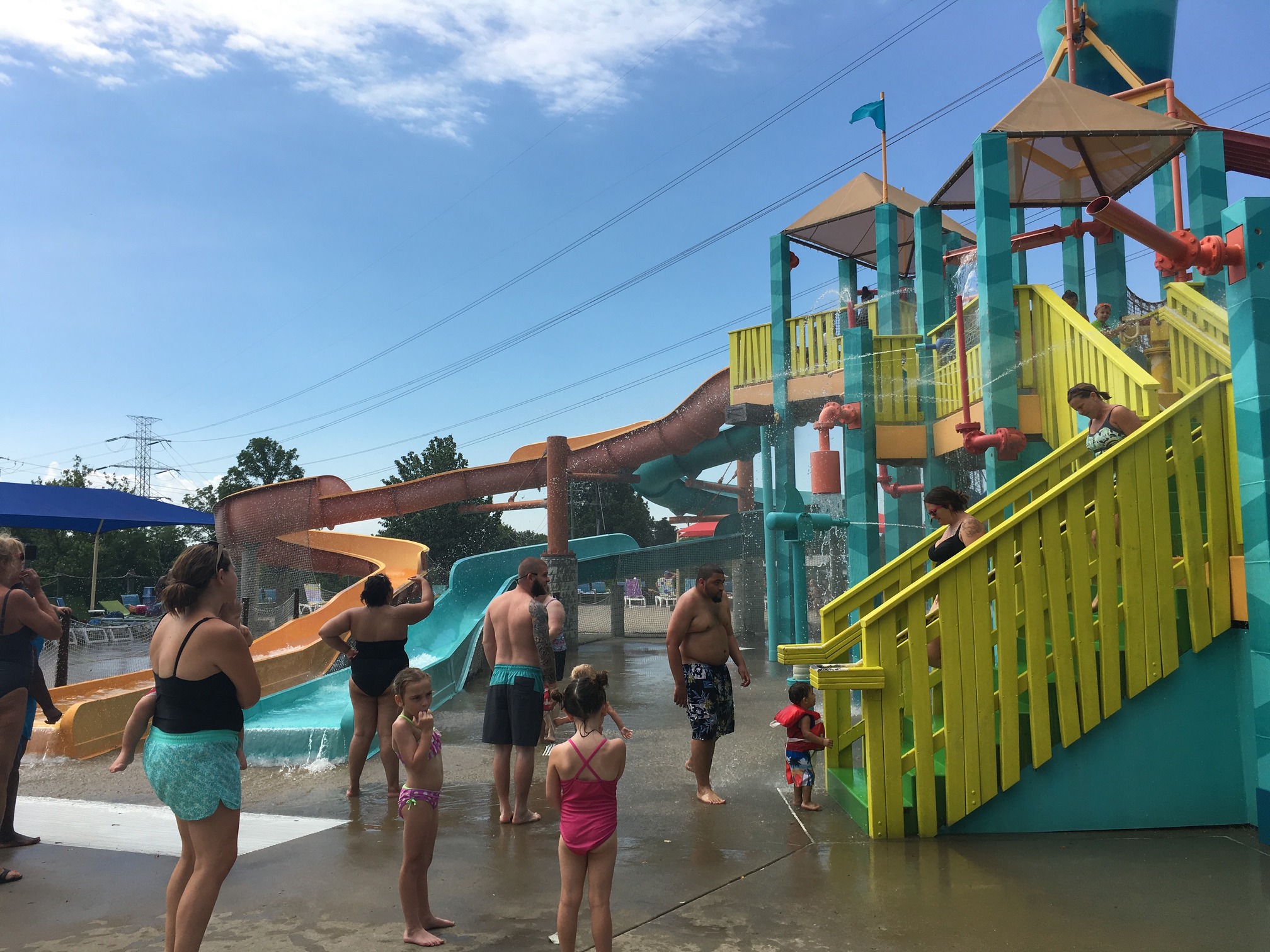 Splash Landing at Kings Island's Soak City is a level-two attraction on the thril-o-meter, because it has the big dumping splashbucket overhead (upper righthand portion of the image) and of the multilevel waterslides. This attraction is not as sedate as Coconut Cove. Right after Splash Landing is Castaway Cove.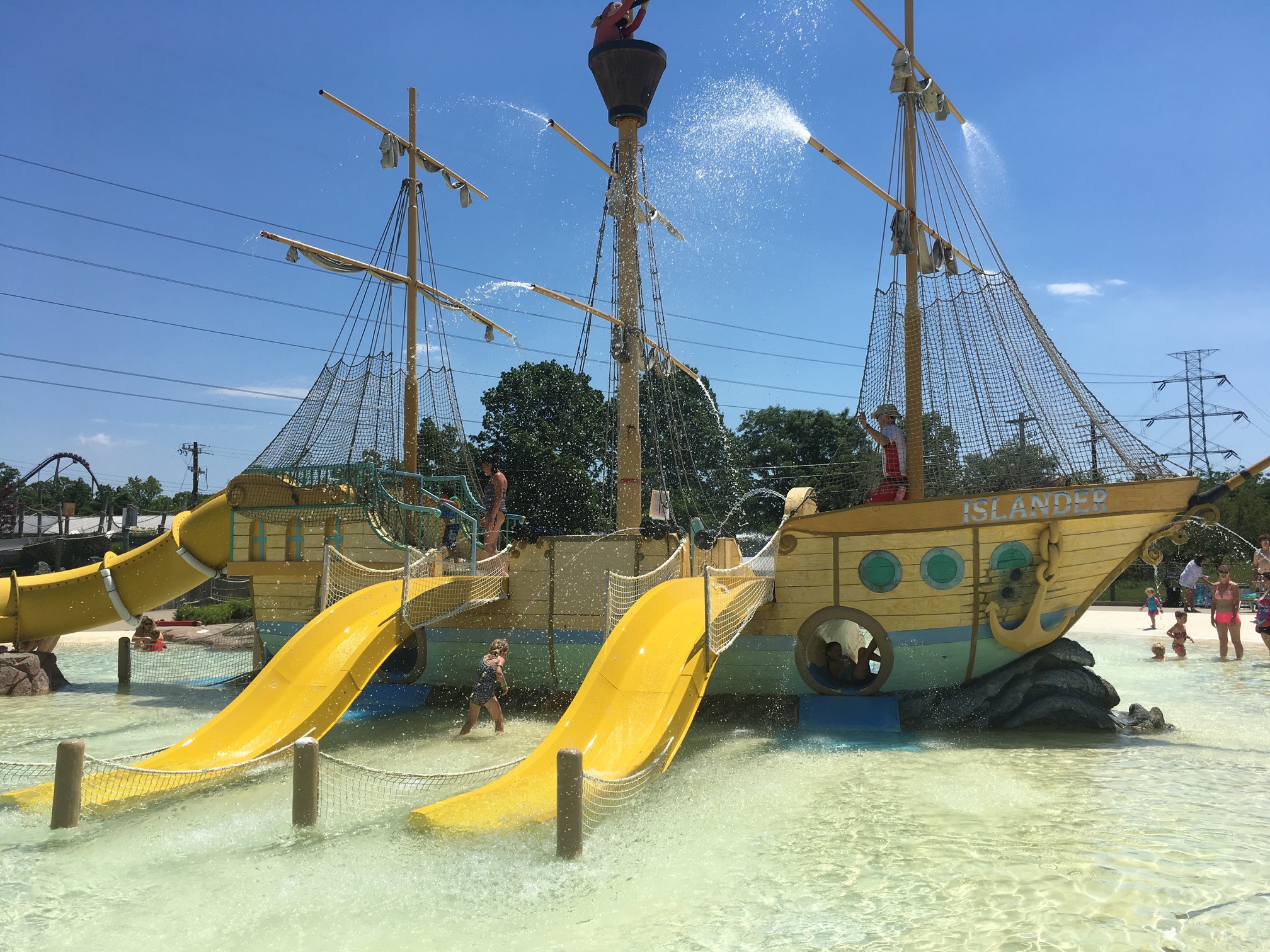 Right after Castaway Cove is Lookout Lagoon. This used to be called Kangaroo Lagoon, from 2004 through 2011. This is a mild (level one) attraction and always has a lot of customers. Lookout Lagoon is located in the back of Soak City toward another great children's attraction, Aruba Tuba.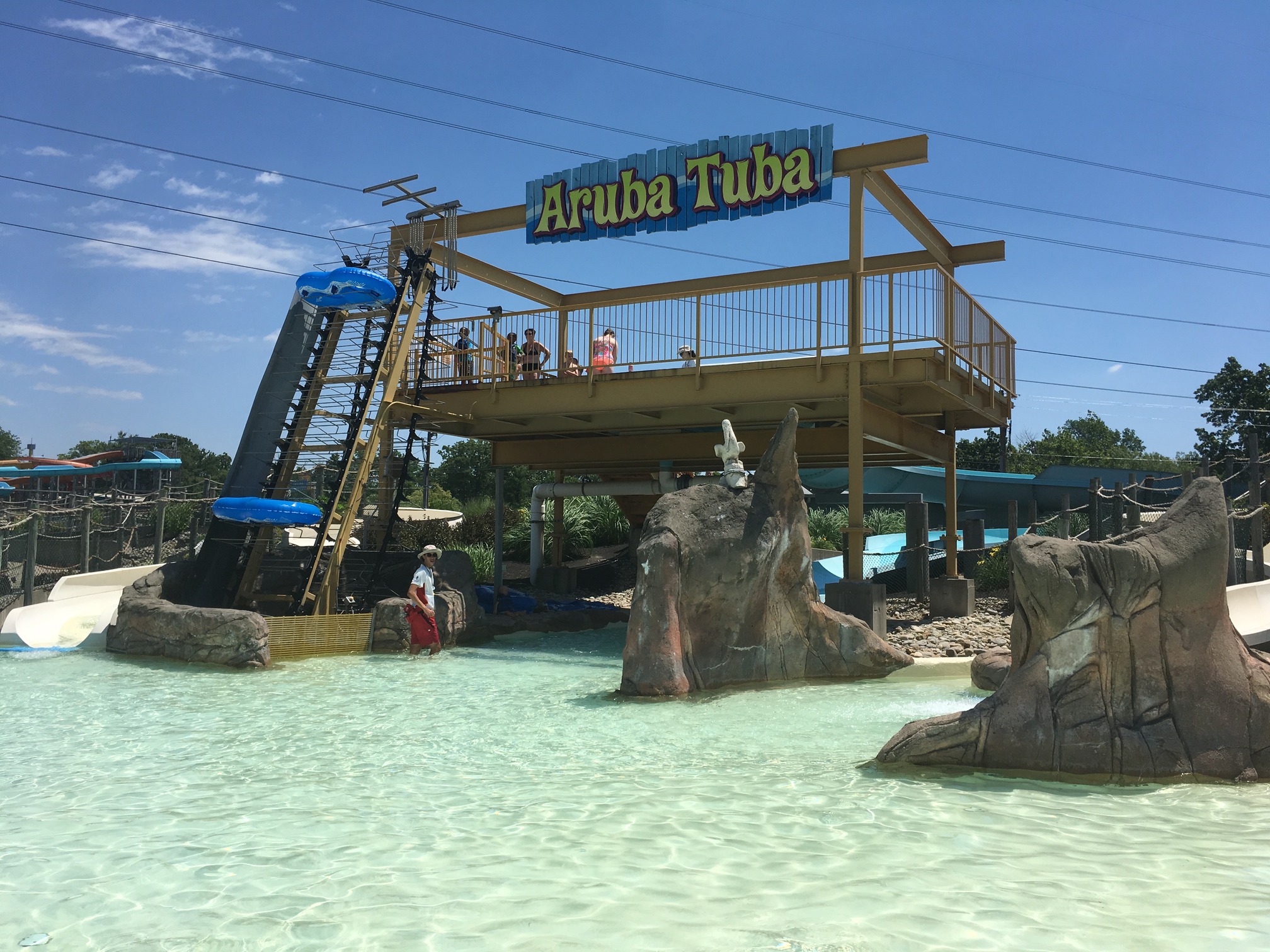 On the level-two Aruba Tuba attraction, the riders go down the slide on an inner tube. The minimum height for this ride is 36 inches and the maximum height is 52 inches. Adults must be accompanied by a child on this ride, and Kings Island defines a responsible person to supervise a young child as at least 14 years of age.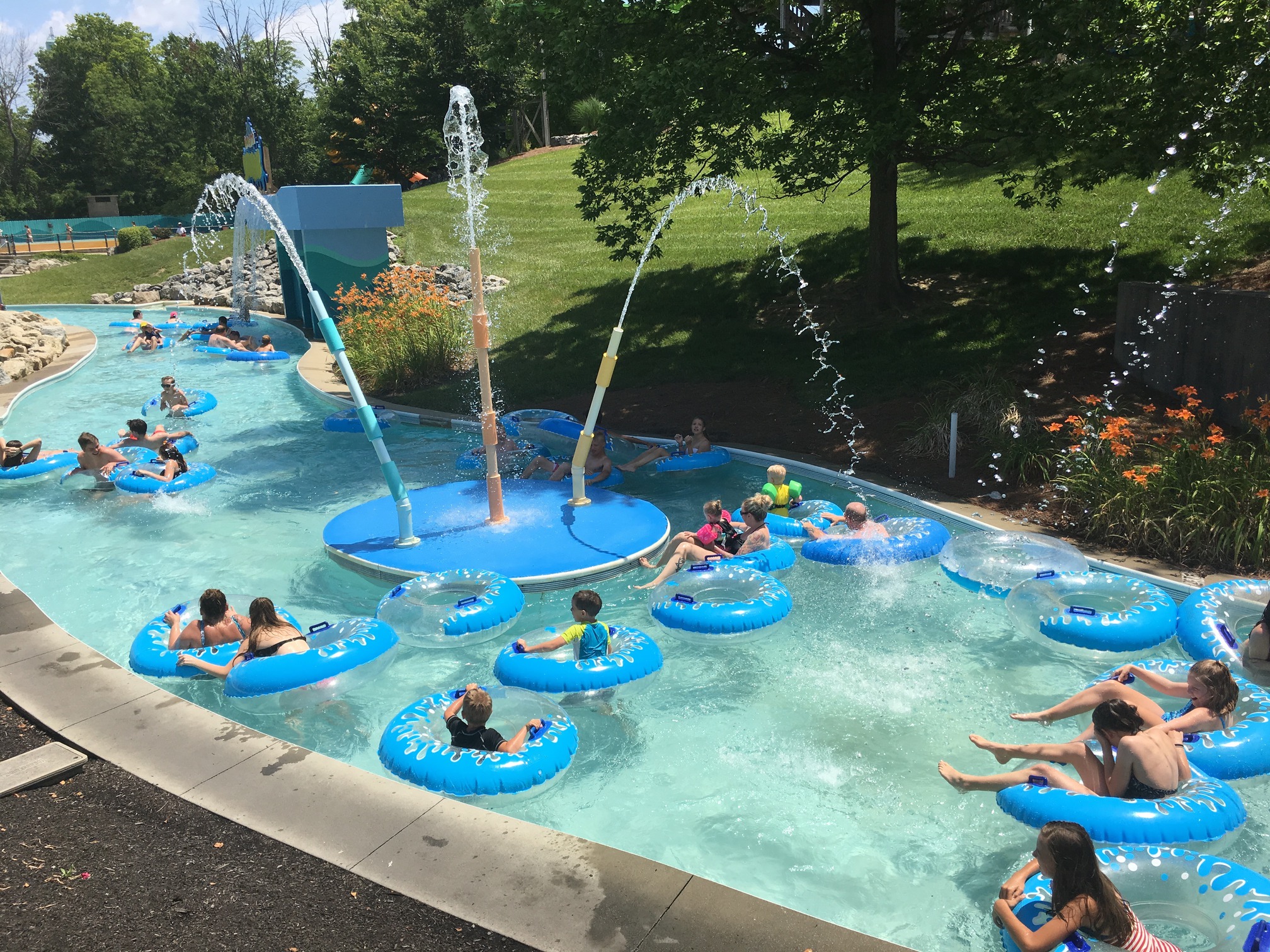 This lazy river is a quarter-mile inner tube attraction with a level-two rating on the thrill-o-meter. There are dump-buckets and mushroom geysers around every bend, plus other park guests waiting to blast you in the face with their shore-mounted water cannons. Not quite as sedate as the Cedar Creek lazy river at Cedar Point; ginormous sunglasses are recommended to deflect the water blasts.
Tropical Plunge rates a five on the thrill-o-meter, as it is an aggressive thrill ride. On the body slide section, riders get into a tube, cross their feet and arms, and then Whoosh! down they go. People in inner tubes plummet into a splash pool. Folks looking for something more sedate can pull up a lounge chair and watch the sand volleyball to the right of the image. There's a kids court too.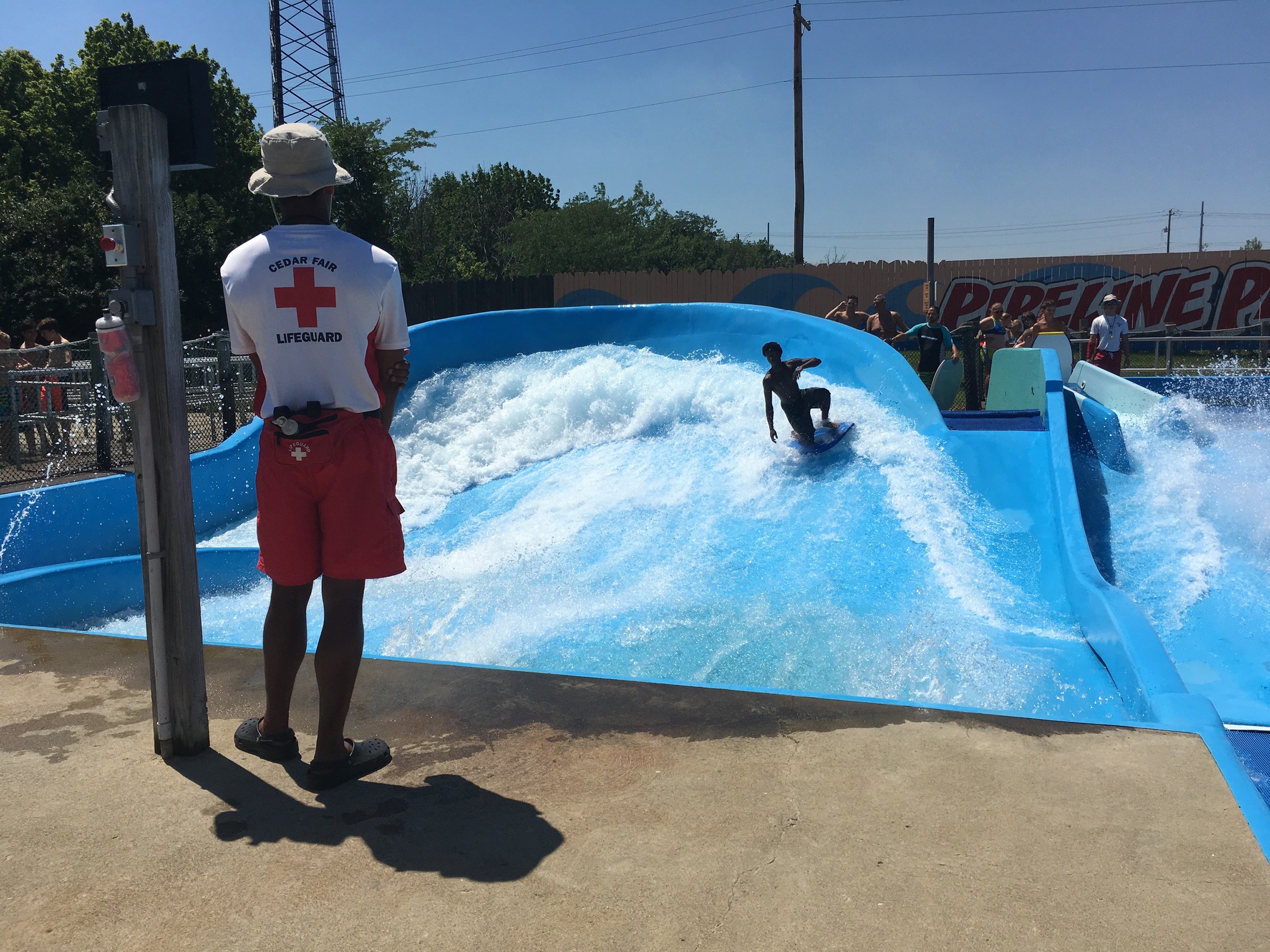 Another level-five thrillfest, Pipeline Paradise is a lot of fun for the wave-adept. (And even if you're not.) Straight waves are on the right and curved waves are on the left. All the big-time hotdoggers go left, and are a lot of fun to watch. Some even bring their own boards, or use one of Soak City's.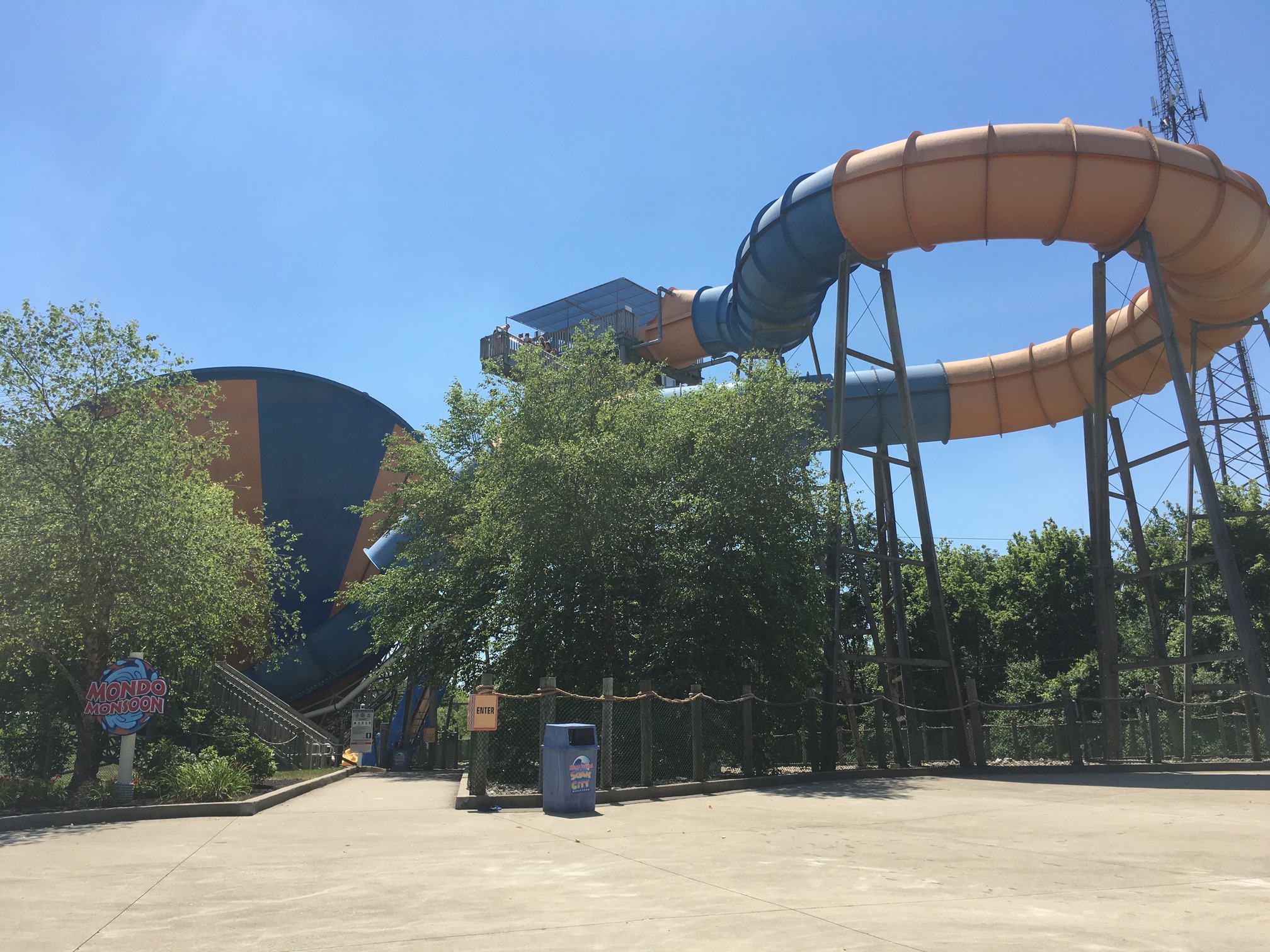 Cedar Point Shores doesn't have this one big ride. Two or four passengers in a raft get dumped out into the big funnel shown here. Riders spin their way through the tunnel and zoom out the back of it into a really shallow splash pool. The skybox to enter the ride is 60 feet up, and that's a lot of wooden stairs. Gotta be at least four feet tall to get on Mondo Monsoon.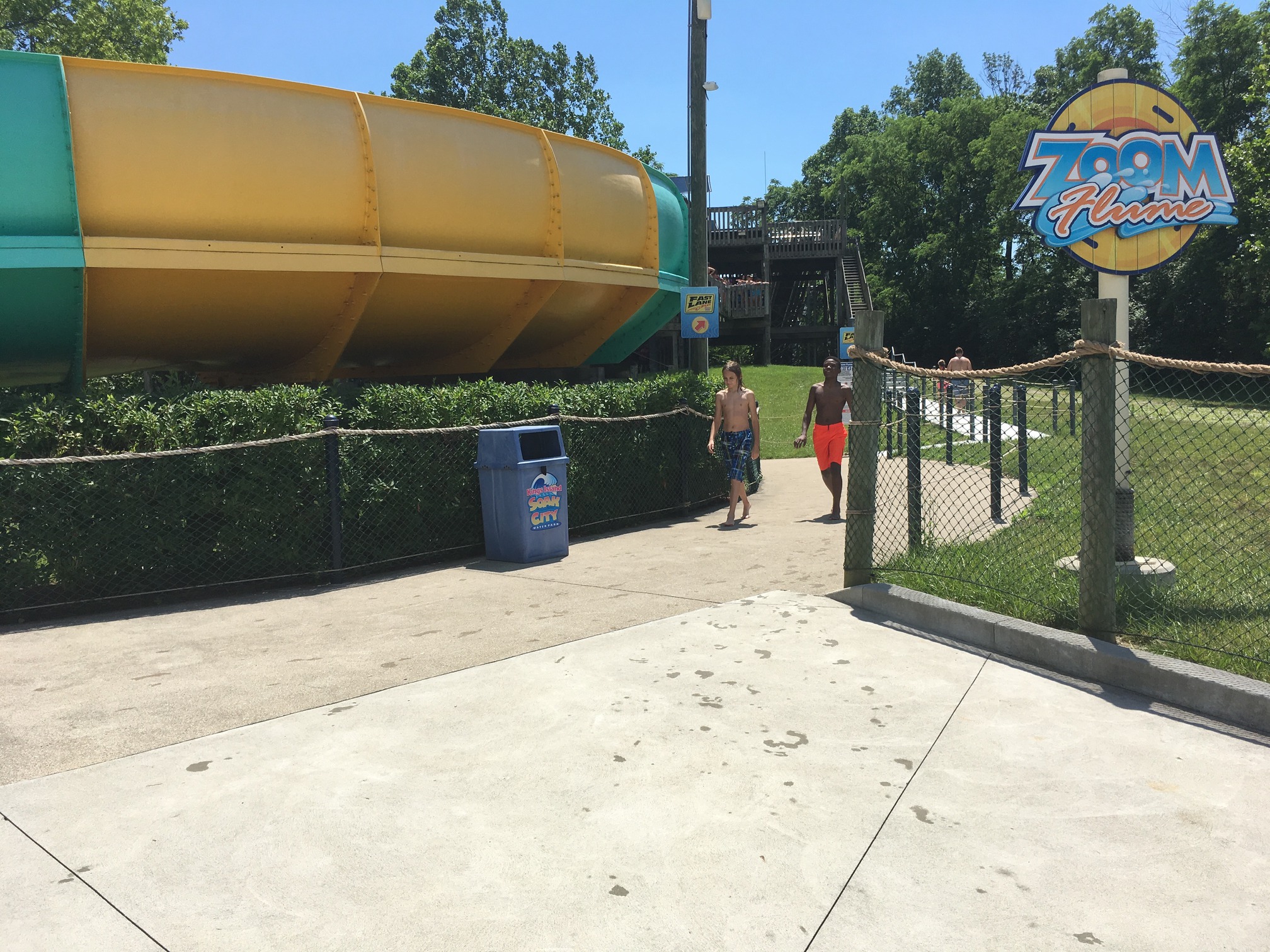 The Zoom Flume ride lasts about a minute and a quarter. Getting in a raft with four people, riders oscillate through a slalom with high walls and land in a shallow catch-pool. This ride was built in 1989, is rated four, and riders must be 40 inches tall.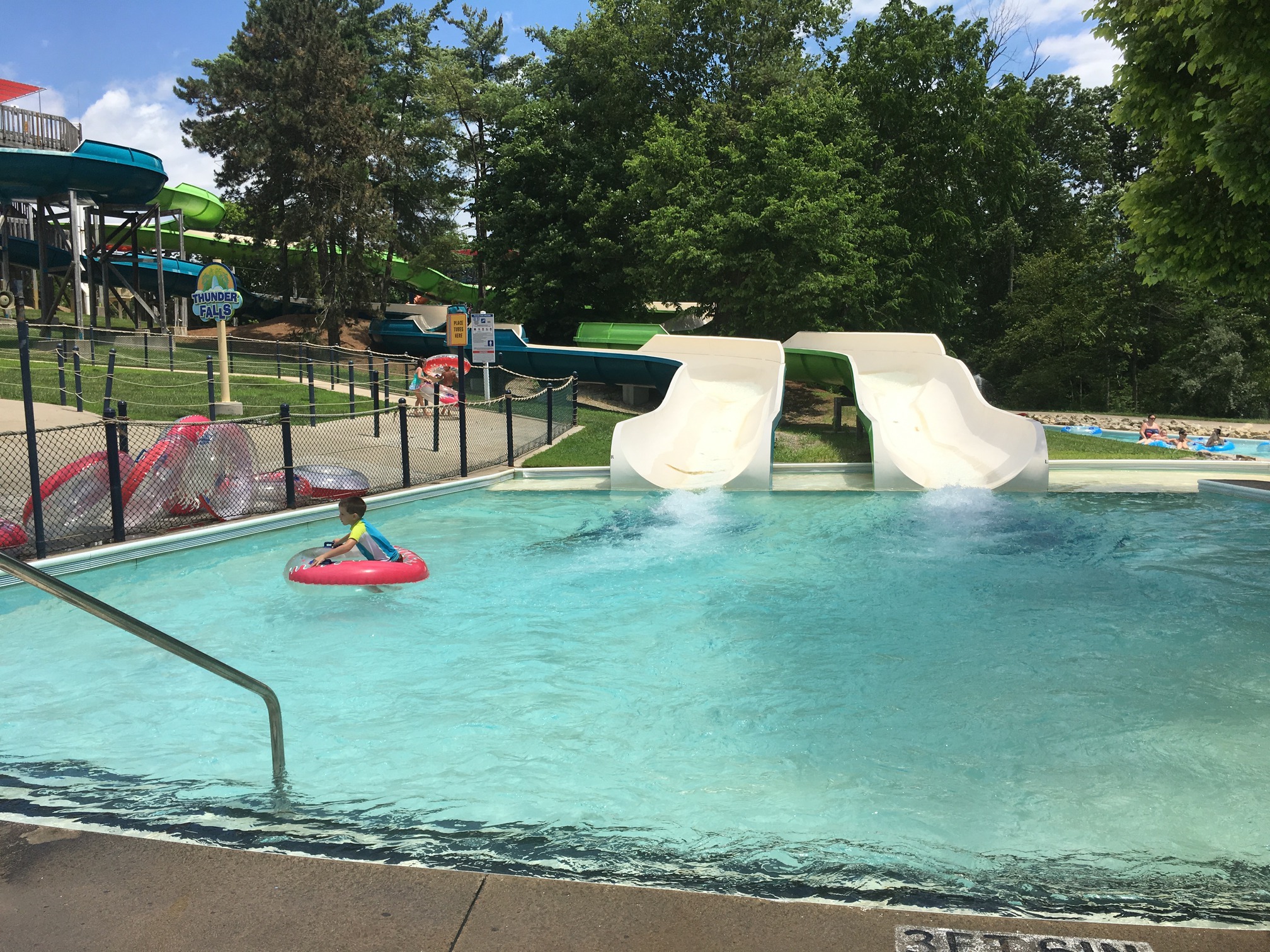 Thunder Falls is a paired inner-tube slide ride that was installed in 1989. Thunder Falls rates a three on the thrill-o-meter, and as such is much less zoomy than the Zoom Flume--but still a lot of fun. Riders need to be 40 inches tall and carry the tube up to the skybox.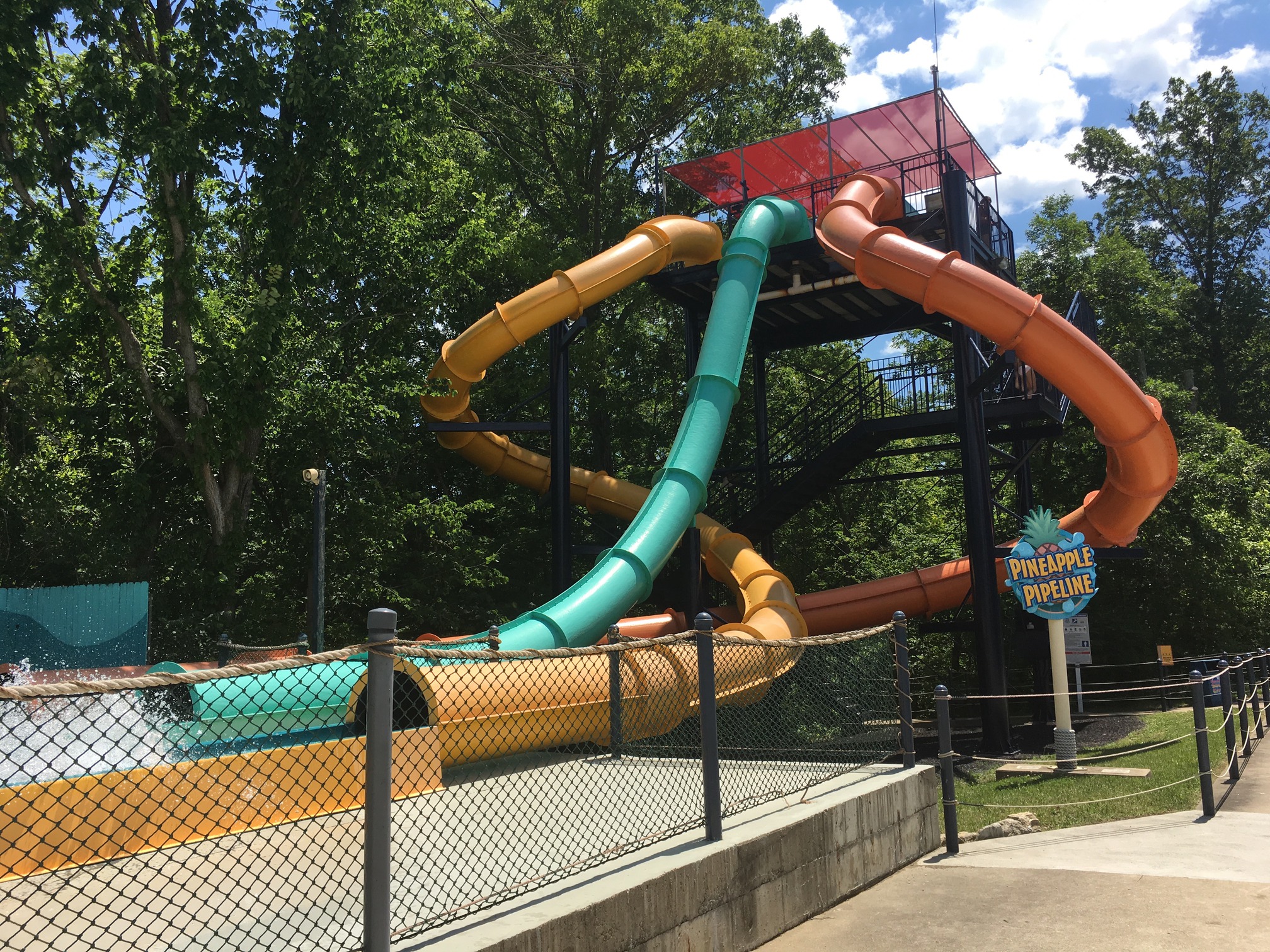 Riders go up the metal stairs to the skybox at forty-two feet and then go down the chute. The middle slide is quite nearly a straight drop. Pineapple Pipeline, built in 1989, has a thrill-o-meter rating of three and riders need to be 48 inches tall in bare feet. The run-out at the end is one foot deep.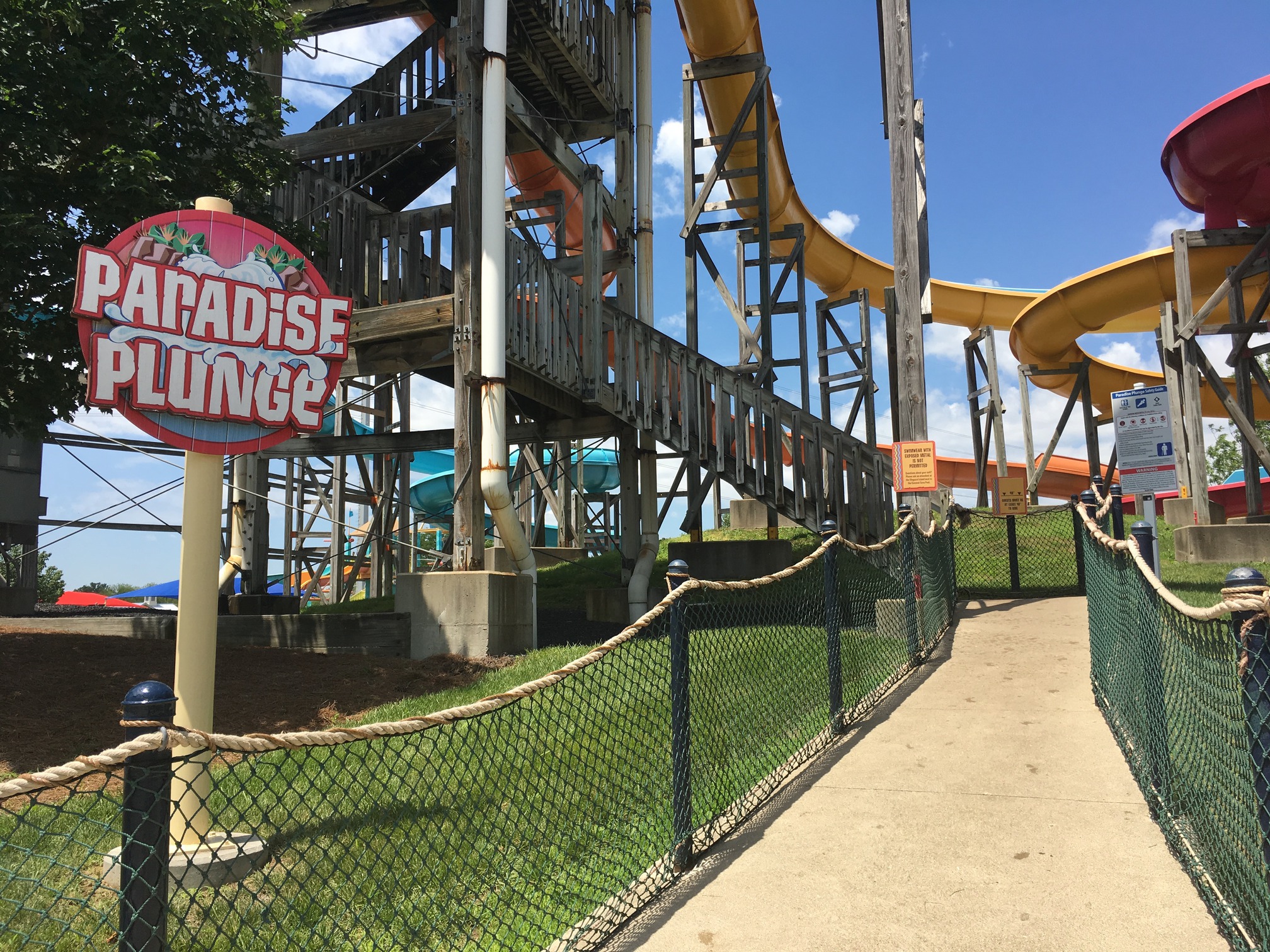 The skybox for Paradise Plunge (rated four) is forty-two feet up several flights of wooden stairs. These four body slides have a lot of banks and turns and riders (at least 48 inches tall) end up in a three-and-a-half-foot splash pool. Riders go down on their backs, feet first, ankles crossed, with arms crossed over the chest area.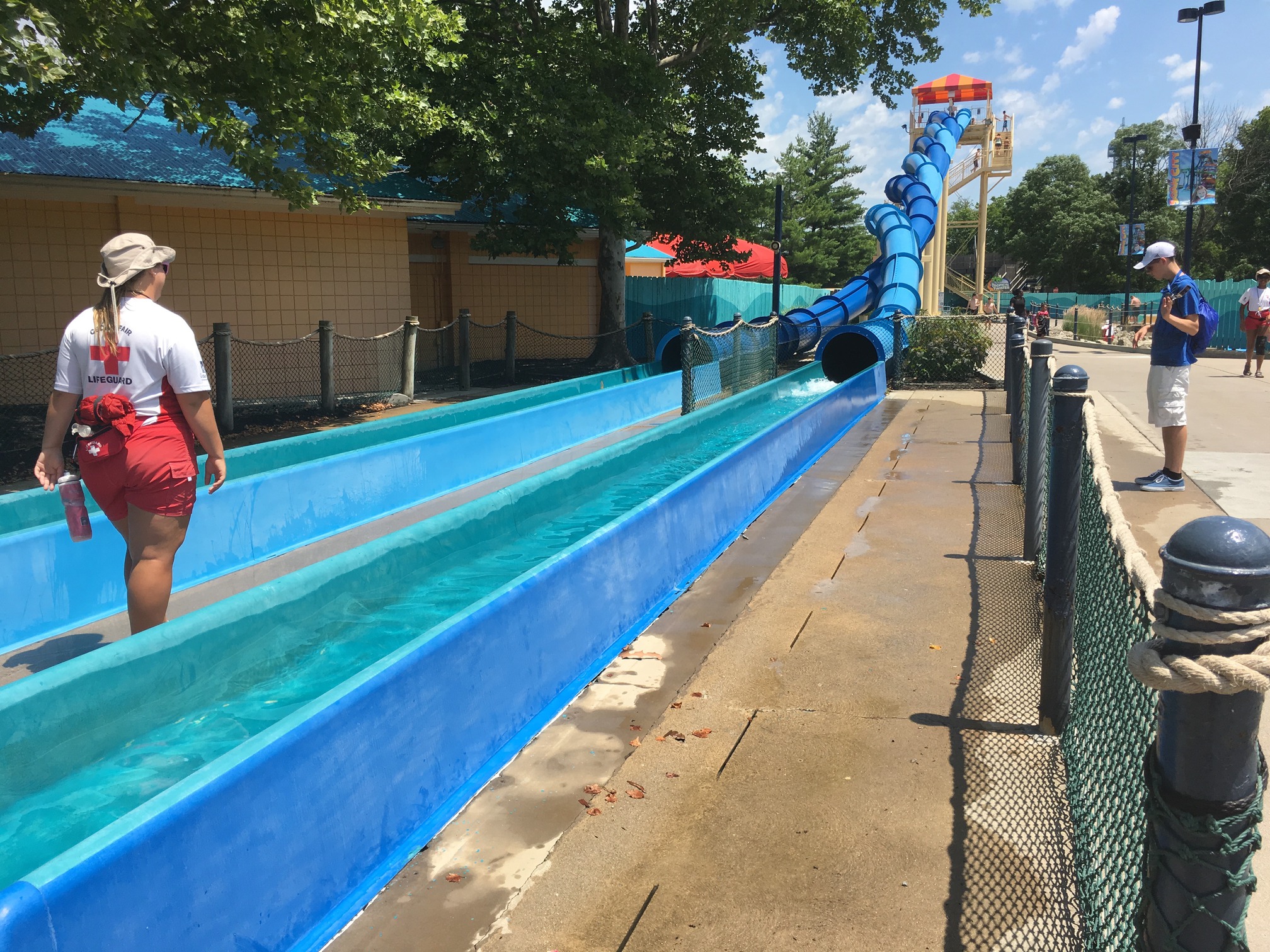 These two translucent fiberglass body slides twist around each other with riders sliding into the foot-deep runout at the end. Rated four on the thrill-o-meter, the skybox is forty-three feet up several flights of stairs. Riders need to be 48 inches tall. Here is text from the guest guide: slide on your back, feet first, hands behind your head and legs straight on Tropical Twister.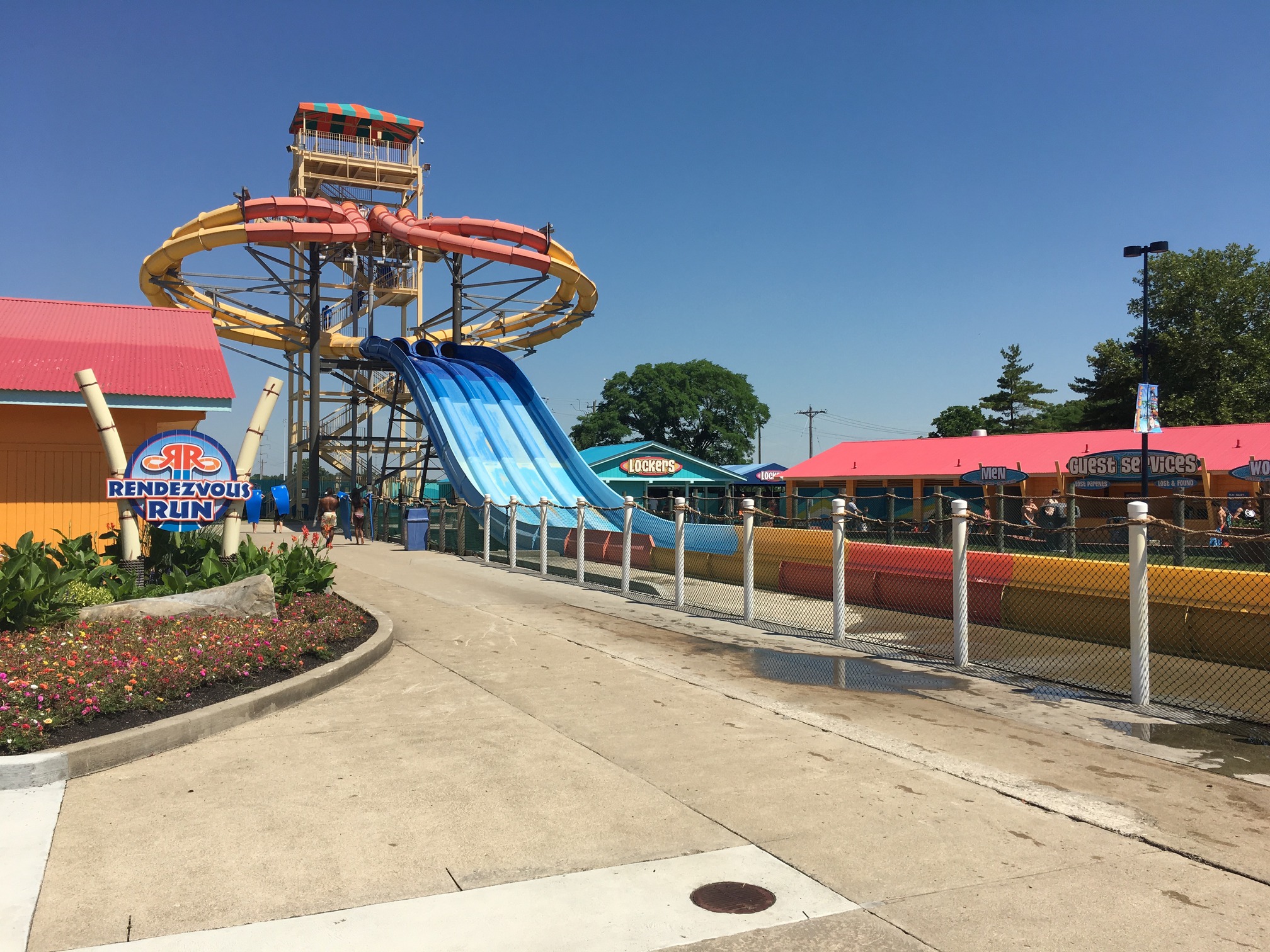 Rendezvous Run is a fairly conventional mat-racer that was built in 2004 and riders slide down through enclosed turns into an open channel and then into a shallow run-out. Riders access the fifty-foot skybox via several flights of stairs, need to be forty inches tall, and go down head-first on their bellies.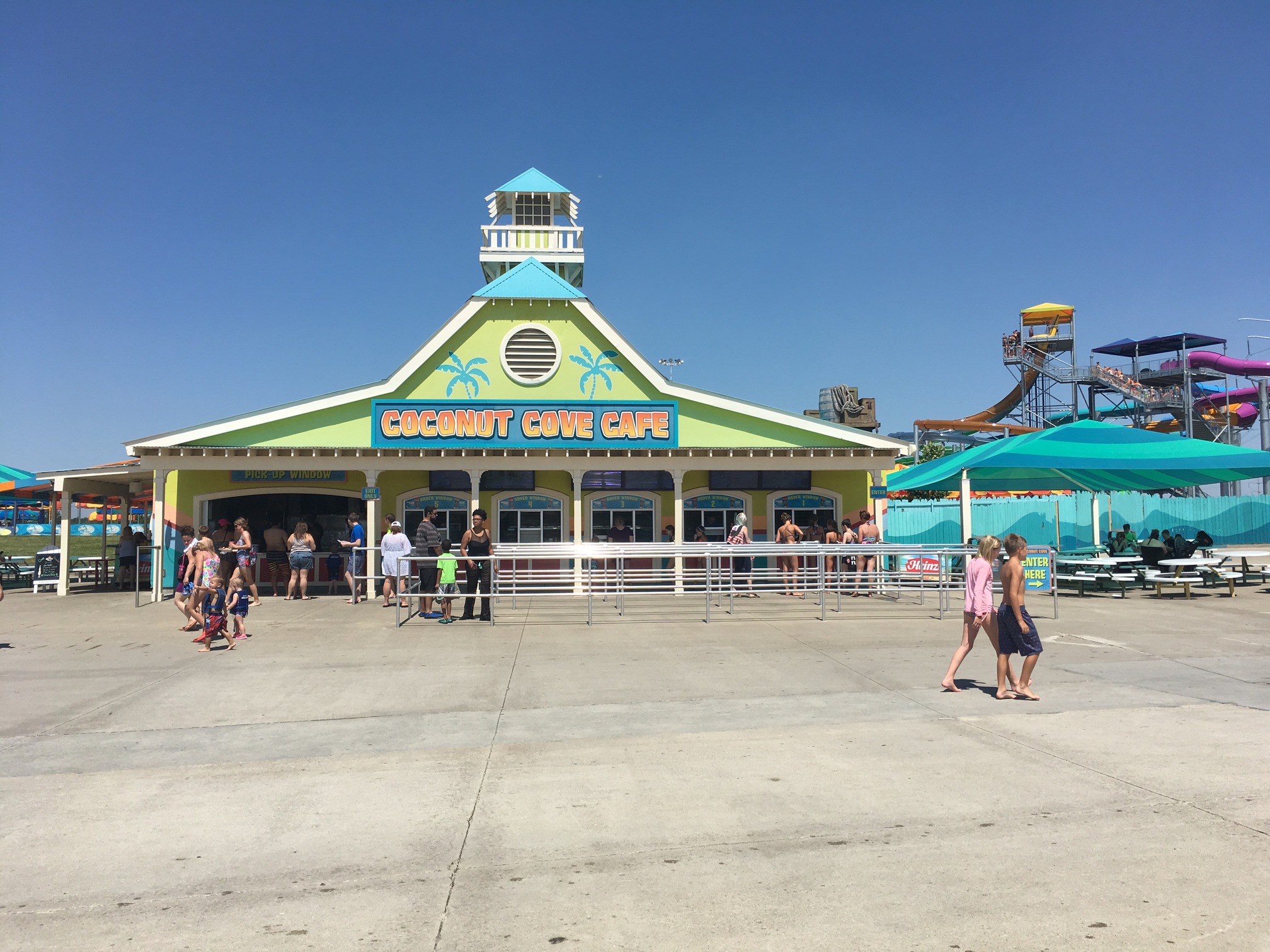 Coconut Cove Cafe has LaRosa's pizza and breadsticks (a Cincinnati favorite), burgers and fries, chicken fingers and fries, and chicken sandwiches and fries. Drinks can be refilled here, but this is not a Coca-Cola FreeStyle station. To the right of the image is a shaded seating area and to the left is the waterpark bar and more shaded seating.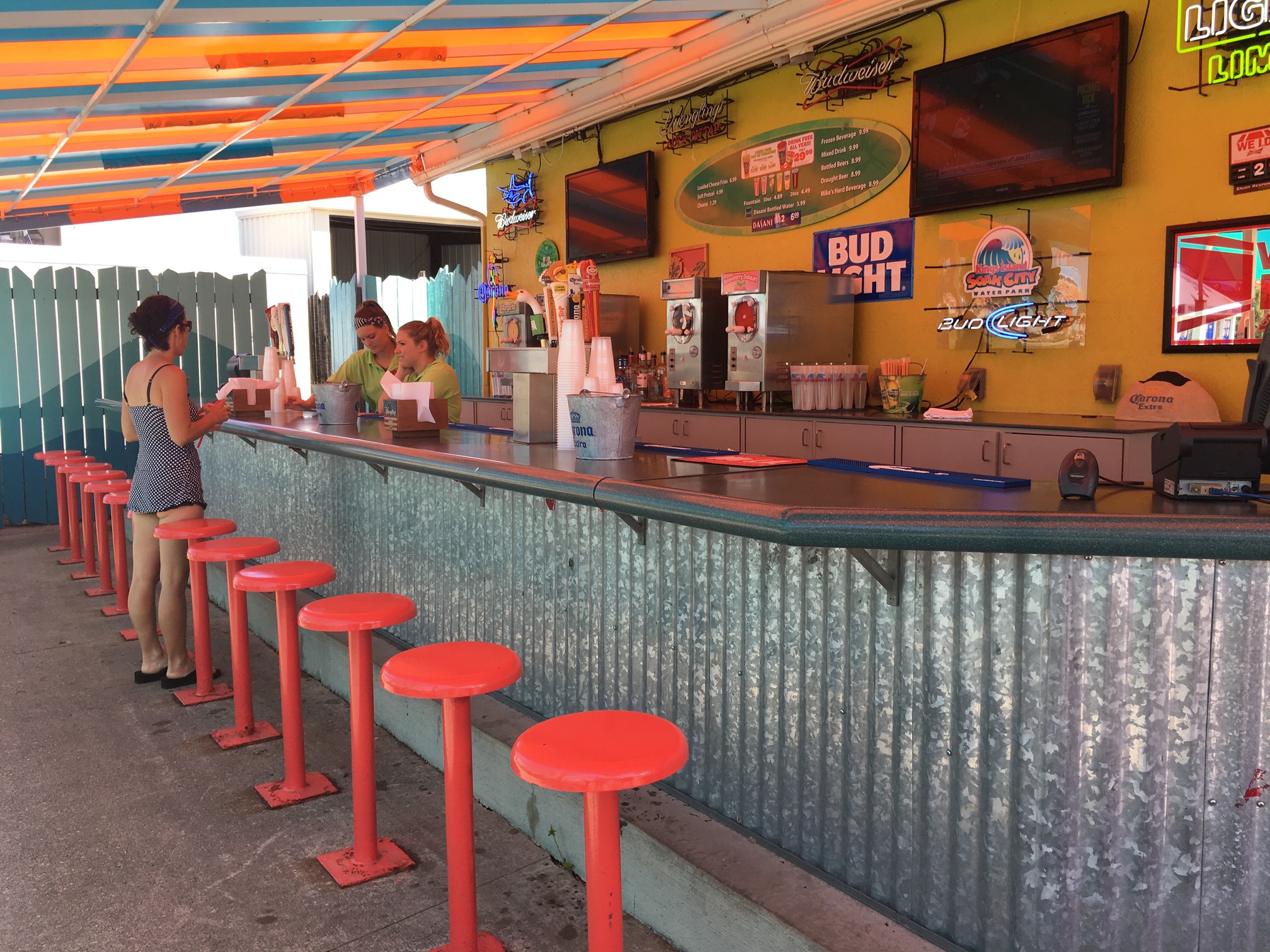 The Coconut Cove Bar is located right next to the Coconut Cove Cafe near Breakers Bay. There are frozen adult beverages plus bottled and draft beer. The other bar at Kings Island is the Bier Garten located near Hank's Burritos. You can also get some bar munchies here.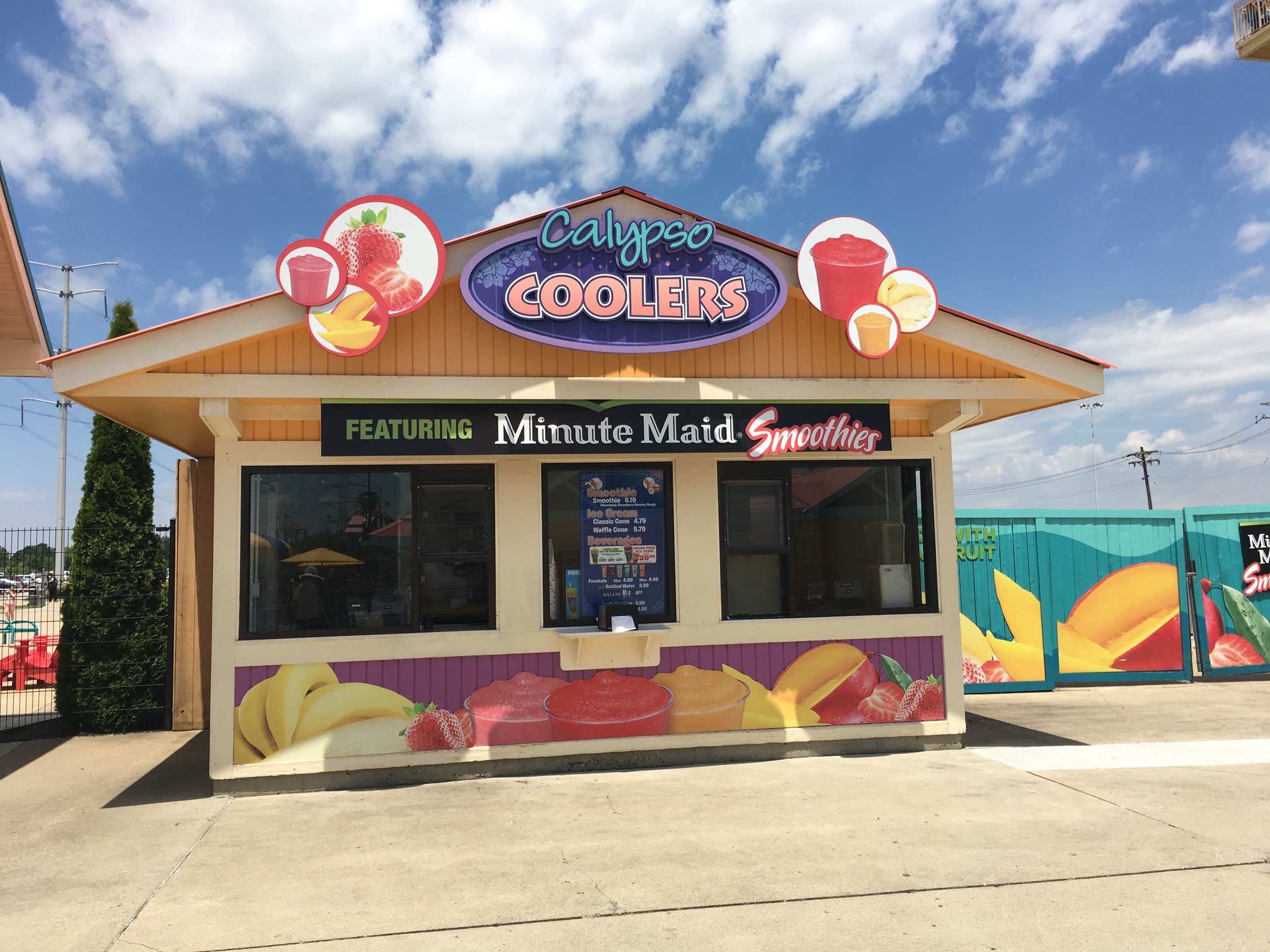 Calypso Coolers is a soft-serve and smoothie place near the outside entrance of Soak City. They've got vanilla, blueberry and vanilla-blueberry swirl. The smoothies use Minute Maid brand juice. There's really no shaded area to sit down in nearby.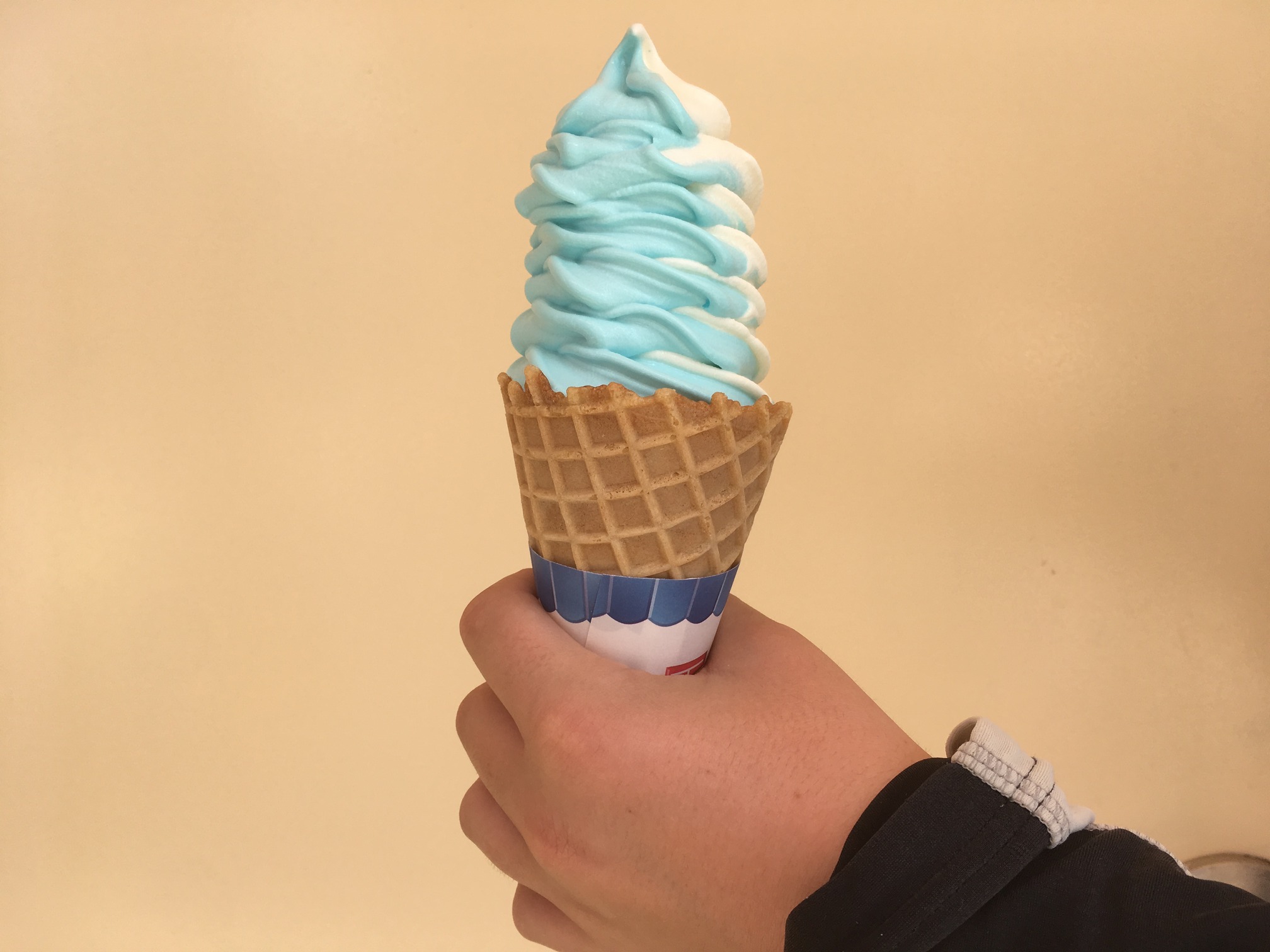 There used to be a scoop ice cream place, Graeter's, near Coconut Cove Cafe but that was replaced with the Kings Island Smokehouse cafeteria-style dining place. There's a Dippin' Dots in Soak City, plus a pre-packaged frozen yoghurt stand. There is still a Graeter's ice cream store on International Street in the main park. This waffle cone was $5.79.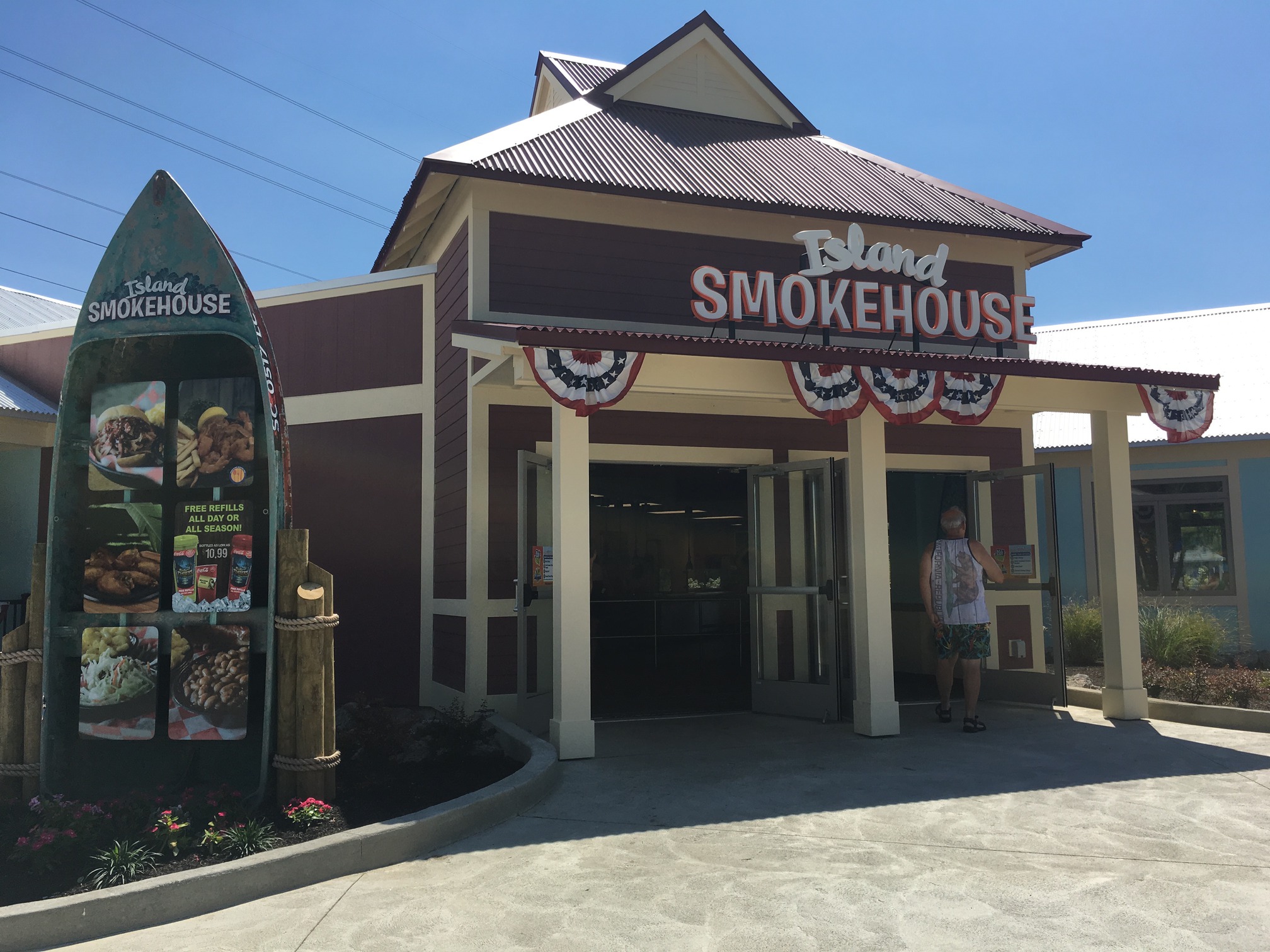 The Smokehouse is new this year and is centrally located within Soak City. There are hand-breaded chicken strip baskets, breaded shrimp, pulled pork sandwiches, lots of side dishes, and pop machines. This place is located near the central lockers, which makes it easy to retrieve a wallet after swimming.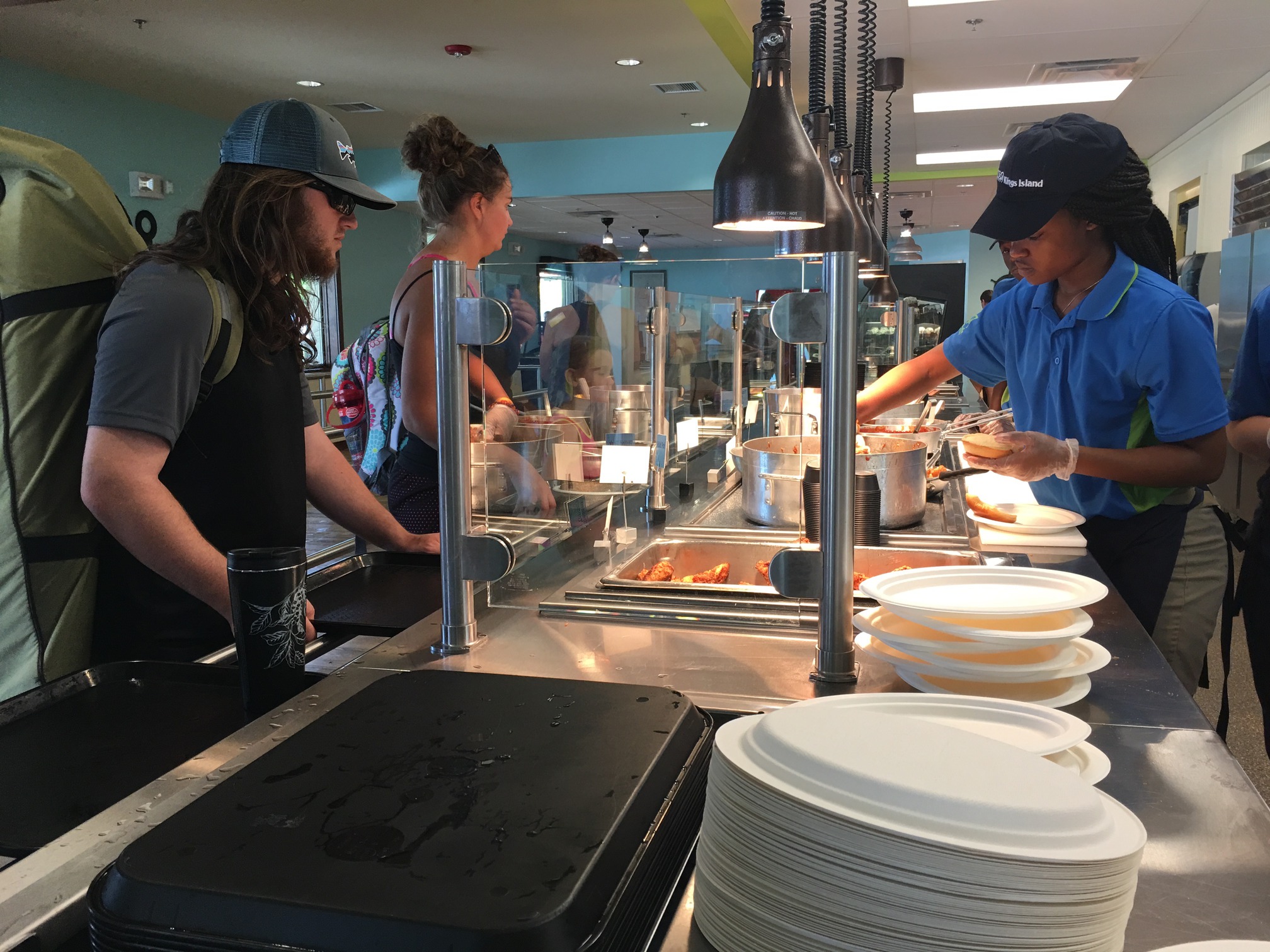 The Smokehouse is a beach-themed cafeteria, much like the Festhaus in the main park is German heritage-themed. The man on the left most likely came from the surf-wave ride. The flooring here is of a Pergo-style laminated faux wood and is gentle on bare feet.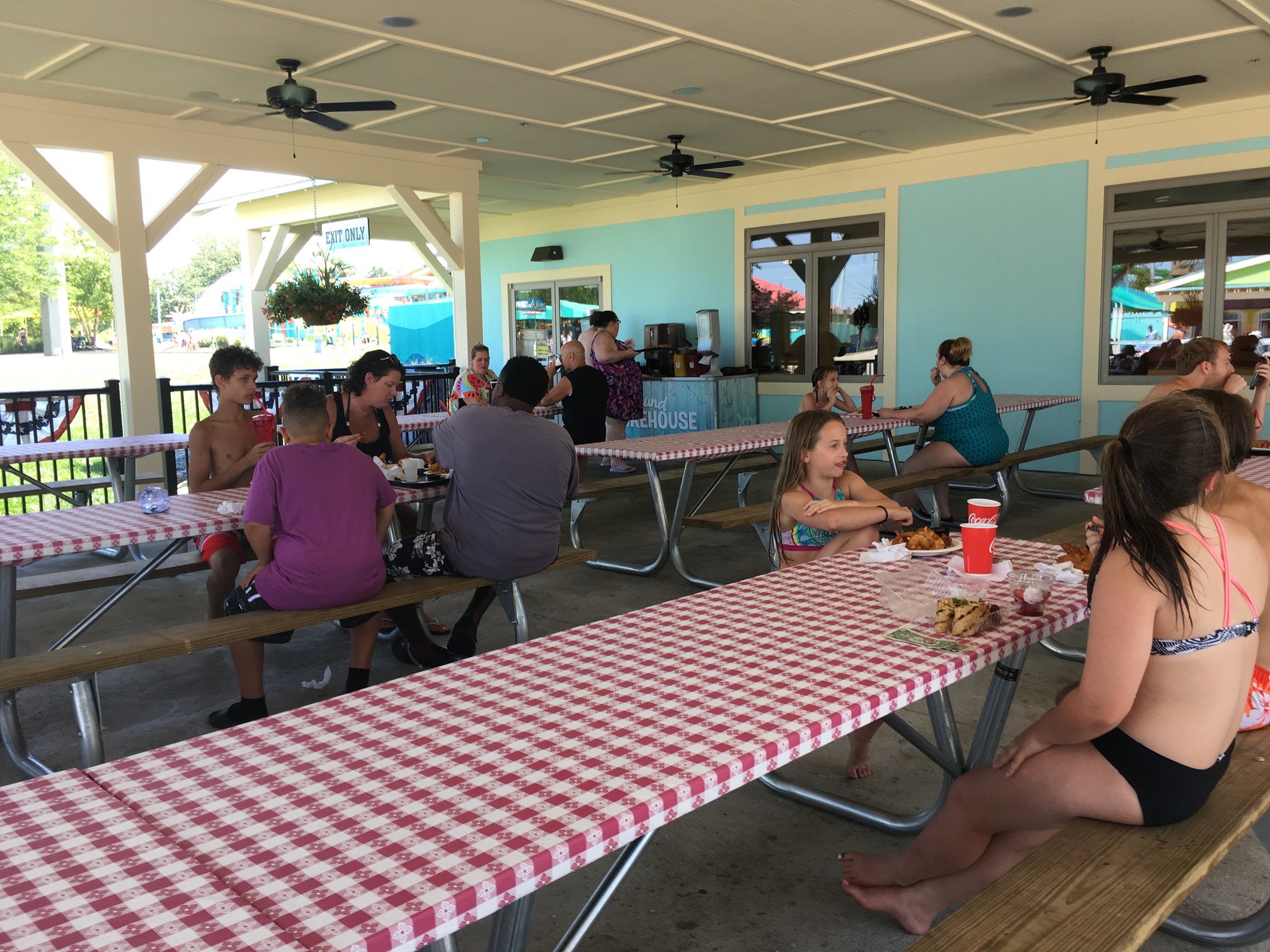 This is one of two comfortable seating areas to either side of the Kings Island Smokehouse at Soak City. Both have a condiment bar; the one here is toward the left of the photo by the doors. On busy days, a second condiment bar is needed. There are two large soda dispensers just inside the doors; they used to be of the FreeStyle variety but they kept running out of ice and syrup. These are better.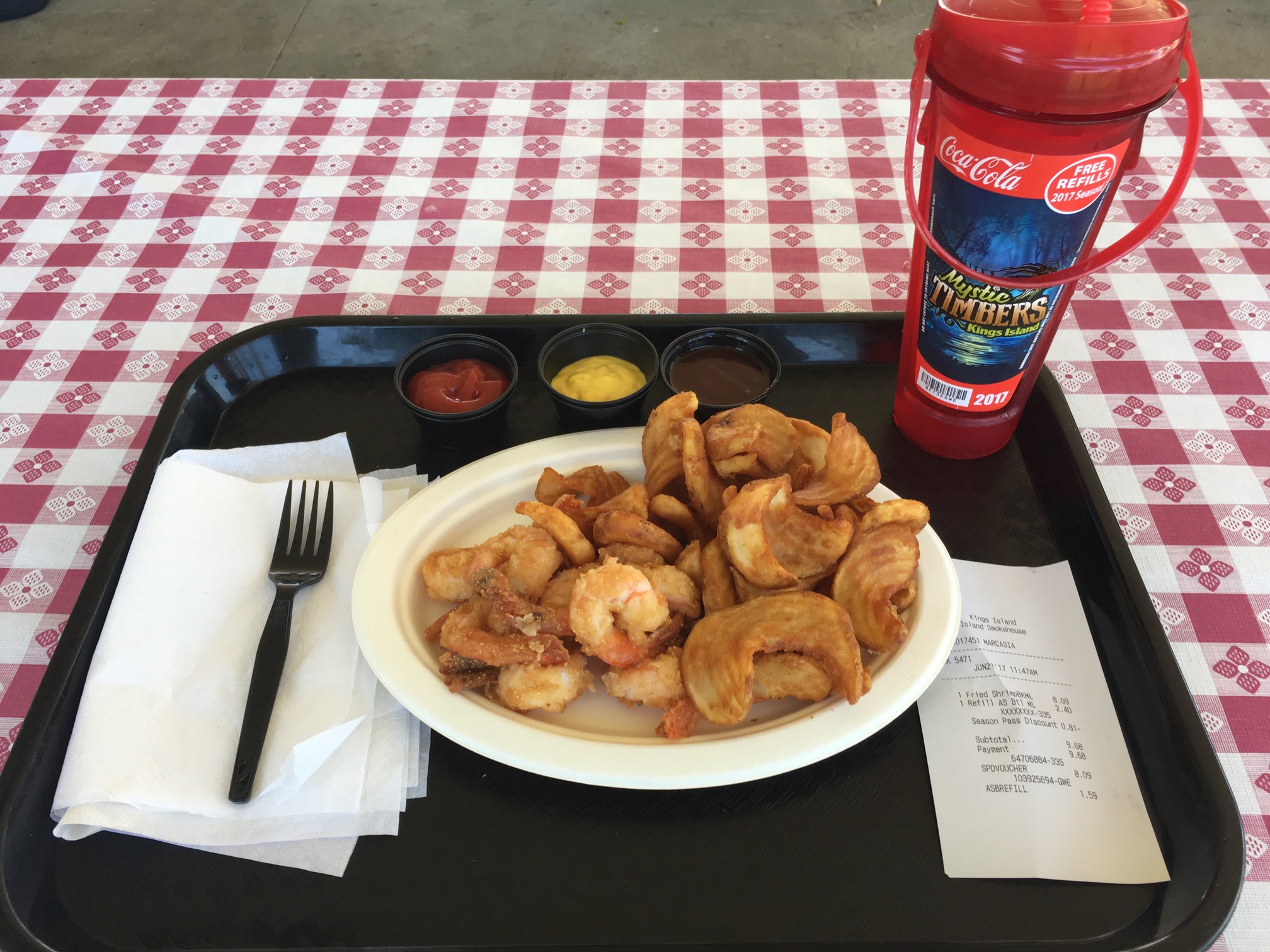 The shrimp basket is wedge fries plus six deep-fried, breaded shrimp. The quality of the batter on the shrimp is uneven. As seen in the photo there are way more than a half-dozen shrimp—no complaint made here. There is also a wing basket. There is some confusion amongst the servers about which side dishes are on the season-long meal plan. At Cedar Point Shores, all sides are available.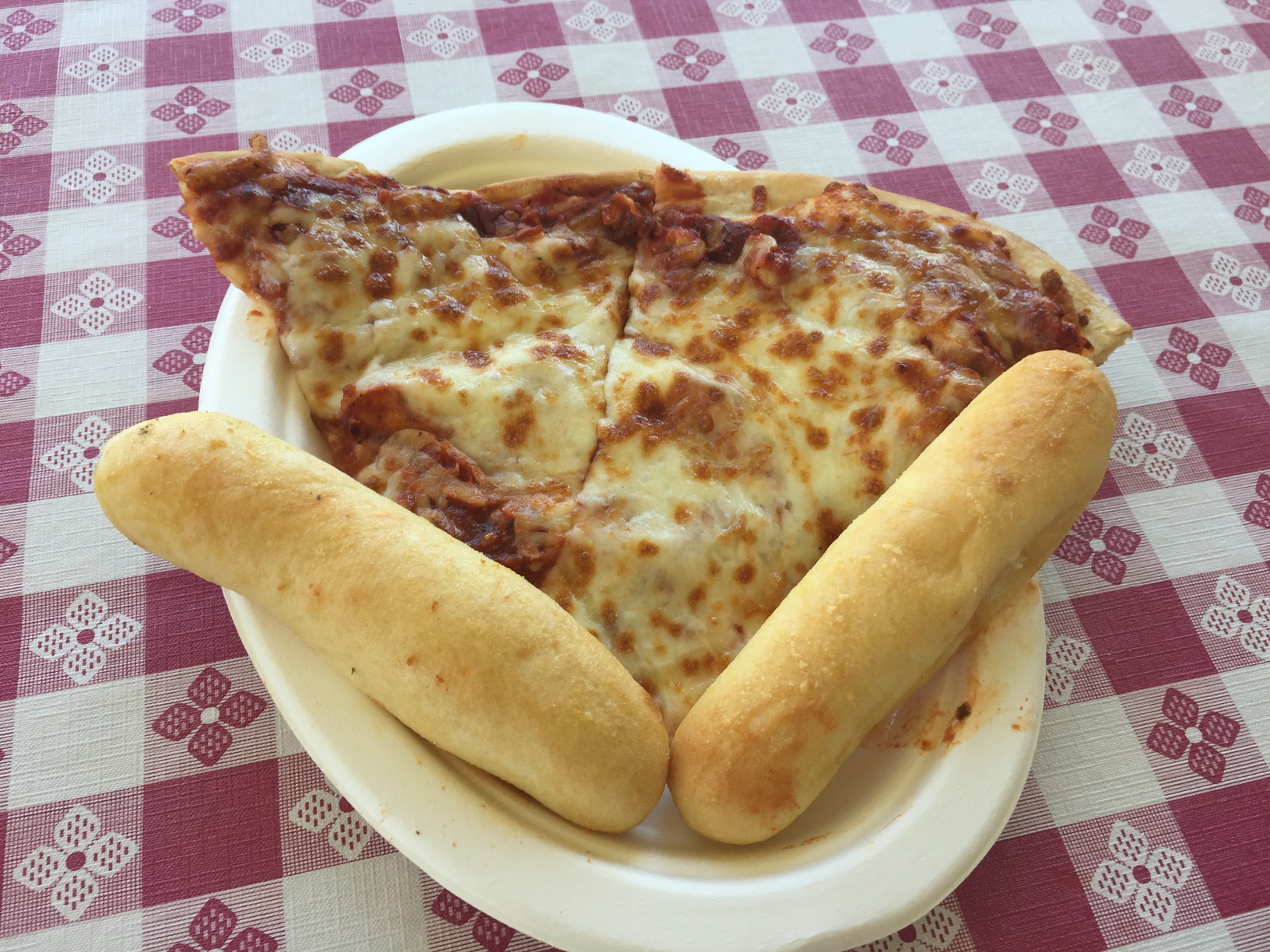 This plate of two slices of LaRosa's pizza and breadsticks was brought over to the Smokehouse patio from the Coconut Cove Cafe. This meal comes with a small cup of LaRosa's pizza sauce and LaRosa's dressing is also available. LaRosa's sauce tends to be sweeter and a little clove-ier than most other sauces. There's also an anti-pasto salad on the season-long meal plan.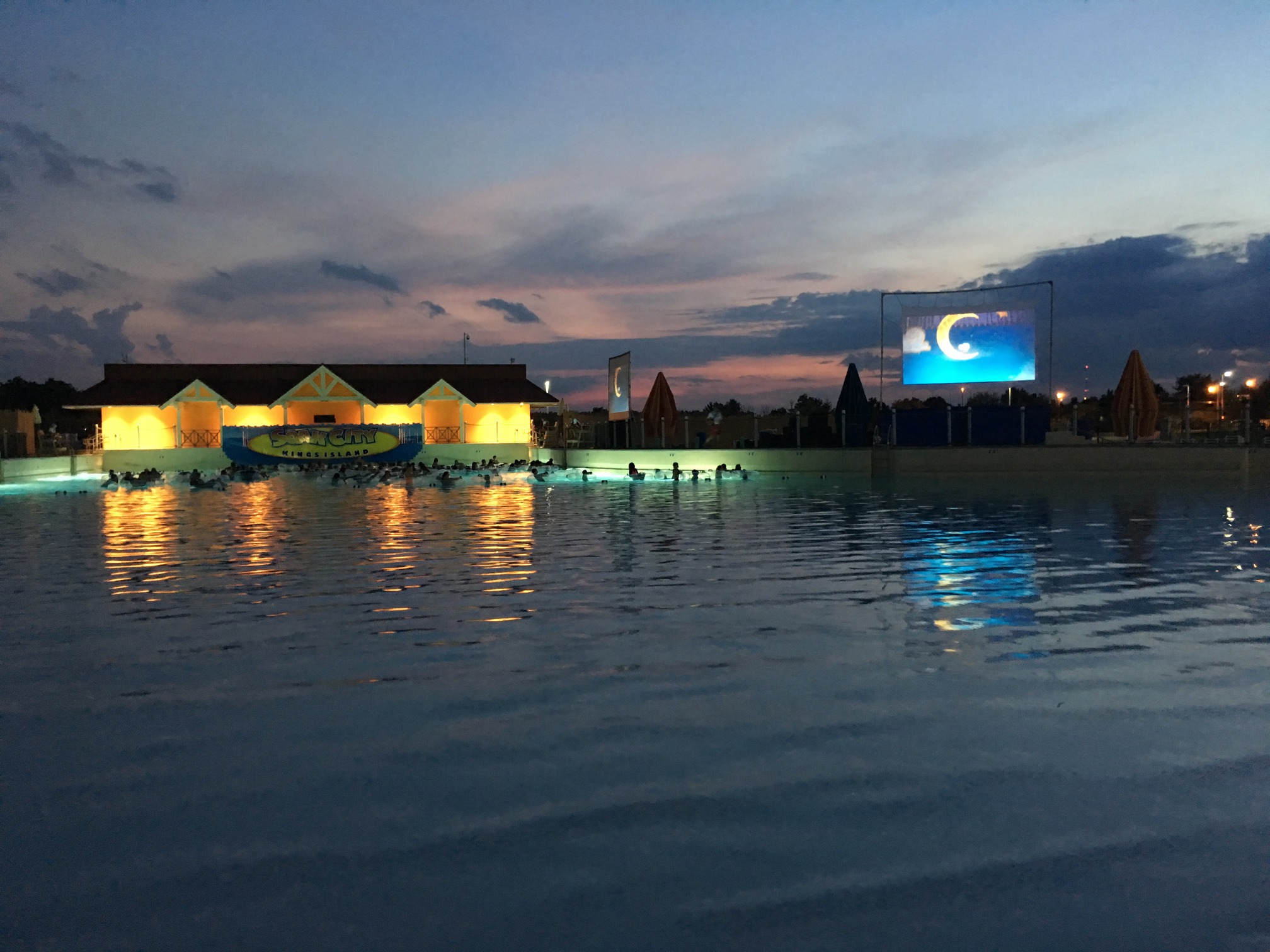 Soak City has its "dive-in" movies on Fridays after dusk during July. The offering for July 21st, 2017, is the movie "Sing" from 2016. It's a lot of fun to get an inner tube and float on back to the screen (the waves are turned off for movies). Or, viewers can sit on the concrete beach under the umbrellas in the lounge chairs. One thing about unpredictable Ohio weather: park guests should always keep an eye on Kings Island's Facebook page and website. Tonight, the movie was cut short due to lightning.