Cedar Point Shores
---
Cedar Point Shores is the water park attached to Cedar Point in Sandusky, Ohio, on the shores of Lake Erie. Newly renovated for 2017, CP Shores Waterpark has 18 acres of pools, slides, lazy rivers, foodstands, shirt shacks, and cabanas, plus an ice cream stand and a bar. Formerly known as Soak City, like the affiliated water park at Kings Island near Mason, Ohio, CP Shores is now large enough to want to spend a day or two in, just soaking up the fun.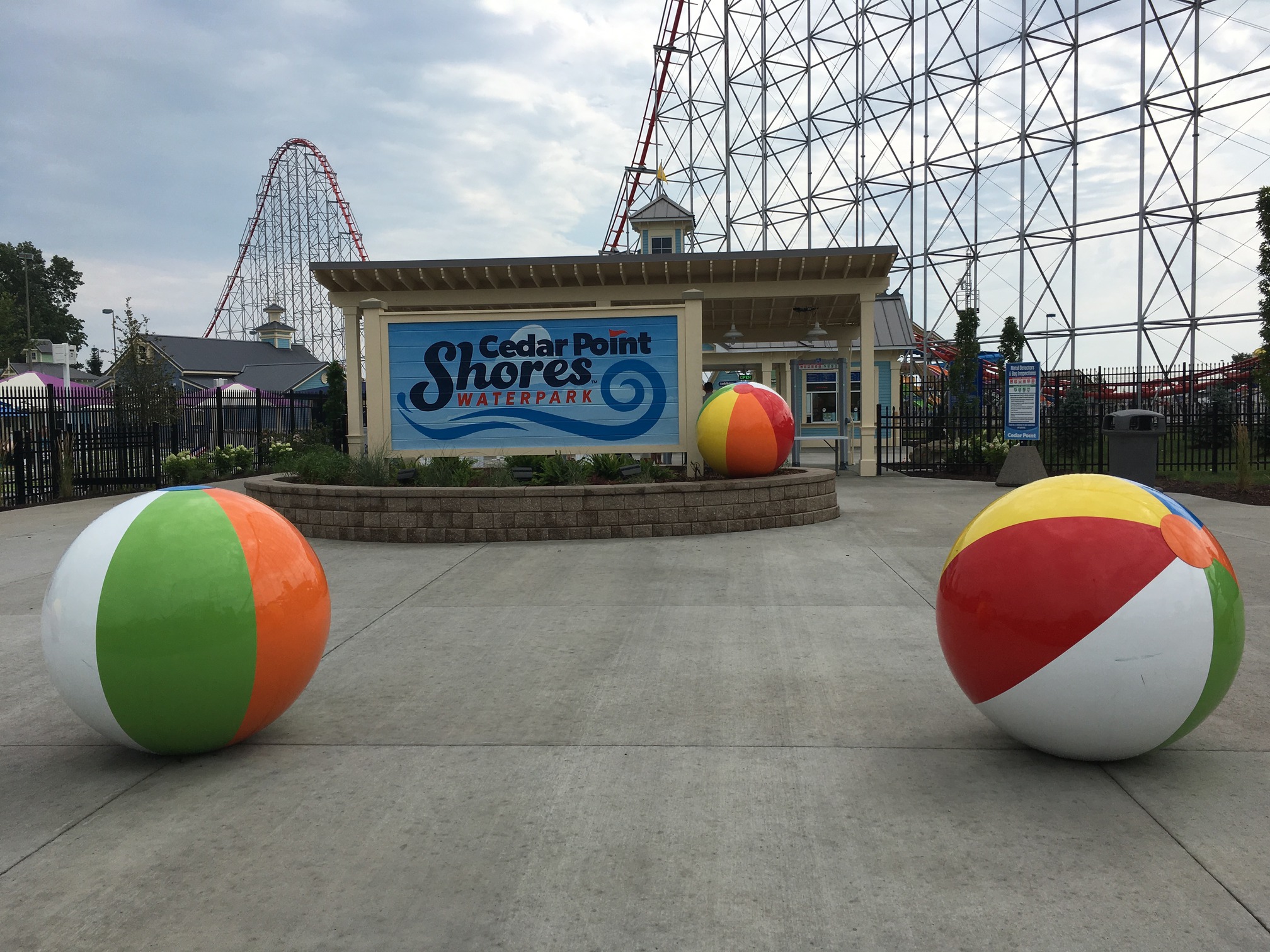 The main gate for Cedar Point Shores is just outside the main Cedar Point park and is also really close to Hotel Breakers and the hotel beach. There is ample parking here. The beach balls are fun to take family photos with, and there is also a giant blue Adirondack chair behind the sign that people can sit in for photos. The chair easily holds three small kids.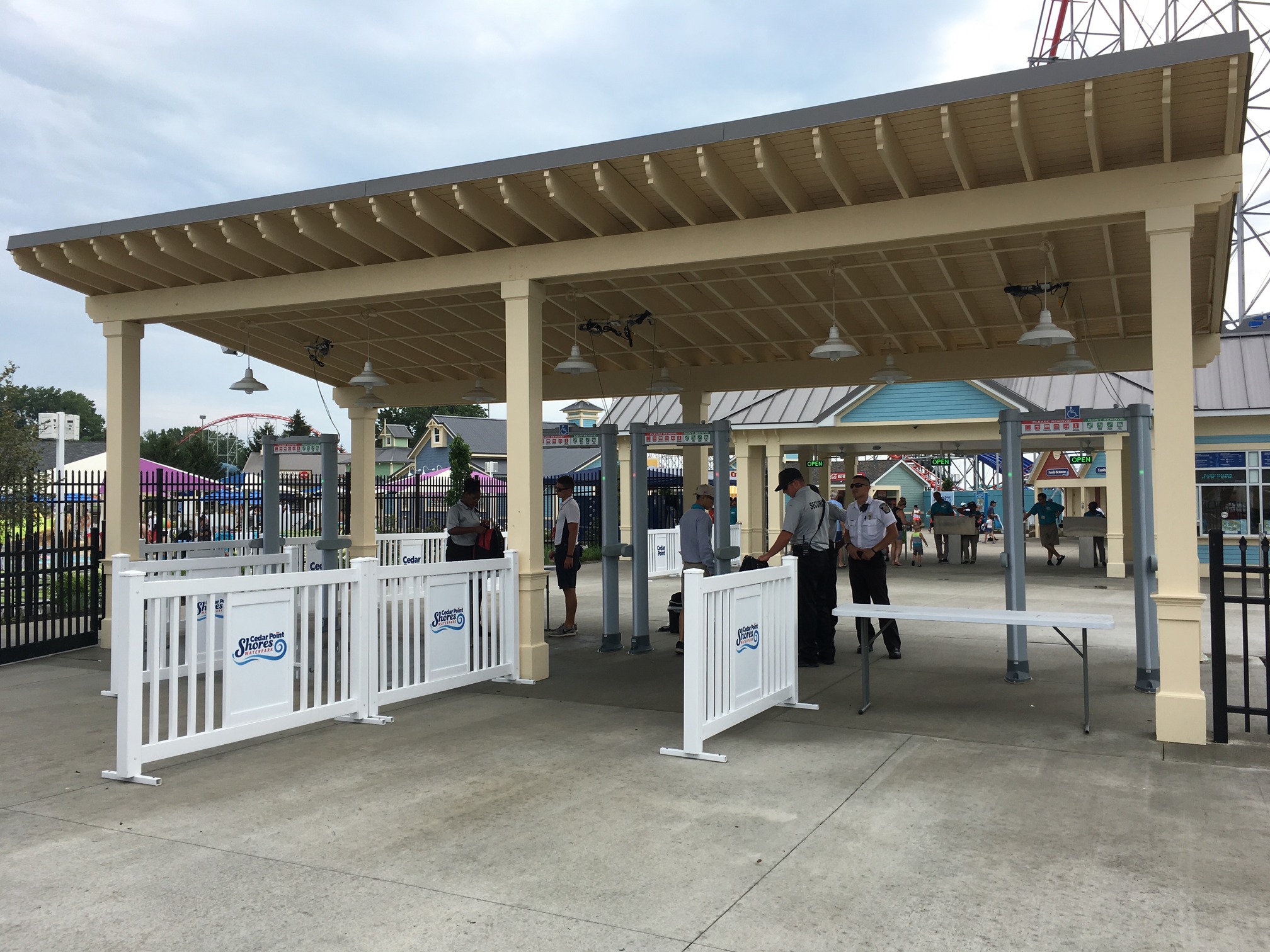 There is more security at all of the Cedar Point entrances this year; though the level of security inside both CP Shores and the main park seems to be about the same as in past years. Admission to CP Shores comes with the Cedar Fair Platinum Pass, but otherwise is separate from the regular park. (Soak City is indeed included at Cincinnati's Kings Island.) The regular adult admission is $40.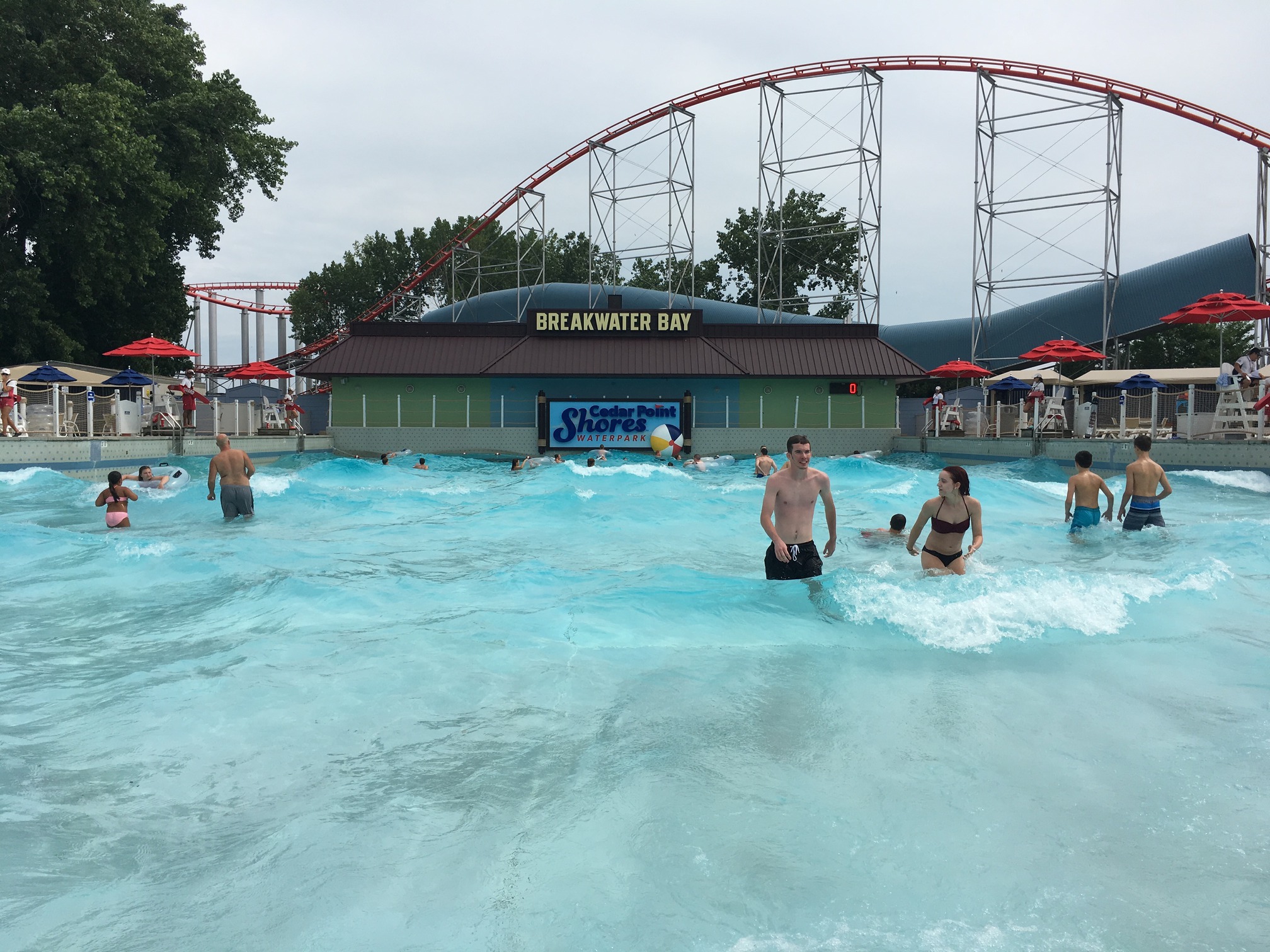 Breakwater Bay was previously known as Breakers Bay, and is a half-million gallons of fun that first opened twenty years ago. Waves are three and four feet high and people under 48 inches need a life jacket. (All life jackets must be Coast Guard approved; there are plenty of life jackets here to go around.) There are lots of chairs and loungers for folks not in the pool.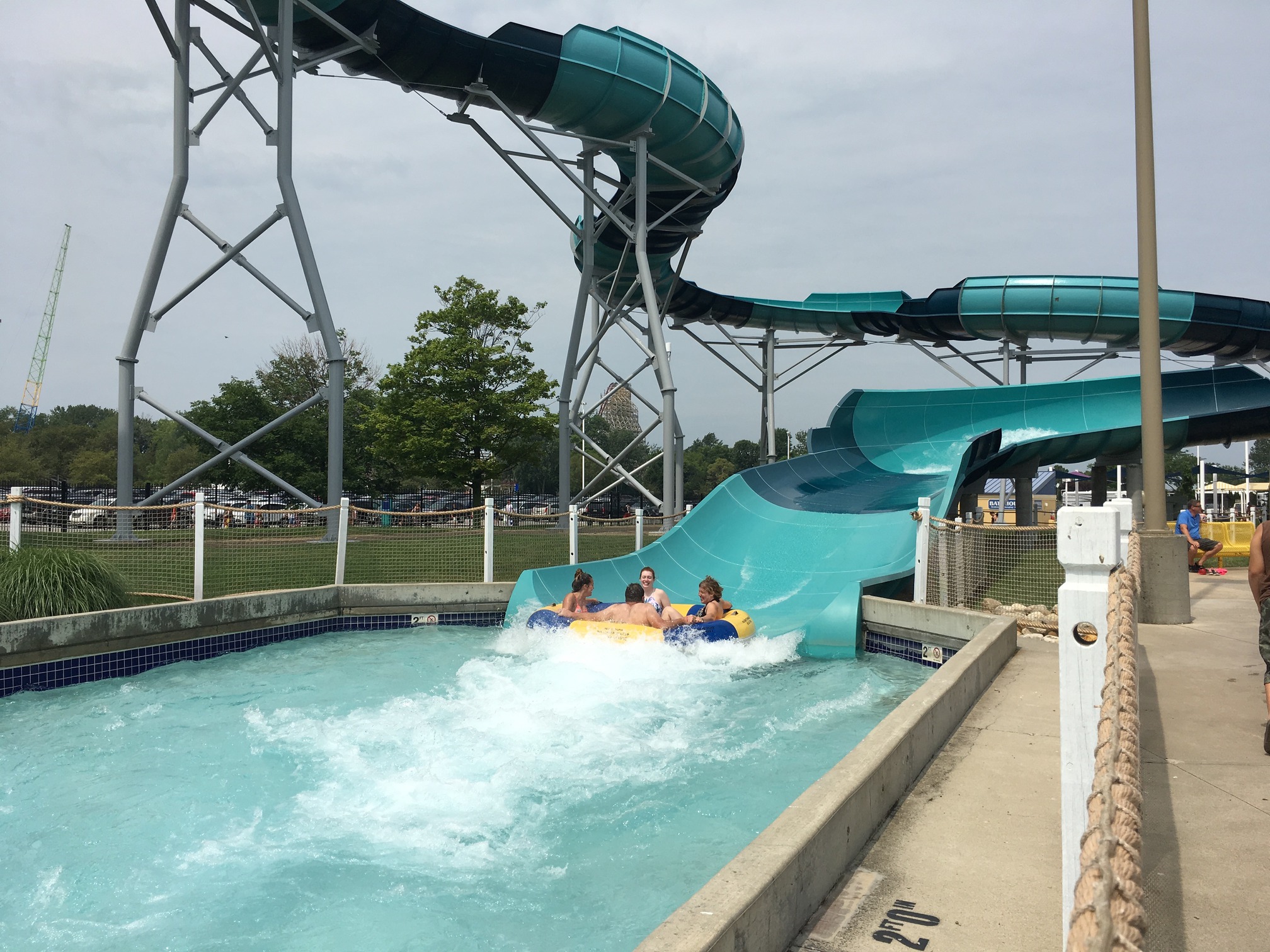 Storm Surge is rated 5 on CP Shores' thrill-o-meter as it is an "aggressive" thrill ride. (Breakwater Bay is rated 4.) It stands 76 feet high at the start and is designed for four people. Formerly known as the Zoom Flume (Kings Island has a similar one), it was repainted for 2017 and is for people at least 46 inches tall.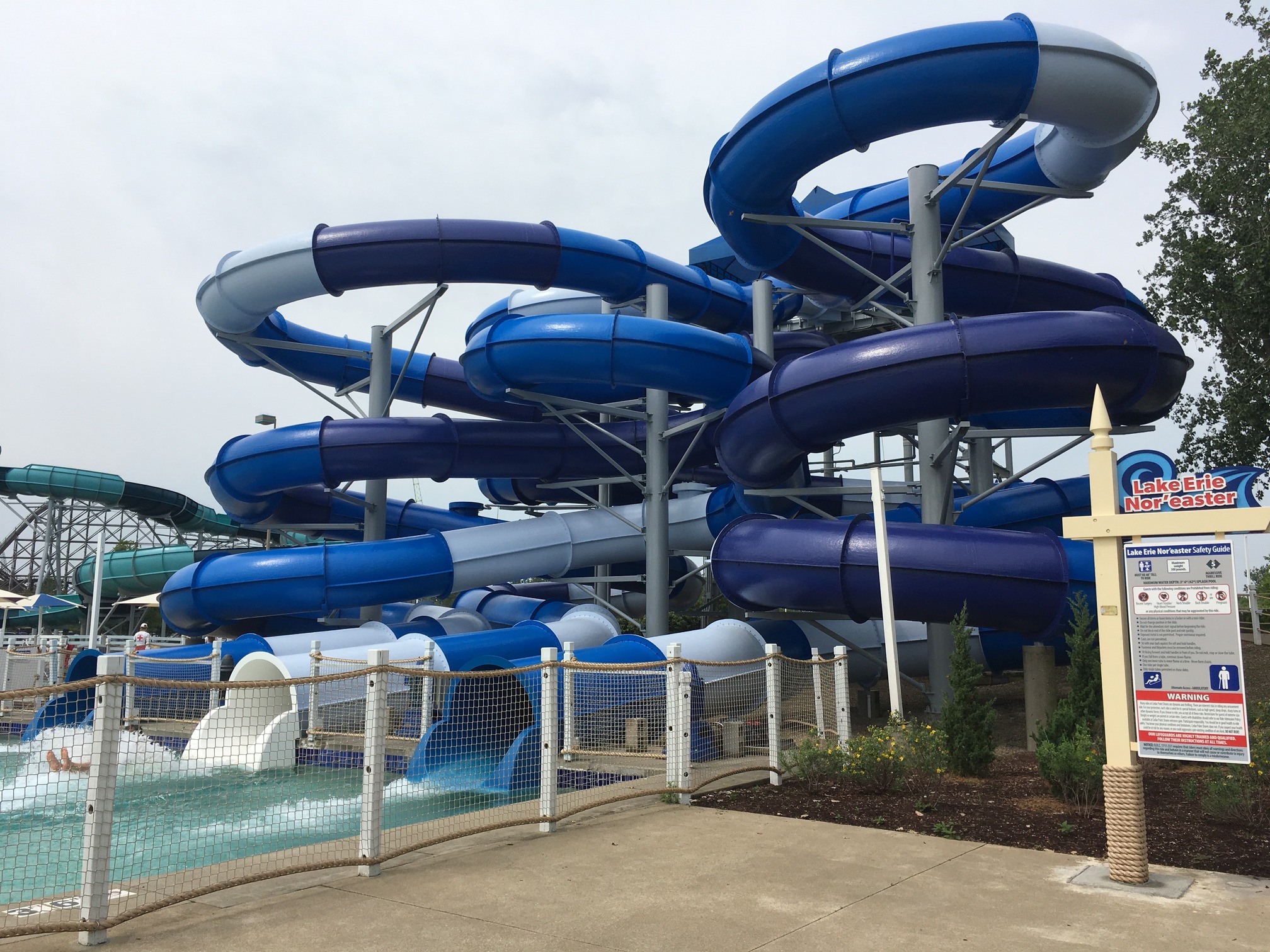 The Lake Erie Nor'easter was refurbished with blue tubes, changed from black, for 2017. Still can't see anything, though, and just like on Lake Erie, you'll get rained on. There are mini-showers in the tubes. This is the spookiest water ride this blogger has ever been on.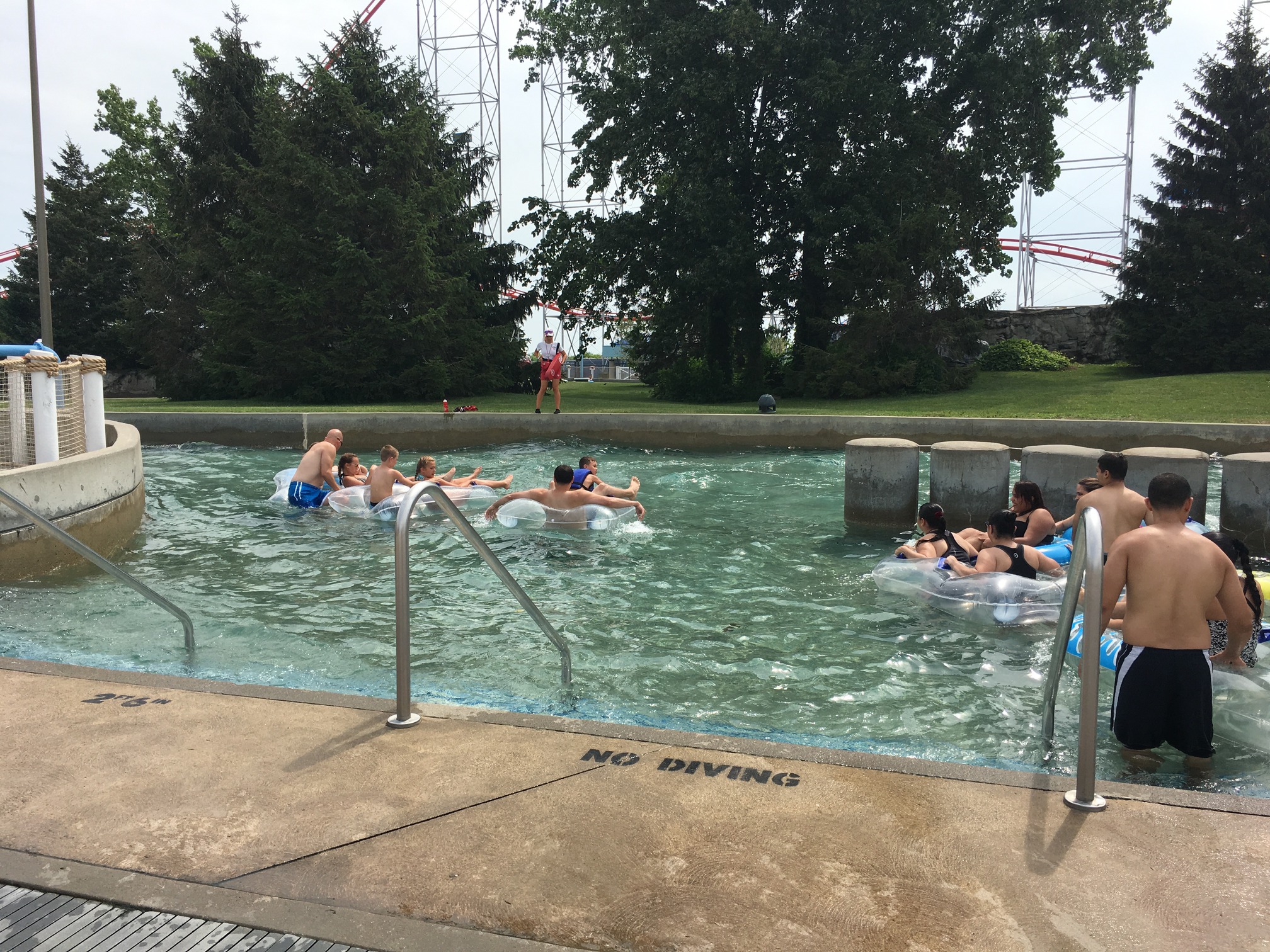 Runaway Rapids is a lazy river-type ride that was known from 1995 through 2016 as Renegade River. Guests under 48 inches tall must wear a life jacket. Runaway Rapids is a level two thrill ride on an ascending scale of one to five, which according to the guest guide, are among the rides "that generally have low speeds with gentle motion or breaking. Rides have smooth transitions with some changes in elevation and speed."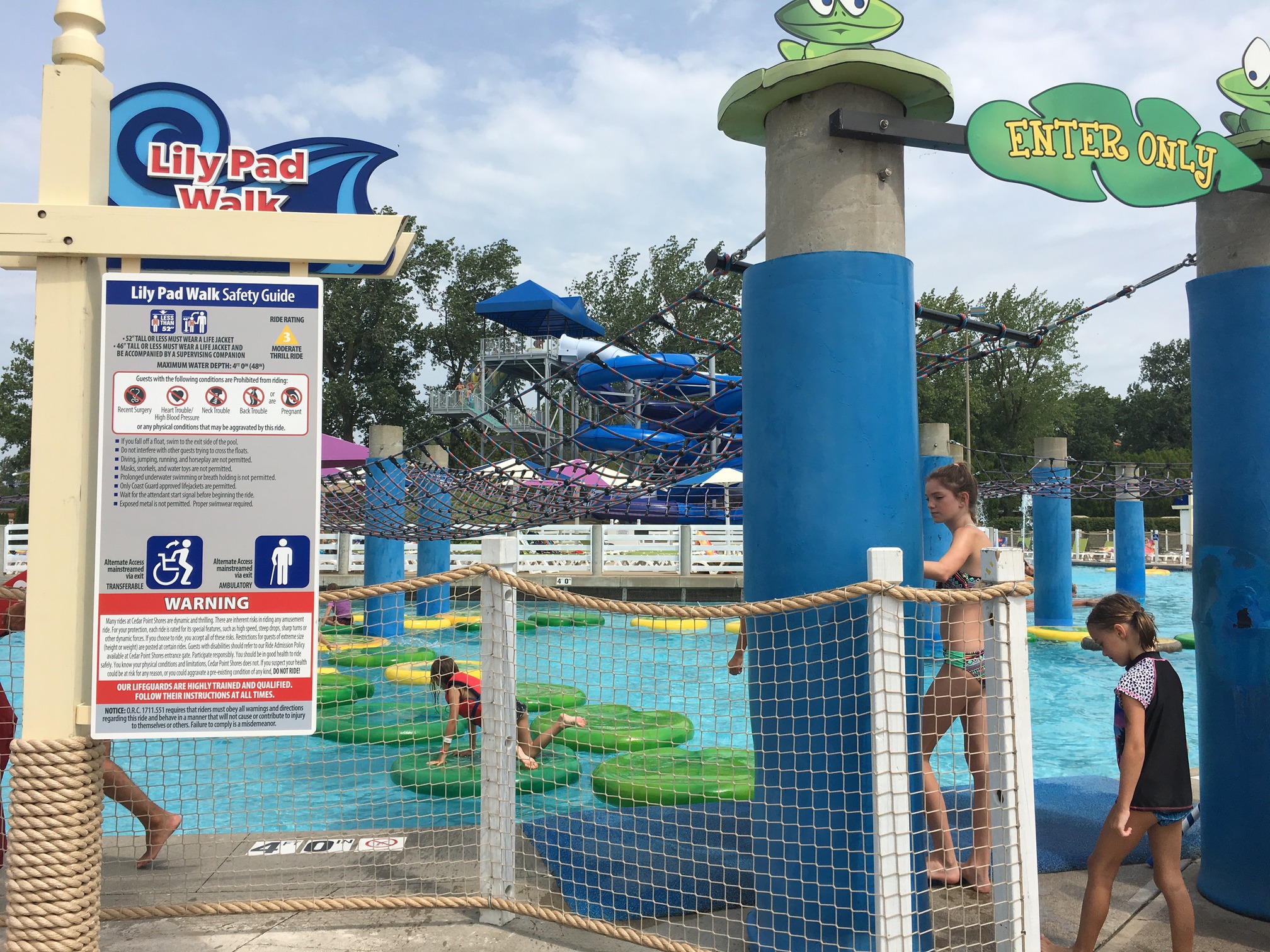 The Lily Pad Walk is a pool where kids and adults use a suspended rope net to traverse a series of large lily pads. This attraction is for people over 46 inches tall and is a level three thrill ride. A level three thrill ride is described as: Rides that generally have low to medium speeds and/or heights with moderate motion and braking. Riders may encounter unexpected changes in direction and/or speed during portions of the ride.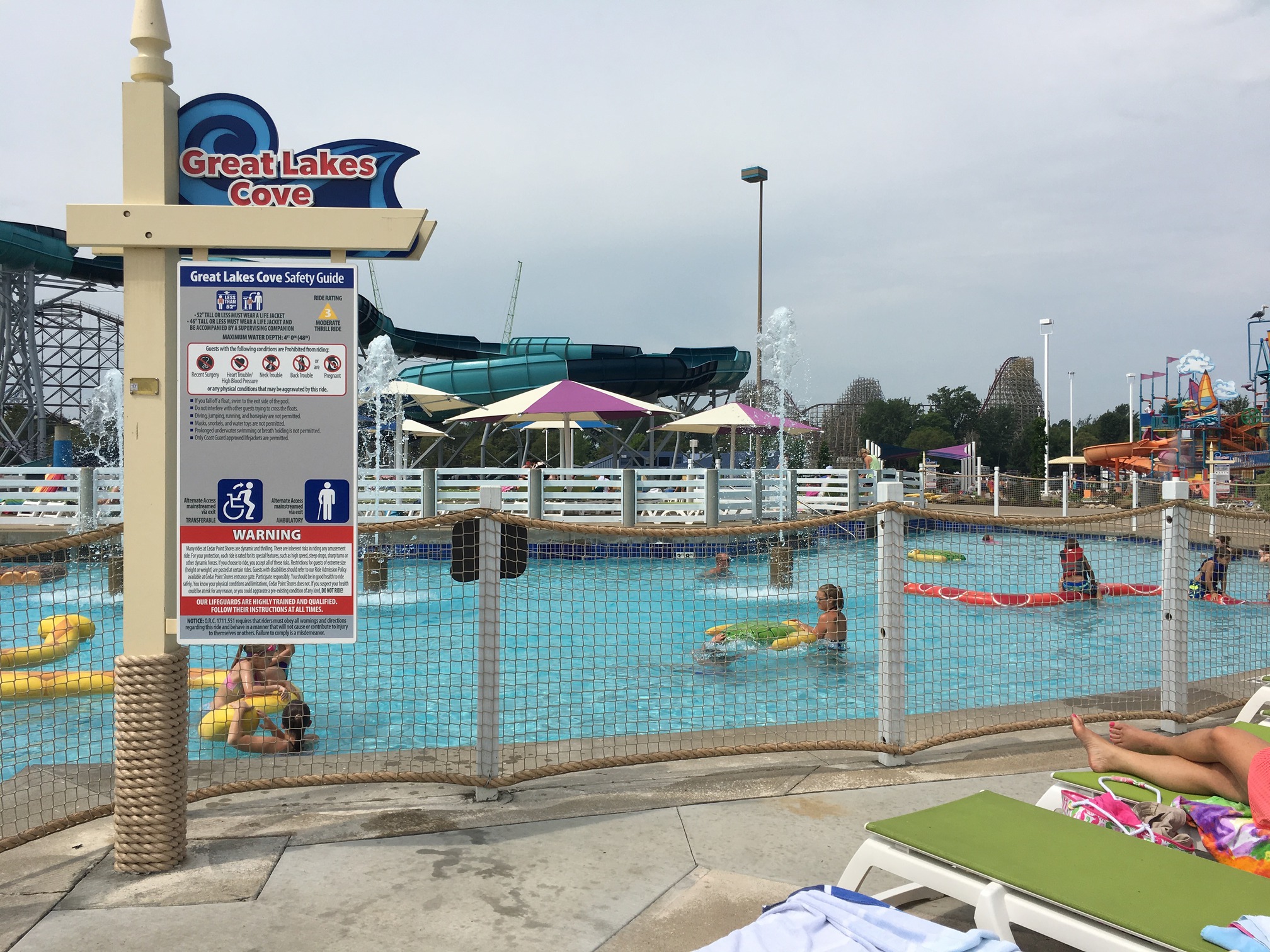 The Great Lakes Cove attraction has no thrill rating, but the folks in the pool looked like they were having fun. The Cove was first installed in 1997 as Adventure Cove Floats, and was renamed for the 2017 season. From the guest guide: Guests between 46 and 48 inches must be accompanied by a responsible person. "Responsible person" is defined as someone who is 14 years of age or older who meets all ride requirements.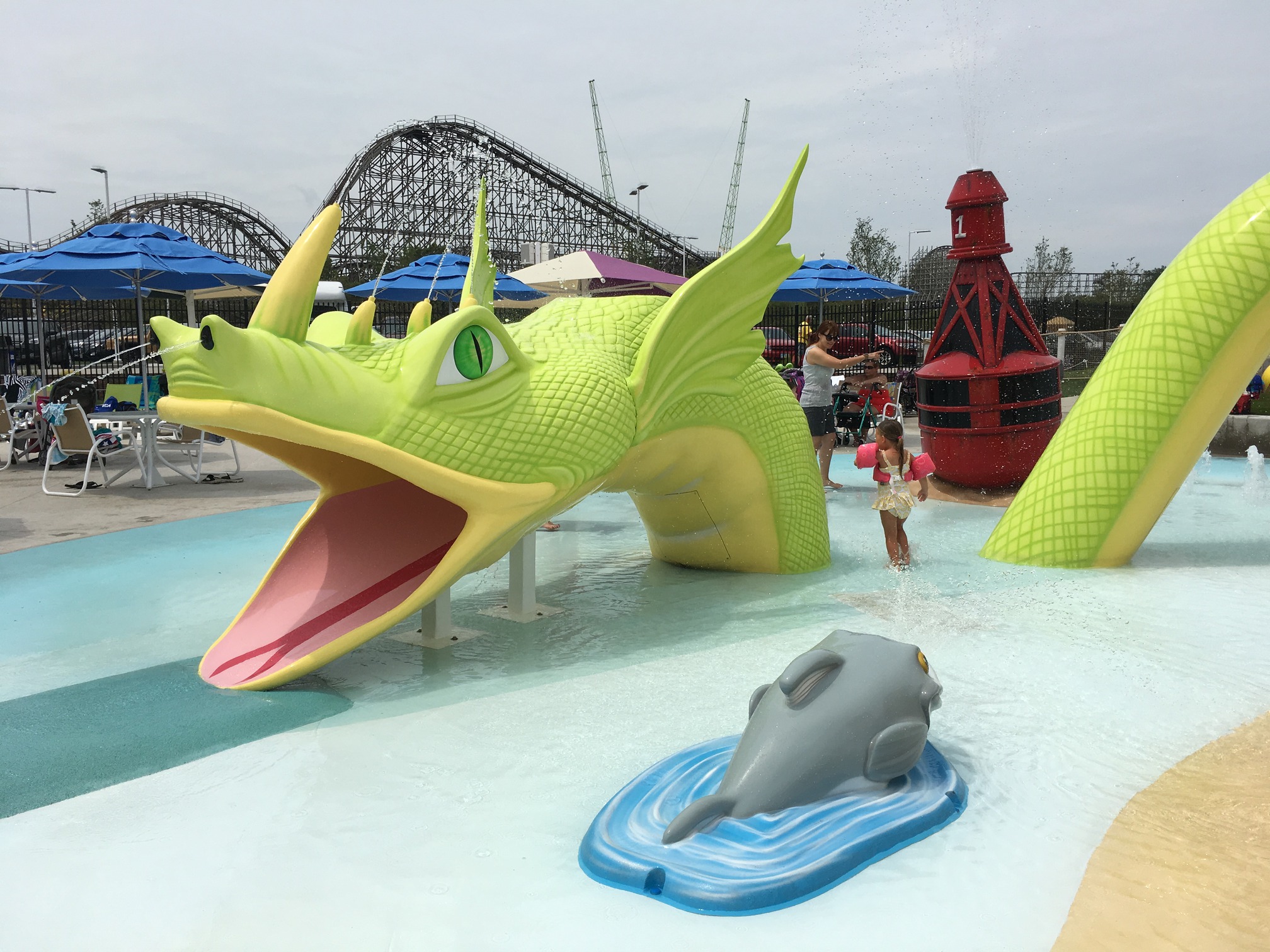 Lemmy's Lagoon replaces the Choo Choo Lagoon, which was demolished after the 2016 season. Lemmy's Lagoon is named in honor of the famous Lake Erie Monster, hence the name "Lemmy." Many people have claimed to see this monster, but this is only place you'll definitely see him. The sea creatures roaming this slide-enhanced splashpad must stand at no more than 52 inches.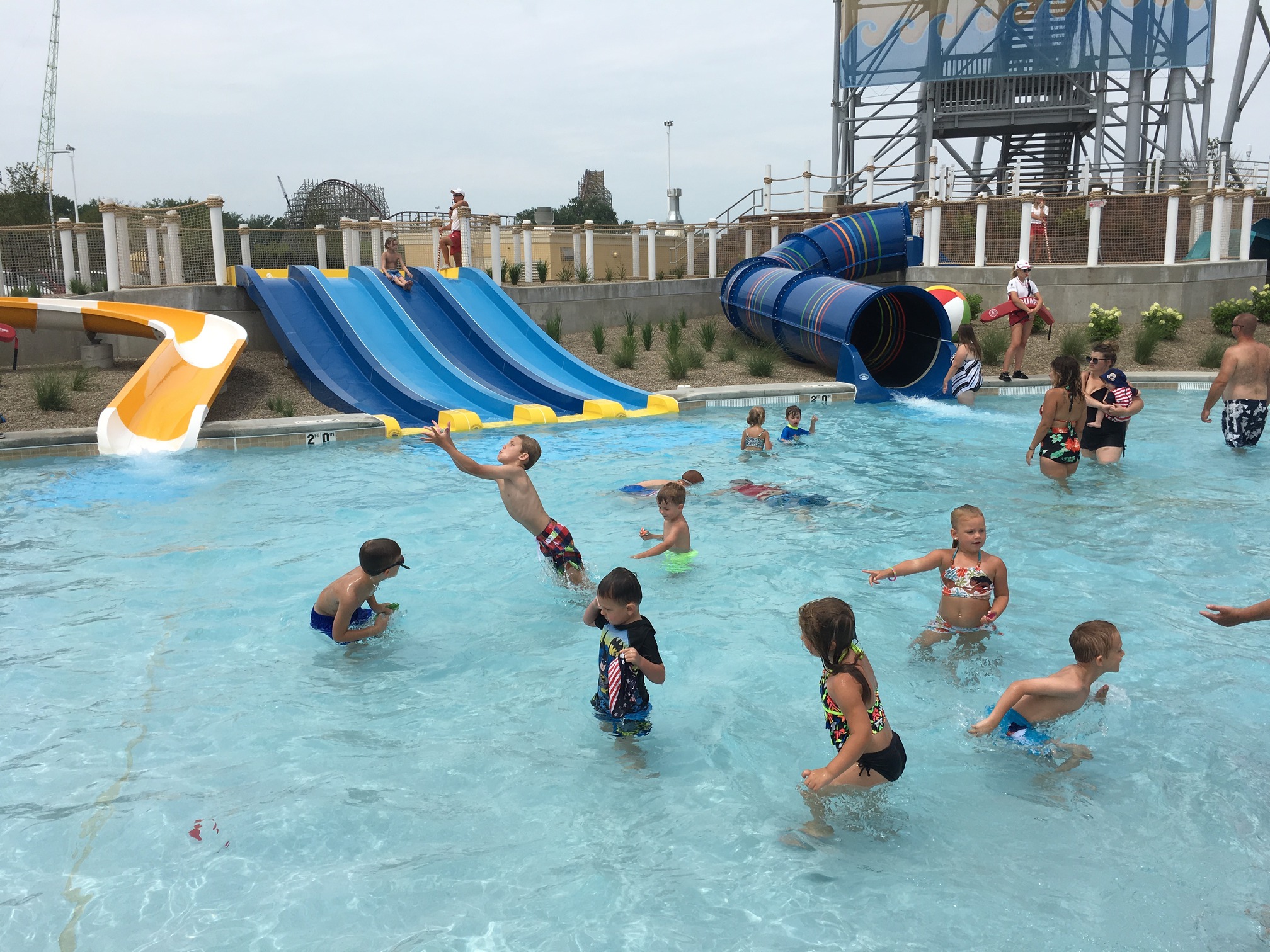 Here are six of the twelve slides at the new-for-2017 Lake Slide Landing splashground/pool, for people who are at least 46 inches tall. This area does not have a thrill rating, like other splashgrounds at CP Shores. The noise level at CP Shores is a little higher than it is at Cedar Fair's other Ohio water park, Soak City at Kings Island. The roller coasters are packed in tight, racing through this water park.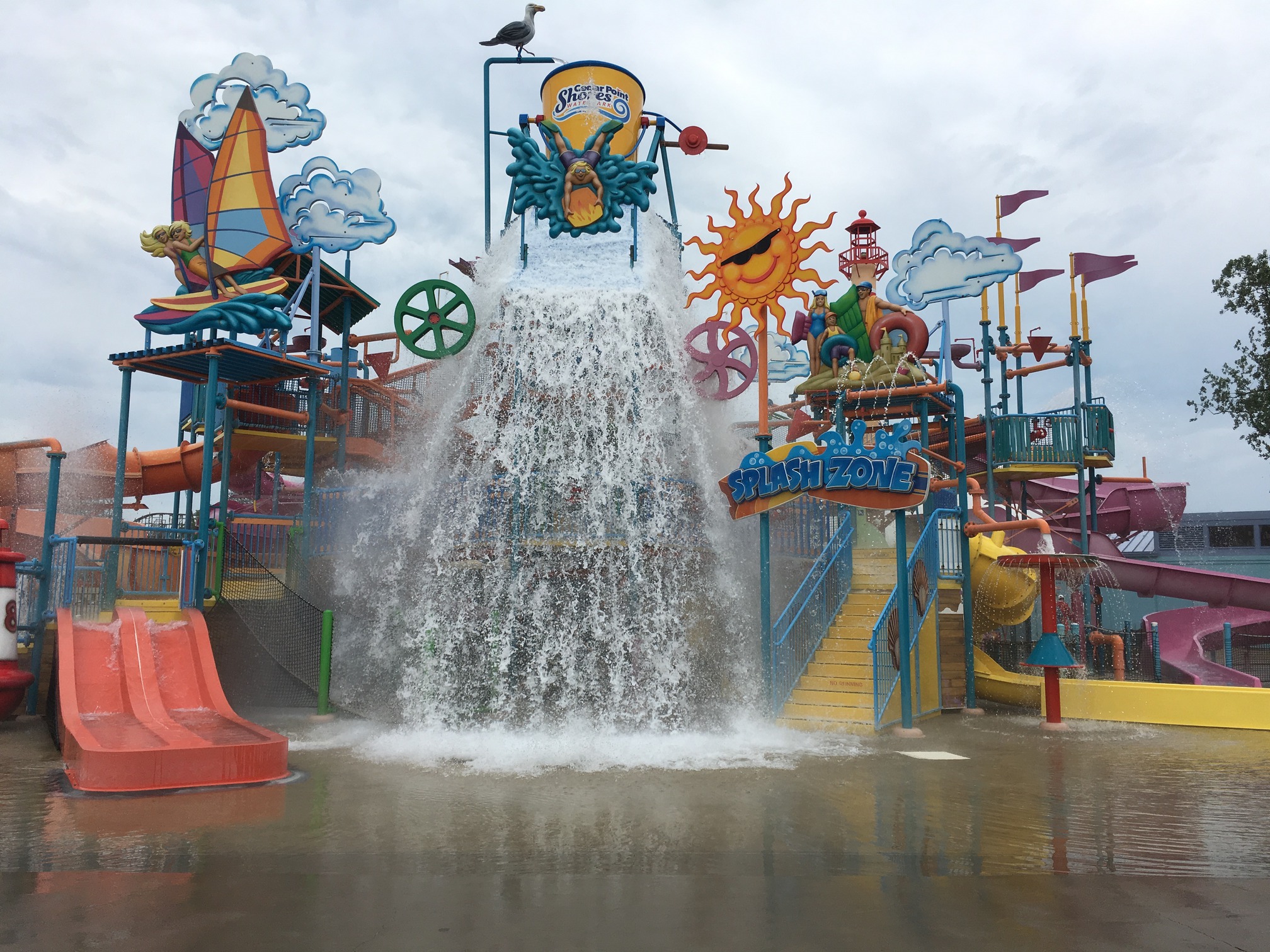 SplasH20 was known as Splash Zone from 2004 through 2016. There's a lot to do here, with water slides for people under 40 inches tall and for people over 40 inches tall. There are geysers, plus the waterfall from the bucket in the middle of the photo. SplasH20 rates a "2" on the thrill-o-meter. Kings Island has a nearly identical attraction.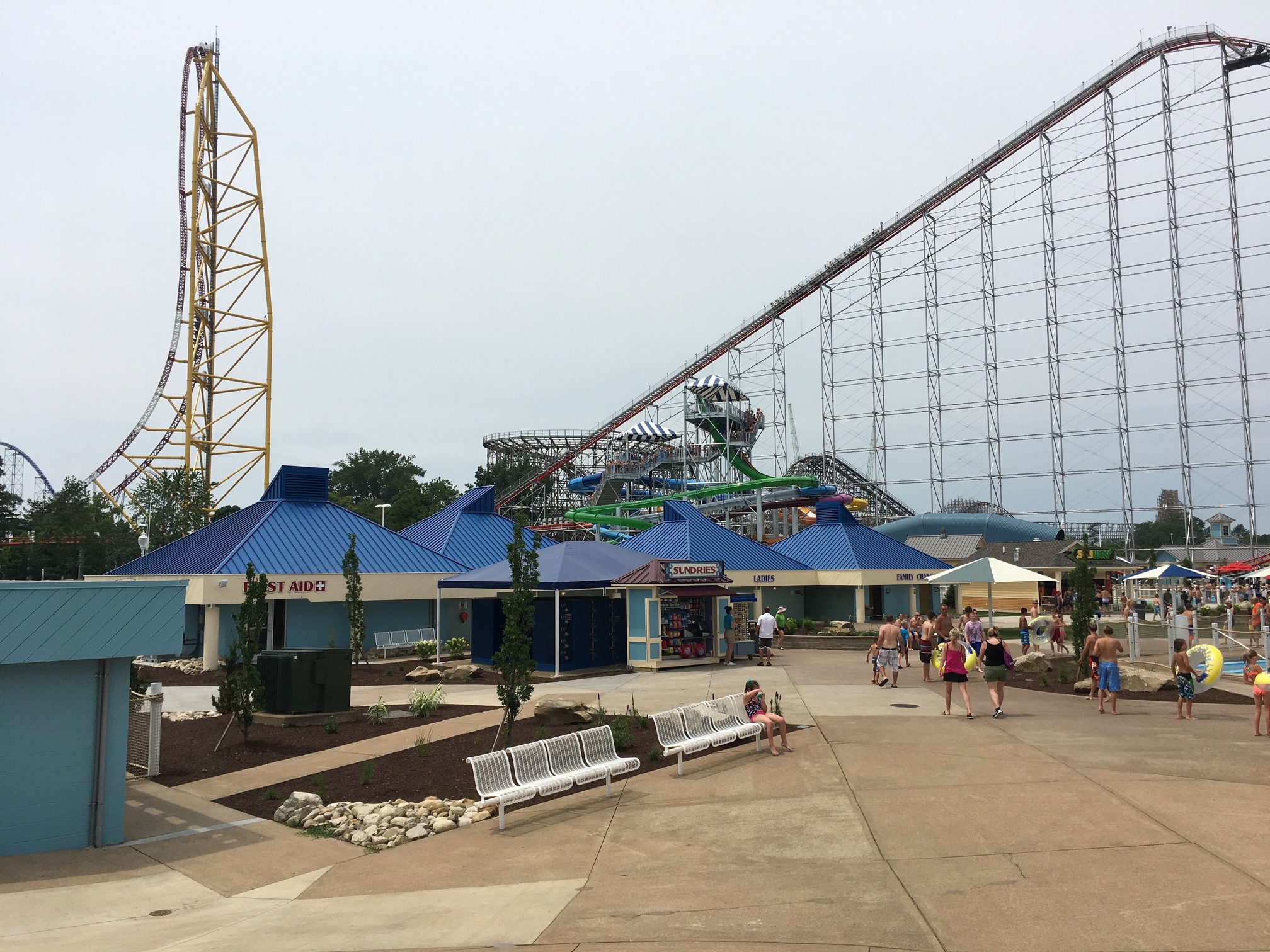 These are some of the amenities of CP Shores. The transformation of Cedar Point's Soak City into Cedar Point Shores coincides with the closing of parent company Cedar Fair's Geauga Lake Wildwater Kingdom in September 2016. Kings Island's Soak City was somewhat revamped for the 2017 season, adding new dining options. At CP Shores, there are abundant family-style bathrooms in addition to the traditional ones.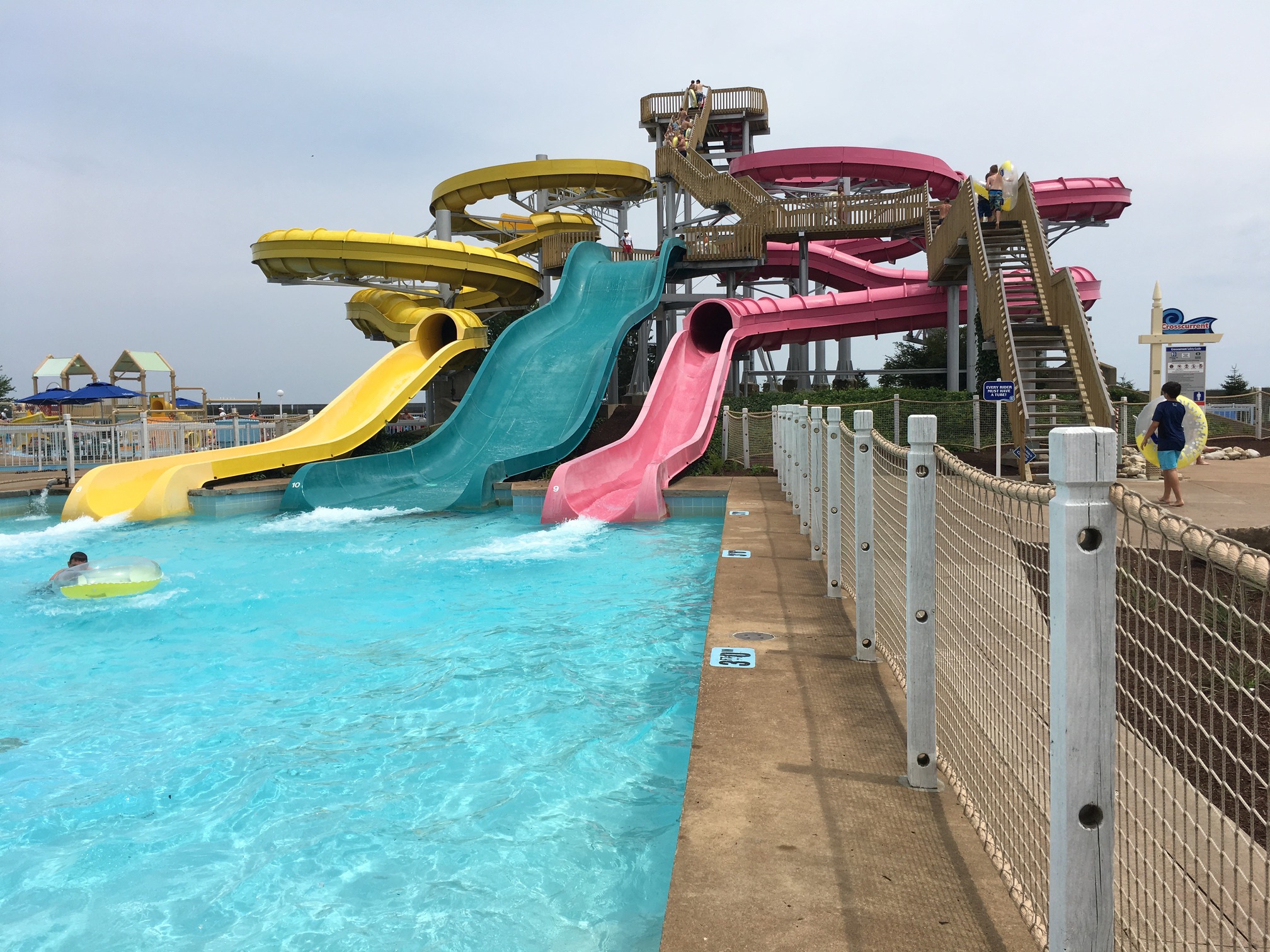 Crosscurrent is a tube slide that rates a "5" on the thrill-o-meter. Riders must also be 48 inches tall in bare feet. (On the CP Shores web site, there is an image of a park guest on the slide without a tube, but the placard at the ride entrance states that "Every rider must have a tube!") Kings Island's Soak City has a ride similar to this one, Thunder Falls, although not as large.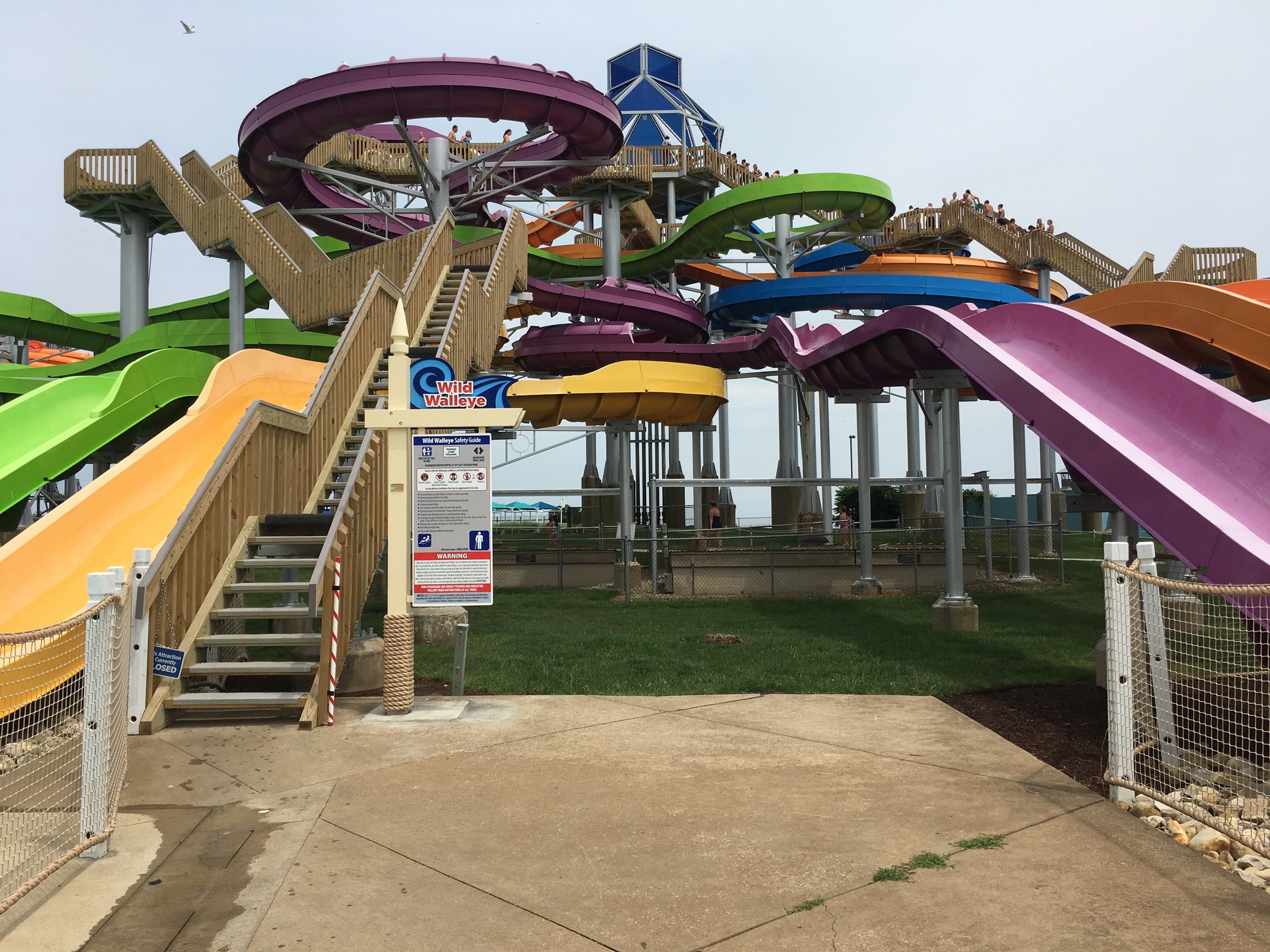 Wild Walleye is a tube slide in the Fisherman's Fury slide complex. Wild Walleye rates a "5" on the thrill-o-meter. Perch Plunge is a body slide. Riders must be 48 inches tall and under 300 pounds. The ride empties out into a 42 inch splash pool.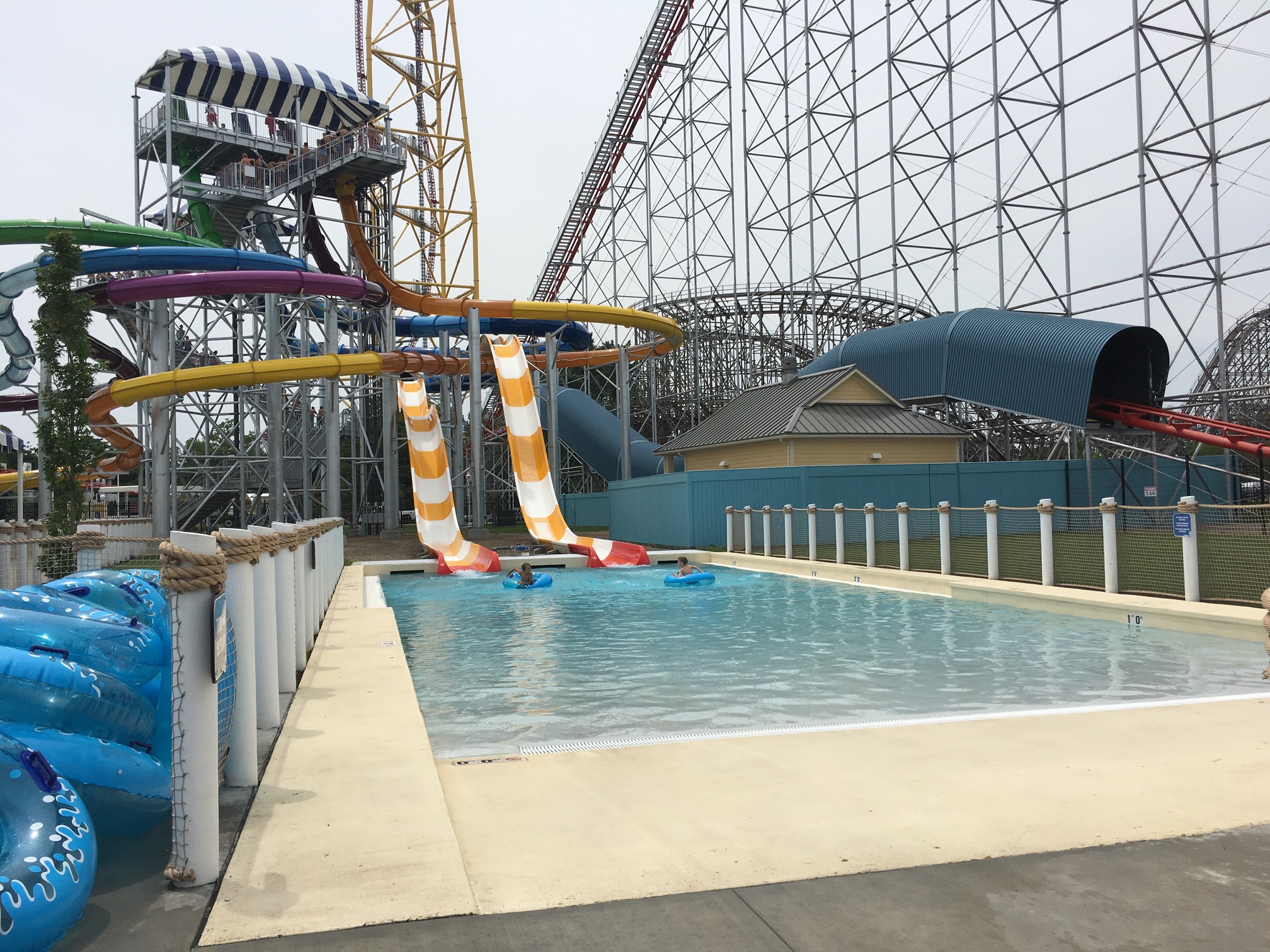 Portside Plunge is a tube slide that empties out into a shallow splash pool. Riders can go either in a single-seat tube or a double-seat tube. The Portside Plunge/Point Plummet ride combo is similar to the Tropical Plunge at Kings Island's Soak City (added 2106) and at other Cedar Fair Soak City water parks. This ride is five stories high, and Point Plummet is six stories high.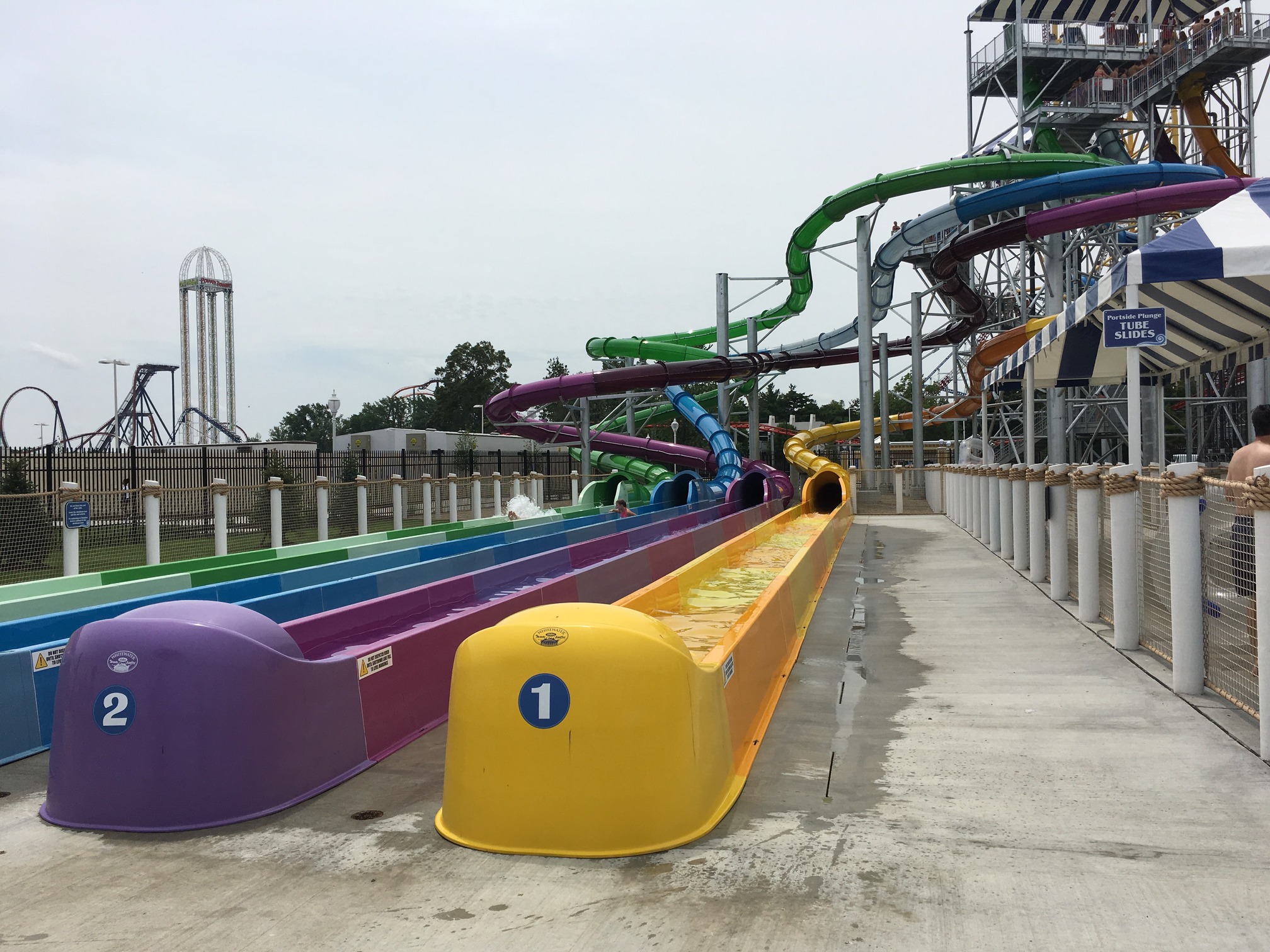 Point Plummet is a level 5 drop body slide. Riders must be 48 inches tall and weigh no more than 300 pounds. To enter, riders step into one of four colorful aqua chambers and then cross their arms and legs and wait for the drop into the body tube. This ride empties out into one of four shallow body channels.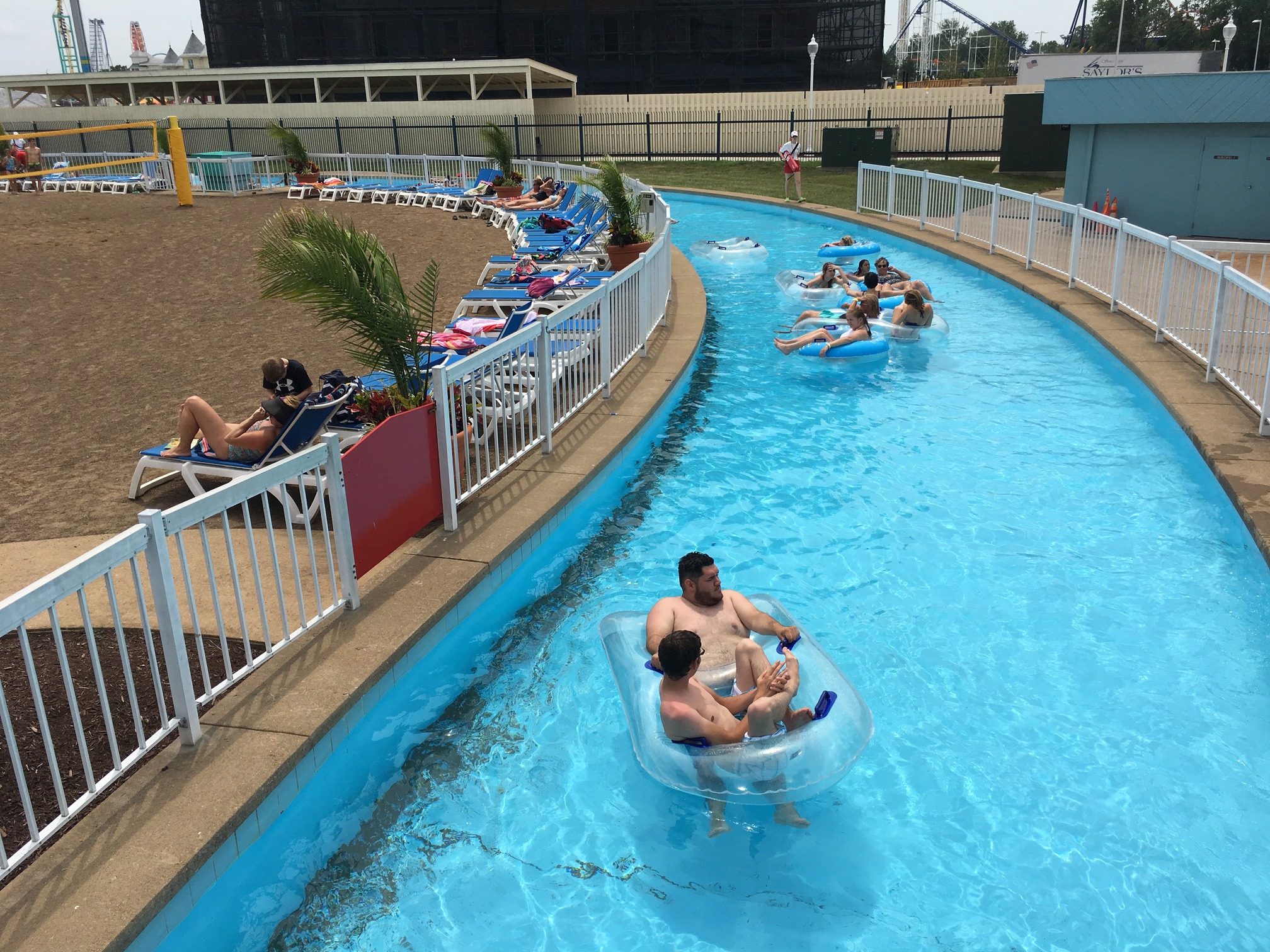 Cedar Creek was known as Main Stream from 1990 through 2016. Like the other lazy river at CP Shores, Runaway Rapids, Cedar Creek is a level 2 thrill ride. Riders 48 inches and under must wear a life vest; riders 42 inches and under must have a supervising companion. Cedar Creek is designed as a gentler ride than Runaway Rapids. Note the loungers and sand volleyball also in the photo.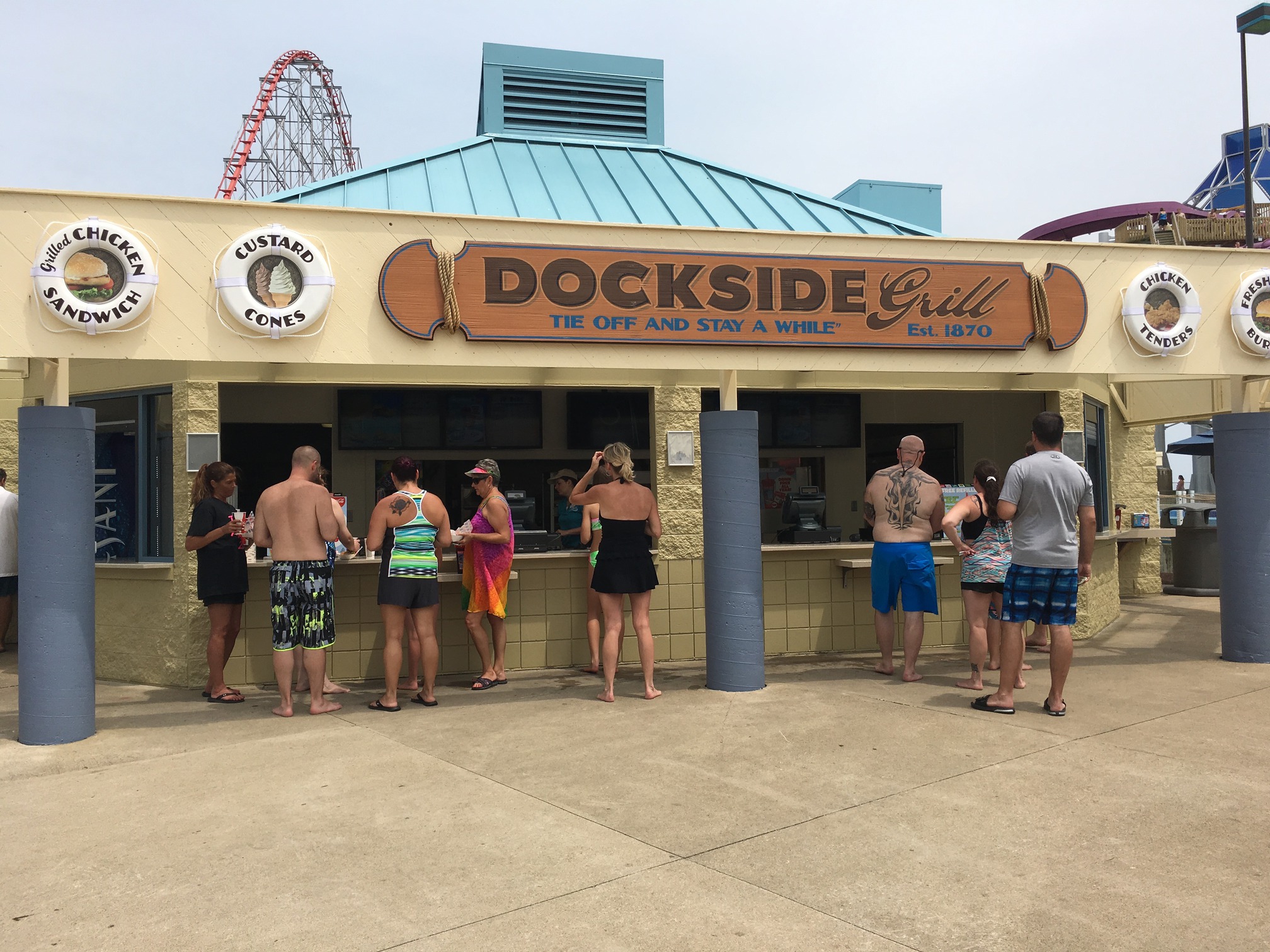 Dockside Grill is located near the Fisherman's Fury part of CP Shores. There is also a Subway sandwich place behind the camera. Both of these stands take Cedar Fair's Meal Deals, which include the Season Long Meal Deal and the refillable bottle/drink deal. Fresh burgers, as are offered here and inside Cedar Point proper, at Coasters Drive-In, are delicious. Seating is off to the side.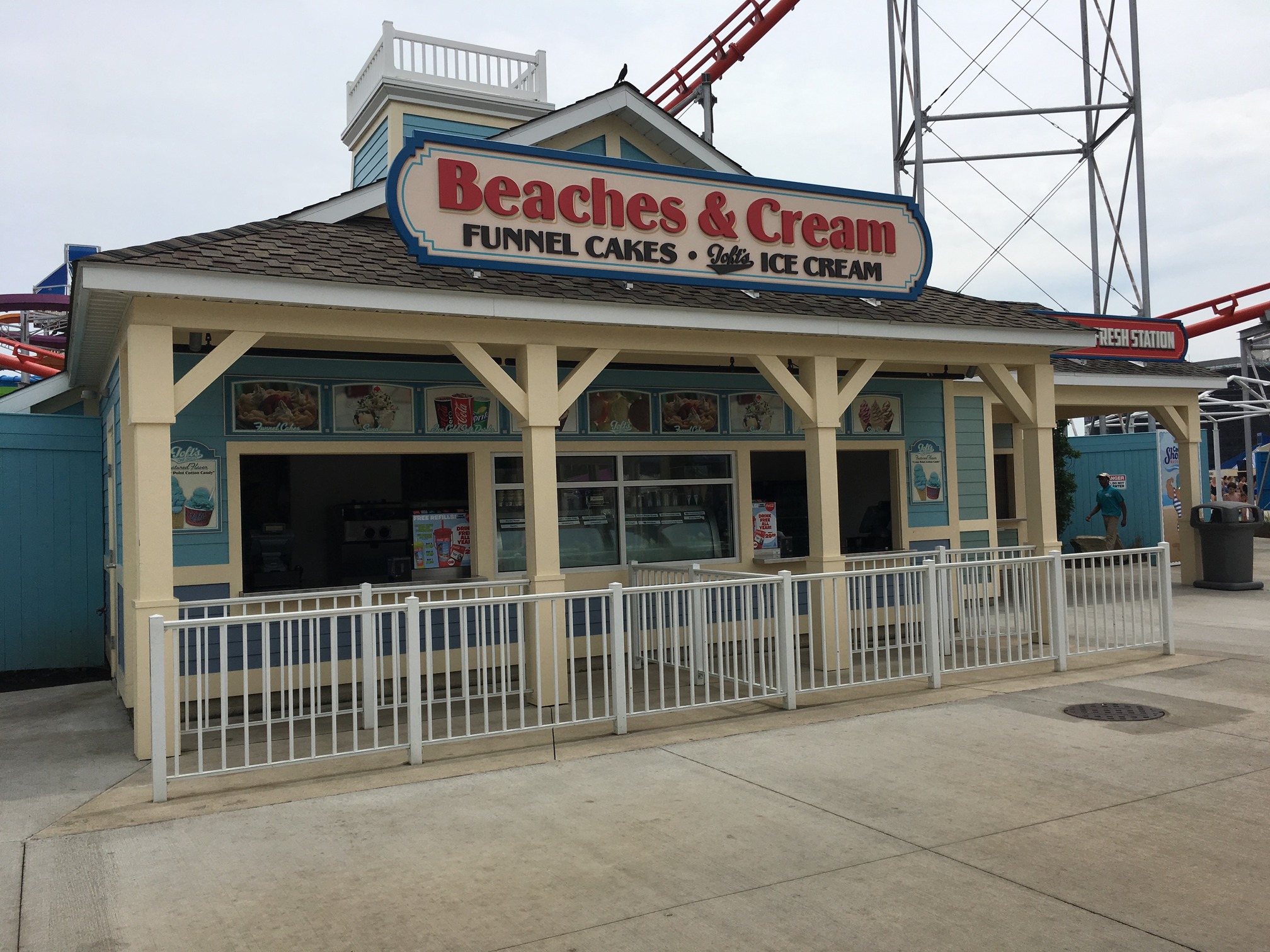 Beaches & Cream has funnel cakes, hard ice cream and soft-serve, and is located toward the entrance to CP Shores. (Kings Island's Soak City no longer has a scoop ice cream stand, as Graeter's went out at the end of the 2016 season.) B&C has both vanilla, chocolate and swirl soft-serve, but the machine was broken on the date of this visit, July 12, 2017.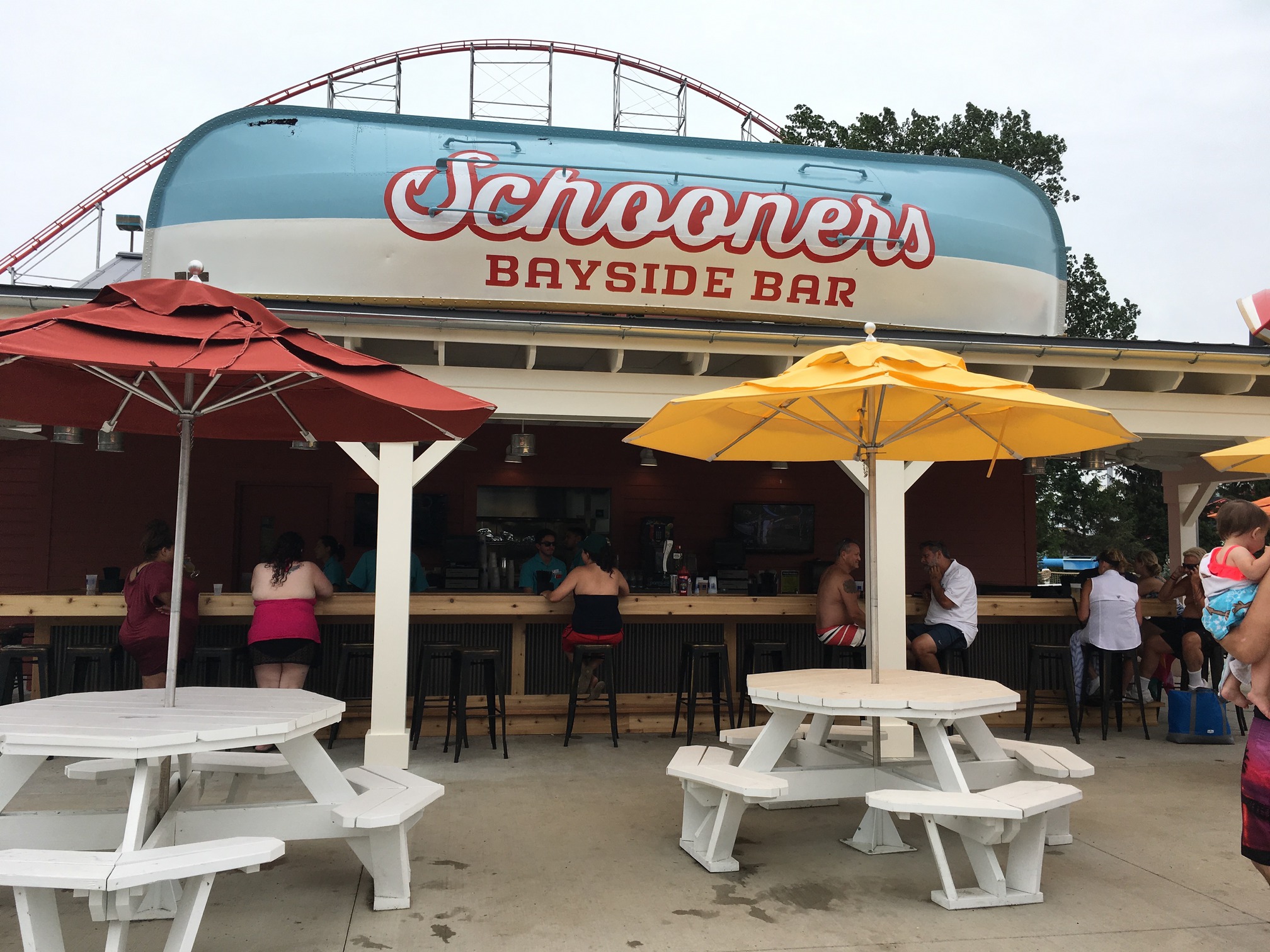 Schooner's Bayside Bar is located near Breakwater Bay and a locker hut. Beer, cocktails, and bar munchies are served here with a smile. (Platinum pass discount is valid only on food.) The bartenders are friendly and will answer any question about the Shores or even about other fun places on the Great Lakes. Also, this editor had a goof-up with the nearby lockers and received a prompt refund.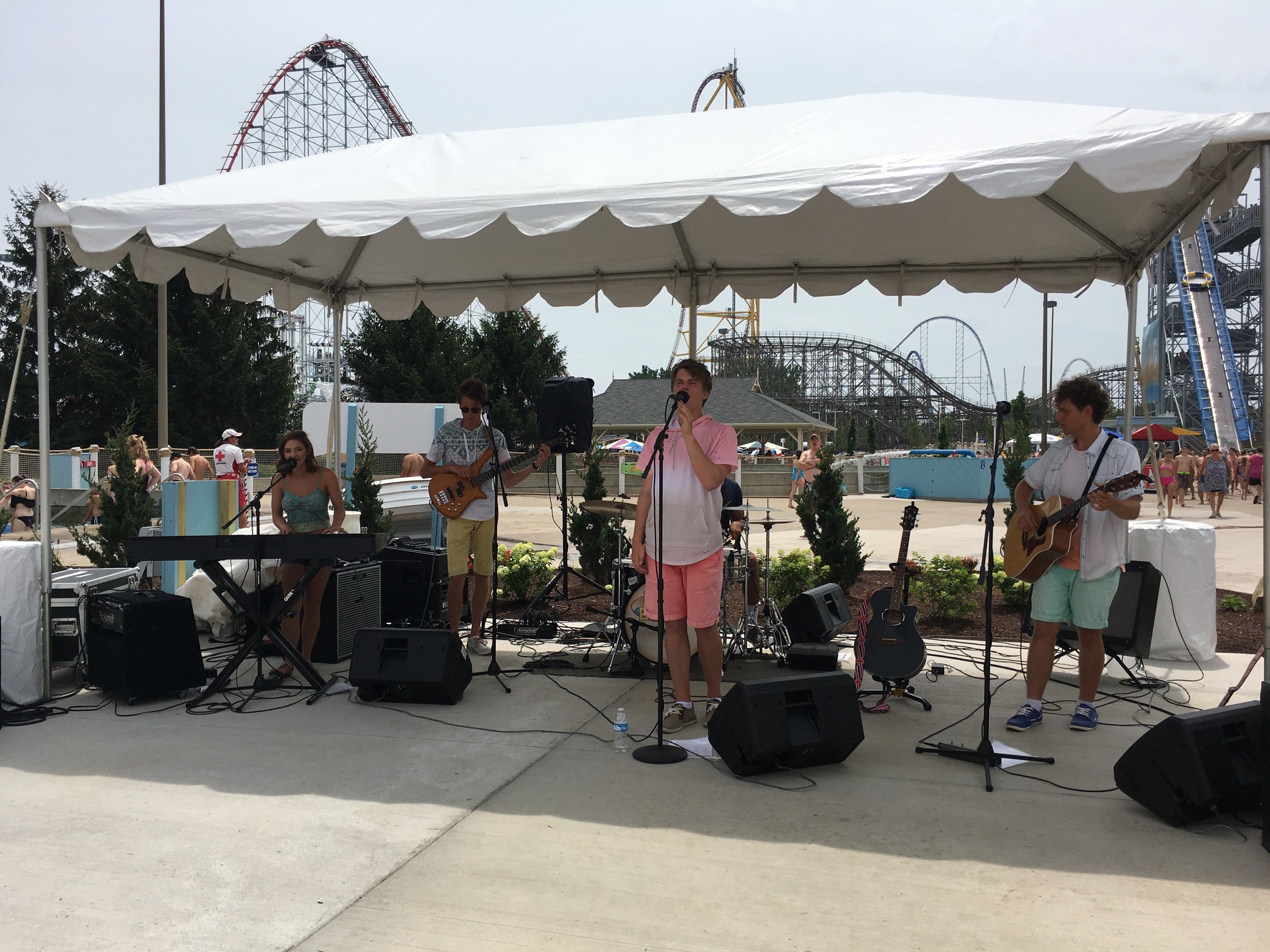 While enjoying a $9 Bud Light draft from Schooner's, this editor listened to the Toes in the Sand Band, which plays at Cedar Point, including at the Breakers Hotel beach. These musicians re-create fun summer hits from Jimmy Buffet. Other tunes include A-ha's 1985 hit "Take on Me" and Andy Grammer's 2014 hit "Honey, I'm Good."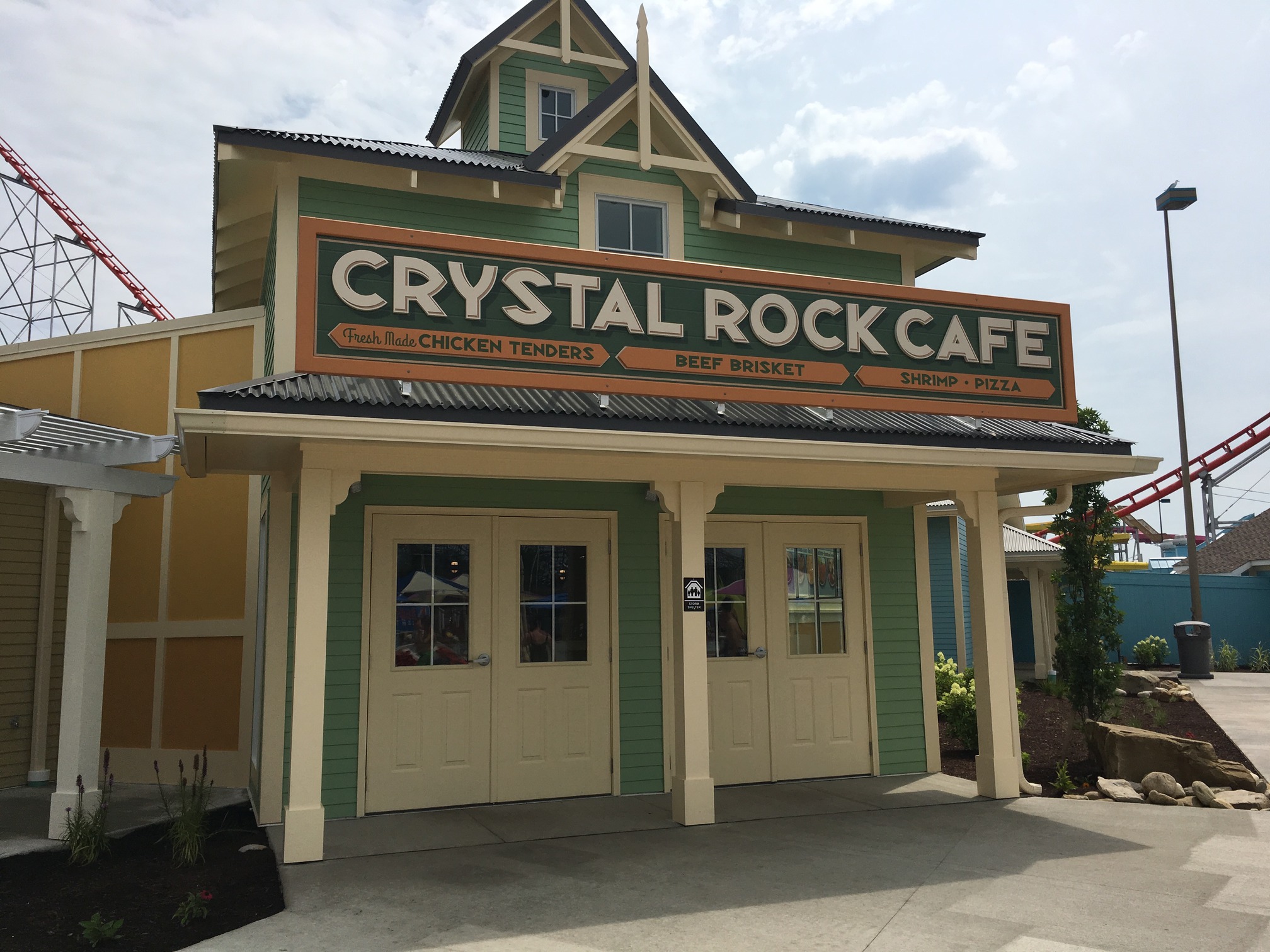 The name of the new Crystal Rock Cafe is a throwback to 1910 with Cedar Point's Crystal Rock Castle, which was at that time the largest beach bathhouse in the world built at a cost of $50,000. It was an impressive amenity. The amenities at the Cafe aren't too shabby either. The floors are a barefoot-friendly Pergo-type flooring and everything here is new and shiny. There are two large beverage stands at the end of the cafeteria-style line that include the usual Coke varieties plus orange pop, lemonade and Powerade.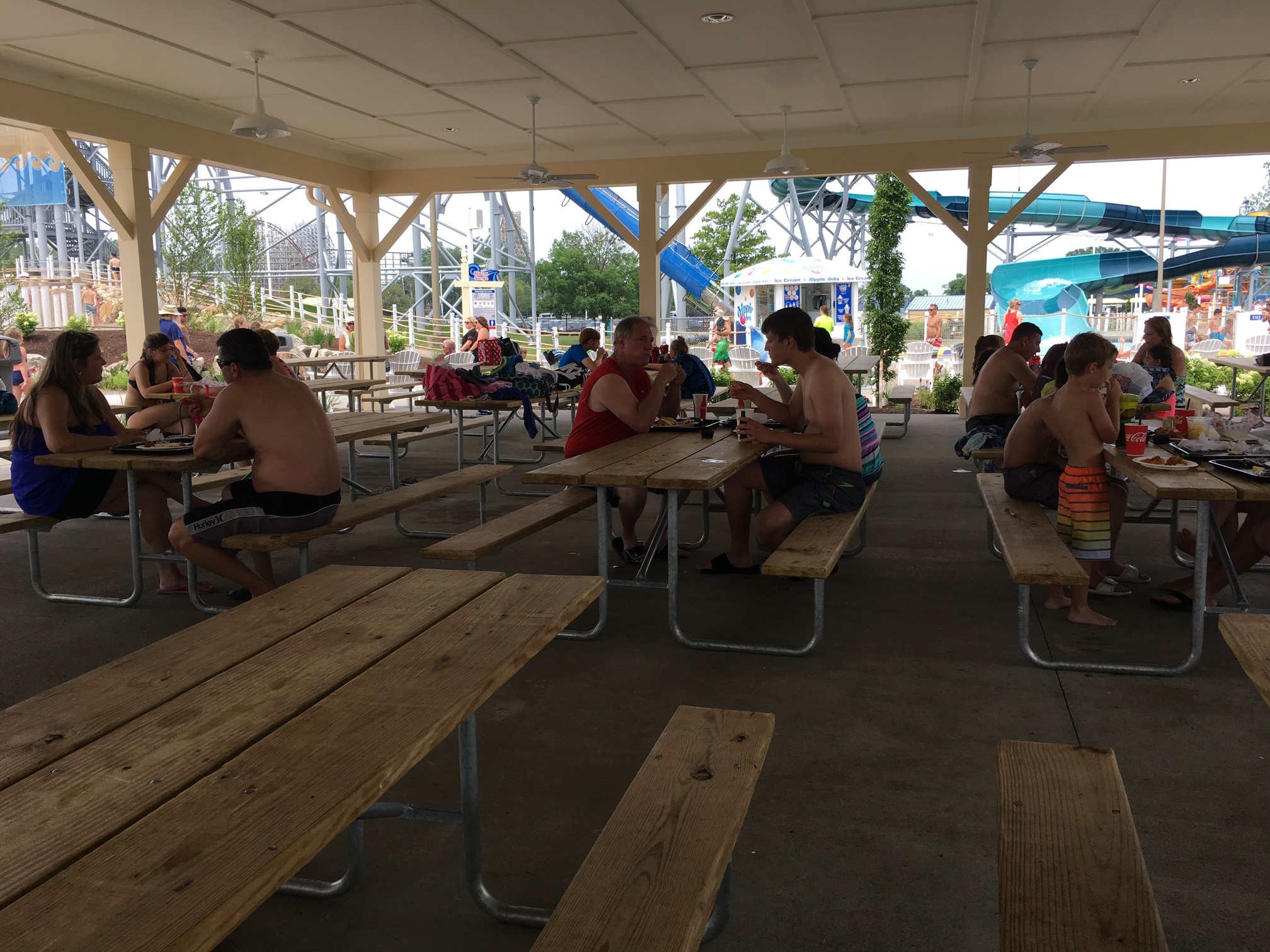 The patio at Crystal Rock Cafe has plenty of seating, although the overhead lights should be turned on during overcast afternoons. The two condiment bars here—with ketchup, mustard, bbq, and many salad dressings—was clean and well-stocked on two visits. (I had to clean my own table on one visit.) This patio is also conveniently located to the Beaches & Cream ice cream stand and a sundry shop.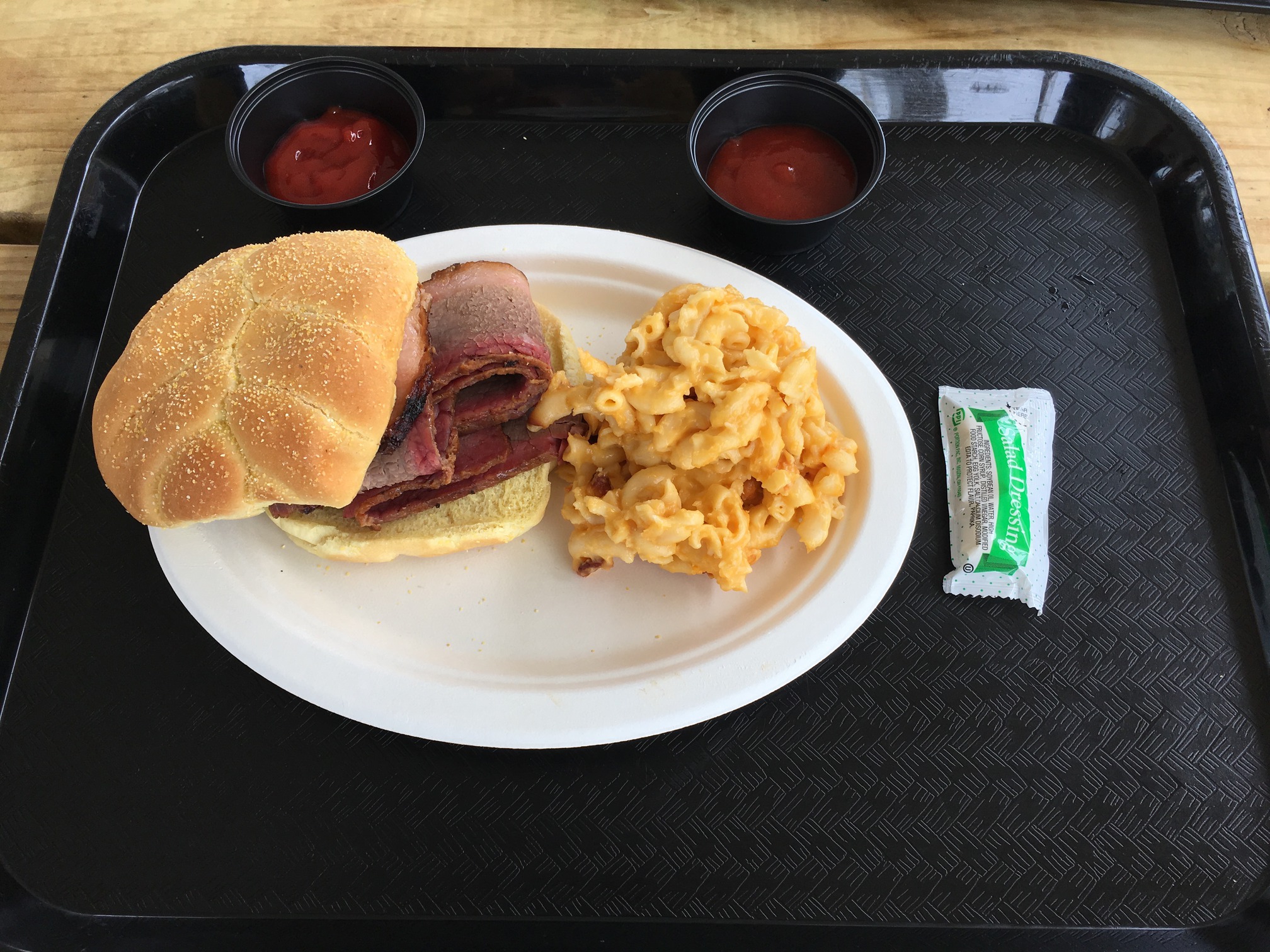 The beef brisket is included in the Season Long Meal Deal at Crystal Rock. It was tasty but a little dry, and the bbq sauce with some salad dressing livened it up a bit. The macaroni and cheese was dried out on this lunchtime visit. Other meal-deal baskets include: pizza, bratwurst, rotisserie chicken, fried shrimp, fresh chicken tenders, and pulled pork.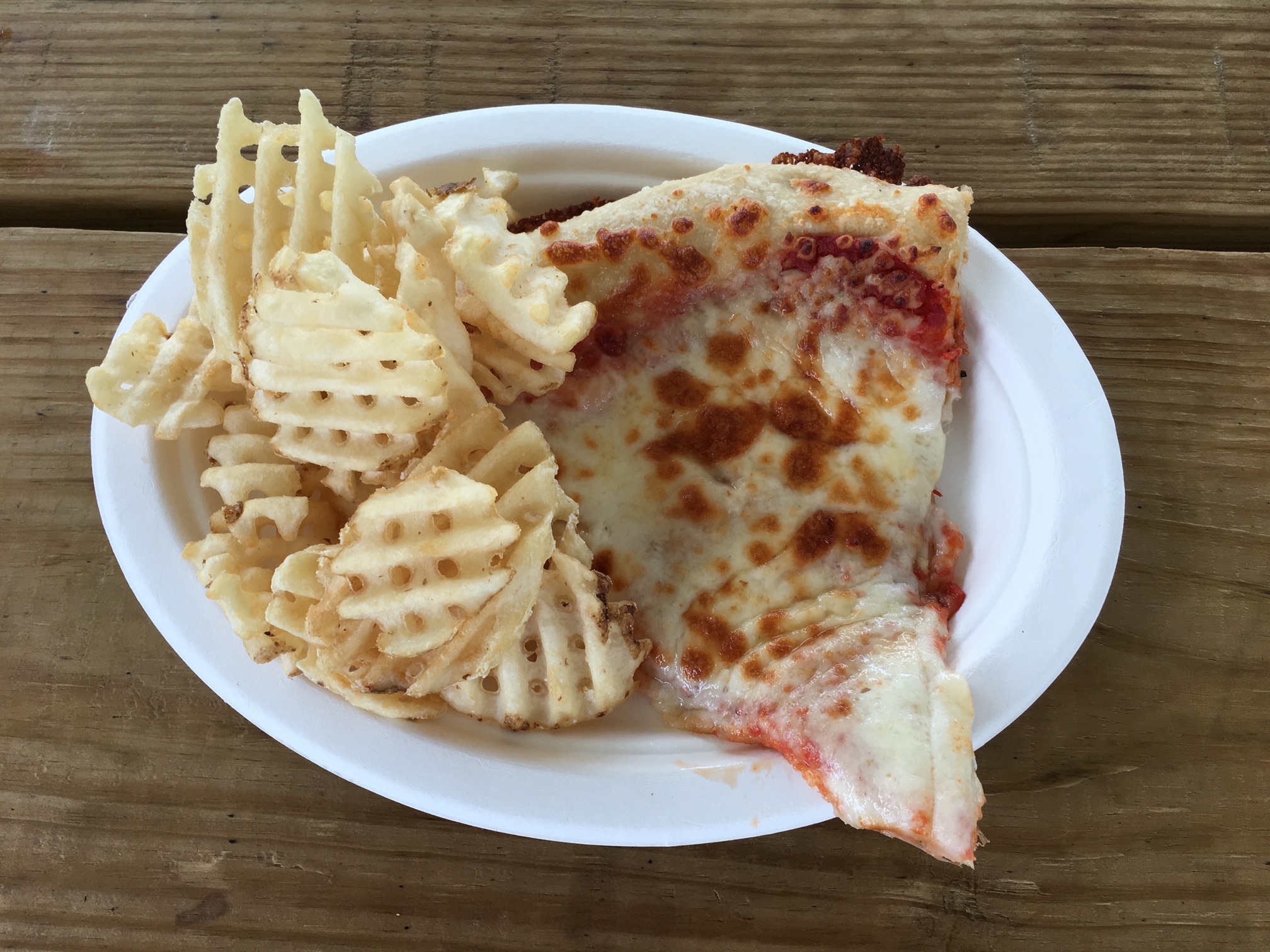 The pizza basket is priced at $11.49 before tax, and does not include a drink. (The refillable/refuelable options are the best even for just one day.) There is a choice of either cheese pizza or pepperoni pizza. Sides include potato salad, coleslaw, mac & cheese, side salad or potato wedges. Potato wedge offerings may vary from day to day.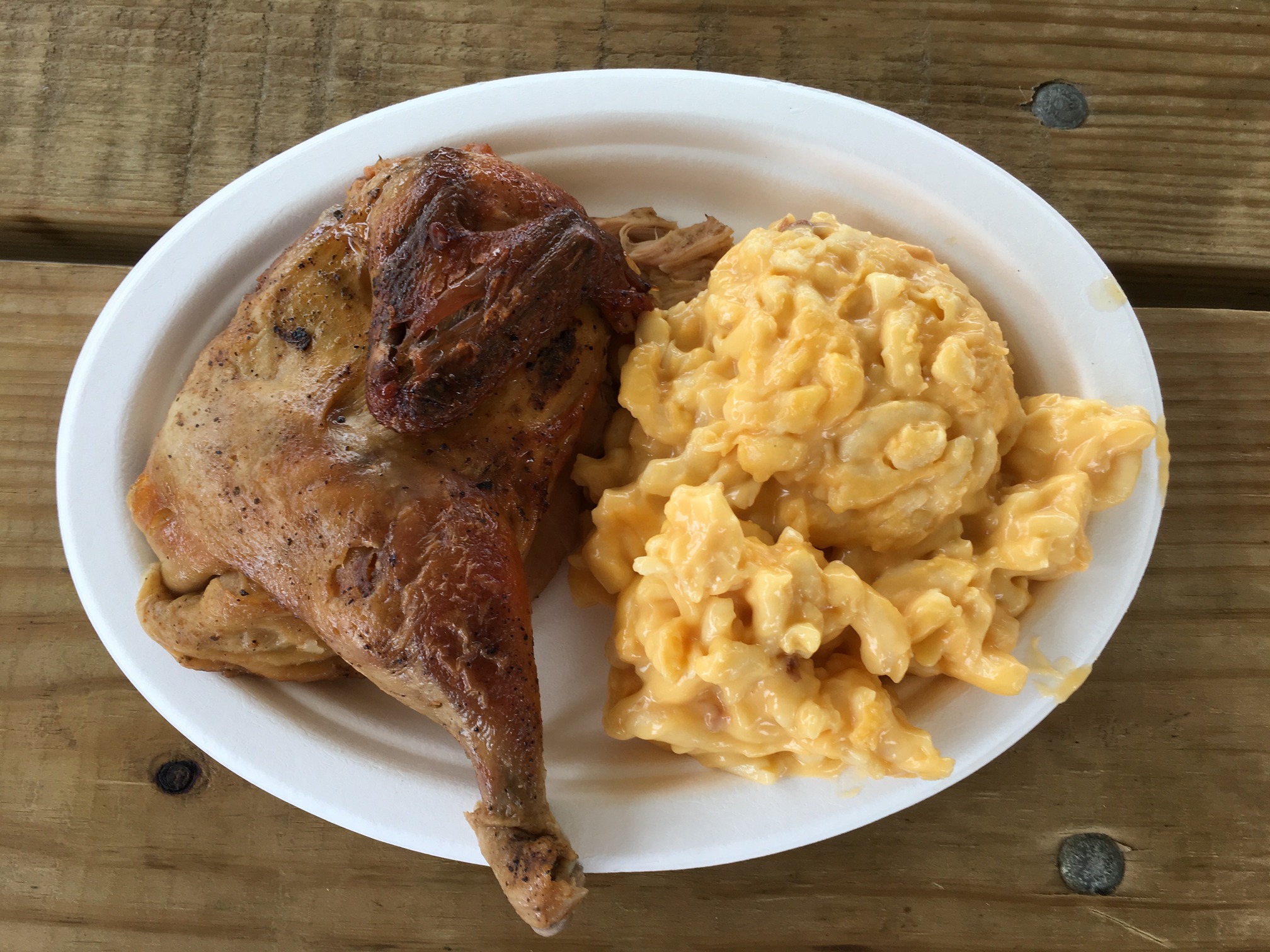 The rotisserie chicken, a meal-deal option, is $13.89 before tax. The chicken was a little dry, and the wing was nearly vaporized, but ample sauces fixed this early-dinner serving. The mac & cheese, however, was not dried out and was prepared correctly. All in all, the flavor was very good, as was the friendly cafe service from a great mix of young people from all over the world.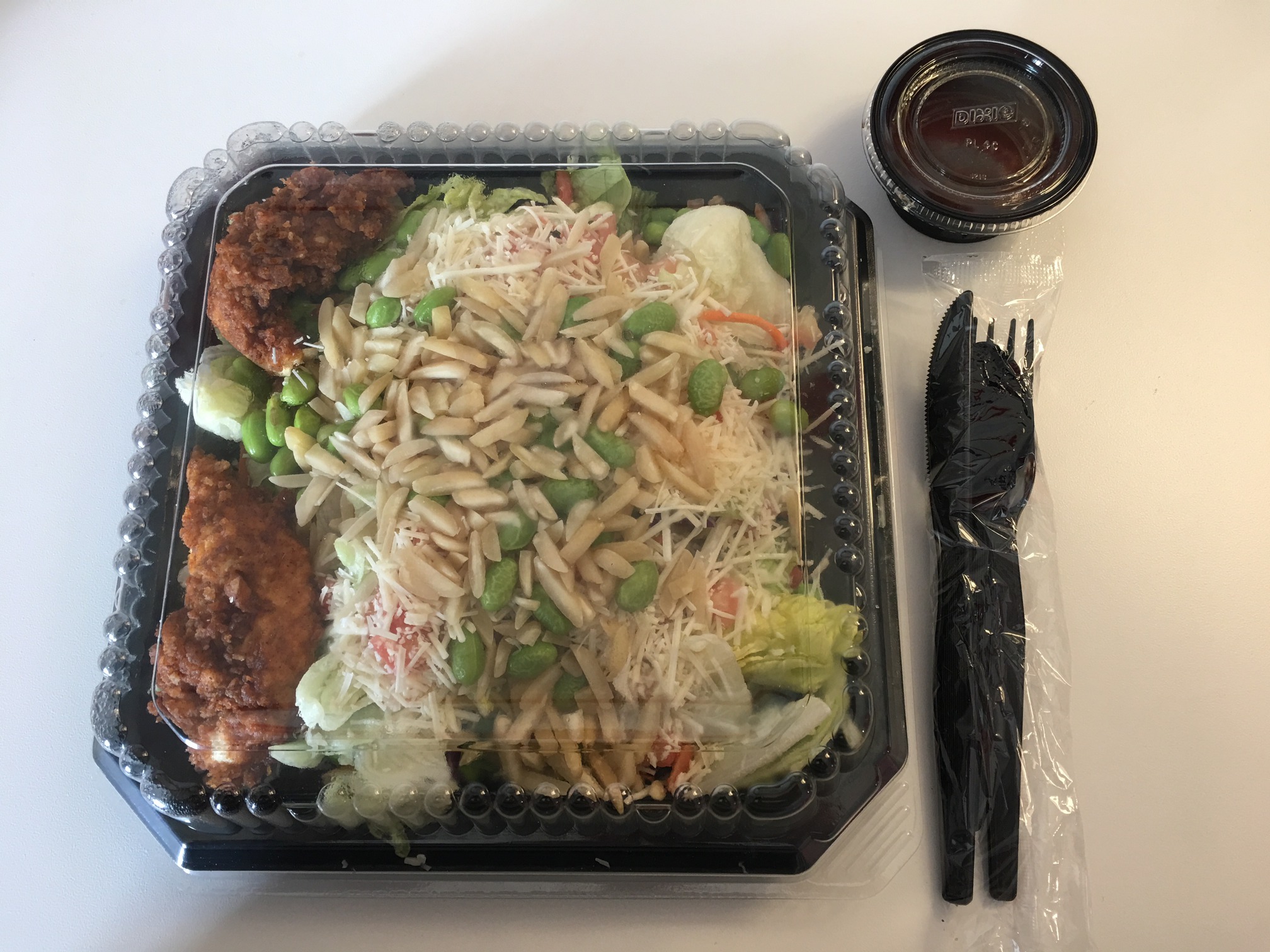 This is the Asian chicken salad, with two fresh chicken tenders, ginger-sesame dressing, almonds, shredded cheese, variety lettuce, and edamame at $14.59. A diner may want to ask for an additional dressing cup. There is also a similar BLT chicken salad with a choice of dressing packet. Both tasty salads were ordered for an early dinner and taken to Hotel Breakers to eat much later in the evening.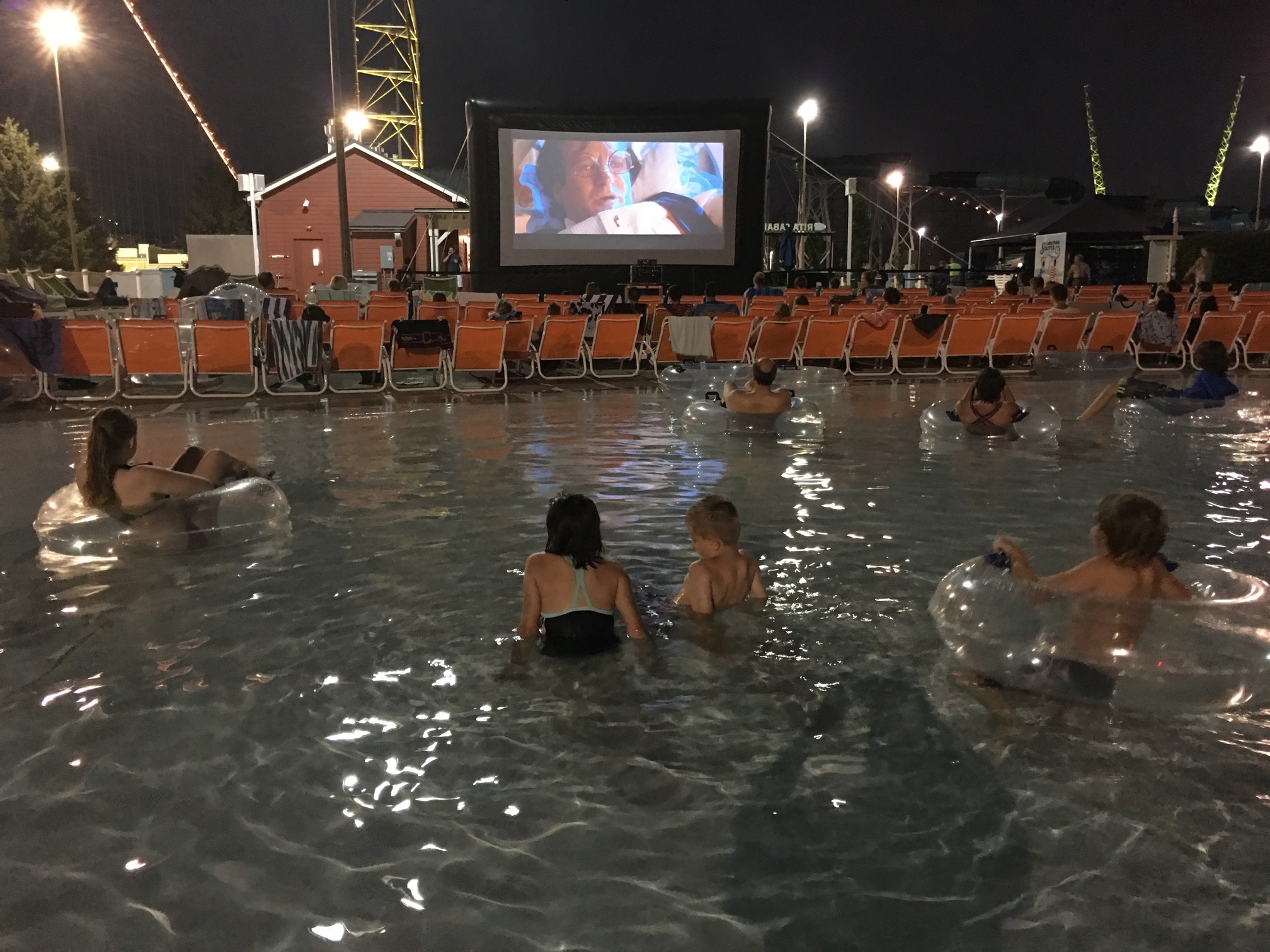 Thursday, July 13th, 2017, long after dusk: the CP Shores "dive-in movie" was the 1991 Steven Spielberg hit, Hook, starring Robin Williams as Peter Pan and Dustin Hoffman as Captain Hook. Maggie Smith played Wendy Darling and Julia Roberts was Tinkerbell. The movie is free to Platinum passholders and resort guests. It was an easy stroll from Hotel Breakers back into the Shores.