Kings Island, Mason, Ohio Covid-19 edition
---
Kings Island, which is a large theme park in southwestern Ohio, didn't open as it usually does in mid-April. The year 2020 has been a trying one, with the Covid-19 Coronavirus pandemic affecting every corner of the world, North America, South America, Europe, Asia, and the Pacific. In the scheme of things, going to a theme park is not important, but people can't stay quarantined forever. Kings Island did eventually open to season pass holders on July 2nd, with general admission to follow on July 12th. The park still looks the same, but there are important changes to help everyone stay safe.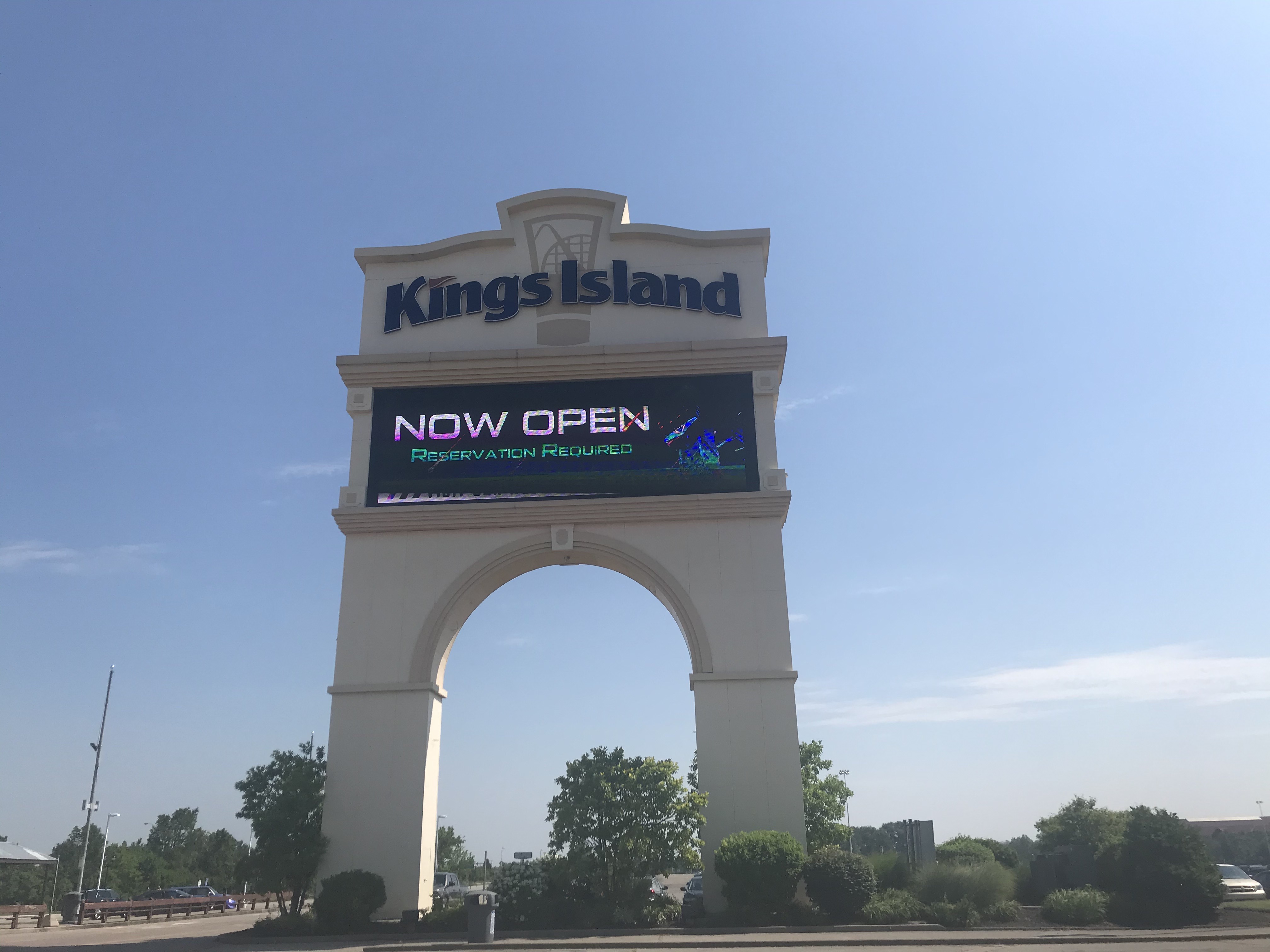 Today is July 5th, 2020, and Kings Island has been open for a few days now. While essential places like grocery stores never closed, theme parks were not deemed essential when Ohio went into Covid lockdown in March. Exactly a month ago, KI parent company Cedar Fair and Ohio's Governor Dewine were locked in a back-and-forth about reopening amusement venues. Finally, on June 19th, Kings Island and Cedar Point were allowed to reopen. Crowds would be limited and hours reduced, and social distancing measures would be in effect. Face masks are also mandatory.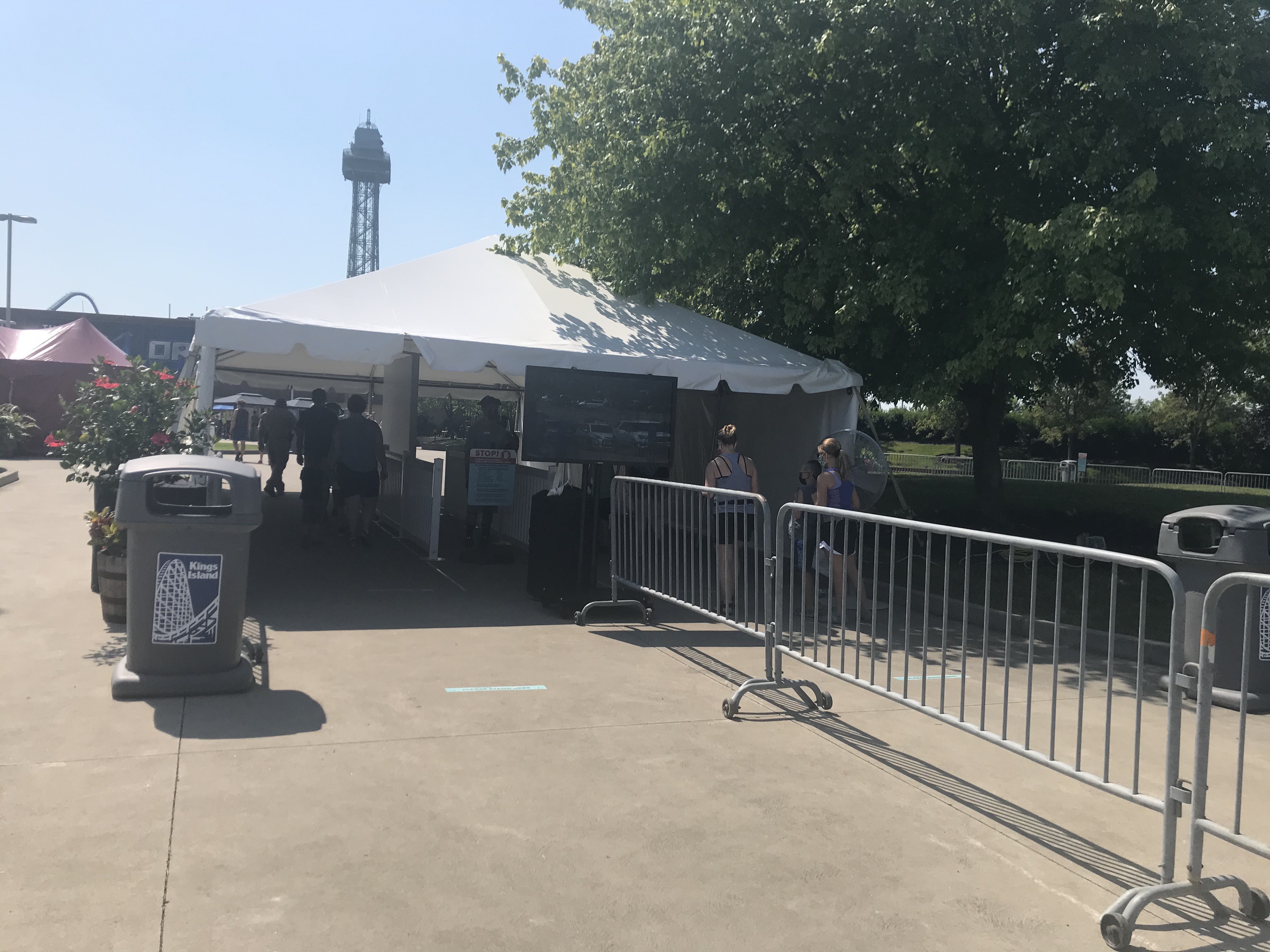 Have you ever been sitting in a car with friends who all have a free afternoon and just deciding to go to Kings Island? That has been the situation for many park guests over the years, but due to Covid-19, reservations are now required to visit. Go to the Kings Island mobile app, or the KI website, and select a date to go and create a ticket. Be sure to save your ticket, because you'll use it for Admissions on the date of your visit. This tent here is where guests have their temperatures contactlessly taken.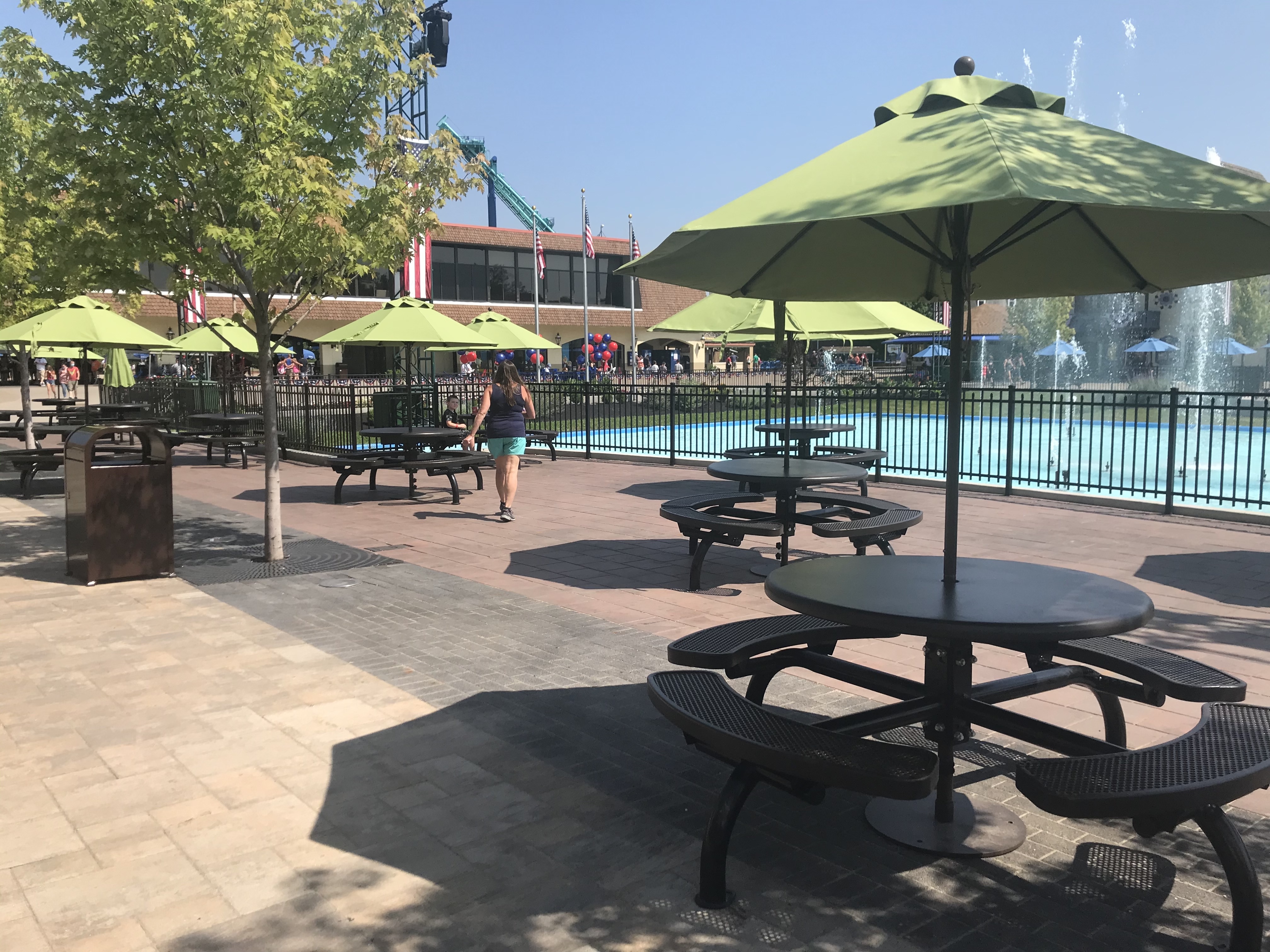 In this new era of Covid-19 Coronavirus, park guests have tickets for timed entry. (I almost did not get a ticket; my Platinum Pass is very, very old, and did not carry the correct numbers to acquire a ticket. I was told to use the number below the barcode, which worked.) Our tickets were for 11:30 am, and today is Sunday. This is International Street, which on any other day would be jam-packed. Upon passing through the Breezeway, our first thought was to find somewhere to get cold drinks. Our first stop, Coca-Cola Marketplace near Hank's Burritos, was closed due to Covid.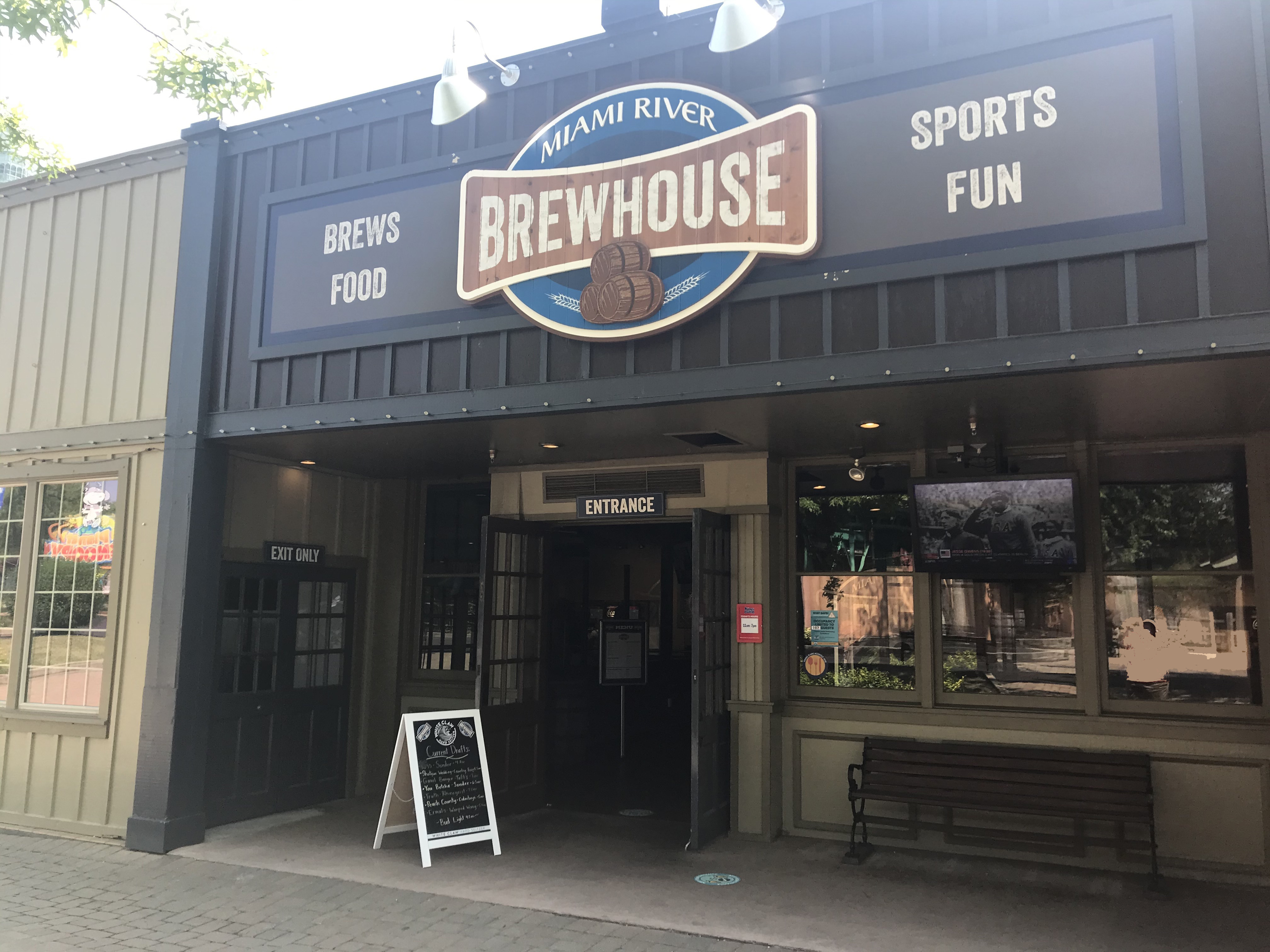 One of the better eateries at Kings Island (imho) is the Miami River Brewhouse, which used to be the Cincinnati Reds Grille up until a couple of years ago. The food here is very, very good. This place has a varied menu of the best bar munchies like great hamburgers, cod sandwiches, all beef hotdogs, and pulled pork. There are also fancy salads. The bar has quite a few brews on tap, and there is a large outdoor seating area in the back. Just go inside and place your food order with the cashier and you'll be good to go.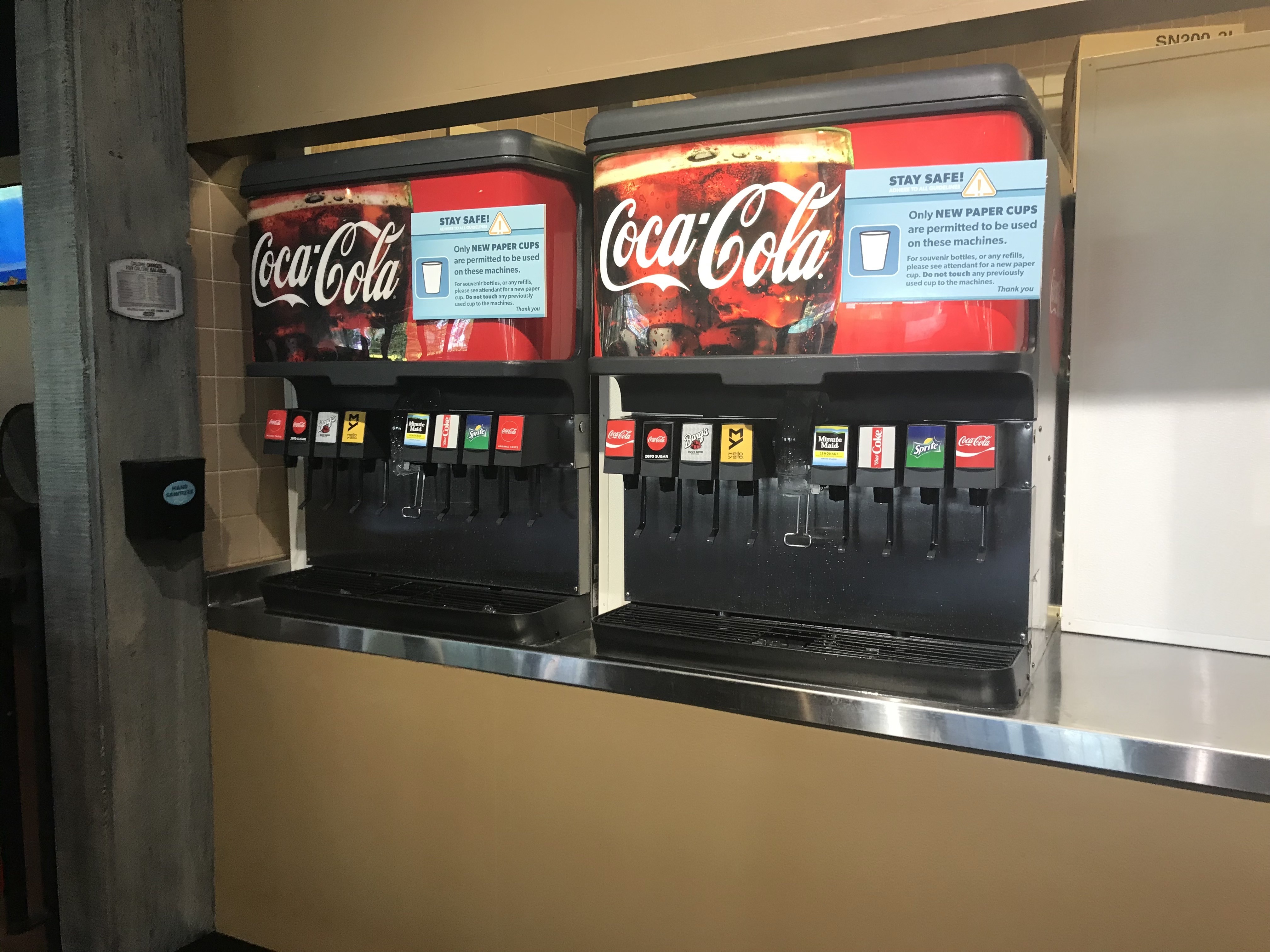 Typical of the soft-drink dispensing machines at Kings Island, the ones at the Brewhouse ask you to use a clean cup every time you get a beverage. If you have a refillable souvenir cup, just take a clean paper cup to refill your refillable souvenir cup. The Coke Freestyle drink stations were closed on the date of our visit, but the Eiffel Tower has a great selection, including a couple of flavors of Vitamin Water. We have the Season-long drink add-on to our Platinum season passes, whereby we can get a new 12-ounce drink every fifteen minutes, in any Cedar Fair park, and we just get a clean cup each time with nothing to carry around.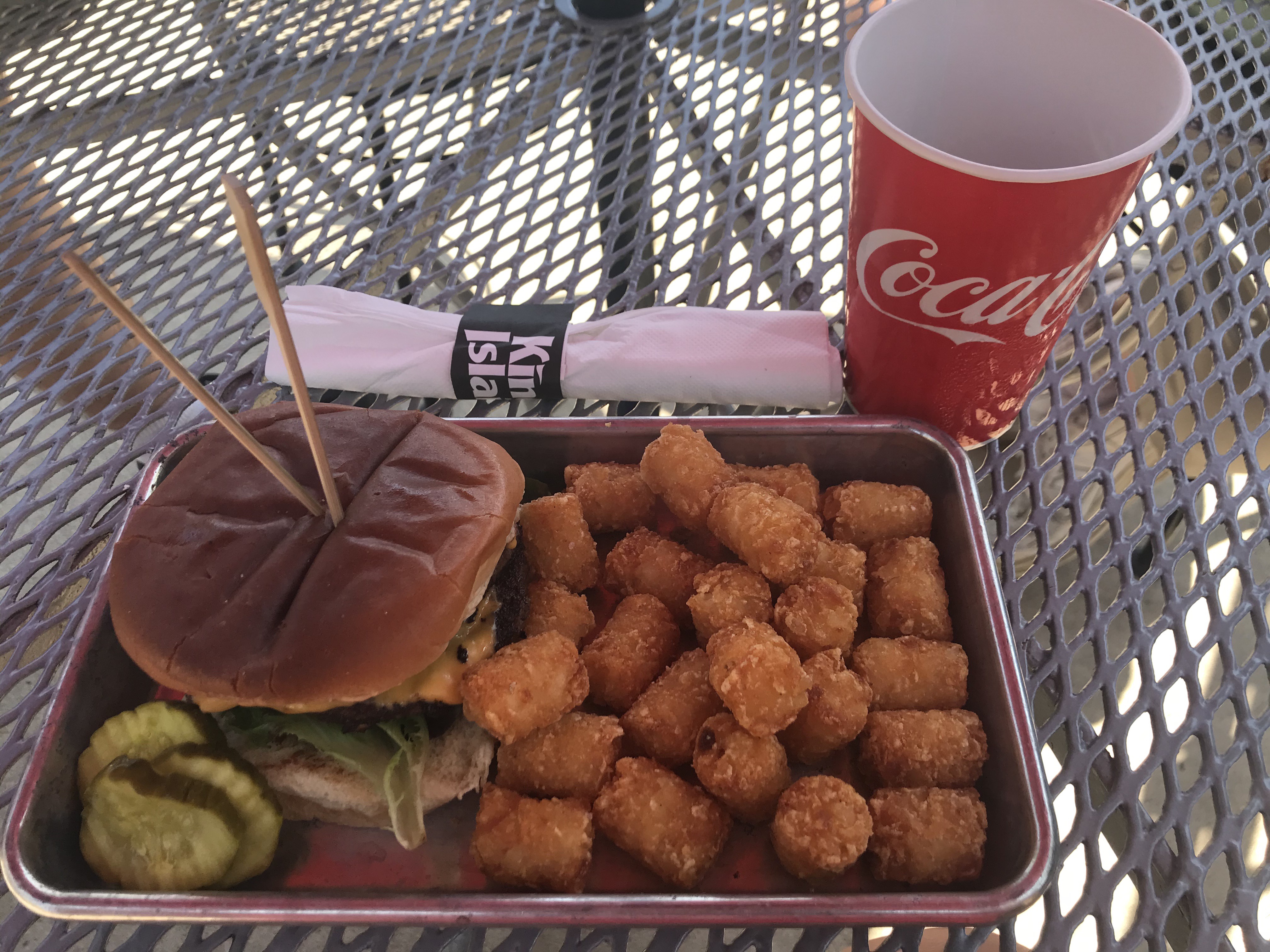 Chef James Major was named the executive chef at Kings Island last year in 2019, and he had been a winner on the Food Network's Chopped tv show. His efforts are seen in several of the meals in the park, particularly here at the Brewhouse Pub. The double-patty Brew Pub cheeseburger is delicious. Another really good restaurant in the park is the Coney Bar B Que in Coney Mall. At both eateries, the self-serve condiment dispensers are no longer being used. Instead, you'll ask the order-taker for your condiments. Just be sure to check your plate for the condiments that you've asked for.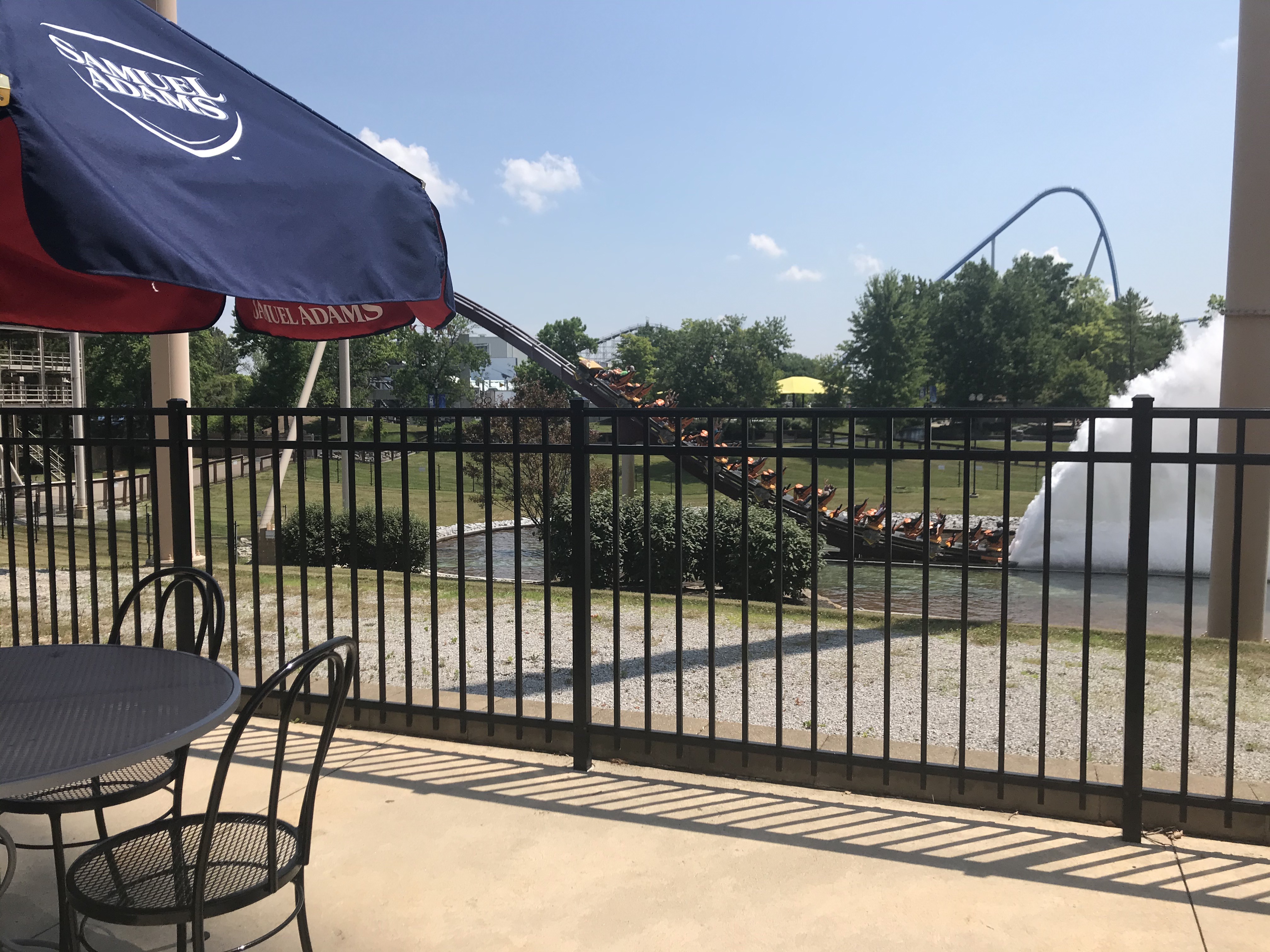 The Brewhouse Pub has a large patio with several umbrella tables and a fire pit. You can get a beer from the bartender and just head out here, or, you can have your meal delivered out here. (There is also ample indoor seating with sports programming playing on all of the flatscreen tv's.) We chose to sit outdoors, so we could watch the Diamondback roller coaster as we enjoyed our meals. The lagoon here is the last stop for the Diamondback before it heads into the shed.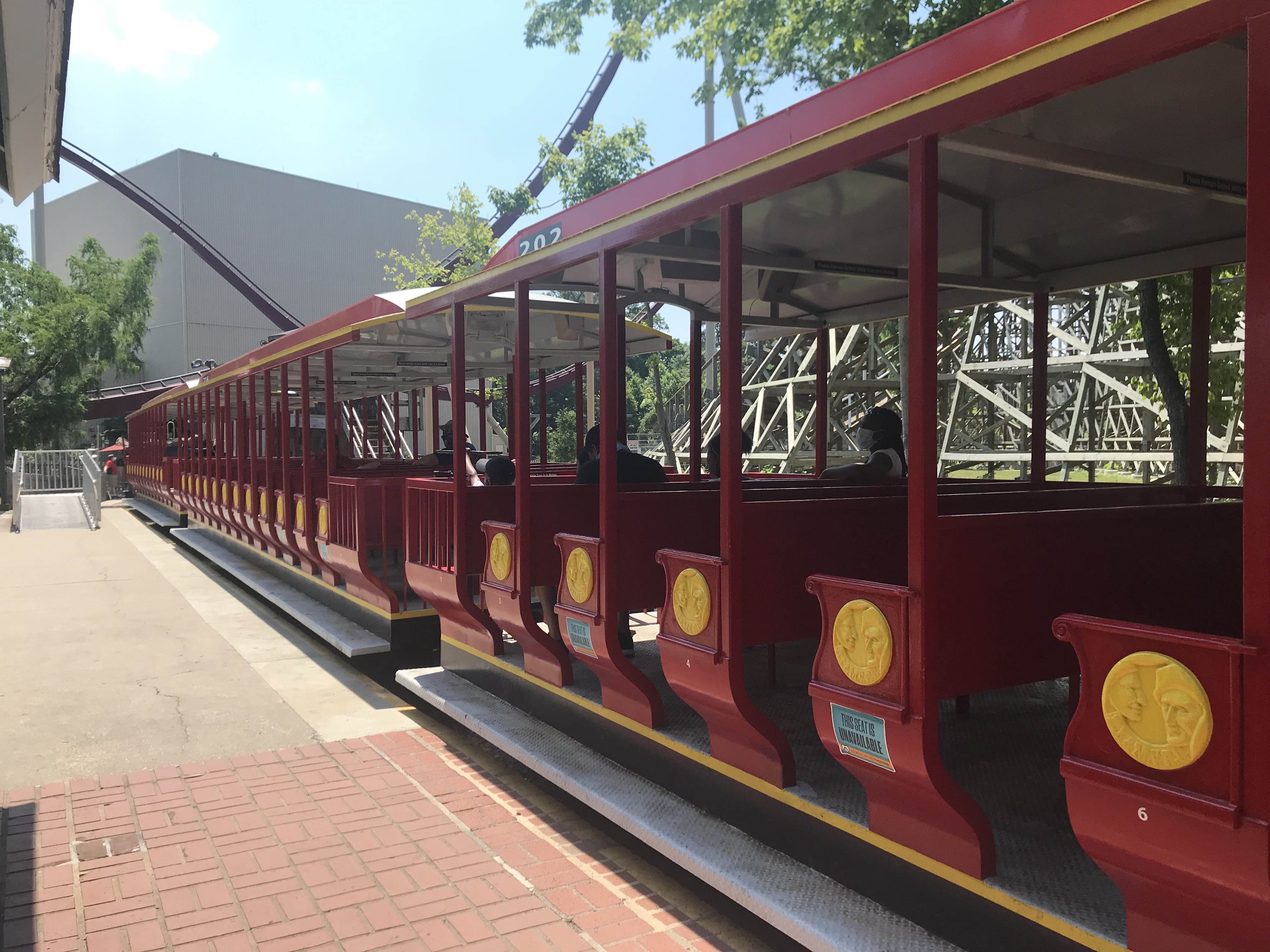 The K.I. & Miami Valley Railroad has been treating guests to locomotive rides since the park opened in 1972. There are two authentic, steam-powered engines that take riders through the park and past the Soak City water park. Riders can wave to others in the twin passing train, and can watch riders on the White Water Canyon rafting ride get soaked. The train has an accessible entrance, and strollers can be placed at the end of each car. On most days, the trains are jammed shoulder to shoulder with passengers, but due to Covid-19, passengers sit in alternating benches and must wear facial masks.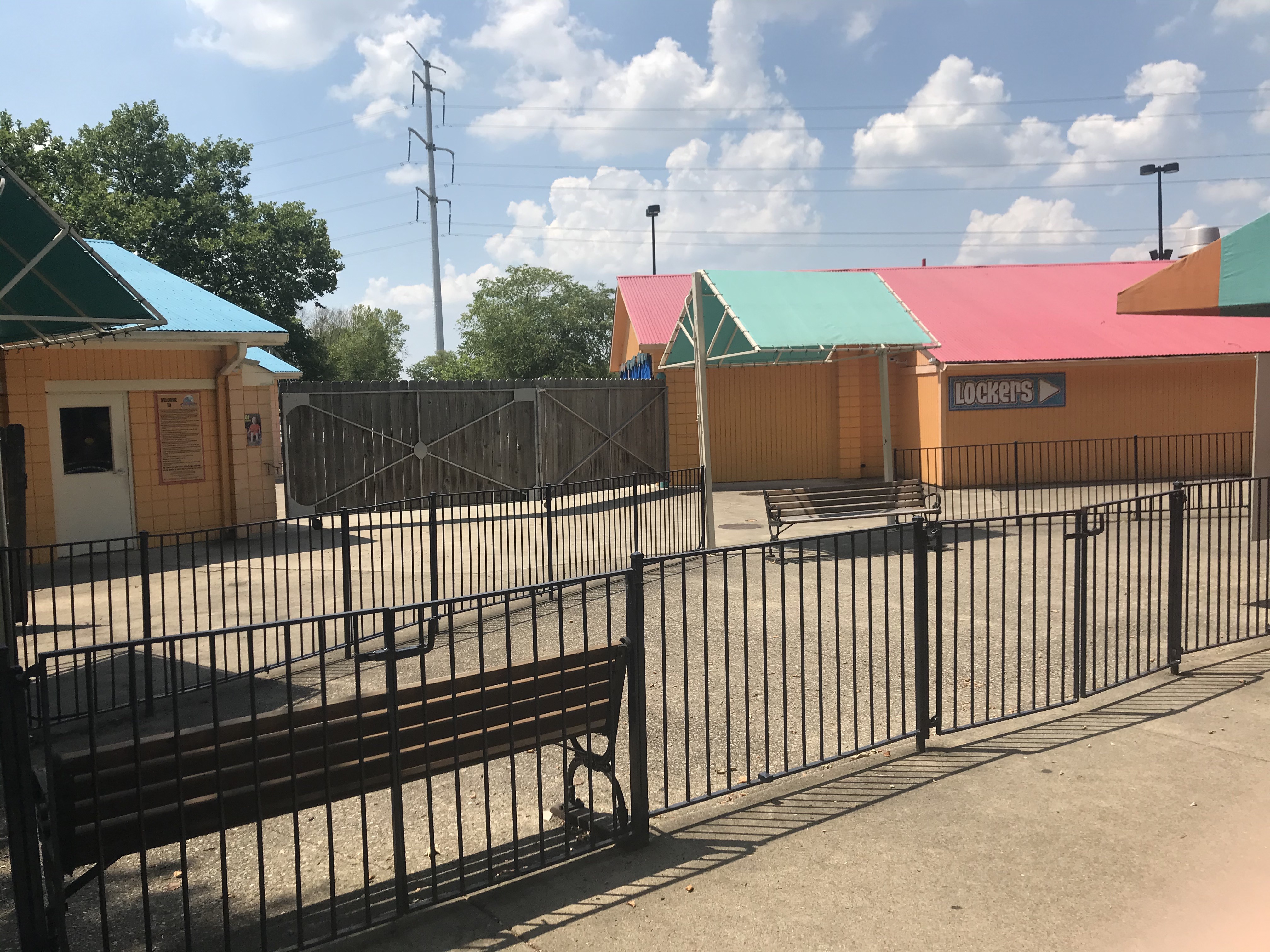 Although Kings Island is open, the Soak City water park section is not. This image was taken from the train, which normally stops here to let passengers out who may want to head into the water park to sit on a lounge chair or get a daiquiri by the pool. There is not currently an information available at this time about when Soak City would reopen. Because it was 95 degrees on the day of my visit, we all headed to White Water Canyon to cool off. There was no wait and we walked right on. There are other water rides: Race for Your Life Charlie Brown (for kids) and Congo Falls in Action Zone for families.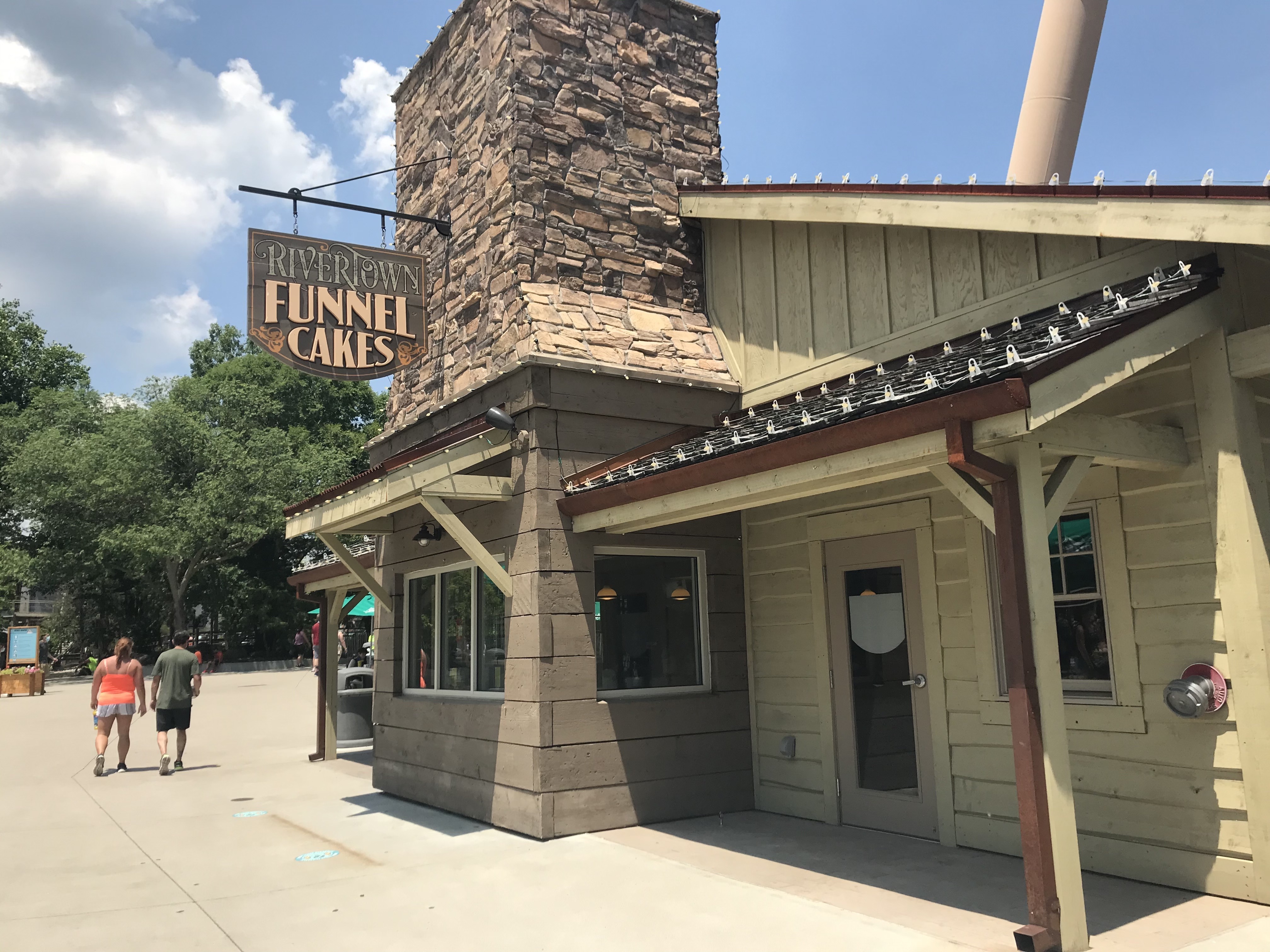 This funnel cake stand in Rivertown also has soft-serve ice cream. Flavors may vary, but usually in the summertime it's vanilla and chocolate, or vanilla and chocolate swirl. This isn't a sit-down place, like Graeter's on International Street, but there are umbrella tables just past the door. Most of the funnel cakes are made to order, and there are a lot of toppings: the classic powdered sugar, berry toppings, chocolate sauce, ice cream, whipped cream, and cherries. This stand also sells soft drinks. Plexiglas shields are newly installed to provide some social distancing for the cashier.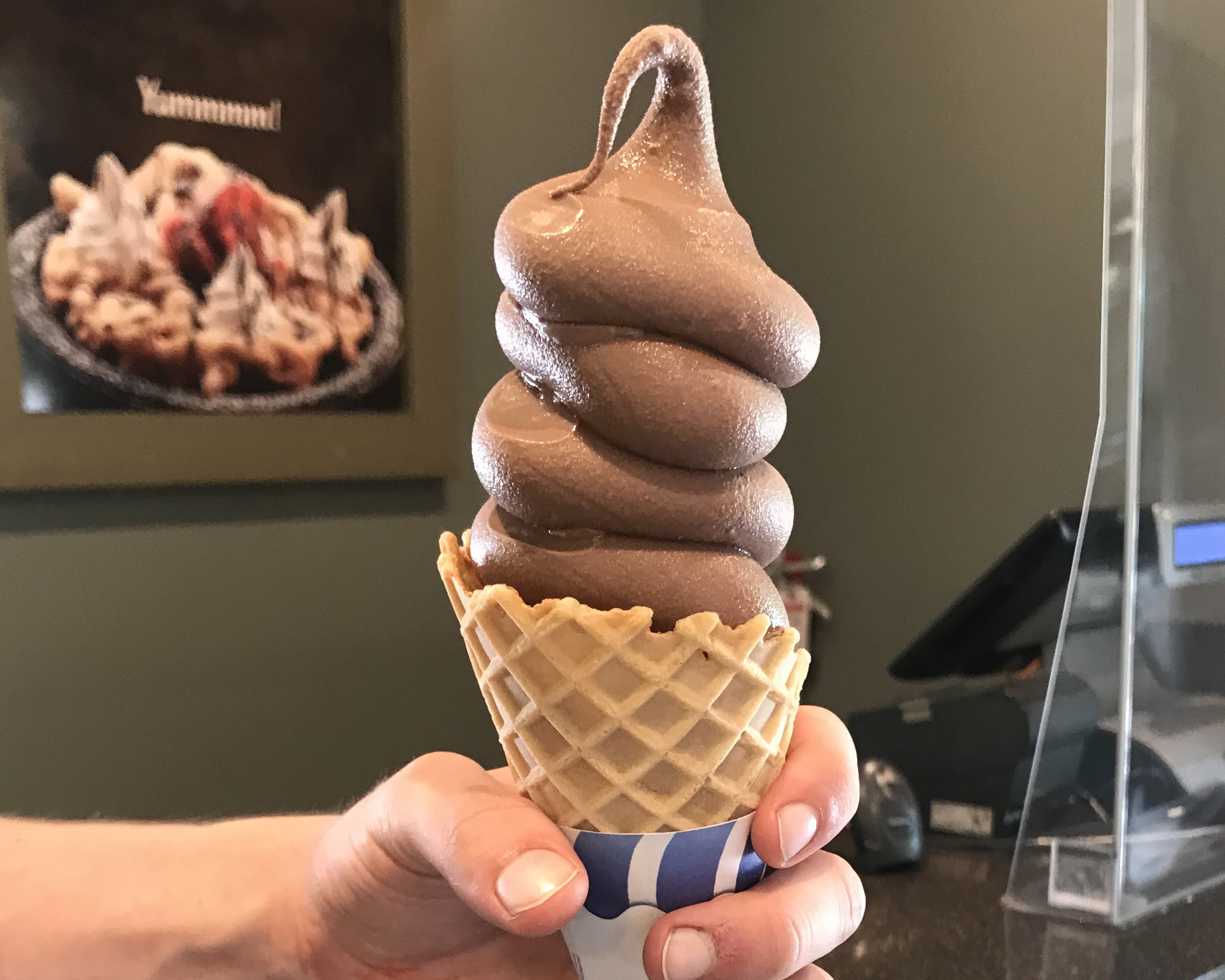 This is the waffle cone, with chocolate soft serve. (Remember, Gold and Platinum season pass holders get a ten percent food and merchandise discount.) Hard ice cream can be found at Graeter's on International Street, plus International Street Funnel Cakes by the carousel. International Street Funnel Cakes has outdoor seating. Soft serve cones run about five to six dollars with tax, and funnel cakes run ten to fourteen dollars, with tax, depending on the toppings. The chocolate ice cream actually tastes like chocolate this year.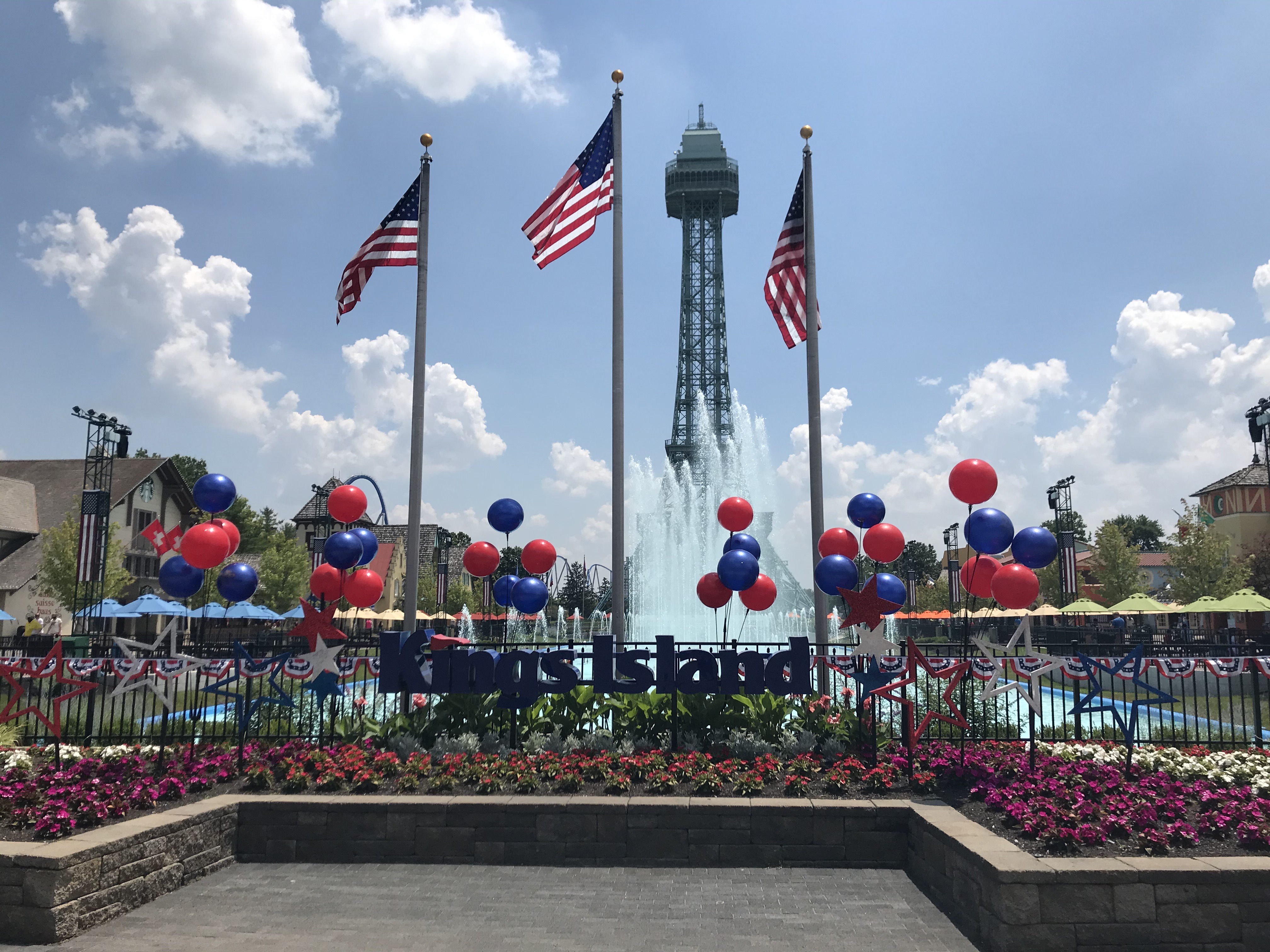 This is perhaps the best place in the entire park to get a photo, and it's just inside the main gate. As it is the day after the Fourth of July, all the patriotic decorations are still up and look great in a picture. In the center of this image is Kings Islands one-third replica of the Eiffel Tower in Paris. (Just an fyi, there's a Starbucks on the left with a Swiss chalet facade.) The Eiffel Tower is open, it provides an amazing view, and the line to get in is very short.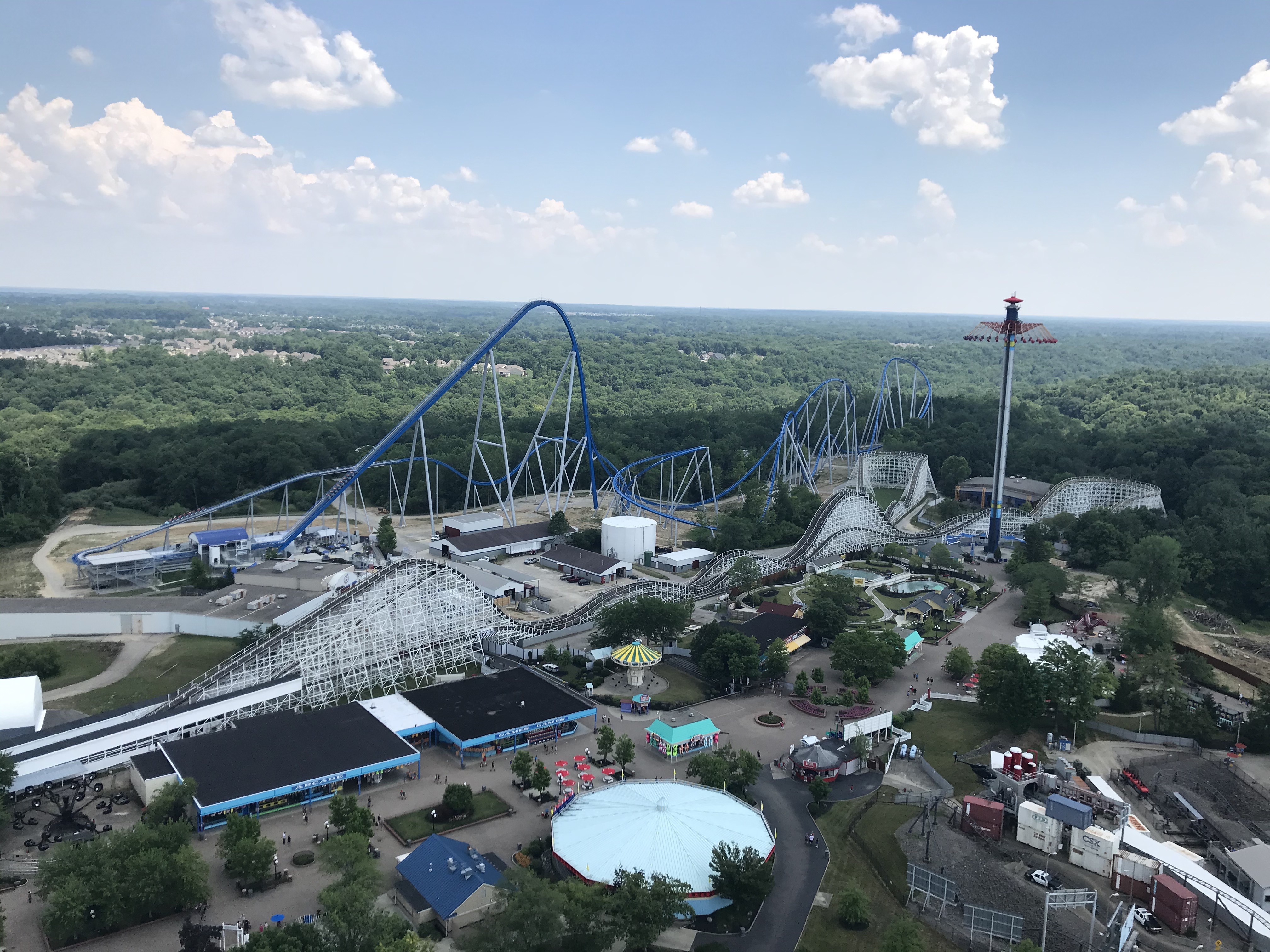 This is the amazing view from the Eiffel Tower, looking southeast over the Coney Mall. Viewers are 314 feet up, and on a clear day, downtown Cincinnati is visible through the view scopes. This view here shows a lot of fun stuff. The round, light blue structure is Dodgem bumper cars. Backlot Stunt Coaster is to the right. The tall structure in the right corner is Windseeker. The white wooden roller coaster is the twin-tracked Racer. The arcade is here as well, which is air conditioned. To the back is the Orion roller coaster, which is new for 2020.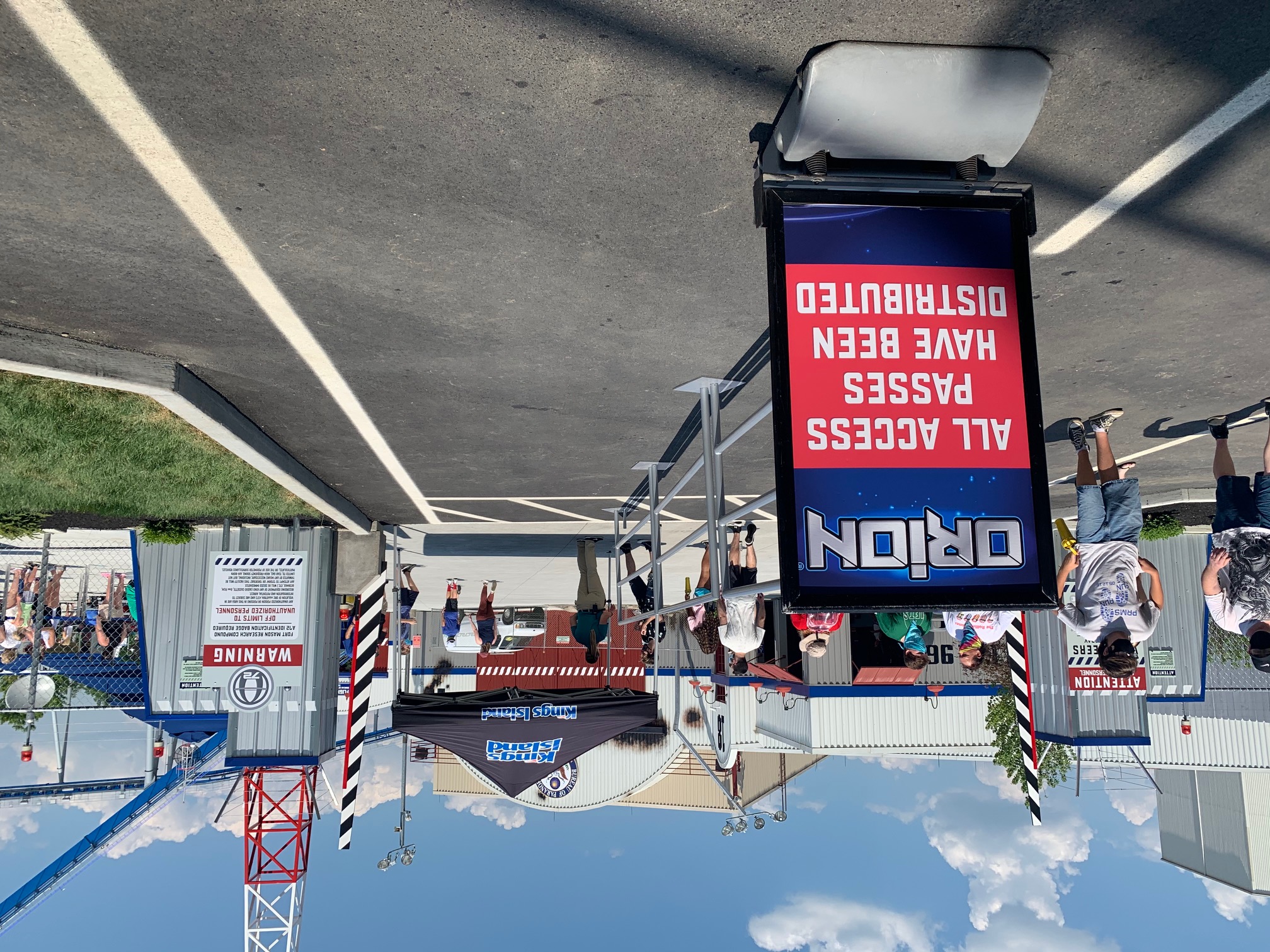 The Orion is one of the world's seven giga coasters, which means it has a drop-height of between three hundred and three-hundred ninety-nine feet. Orion replaces Firehawk, which was removed in 2018 from KI's Area 51-like zone, now called "Area 72." This coaster's top speed is 90 miles an hour, with over five thousand feet of track. This is a steel coaster designed by the Swiss firm Bolliger & Mabillard, which also created Banshee and Diamondback. To ride Orion, visitors will need an access pass, which are snapped up quickly. These passes provide a designated ride time.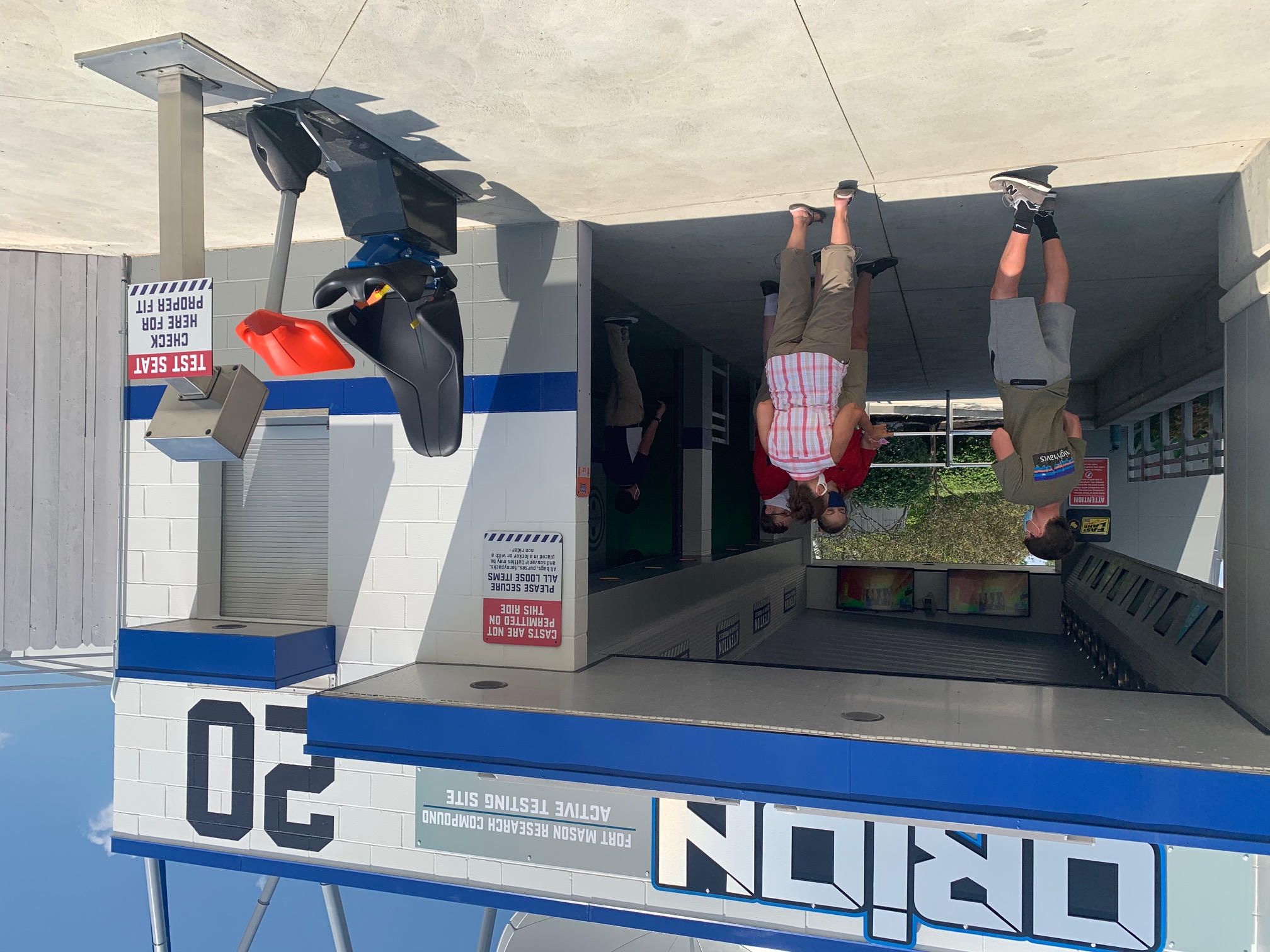 Area 72, with its entrance in Coney Mall, is similar to the Action Zone area on the other side of the park. There is a locker station, a drink and hotdog stand called the Meteor Canteen, a shirt kiosk, and of course, the ride itself. This passageway is the entry to the ride, where riders can see if they can sit in one of Orion's seats. In this image, attendants check ride passes. Orion shirts are also available in the gift shops on International Street near the candy store. They run twenty to twenty-five dollars. There is a plain, cotton-poly blend shirt for fifteen in a variety of colors there as well.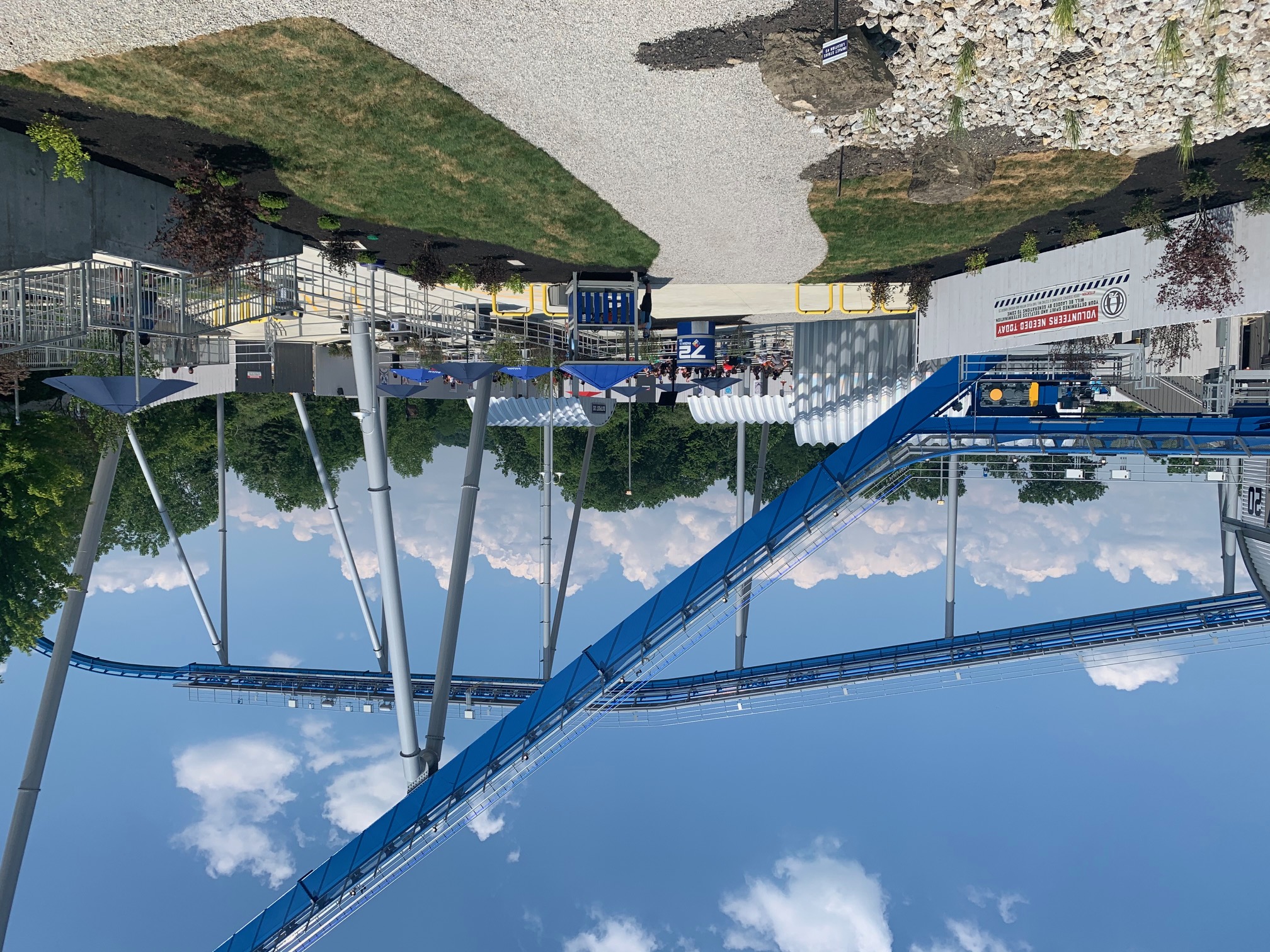 Orion is definitely ready for its close-up. This is the pathway that riders will use to get to the ride, and the turnstiles can be seen in the very center of this photograph. Orion is the tenth fastest roller coaster in the world, and riders need to be 54 inches tall to get on. This steel coaster has a chain-lift hill, and the ride lasts for about three minutes. Riders will need to wear their masks, and some seats on the coaster cars are left empty for social distancing. There is a lap bar and seat belt to secure the rider through the coaster's eight hills.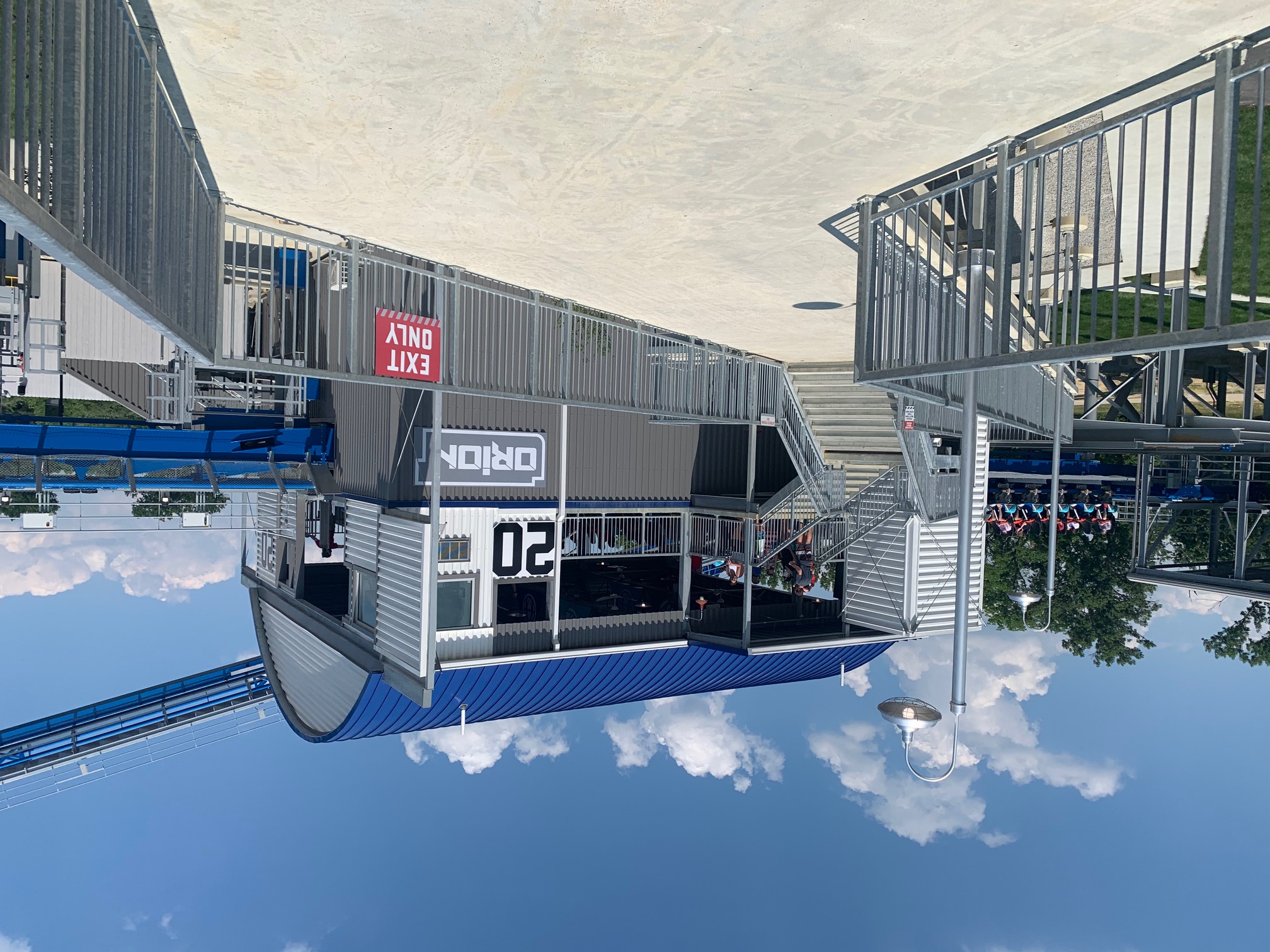 This is the exit for Orion, which funnels riders right past the lockers and the shirt shack. (There are men's and women's shirts, in a poly-blend fabric.) I did not see a Foto stand for Orion, and there was no mention of it on Kings Island's web site. Banshee, Diamondback, and Mystic Timbers, among others, have On-Ride photos. Orion is also a Fast Lane attraction, whereby riders can walk up to the ride exit and by-pass the usual wait time. Fast Lane is only being sold online this year, and is already sold out for season pass holders.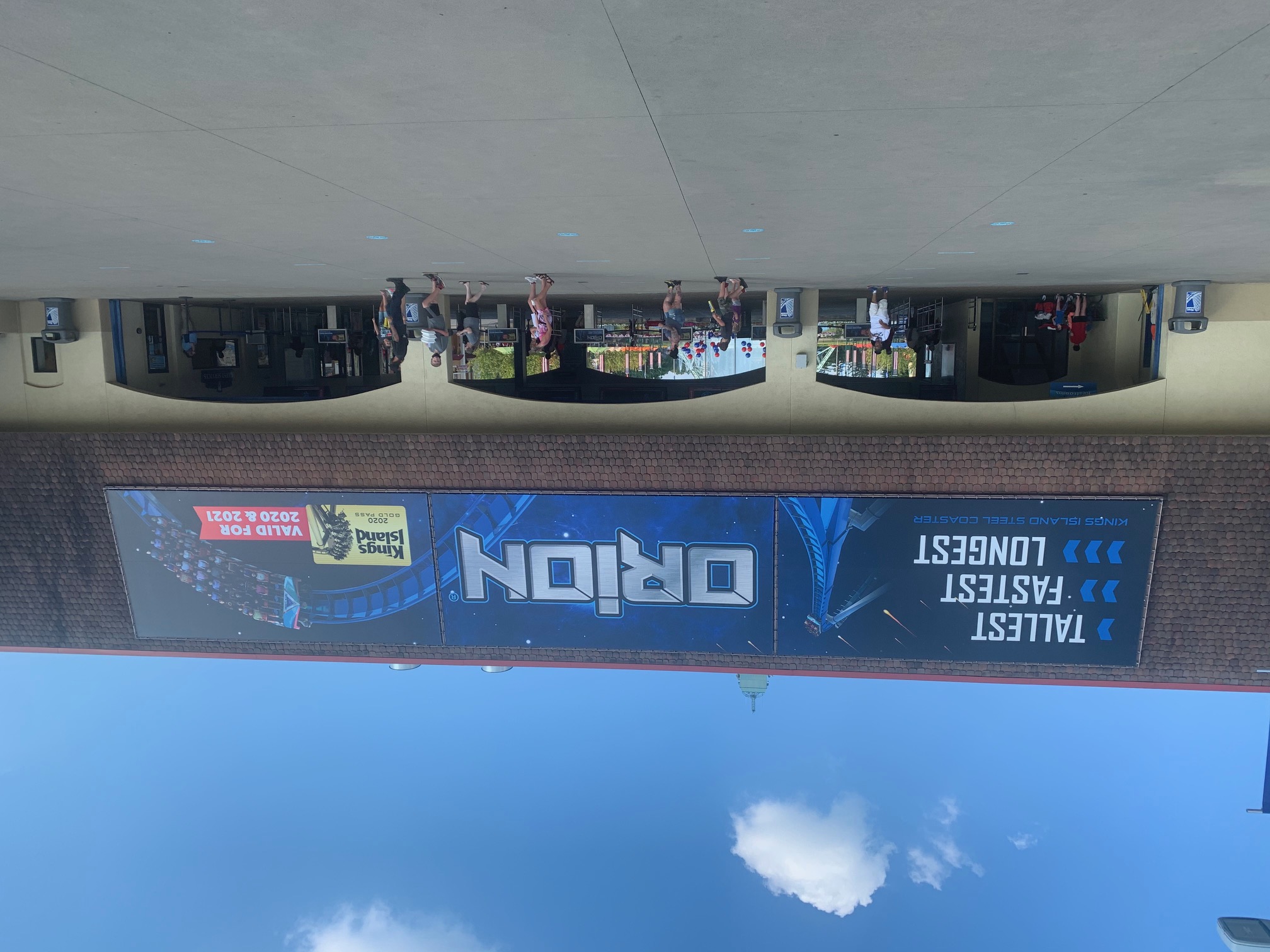 In past years, Kings Island has been open until 10 pm or later, but due to the Coronavirus, park hours have changed. It's a quarter past six pm in this photo, which shows the front gate advertisement for the new gigacoaster, Orion. The park will close at 7 pm tonight, which is Sunday, July 5th. On the main sign out front, visible from the highway, Kings Island says it is still hiring associates for the 2020 season. There are several job postings, most between ten and twenty hours per week, listed for KI. The job postings are listed at the parent company web site, jobs.CedarFair.com.