Oval Beach, Saugatuck, Michigan
---
Oval Beach, in Saugatuck, Michigan, is a clean, beautiful, soft-sand beach right on Lake Michigan. Located in lower mid-Michigan, it is a classic summer beach with sunshine, gentle breezes, and warm water. Oval Beach has verdant habitats, sweeping views, sparkling blue water, and ample amenities.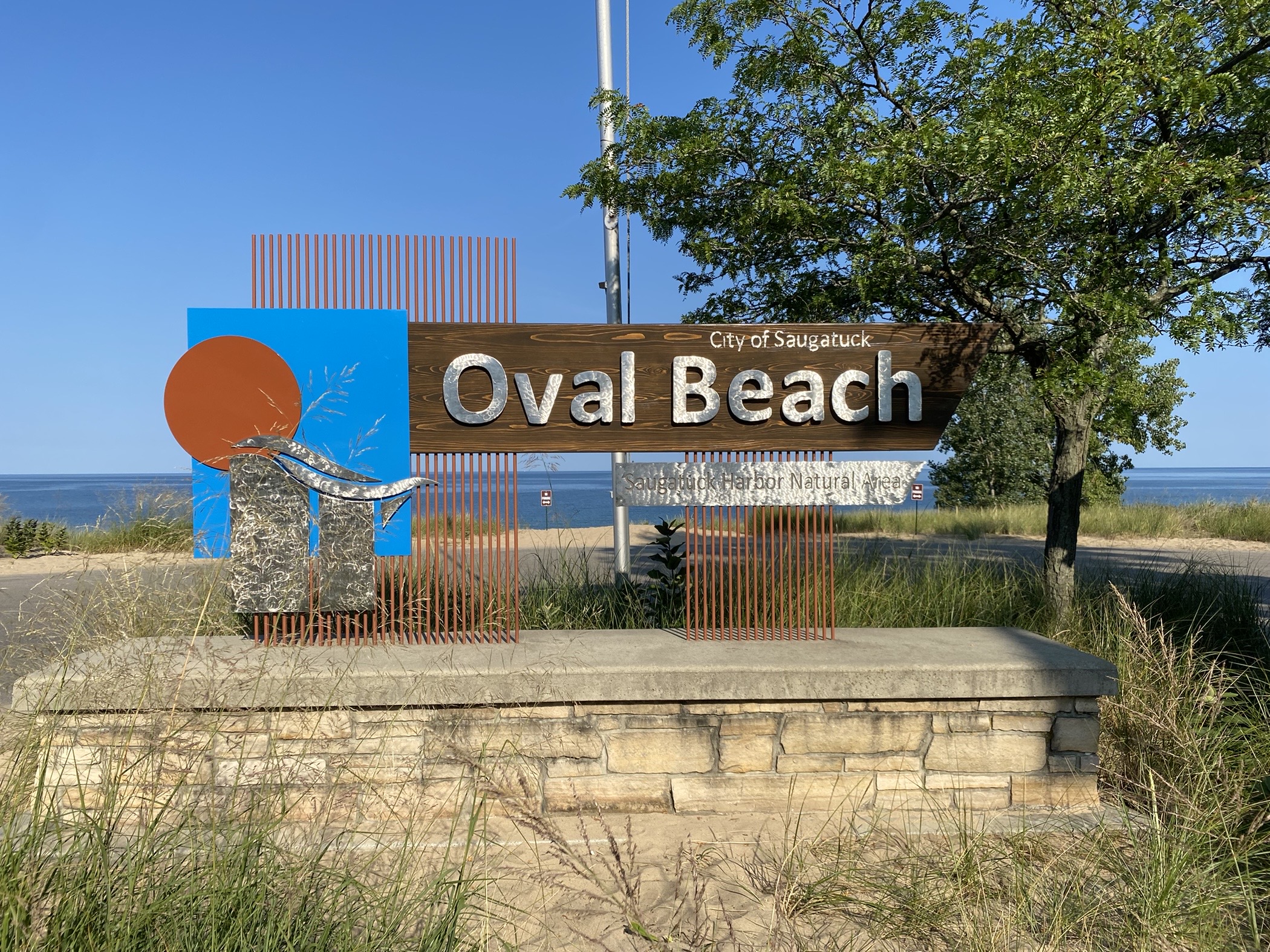 Oval Beach is a Saugatuck city park and is part of the 223-acre/90-ha Saugatuck Harbor Natural Area. The beach itself is fifty acres of award-winning, year-round sandy shoreline for swimming, sunbathing, and walking. The address is 690 Perryman Street, Saugatuck, Michigan 49453, and the phone is (269) 857-2603.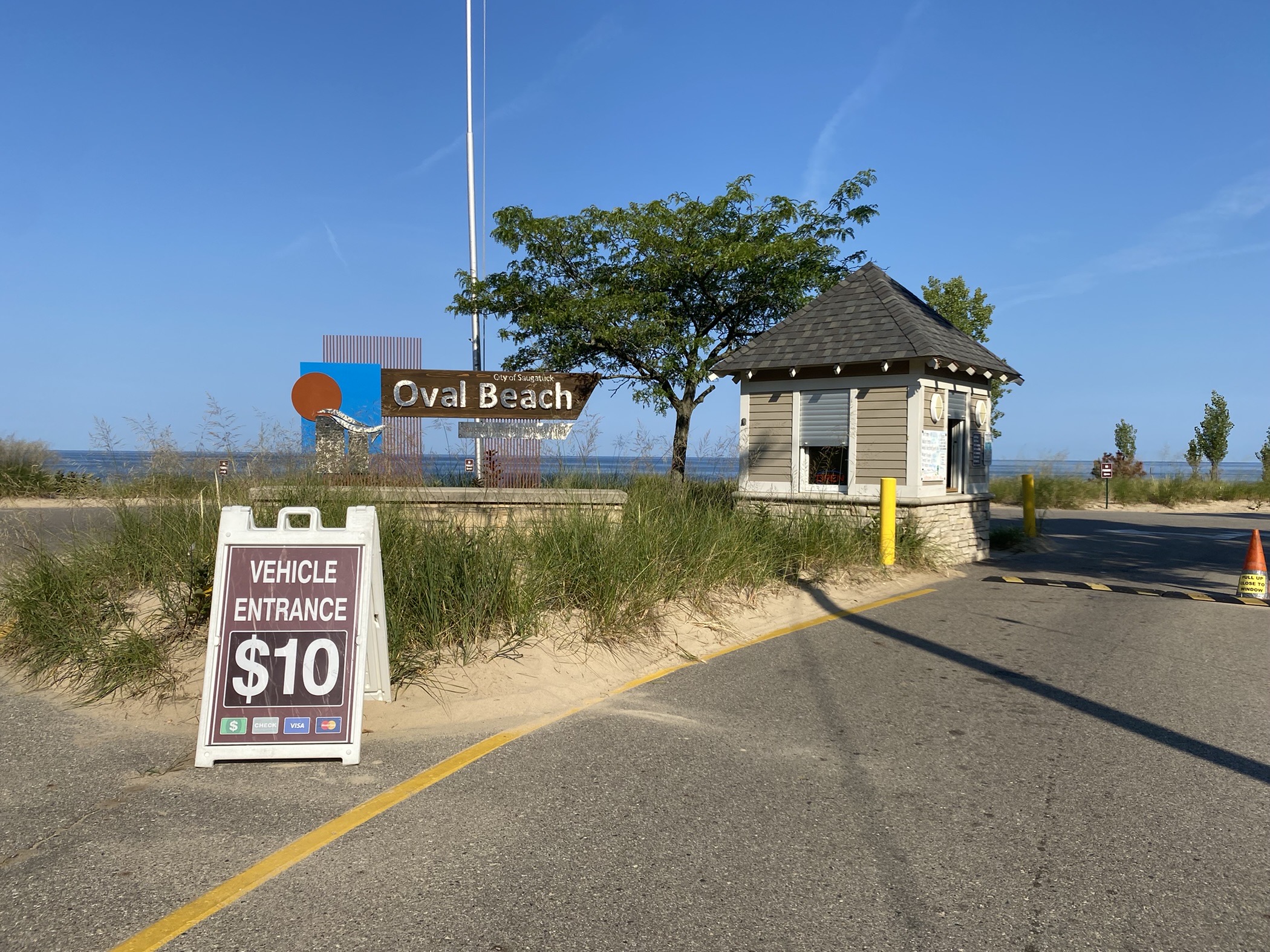 There is a fee of $10 for cars to enter Oval Beach, and a whiteboard at the attendant's window has today's statistics. Temps will be in the high 70's F (21 C) for Tuesday, August 23, 2022. The water will be 65 deg F (18 C), the wave height will be 1-2 feet (half meter or so), the wind will be out of the west at 10 mph (16 kph). The UV index will be very high, the sun will set at 8:35 pm, and the main restrooms will close at 7 pm.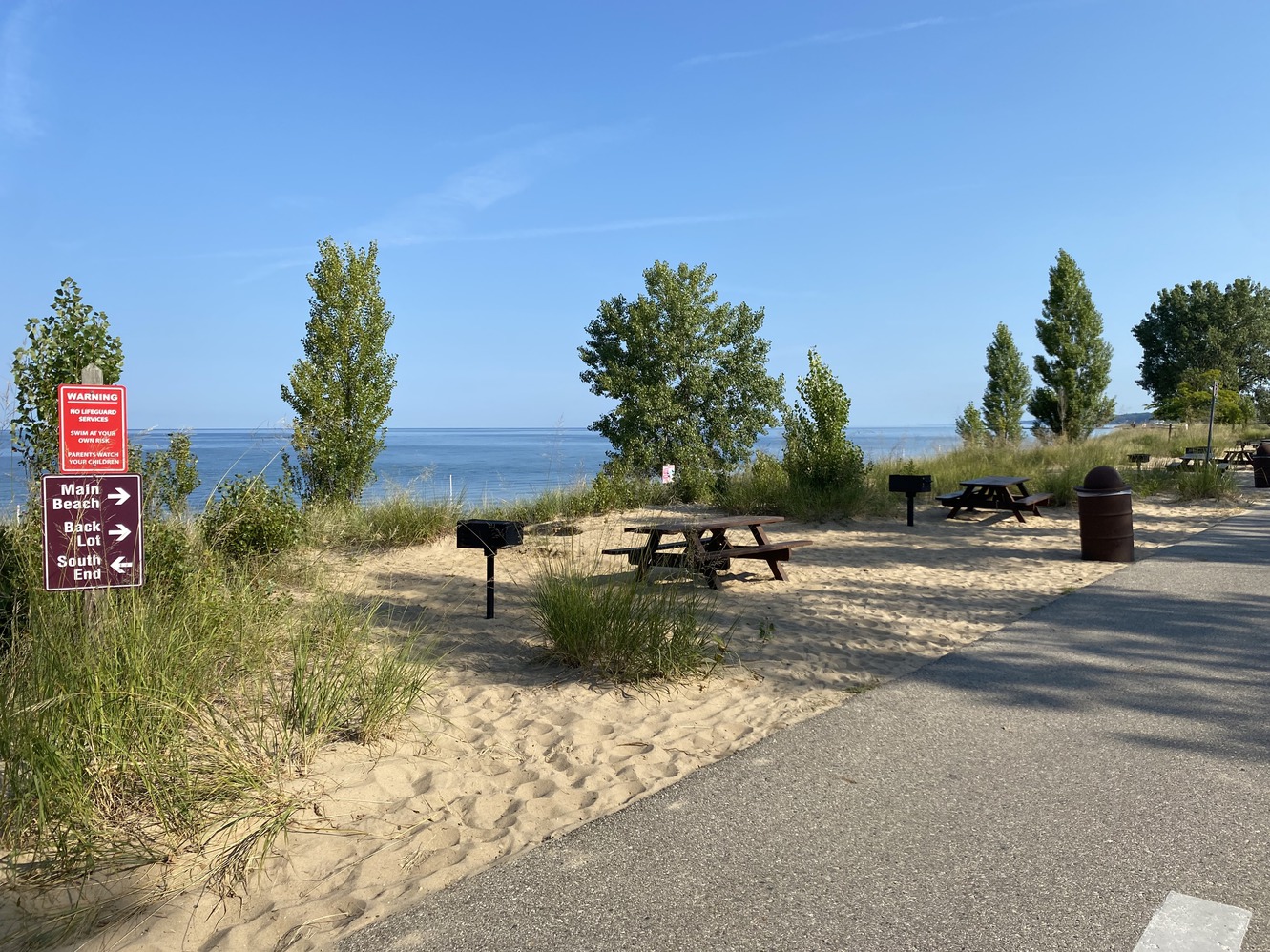 Oval Beach has two main lots. The south lot has picnic tables, grills, and scenic views, plus a steep billy-goat's path down to the shore. The back lot, to the north, is near the main beach and offers easy, boardwalk access to the beach. Both lots have clean "portable amenities" that are open later into the evening.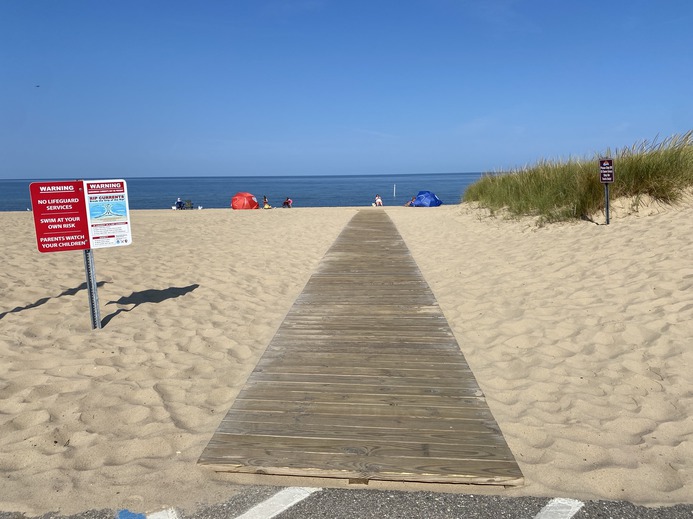 This foot-friendly boardwalk looks new and is located at the northern end of the main lot. Up the trail on the dune-hill to the right is a lake-adjacent riparian zone that transitions to forest. Guests with youngsters as well as those who plan to swim should note the rip-current infographic at left and that there are no lifeguards.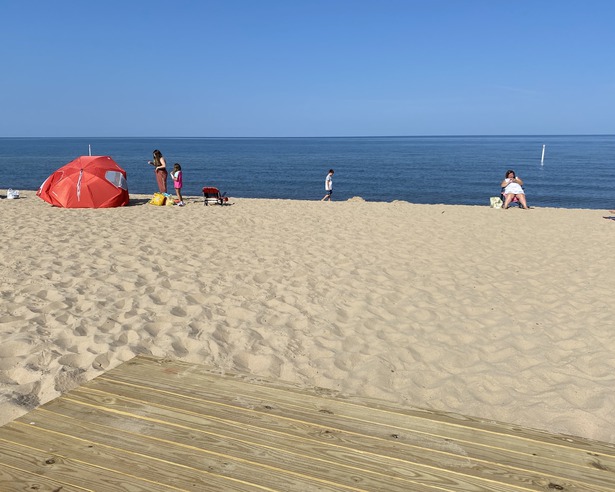 At 10:30 am on the second-to-last Tuesday in August, there's still plenty of room on Oval Beach to set up. Although Allegan County kids won't go back to school for another week, many schools in the surrounding counties have already opened for the 2022-2023 year. More beach-goers will be arriving in the next hour.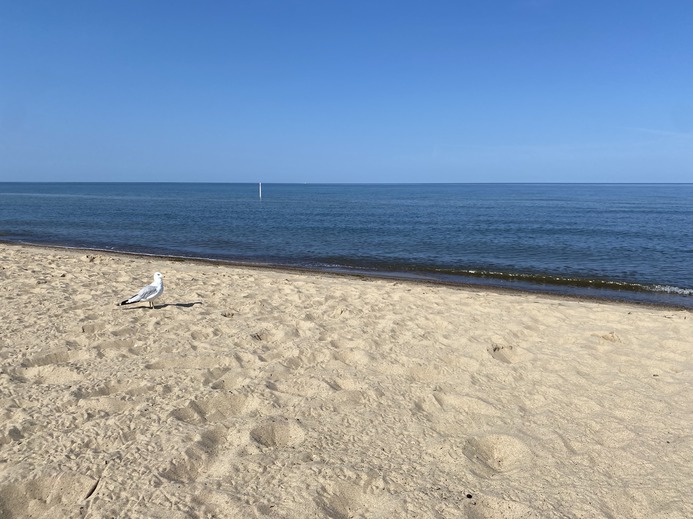 This classic mid-morning Lake Michigan view has it all: light brown-sugar sand, deep blue water, beach gull, swim buoy, and the perfect horizon. Soon will come paddle-wheelers, motorboats, kayakers, and all sorts of leisure-seekers. The water is warm today in the shallow swim area, but the waves are real leg-smackers.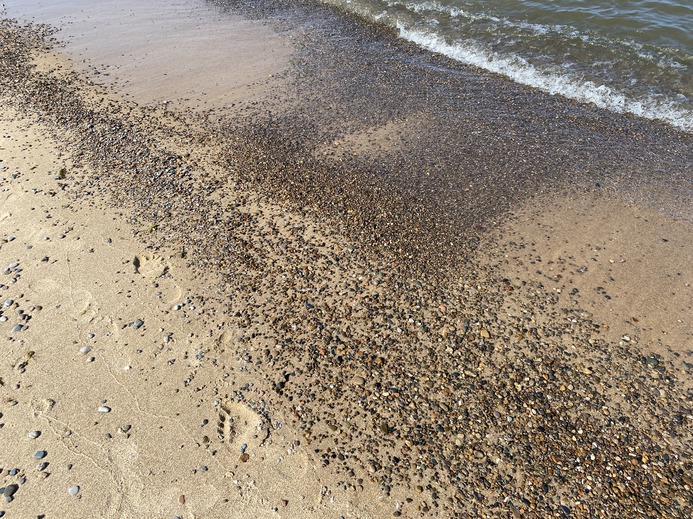 Treasure is revealed at low tide, including beach glass of all colors. Natural finds include basalt, limestone, and granite. Lake Michigan acts as a giant rock tumbler at 22,404 sq.mi (58,026 sq. km) surface area, smoothing and rounding other gems like striped gneiss, layered schist, sandstone, and mudstone/claystone.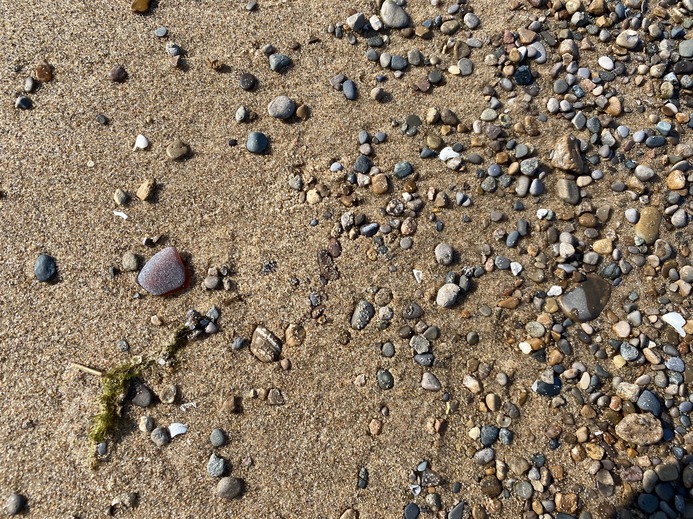 The shoreline sand reveals its jewels. A well-polished piece of brown beach glass sits at center left. There is white beach glass here too, plus a few pieces of quartz. Shells wash ashore as well, in addition to loose fossils and those encased in limestone. Ancient sea life fossilized into rock is called "crinoidal limestone."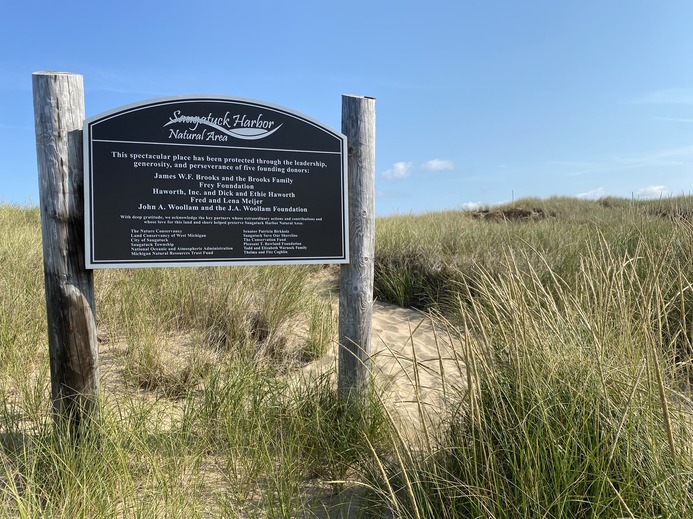 Shoreline-seekers at Oval Beach abound, but there are grand vistas for the land-dwellers as well. The Saugatuck Harbor Natural Area has 173 acres/70 ha of trails, dunes, grasses, and horizons right next to the boardwalk. Nearby Mount Baldhead park offers grand views via a 302-step climb up wooden staircases.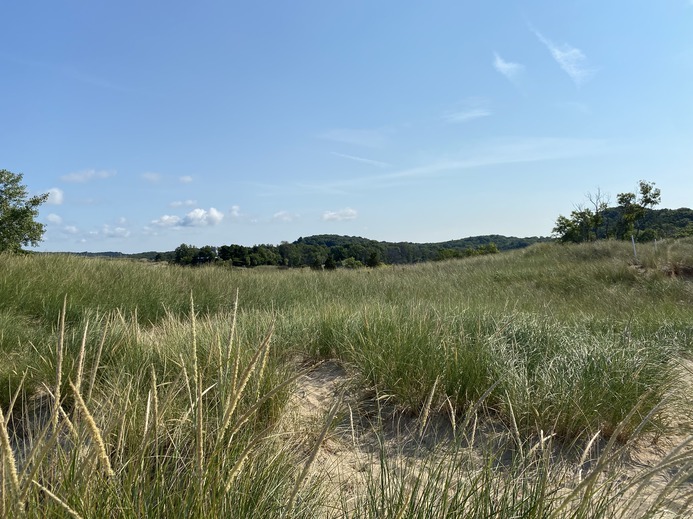 A short climb up a dune-trail reveals this view of the Saugatuck Harbor Natural Area. Just a few steps north of the Oval Beach parking lot and boardwalk, this dune eco-system has 2.5 miles/4 km of hiking trails. The trails take hikers to the shoreline of Lake Michigan, the little Oxbow Lagoon, or the Kalamazoo River.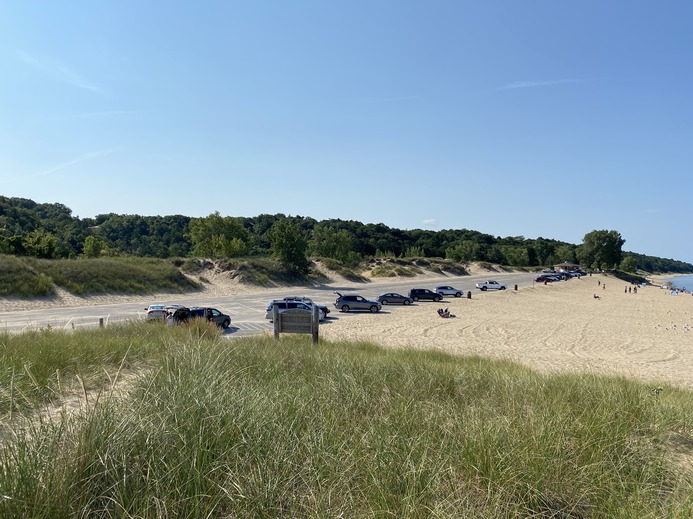 Folks are starting to arrive at Oval Beach, to take advantage a great day in late August. Each car pays a parking fee of $10 from Memorial Day through Labor Day, but folks on foot or bicycle come in for free. The city of Saugatuck also has a shuttle service, which costs $1 per ride. Interurban riders don't pay for parking.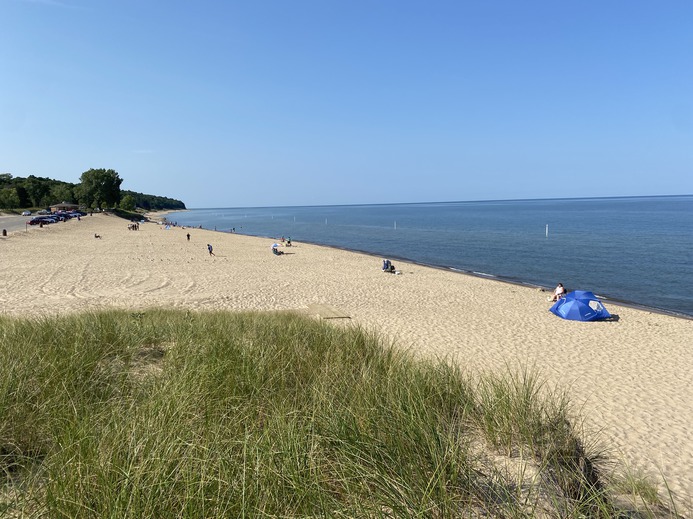 Beach chairs, umbrellas, and sunshades are all okay at Oval Beach. Pets, fires of any sort, alcohol, nudity, smoking, are not. The beach is open from 9 am thru 10 pm, with Concessions open until 6 pm today and washrooms until 7. The Concession/washroom building is at the far left center of this image.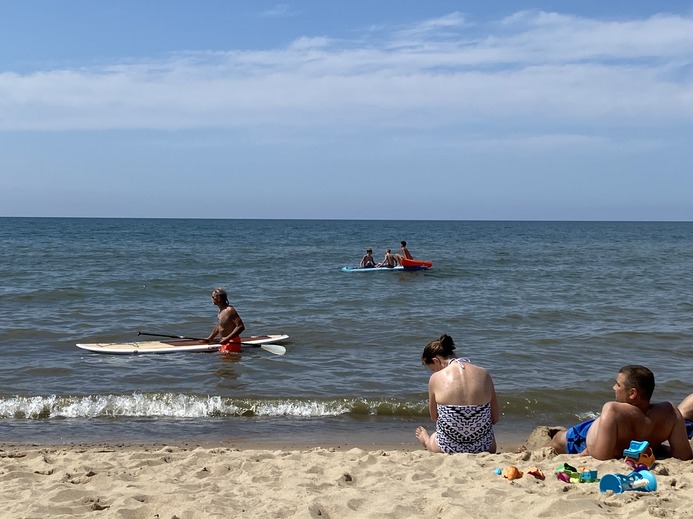 Oval Beach has won many awards for its beauty, cleanliness, water quality, and amenities. Recognition comes from Condé Nast Traveler's Top 25 Beaches in the World, National Geographic's Freshwater Beaches, and MTV's Top Five American beaches. Oval Beach continually passes water-quality sampling tests.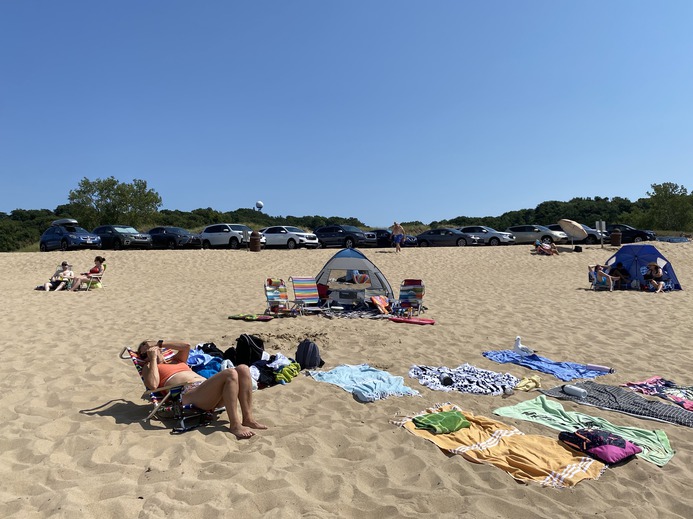 Oval Beach is a clean beach. Beach employees, with "Beach Patrol" shirts, walk along the beach each day to pick up stray pieces of litter, of which there are few. If more interested in trail walking than sunbathing, visitors can climb the staircases of Mt. Baldy, which is an old radar station in the far center of the photo.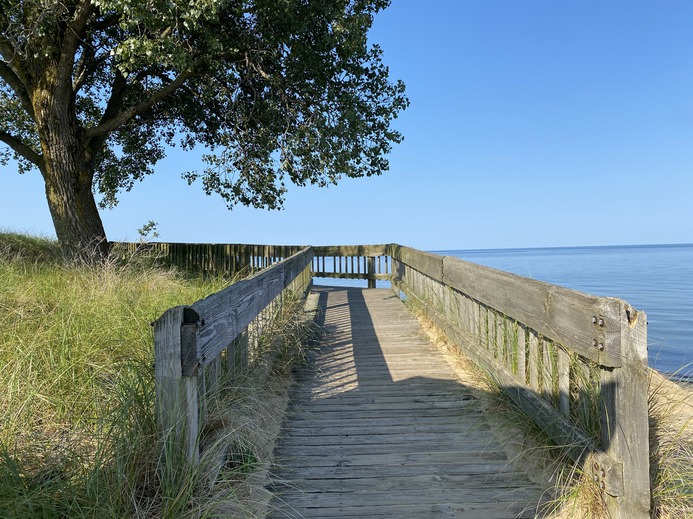 The beach gets hot, and the Concessions stand would be just the place to get a cool beverage and maybe some ice cream. The Concessions stand and the washrooms are two parts of the same building, which is right up this ramp. There are picnic tables and swing sets, and incredible views at the top of the ramp.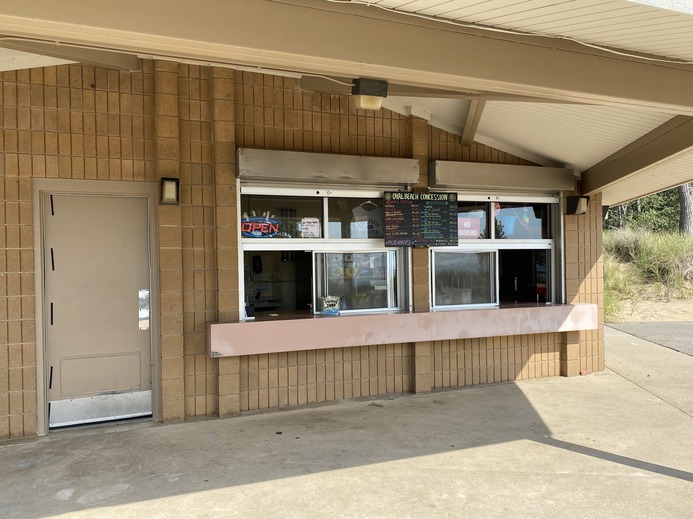 The Concessions stand does not rent umbrellas or chairs, but there are several food options, plus t-shirts and beach items. A hot dog is $3.00, a chili dog is $4.00, and a "belly buster" hot dog with pulled pork and nacho cheese is $5.00. There are pretzels, ice cream, floats, and Slushies. A t-shirt is $25, and sunscreen is $5.00.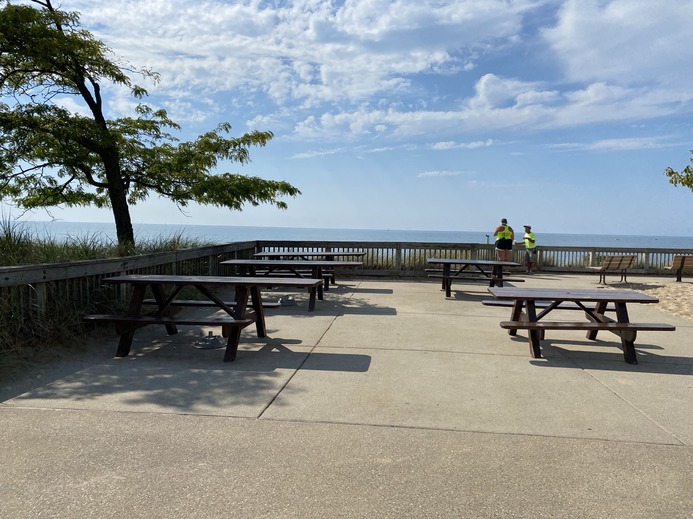 The view from the Concessions pavilion faces due west. An occasional masted sailing vessel will cross the horizon, and seems to move with the clouds. The pavilion is a wonderful place to catch a long, westward look across Lake Michigan. Oval Beach is a family-friendly beach, and is also friendly to LGBT beach-goers.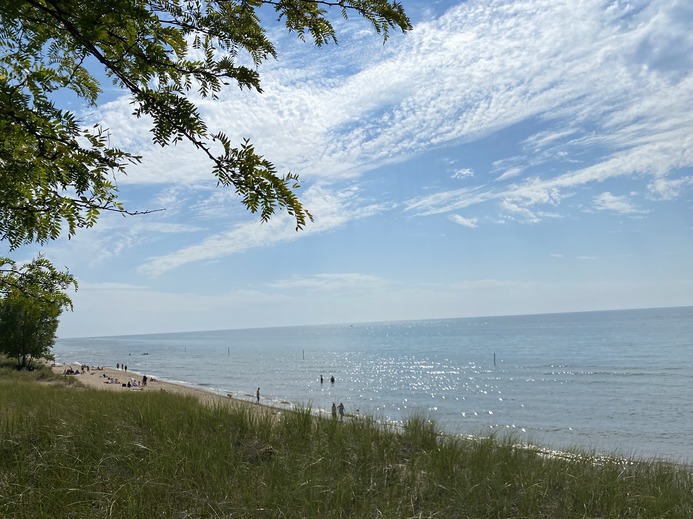 At almost 4:30 in the afternoon, very light cloud cover reveals diamonds in the water. Sunrise came at 7 o'clock in the morning, with astronomical twilight beginning at 5:15 am. Tonight, the last bit of twilight will fade at 10:17 pm. Solar noon came at 1:47 pm, although time of day is of little regard on a beach like this.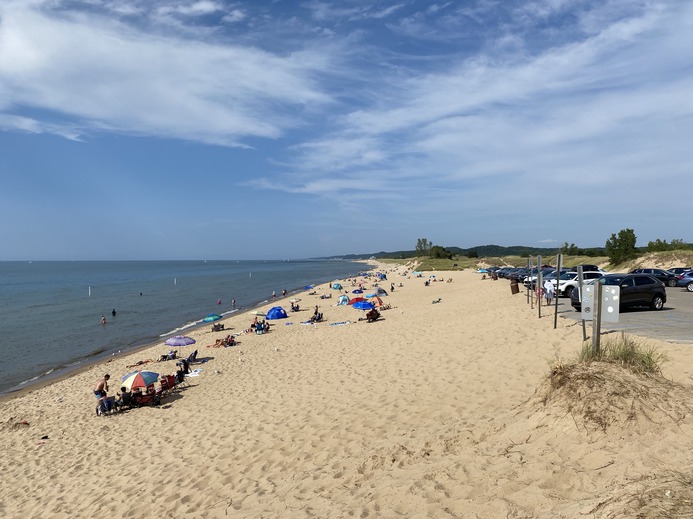 The parking lot at Oval Beach is nearly full today. The parking pass that drivers receive allows in-and-out access, but the lot may be full up if leaving and then coming back during the peak time of day. (Hint: bring a picnic lunch.) There is accessible parking near the Concessions pavilion, but the far end has the boardwalk.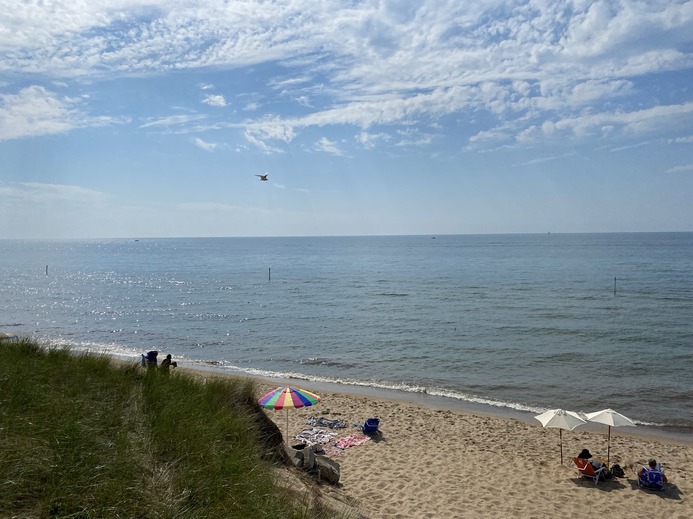 The town of Saugatuck is more than just Oval Beach. Saugatuck and the towns of Douglas and Fennville are called the Art Coast of Michigan. There are many galleries here, and the Saugatuck Center for the Arts is located at 400 Culver Street. Douglas has its own little beach, and Fennville has a children's museum.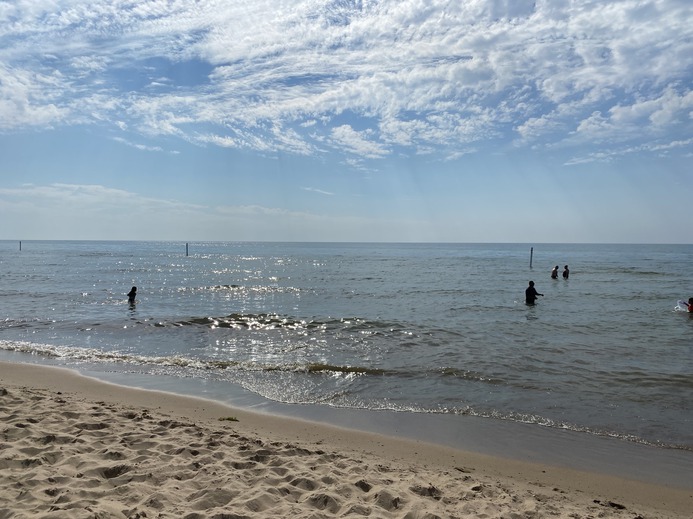 The daytime crowd is leaving Oval Beach, and the sunset-seekers have yet to arrive. The water here is now the warmest and gentlest that it will be today after hours and hours of continuous sunshine. It's a little late in the day for beach-combing, because the morning sun catches each and every jewel glistening in the sand.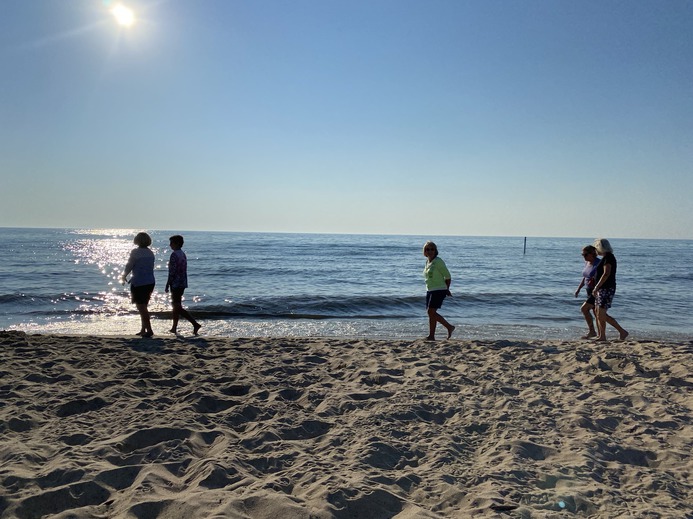 Today will have exactly 13 hours, 33 minutes, and 48 seconds of daylight. The folks strolling along the beach have just gotten here and will not waste a minute of of it. The whiteboard at the parking attendant's booth said sunset will be 8:35 pm, but that was for yesterday. Today's sunset, checking the internet, is 8:33 pm.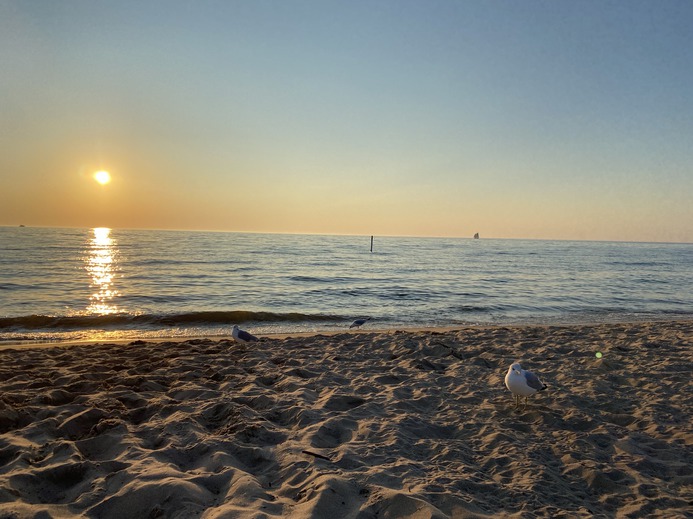 How did Oval Beach get its name? Tourists and their automobiles from Chicago came to Saugatuck for the beach some 90 years ago. In 1936, Michigan created a winding road (Perryman Street) and an oval-shaped parking lot to accommodate them. The current parking lot layout came along in the 1980's with 400 slots.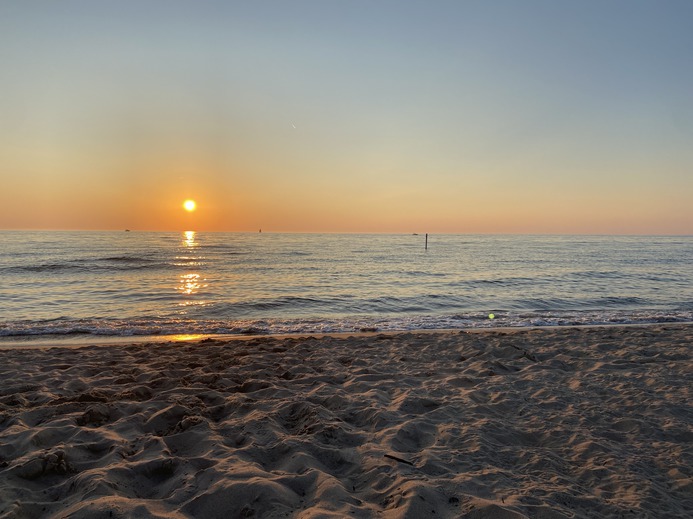 At 8:15 pm, the sunset-seekers have staked out spots on the beach or in the parking lot. Civil twilight will last until 9:03 pm and nautical twilight until 9:39. The beach gulls are gone, congregating at the north end of the beach by the old pilings left behind when the Kalamazoo River was re-routed more than 100 years ago.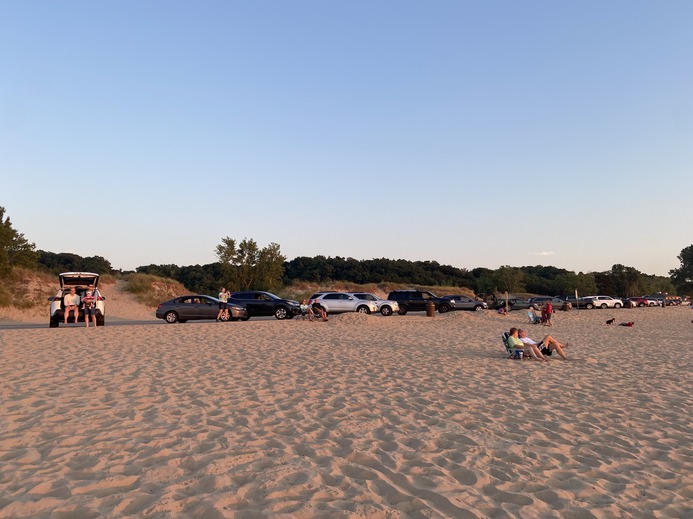 This day is almost over, but there's still almost two hours of twilight left. Mini-golf might still be open, some pizza places are still serving, and various establishments on Butler Street in downtown Saugatuck are busy. Most places in town close at nine or ten o'clock, so this evening is a great time for friends and a fire pit.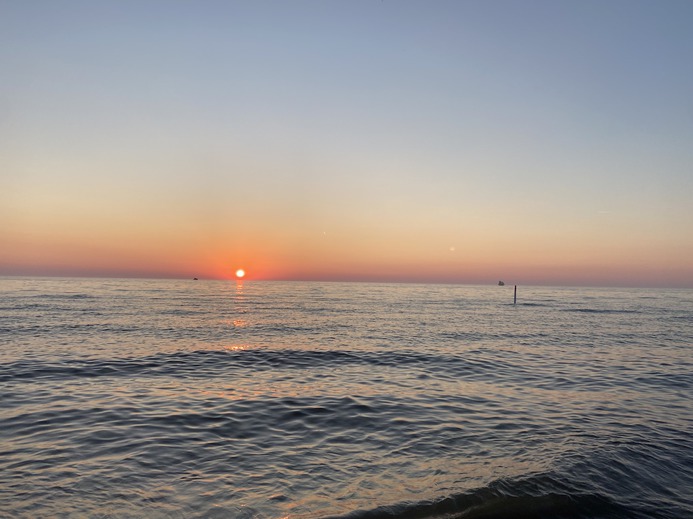 The waves are quiet and gentle during the last five minutes of sunlight. So what about tomorrow? Downtown Saugatuck has a large drug store with any and all beach necessities, plus souvenirs. There are fine-dining establishments, and there is a place with great fried chicken and grits on Holland Street with a river view.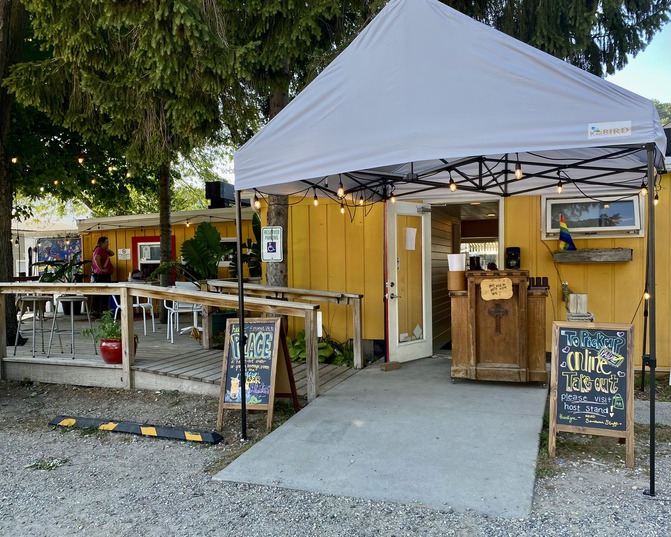 The Southerner is located right on the Kalamazoo River at 880 Holland Street. It has indoor and outdoor dining, patio dining, and screened-in porch dining. Their niche is to cater to the many people in the 1950's who came to Michigan from the American South to work in Detroit's automotive industry.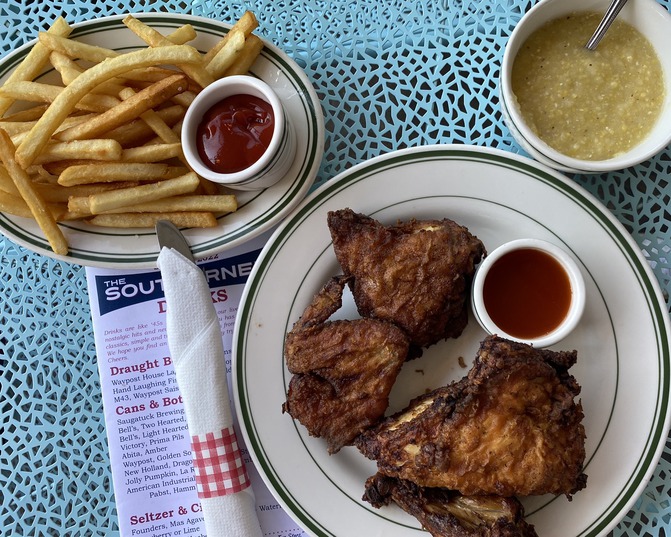 The 1/2 fried chicken is the house specialty at The Southerner, which bills itself as a "fried chicken joint." The half-chicken can be made traditional or three shades of hot and comes with two side dishes. This restaurant doesn't have desserts, but the locally-procured gelato is delicious. This place is the best end to a beach day.