Frisch's, Port Clinton, Ohio
---
Frisch's Big Boy restaurants have been operating in Cincinnati in one form or another since 1939. There are twenty Frisch's Big Boy locations in Cincinnati, and there are 118 of them in Ohio, Kentucky, Indiana, and Tennessee. As luck would have it, there are also ten Frisch's Big Boys in northwestern Ohio, which includes Port Clinton. This location was recently remodeled, and sits along the Lake Erie shoreline. This restaurant has a drive-thru, and is open year-around.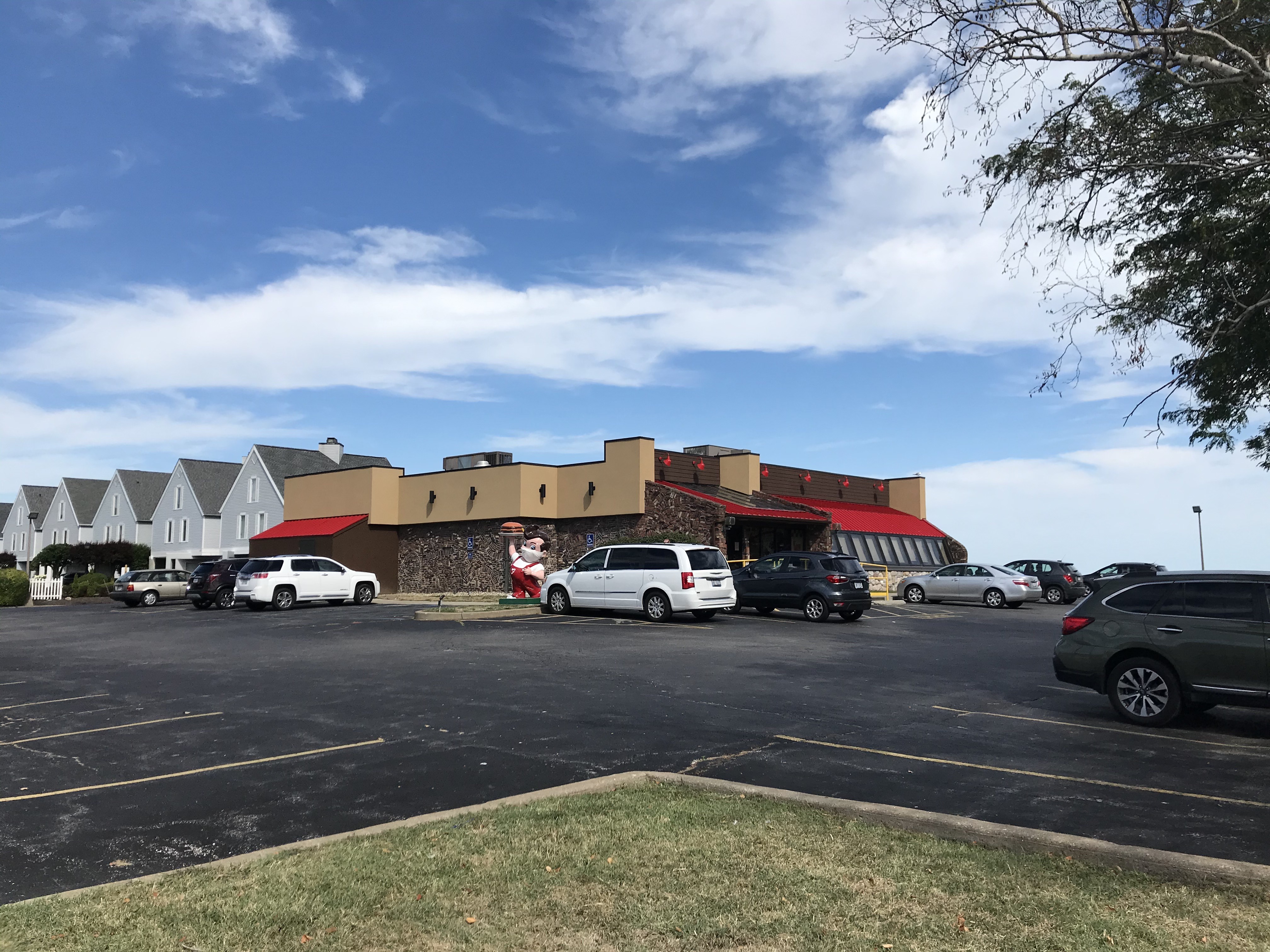 The Frisch's Big Boy restaurant in Port Clinton is located at 1707 East Perry Street. The dining room, carryout, and drive-thru are all open, with social distancing guidelines in place. This location is open from 8 til 8 Sunday through Thursday, and 8 am till 9 pm on Friday and Saturday. Breakfast and burgers are served all day long. A lot of nearby hotels have reduced their breakfast offering to granola bars, so having this Frisch's here has been a trip-saver. The portions here are generous and the service is good.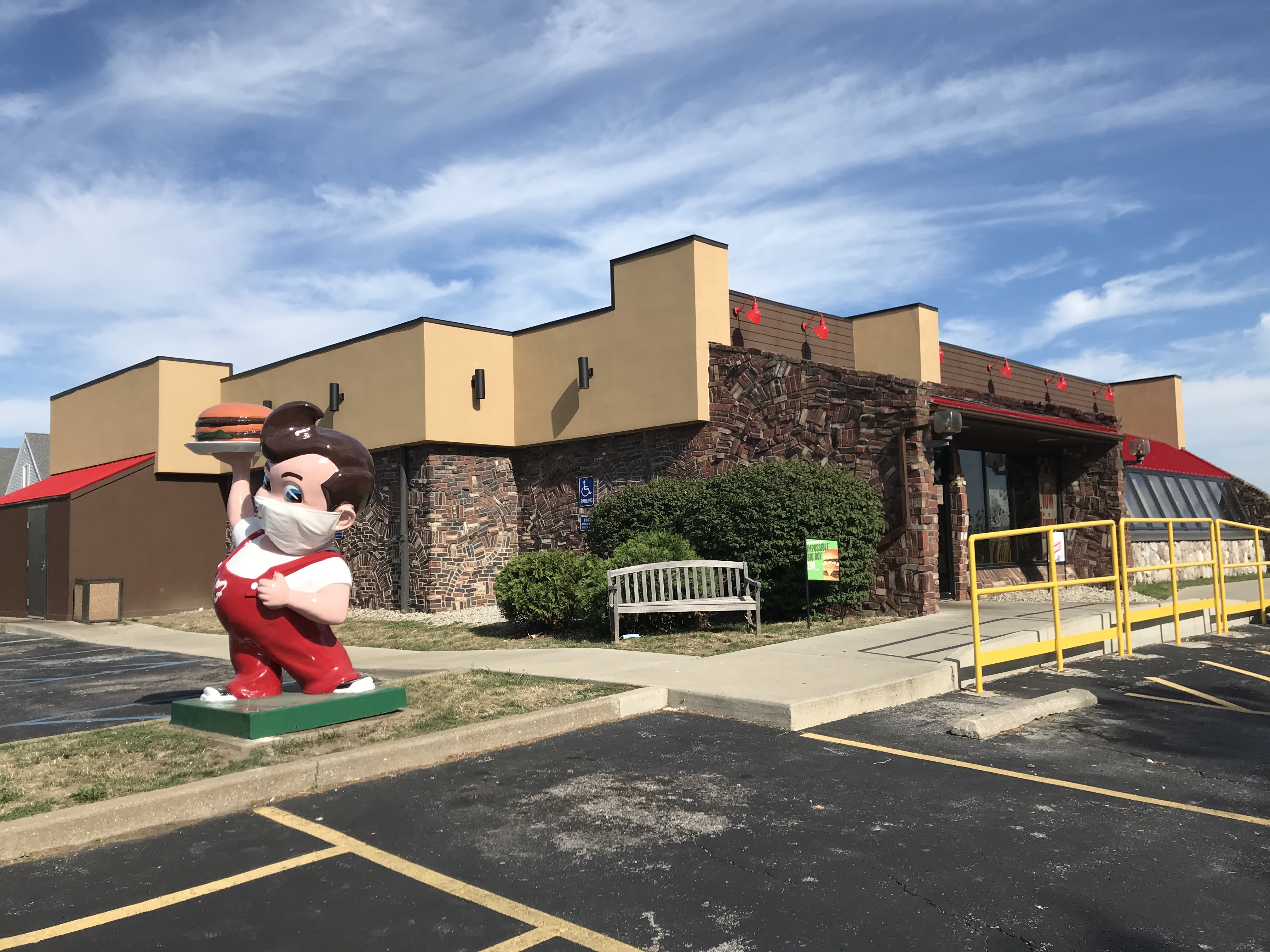 A sign of the times: Frisch's Big Boy is wearing a mask. Going into Big Boy for a leisurely breakfast, Big Boy was not wearing a mask. Upon coming out, two Frisch's maintenance men were cleaning him off and shining him up, and putting a mask on him. The iconic Big Boy has had a few variations over the years, and here's to hoping this new change is only temporary. Nevertheless, his dining room was open for business.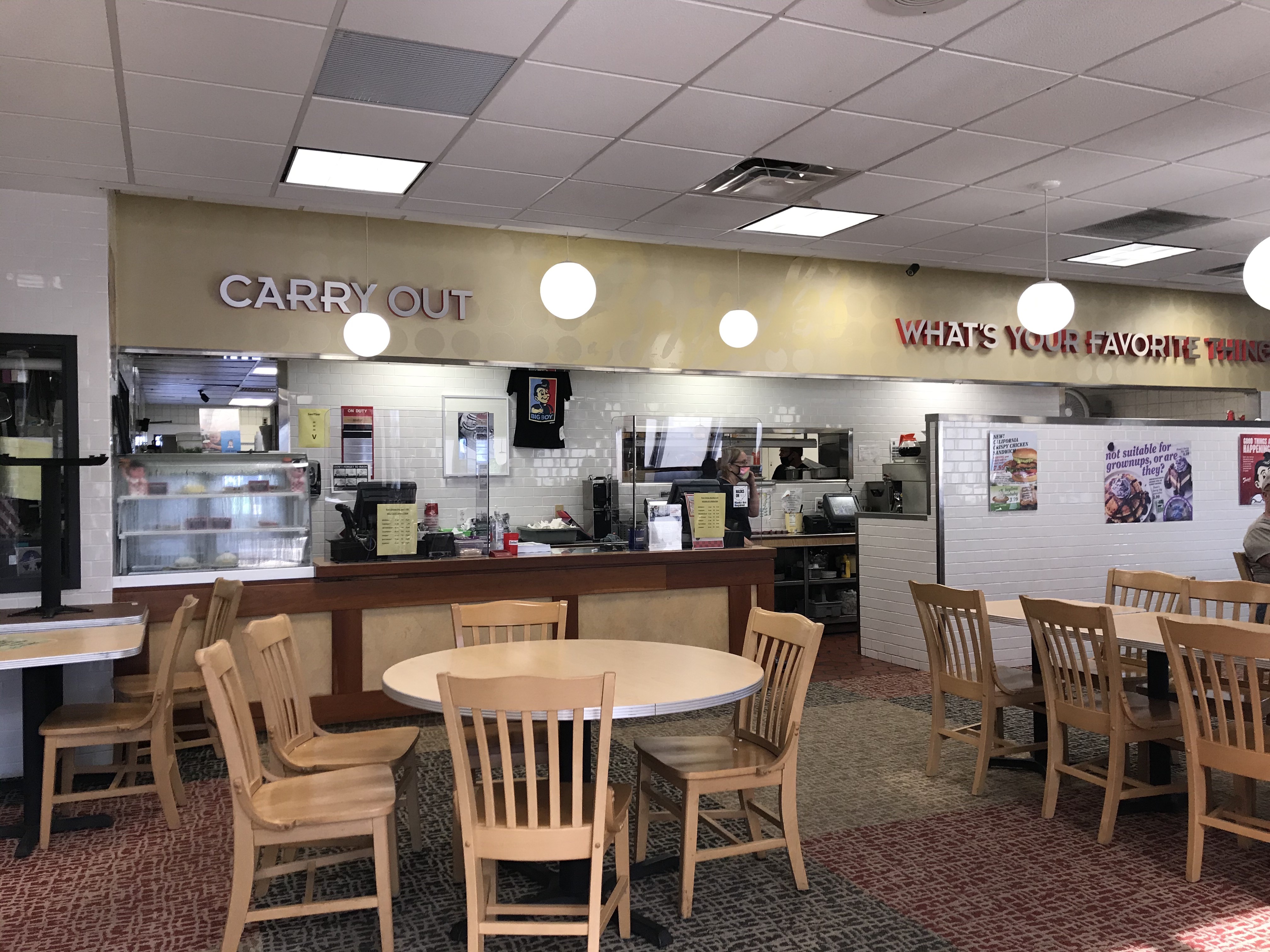 This Frisch's is a little taste of home, and the dining room has been open since early July. The sign out front said that patrons should wait outside if the front is crowded, but since customers were light, it was okay to go right in and the hostess found a table. This was well after nine in the morning, so most of the breakfast bustle had cleared out, and lunch would not start for another two hours or so. The northwest Ohio Frisch's restaurants are now on the DoorDash delivery service, according to the Frisch's nwo website, and the signs out front.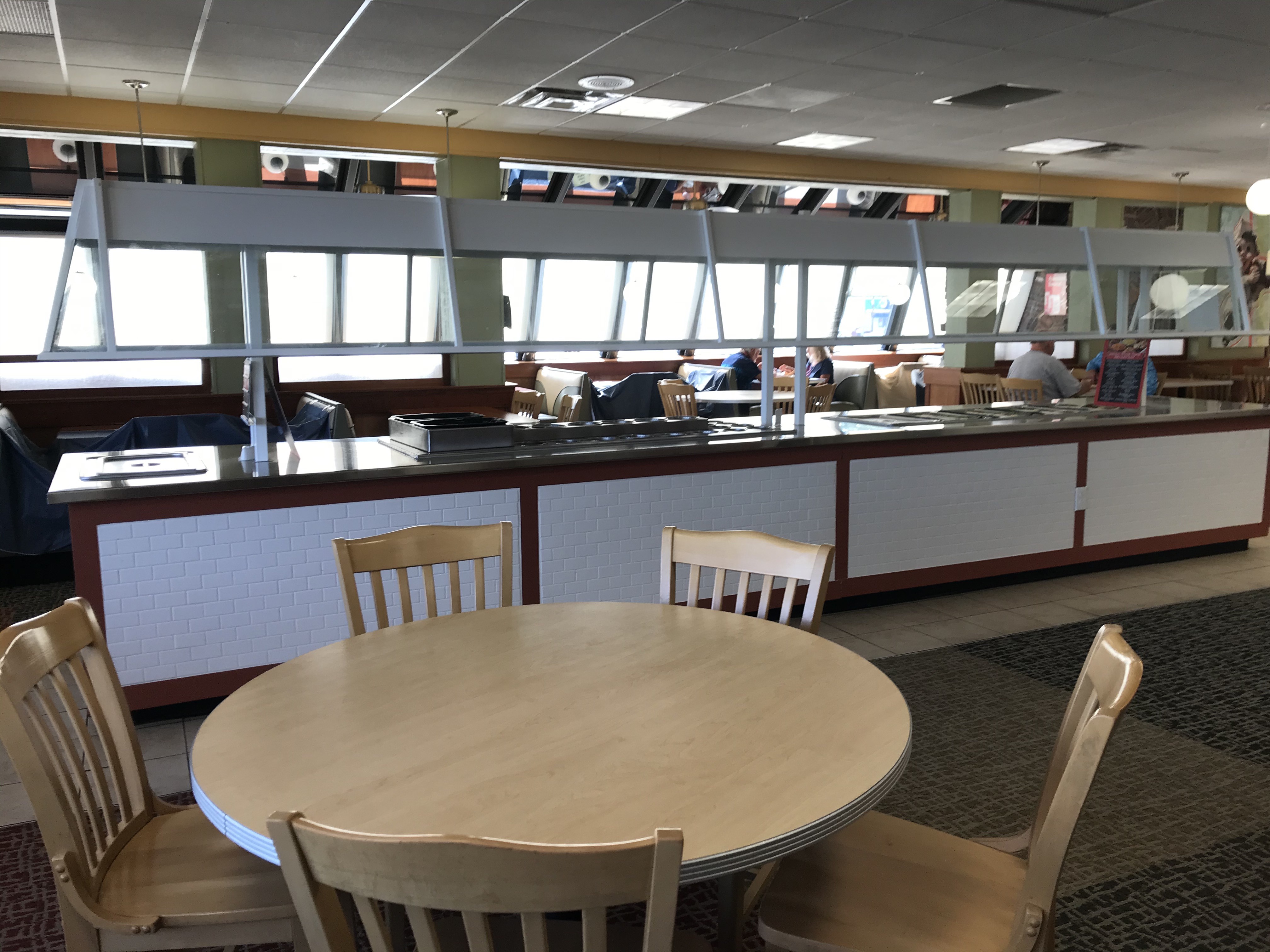 In times past, the Port Clinton Frisch's would have its breakfast bar on Saturdays and Sundays. The hostess said that the breakfast bar was not currently available due to the Covid-19 coronavirus. Nevertheless, the breakfast menu is enormous, and there is a "create your Own Omelette!" feature with three eggs. There is also a great selection of breakfast side dishes, like avocado toast, breakfast meats, tater tots, hash browns, and biscuits with jelly. (Concord grape jelly on buttered white toast is sublime.)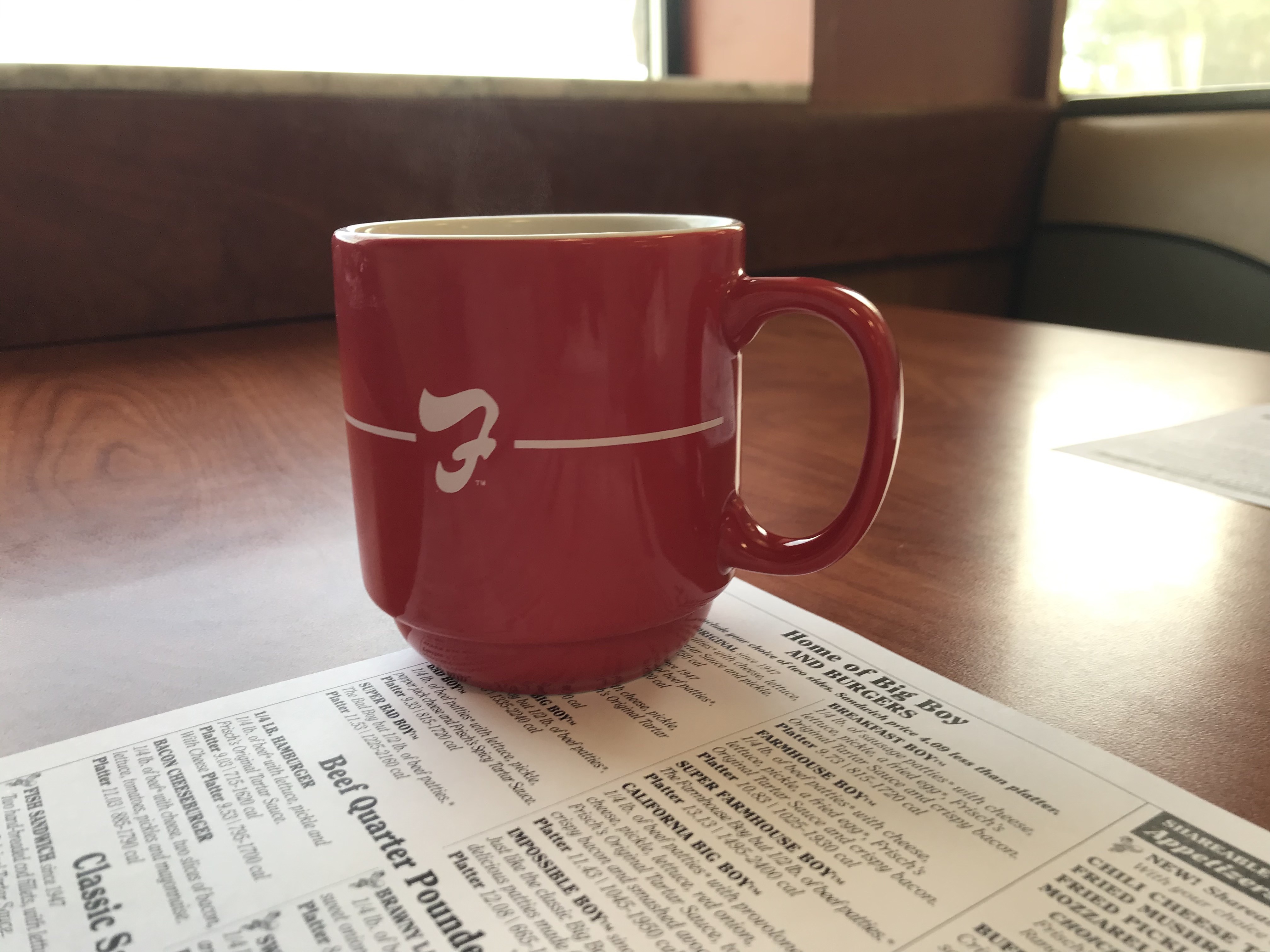 Look closely and there is steam rising from this cup of coffee. The beans used to make this cup came from Rooted Grounds in West Chester, Ohio. Frisch's Big Boy (at least the ones in Cincinnati, anyway) started using this company's joe for about a year ago and it's a real treat. This Frisch's Big Boy, like all the ones in northwestern Ohio, is owned by Bennett Enterprises. Bennett owns other casual eateries and a couple of hotel properties.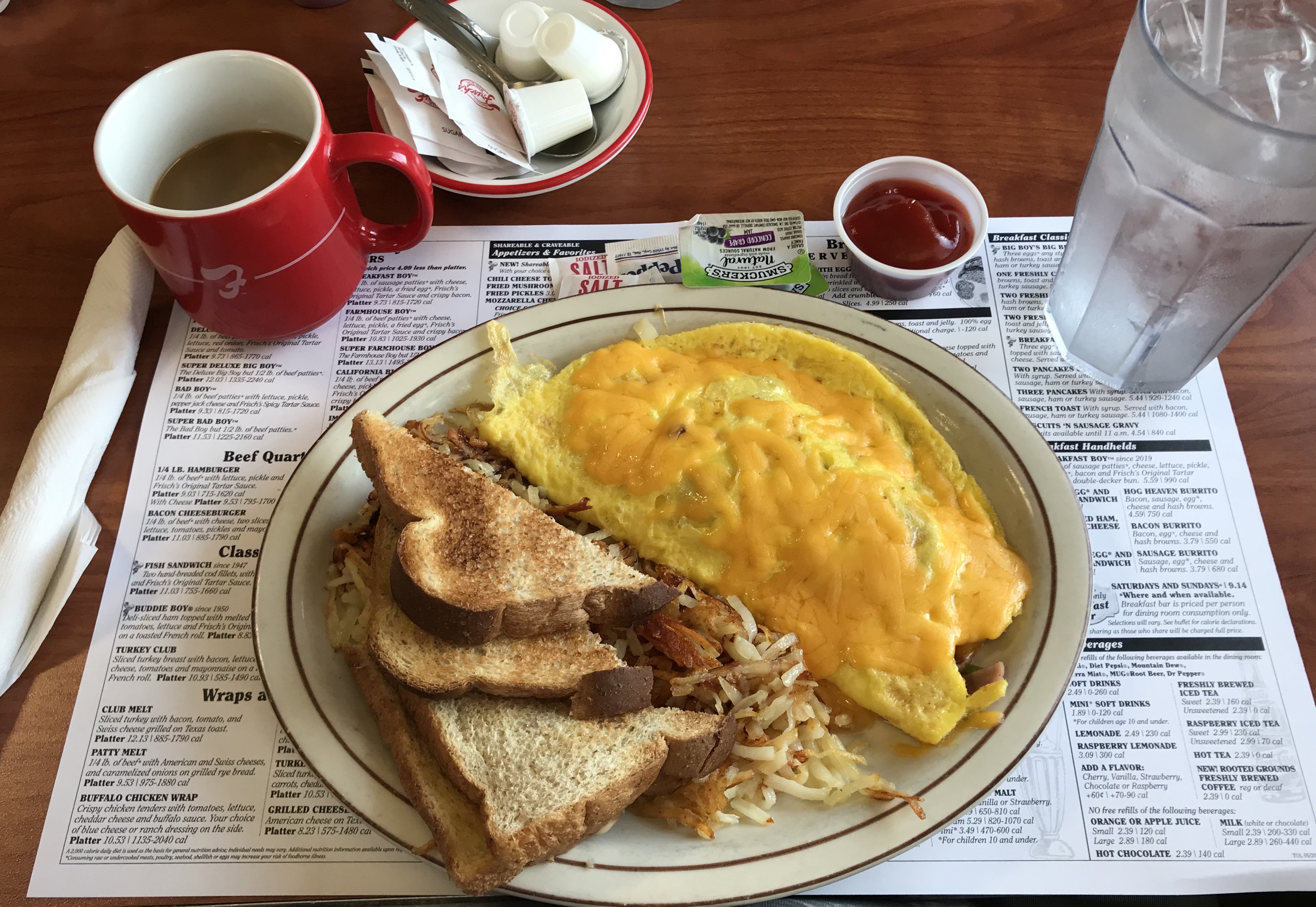 This omelette was a "create your Own Omelette" from Frisch's menu. The menus are now paper and serve nicely as placemats. There are no salt and pepper shakers anymore on the table, and neither are there ketchup or sauce bottles. Everything comes in a packet. The CYO omelette is $8.49, as it is on the menu, with "one premium ingredient" like crumbled sausage and three regular ingredients like salsa, tomatoes and green peppers. Adding two coffees at $4.78 and one "hog heaven" burrito at $4.59, puts the total at $17.86. With tax at $1.25, the total was $19.11. The waitress was great, so a big fat tip was left with her.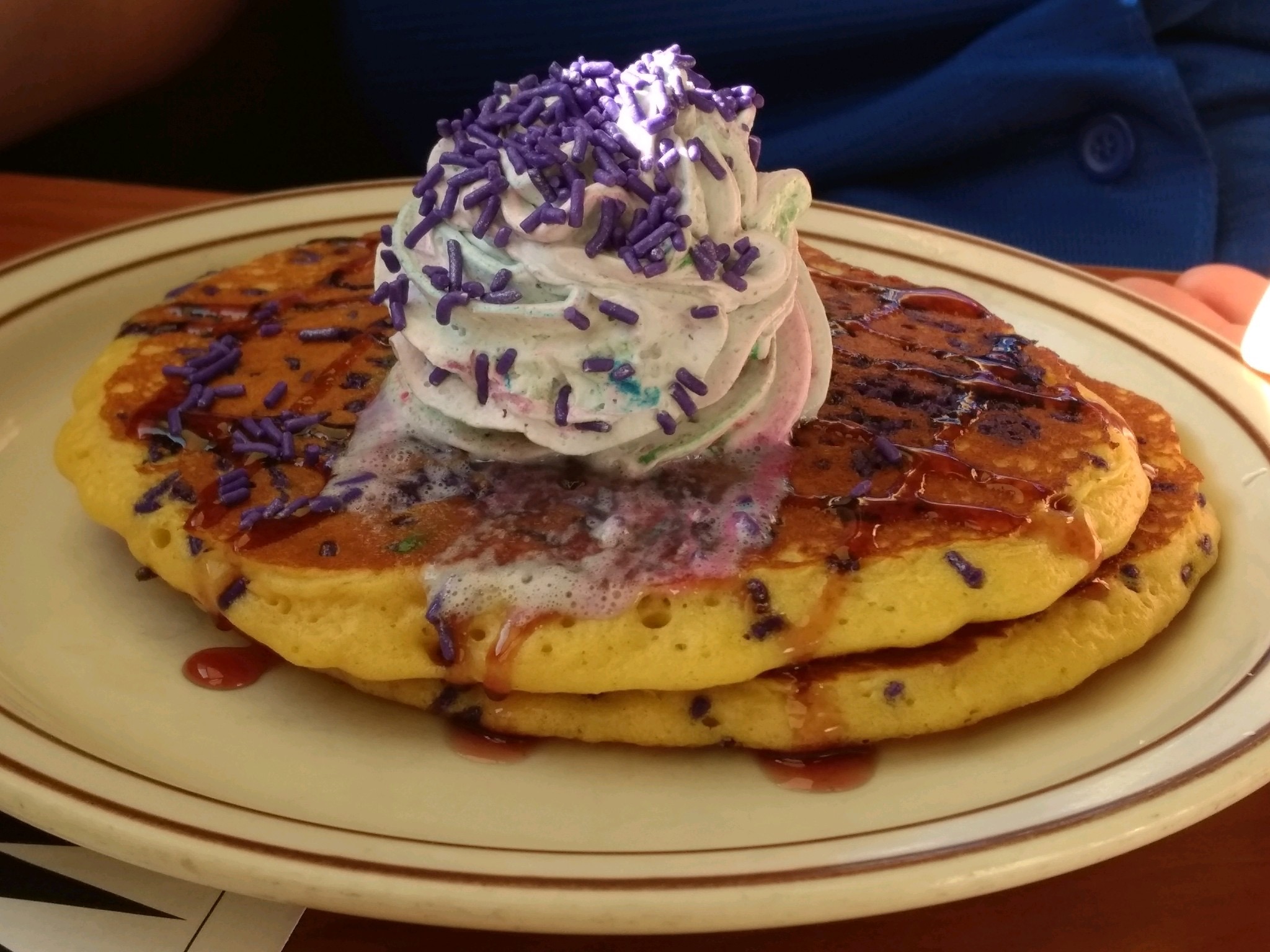 Ever wonder what Unicorn Fluff tasted like? Well, you're in luck! Frisch's Big Boy is taking part in a fundraiser for the Cincinnati Zoo, in honor of the one-and-only Fiona the Hippo. She was born at the Cincinnati Zoo on January 24, 2017, but she was six weeks premature and needed a lot of special care, which was expensive. This special topping is called Unicorn Fluff and it's delicious. These pancakes are called Fiona's berry big pancakes and were $5.99, with proceeds going to the Cincinnati Zoo.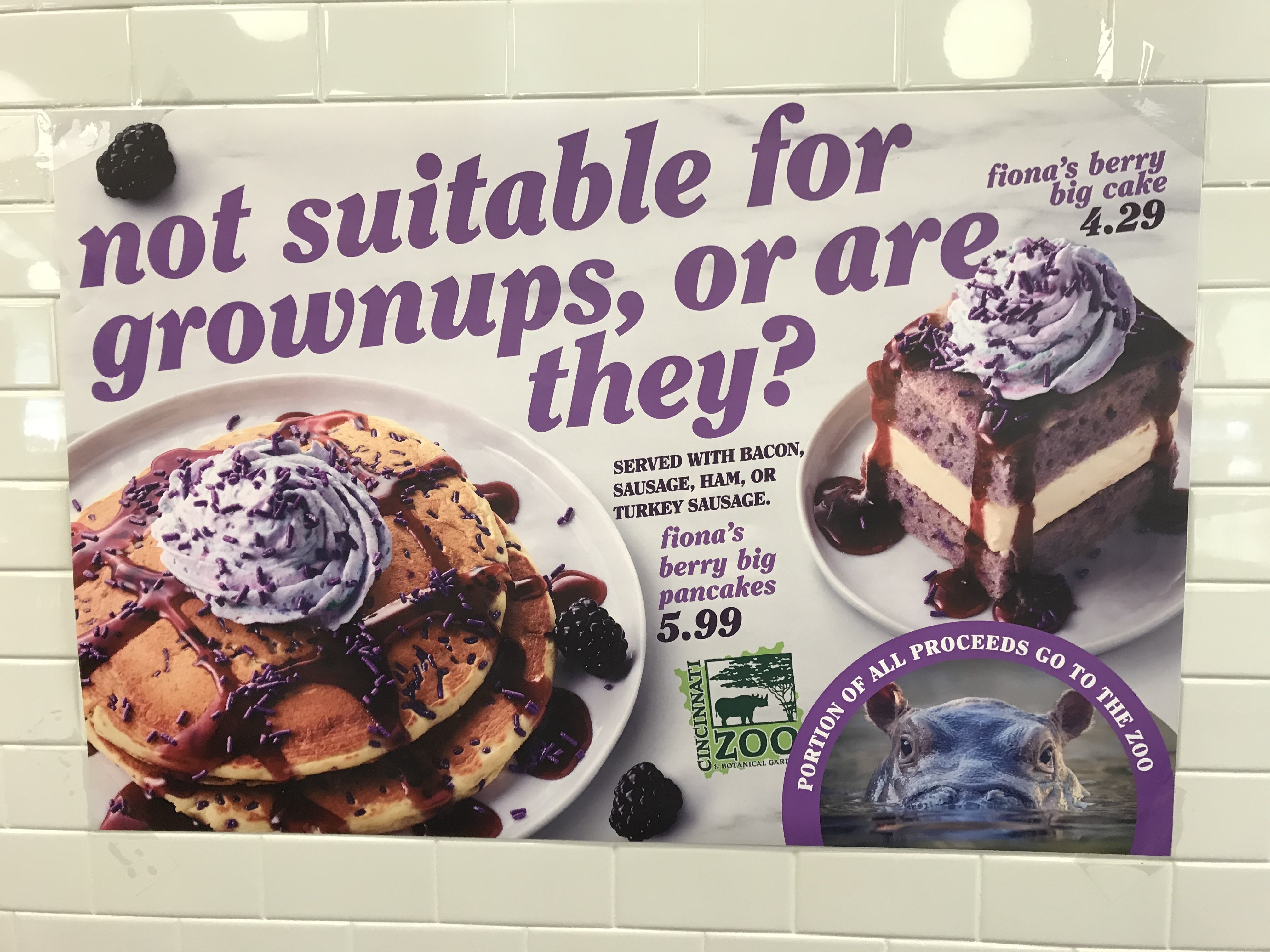 This is a better view of the Fiona offerings at Frisch's. Fiona is a star in Cincinnati, who as a baby hippo was often seen prancing around her enclosure for her adoring fans. The Fiona berry big cake is $4.29, while the regular Hot Fudge Cake $3.79. The Fiona pancakes, which include two pieces of breakfast meat, are $5.99, while the regular three pancakes and breakfast meat is $5.44. Fiona has many fundraisers, as she is a very popular celebrity in Cincinnati.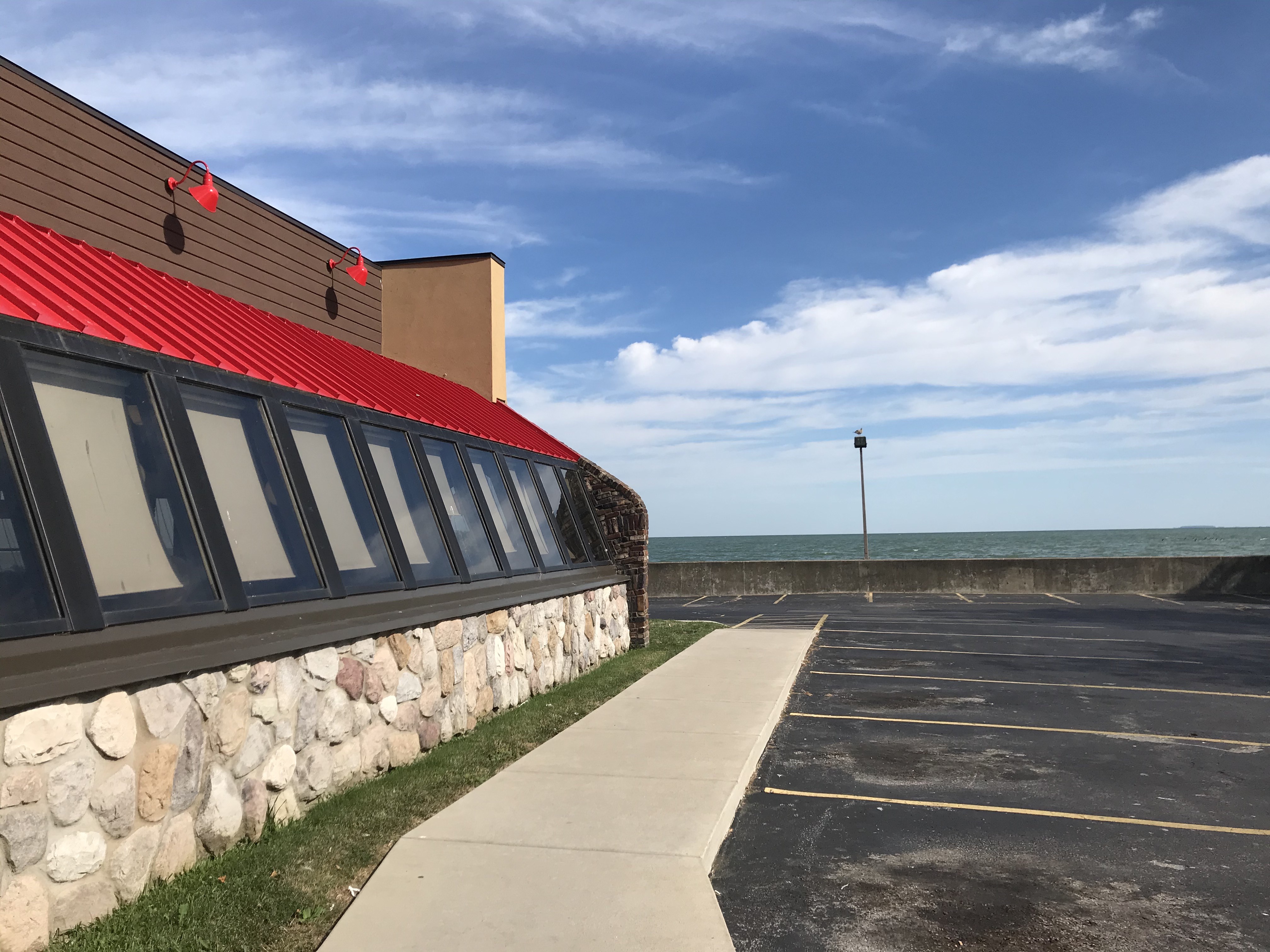 Port Clinton, Ohio, is one of the southernmost points of Lake Erie and of the Great Lakes as a whole. Canada is just a boat ride away, and sometimes you might get Canadian coins in the change from your food order here. Port Clinton City Beach is just a few steps to the west, and so is the spacious and leafy Lakeview Park. The beach needs cleaning up, but the Port Clinton Lighthouse and the Jet Express are nearby. The Jet Express goes to Put-in-Bay on South Bass Island, among other destinations.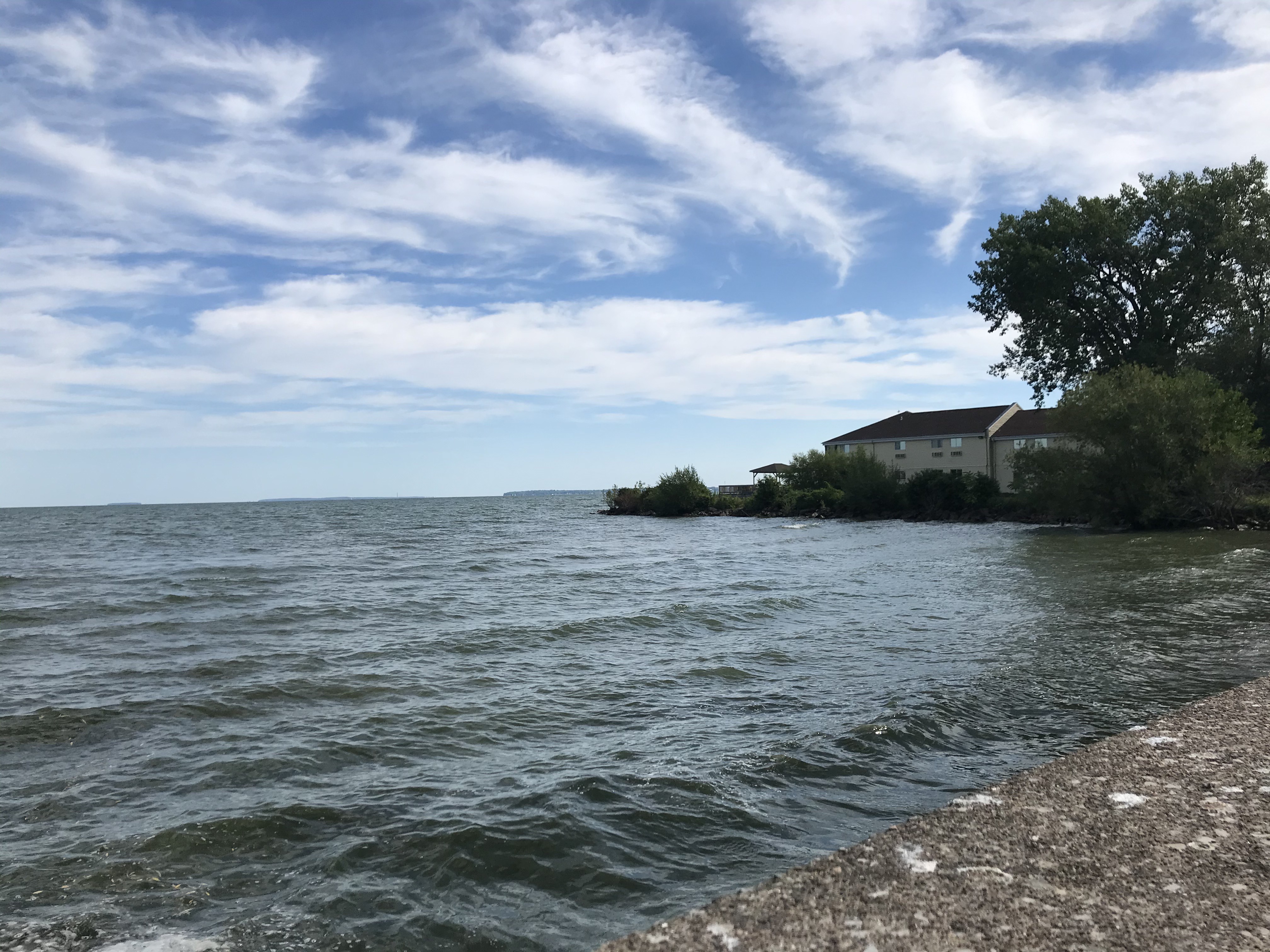 Looking east of Frisch's Big Boy, you'll find the Catawba Island peninsula in the center of the image. Catabawa Island is seven miles east by car along Route 163 by way of 31/East Sand Road. Along the way, there's a couple of hotels and marinas. One fun place just a couple of doors down is Jolly Rogers Seafood House, which is in high season now. They have indoor, outdoor, and covered dining, plus takeout and curbside pickup. There is a Burger King just to the right of the image, not shown, that is currently offering takeout. It's fun to put a blanket down on a nice day to enjoy lunch out here.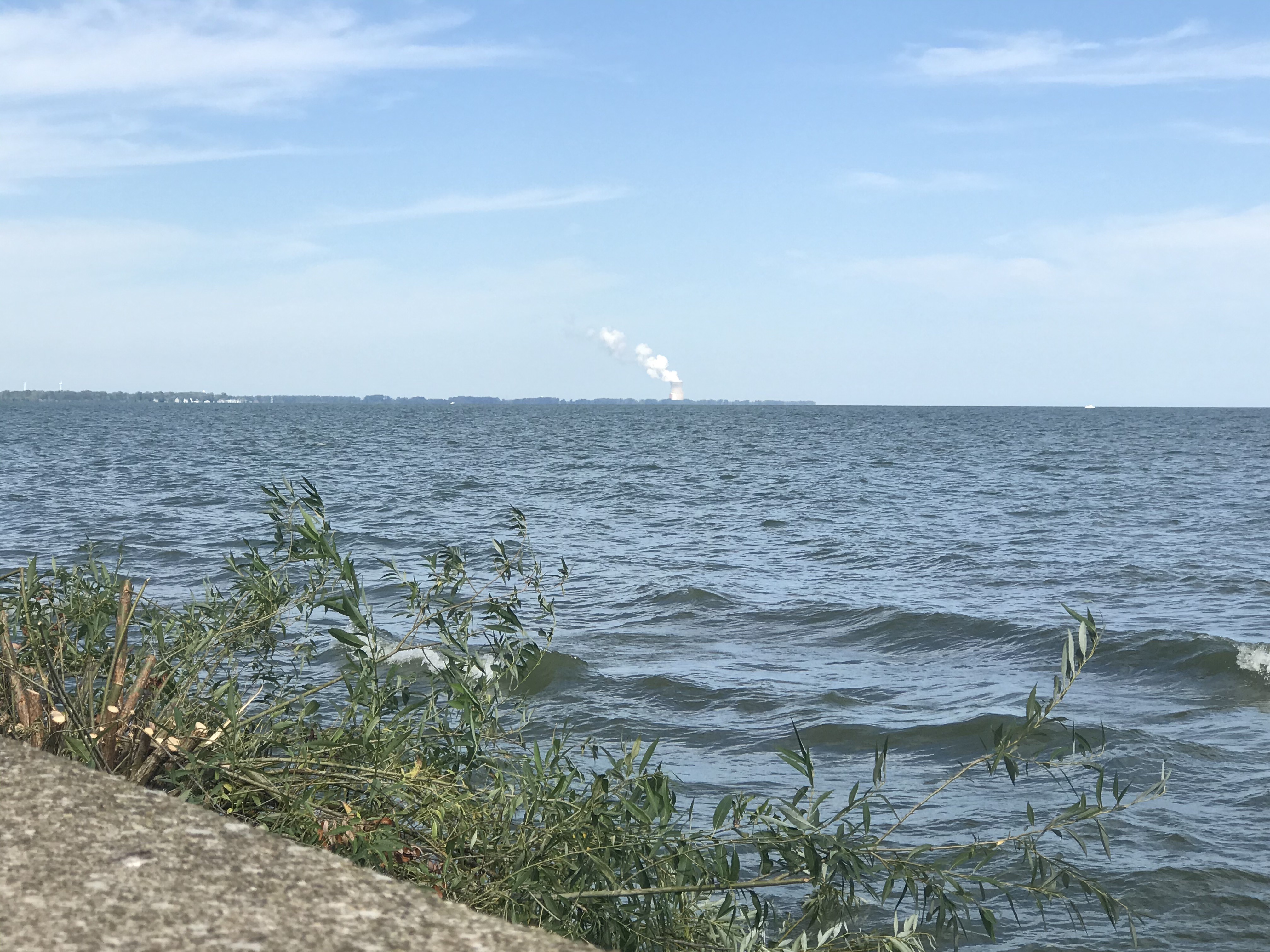 Looking west from Frisch's Big Boy is the Camp Perry Lodging and Conference Center, which is a National Guard facility that as of this writing is not open to the public.The Davis-Besse Nuclear Power Station, Unit 1. It is located in Oak Harbor. It supplies electricity to the area. A little closer to Big Boy is Port Clinton's historic downtown area, with Waterworks Park and a gourmet popcorn store called Great Lakes Popcorn Company, with thirty flavors to choose from. Of course, the Jet Express docks right here, heading out into the Portage River on its way to South Bass Island.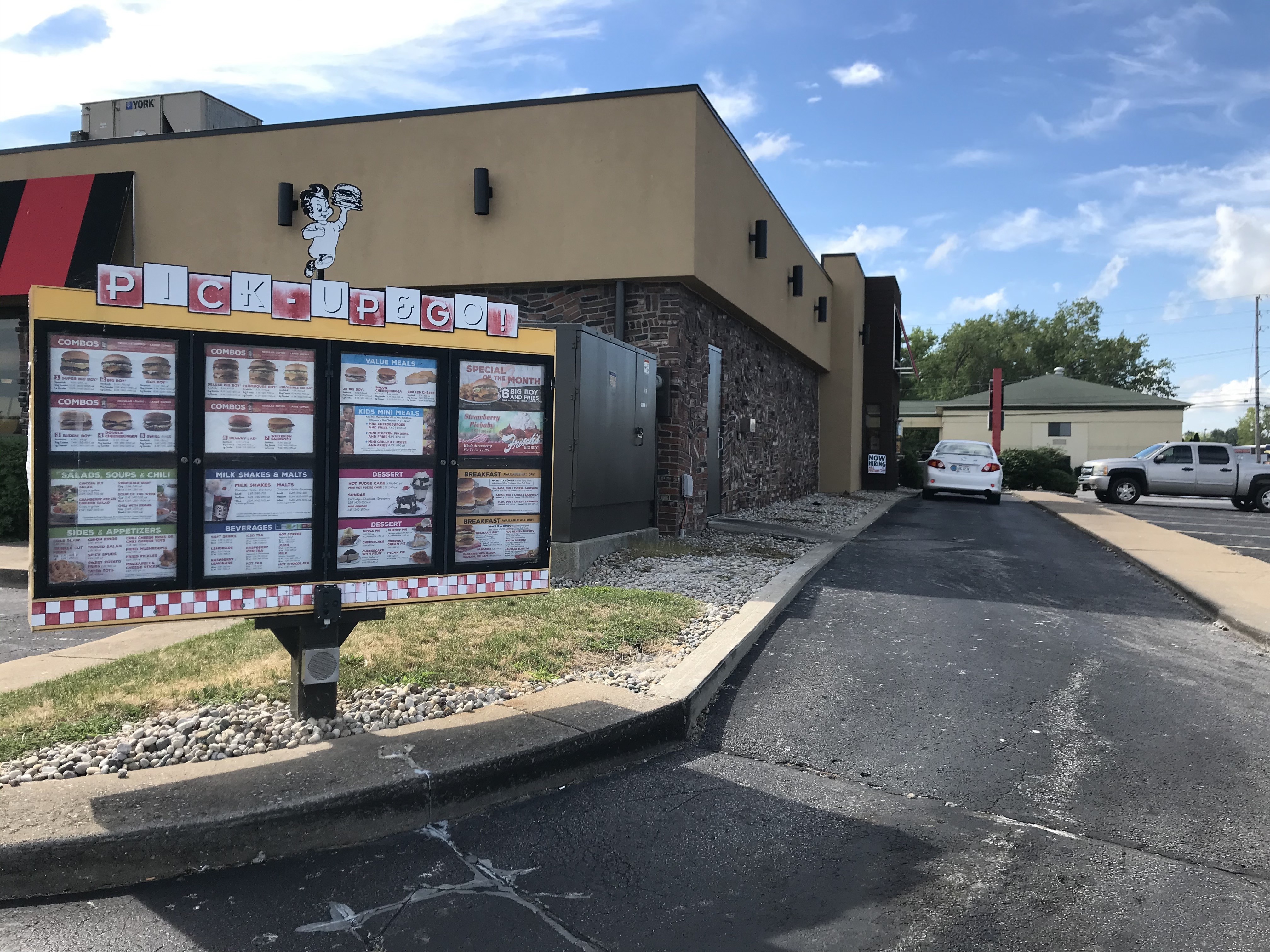 Frisch's Big Boy in Port Clinton, Ohio, has a nice drive-thru. One nice thing about take-out and drive-thru orders is that no sales tax need be paid on the food portion of the order. (Soda pop will incur a tax.) Sales tax at this restaurant is seven percent. One arcane item: coffee taken straight or with a milk product is considered a food item, but with artificial sweeteners, it might be considered a beverage. A delicious milkshake ordered to-go at Frisch's and consumed off-premises, is considered a food item and is not subject to sales tax. Frisch's has great hand-dipped milkshakes, so enjoy!