South Bass Island, on the Ohio side of Lake Erie, is the third largest Lake Erie Island at 1,588 acres. At 3.7 miles long and 1.5 miles wide, Perry's famous monument commands the island's central isthmus. Moving toward all points north, east, west and south, however, are five unique and beautiful island destinations to explore—including a lighthouse.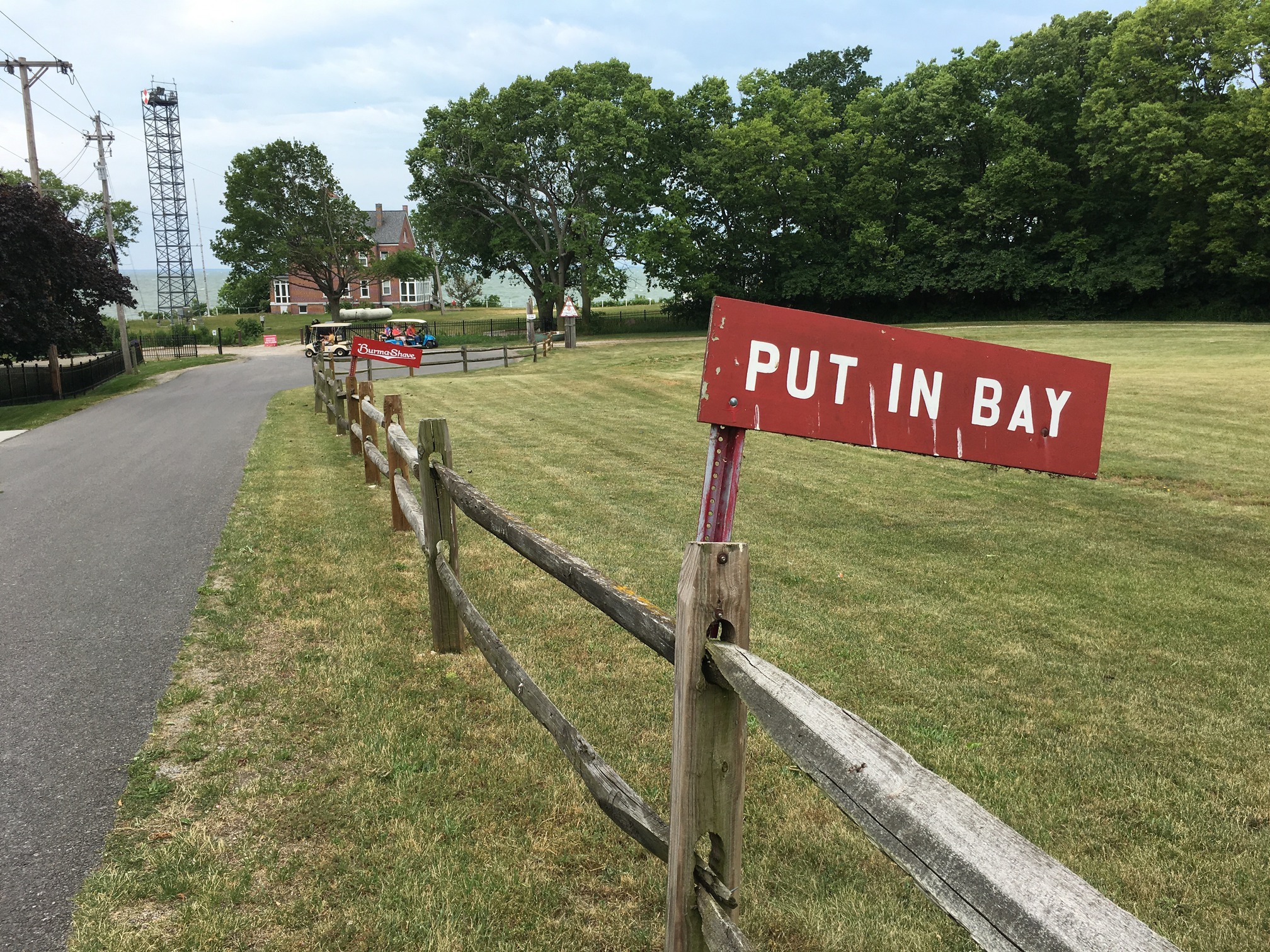 You came to Put-in-Bay for Perry's Monument or maybe to fish or maybe for the bar scene, but there's more to this island than that. At the southwesternmost tip of South Bass Island is the South Bass Island Lighthouse, at 2368 Langram Road (163). On Mondays and Tuesdays the lighthouse is open during the day, and there's also a butterfly garden, an incredible view, and picnic benches.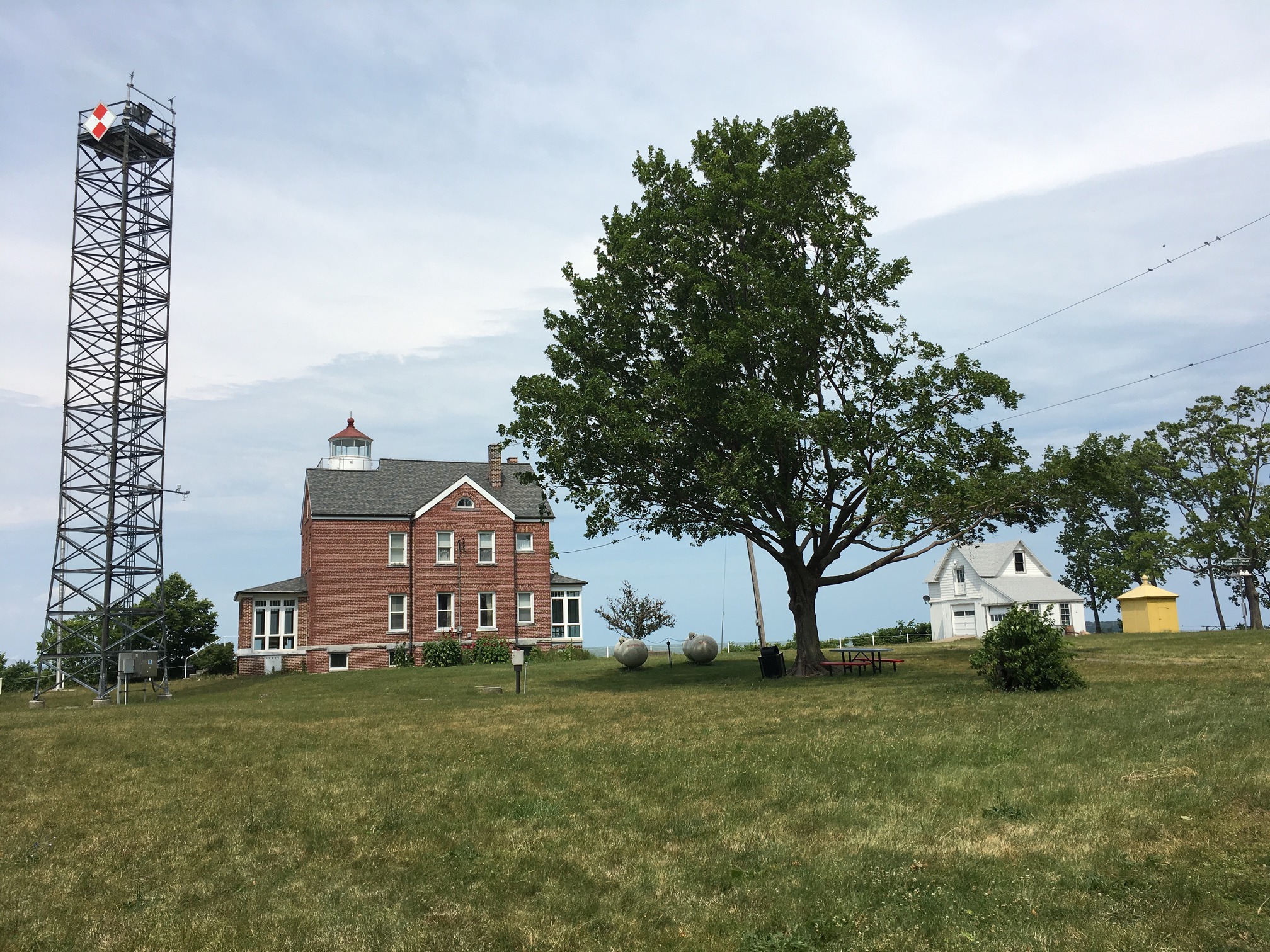 This is Lighthouse Point on Wednesday, June 28, 2017. Even though the lighthouse itself is closed Wednesday through Sunday, there were still many island-goers exploring the grounds. (There are no amenities here when it's closed.) There are notices posted on the back exterior of the lighthouse explaining when and what fun and usually inexpensive programming is offered.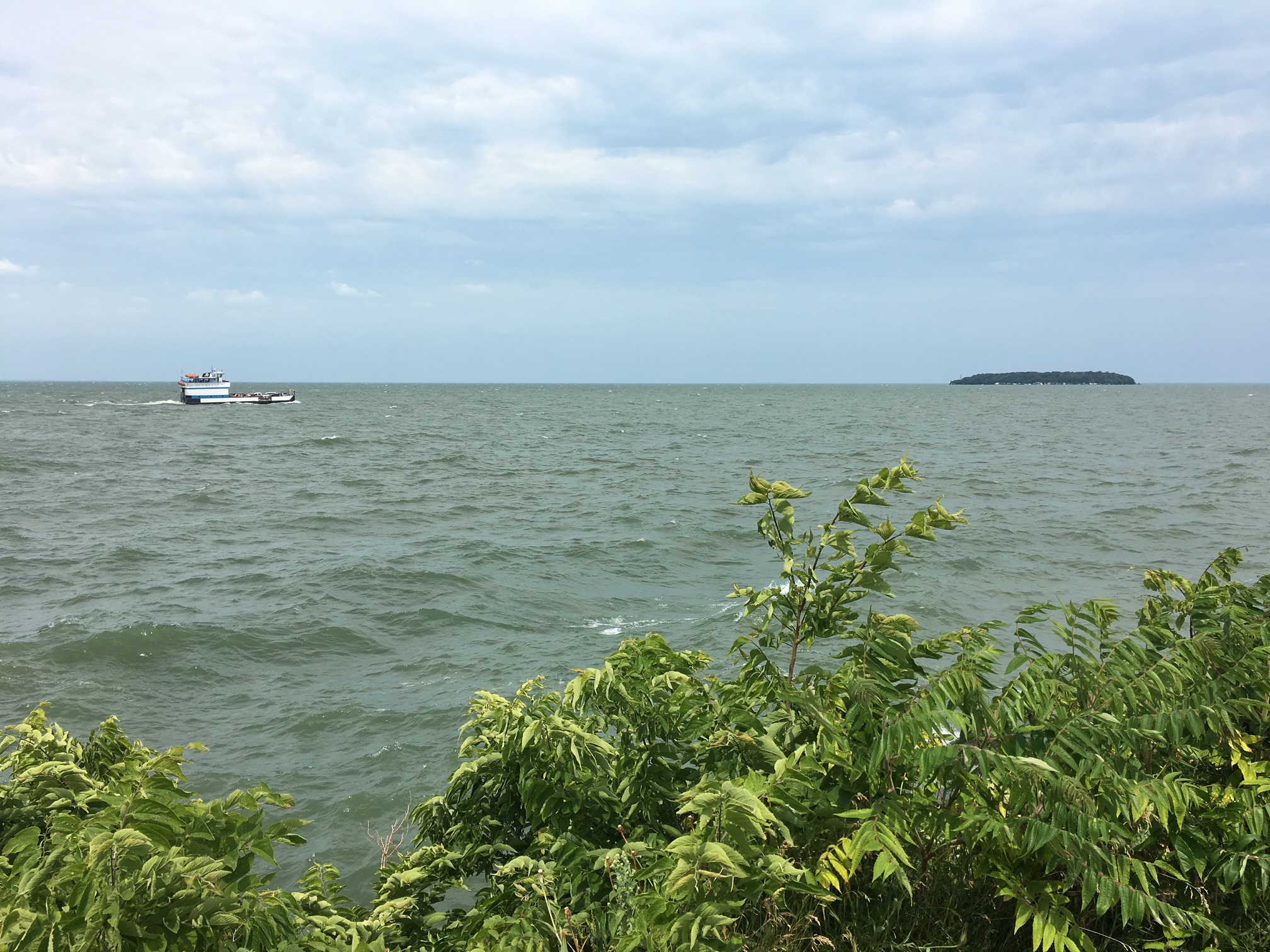 The view at Lighthouse Point is incredible—280 degrees of Lake Erie waves, islands, ferry boats, gulls, and yes, storm clouds. This ferry, having left Lime Kiln dock on the southwest tip of the island, is headed toward Middle Bass Island past the uninhabited Green Island. A single rope prevents tumbles into the sloping foliage, but it's not much, and the sloping soil can give way at any time.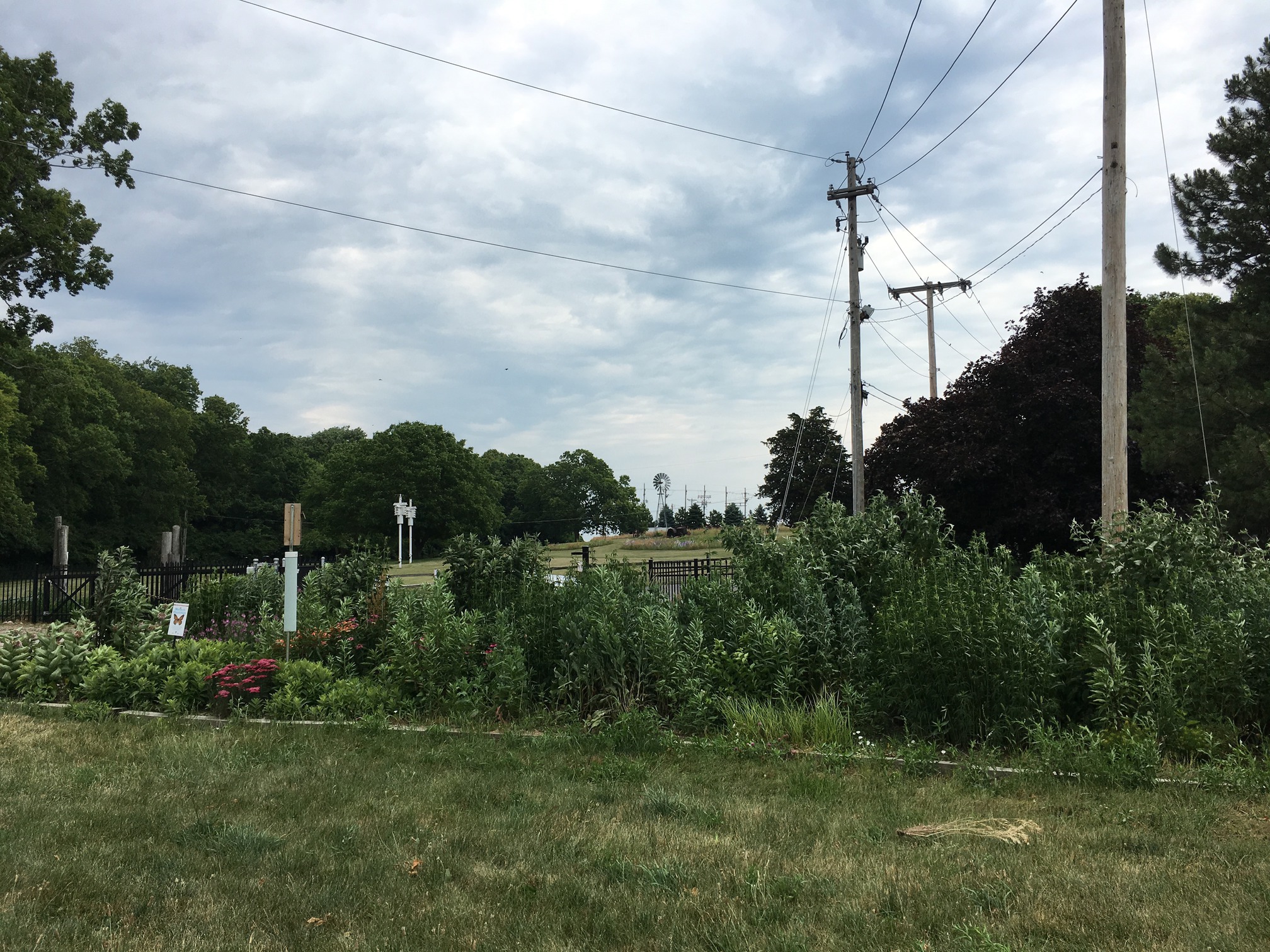 According to the placard posted here, this butterfly garden is a "Monarch Waystation," which "provides vital habitat for monarch butterflies on their 1,000 mile migration from Canada to Mexico." Though no monarchs were observed on this day, there were other critters in and about the wildflowers here. The grounds are open dawn to dusk for photos.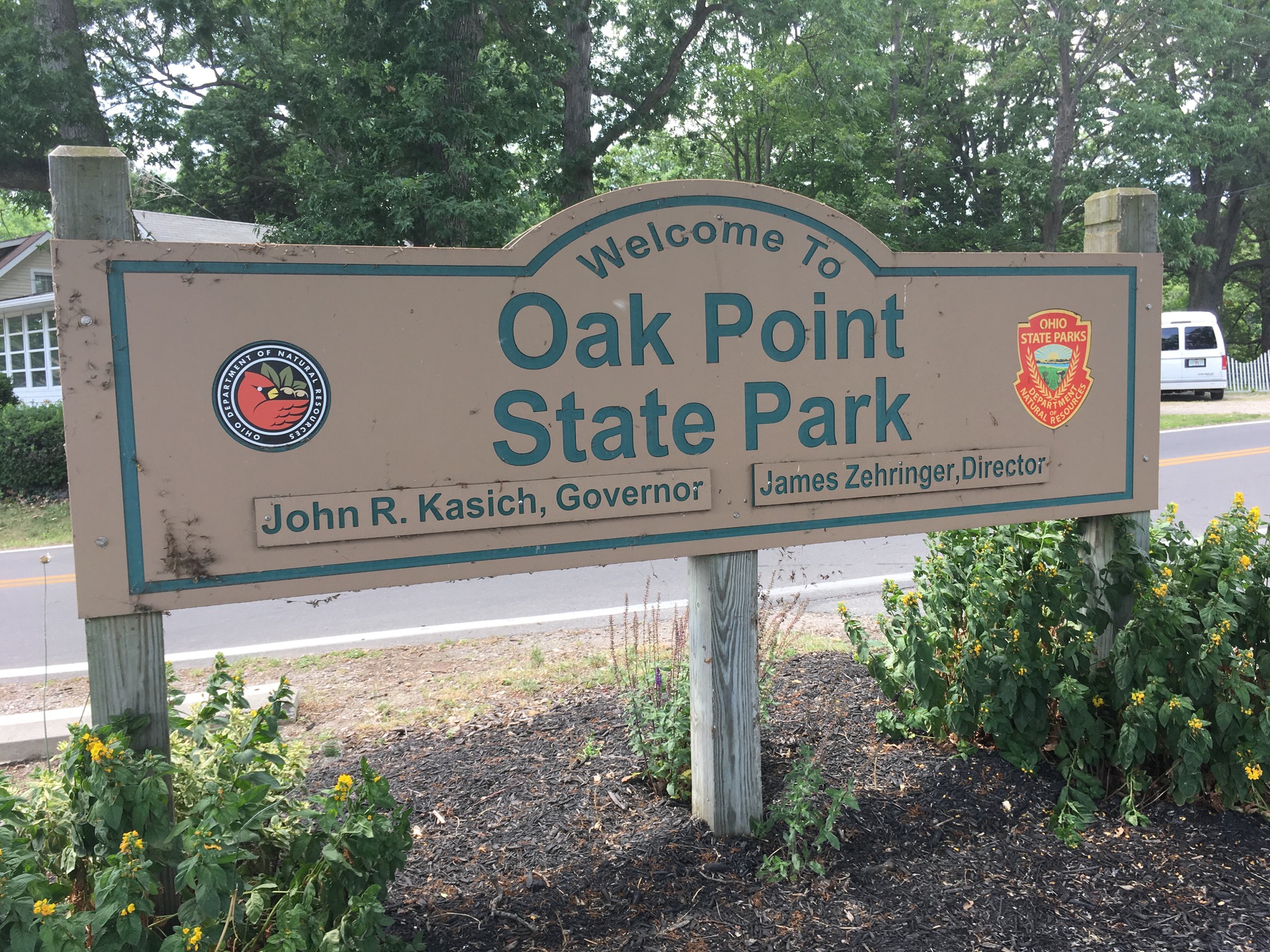 Located on Bayview Avenue, Oak Point State Park is Ohio's smallest state park at one and a half acres. There is shore fishing, docking, picnicking, a gazebo, a modern facility, and an incredible view of Perry's Monument. Oak Point is located on the northwest corner of South Bass Island.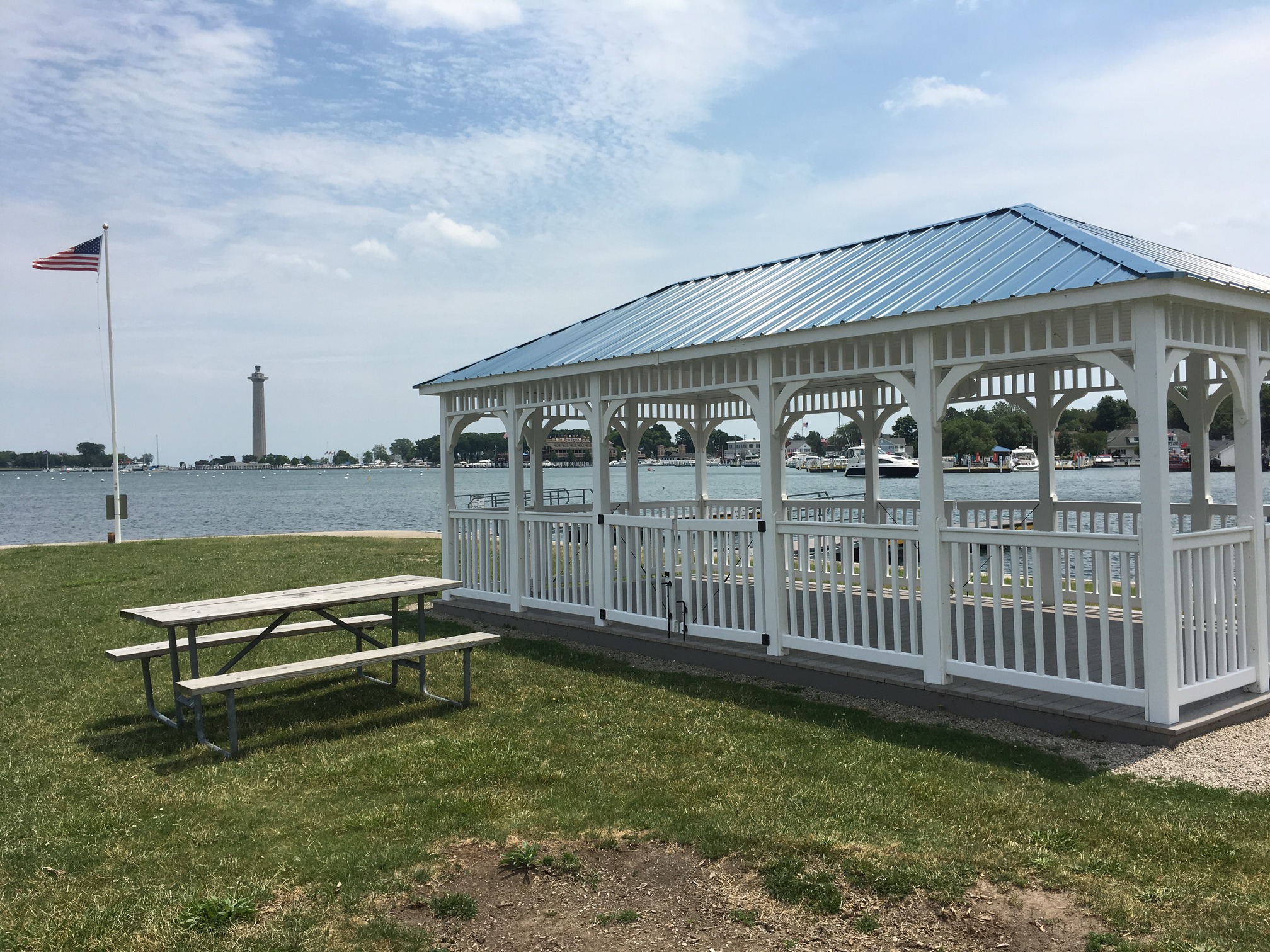 This gazebo is the only shelter at Oak Point, but there is more than one picnic table and there are grill stands. There is plenty of nice lawn for tossing a frisbee, or just putting down a blanket. Oak Point is the companion park to South Bass Island State Park.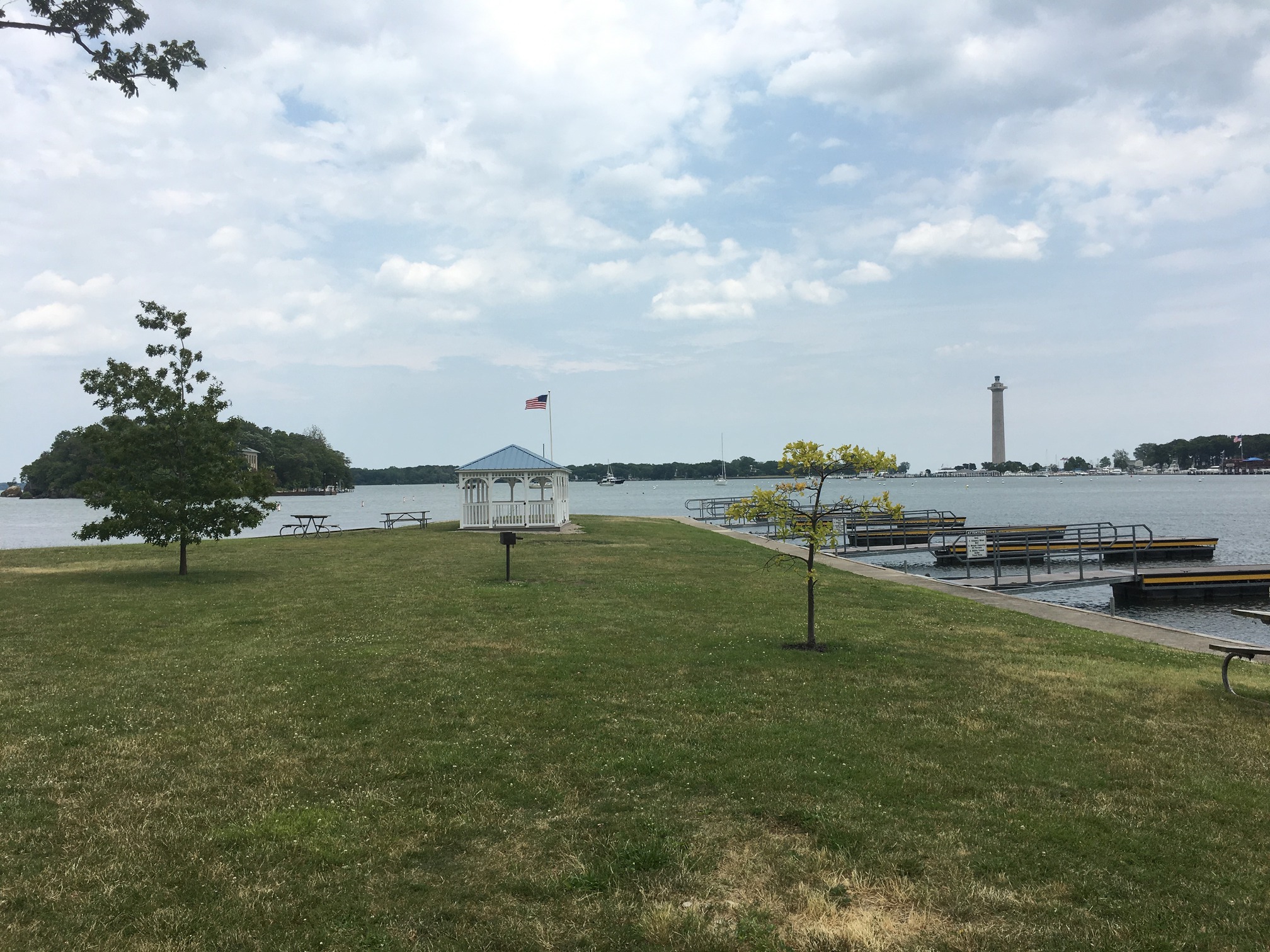 There are twenty boat docks available for either daily or overnight rental at Oak Point. Oak Point is really close to the Village of Put-in-Bay, which is a half-mile to the east along Bayview Avenue, also known as State Route 357. There is also ample parking here if driving. This is Smiths Point; to the right is Squaw Harbor and to the left is Fishery Bay. Gibraltar Island is directly ahead.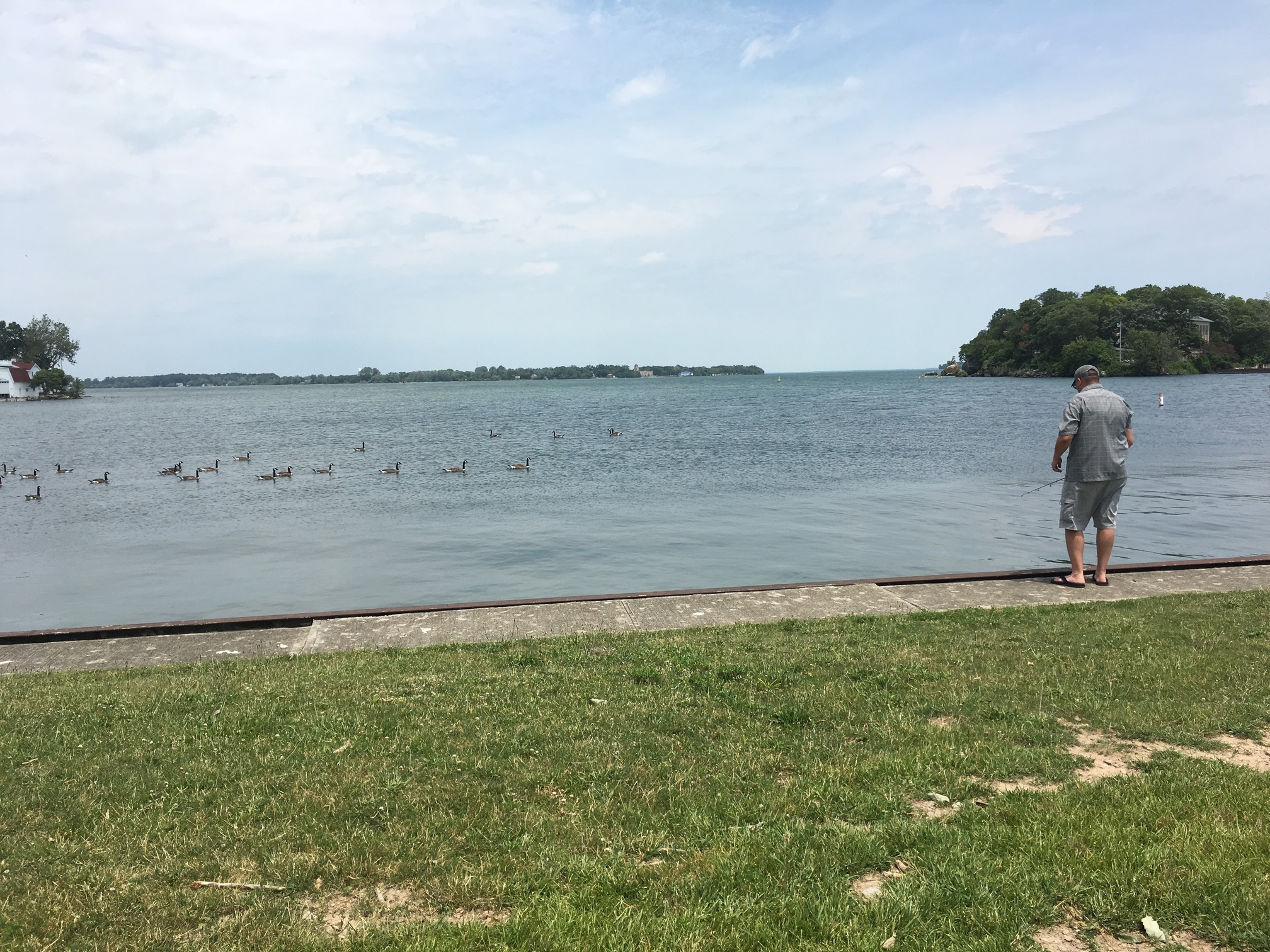 This narrow sidewalk surrounds Smith Point at Oak Point, and is a great place to fish. Out of view, are several nice shade trees that line the sidewalk. Migratory birds love to stop here in Fishery Bay—all types. To the right again is Gibraltar Island, and straight ahead is Peach Orchard Point, which is where Ohio State University has a research station.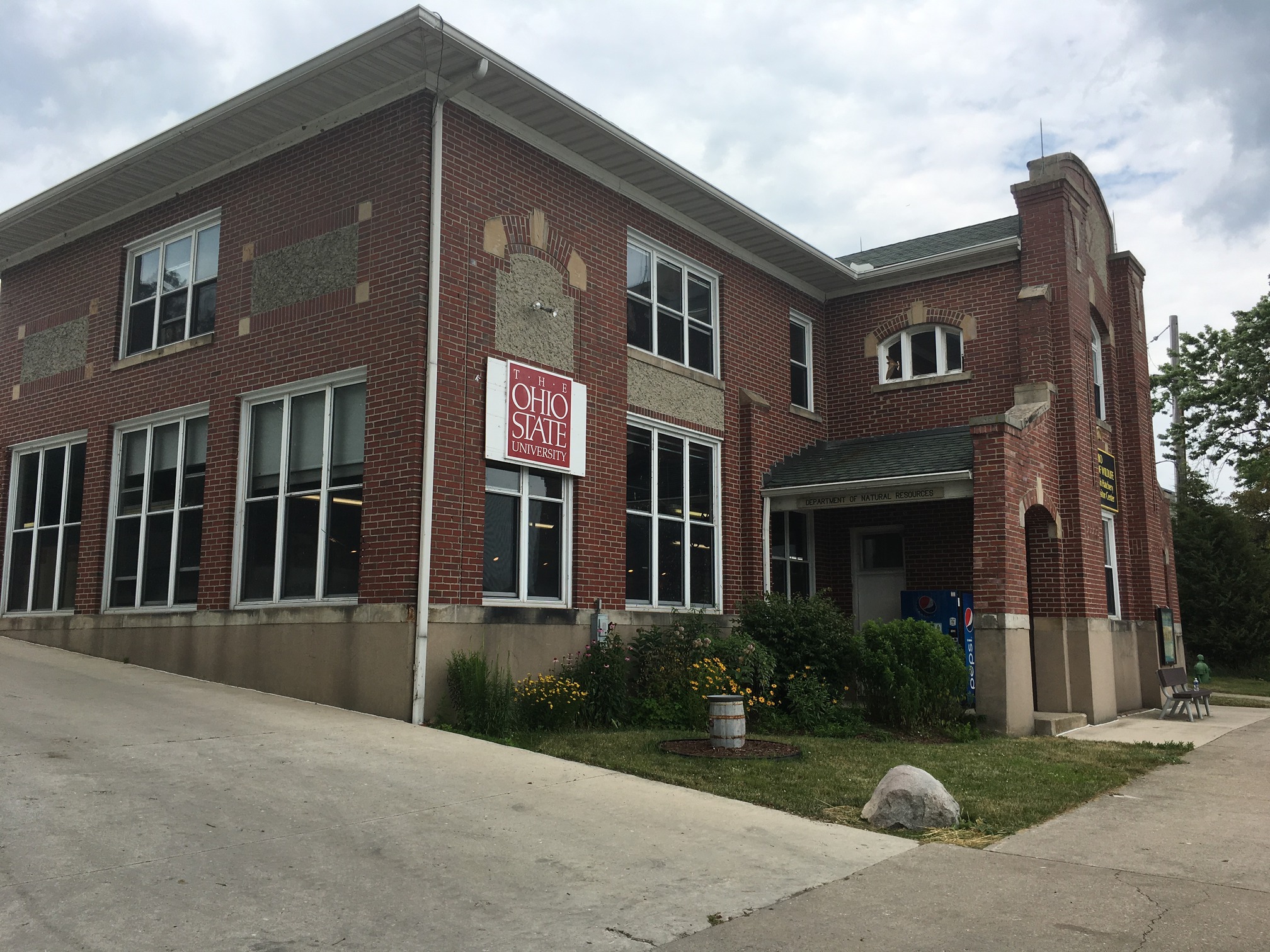 The western terminus of State Route 357 on South Bass Island ends at Peach Orchard Point, which is home to Ohio State University's Stone Laboratory marine research facility and the Put-in-Bay Aquatic Visitors Center. Stone Laboratory is open to the public occasionally, but the Aquatic Center shown here is always open.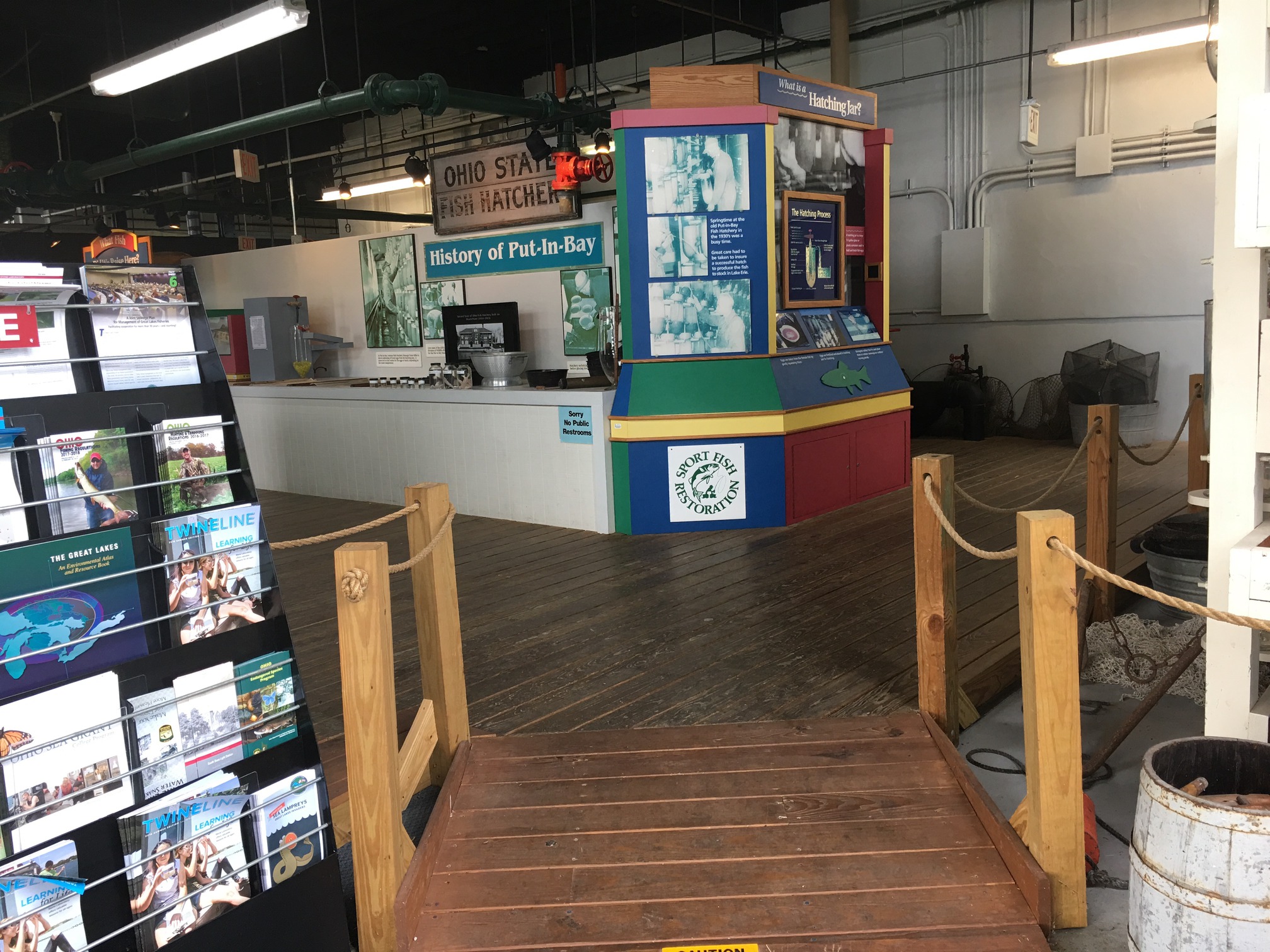 The Aquatic Center is also known as the Ohio State Fish Hatchery and is air-conditioned, for a respite from the summer sun. Admission is free, and so are many informative, glossy booklets about Lake Erie on the left. Cross the bridge shown here to see the past, present, and future of Put-in-Bay and the creatures that call it home. The Ohio State students who work here are happy to provide more information about the displays at the Hatchery.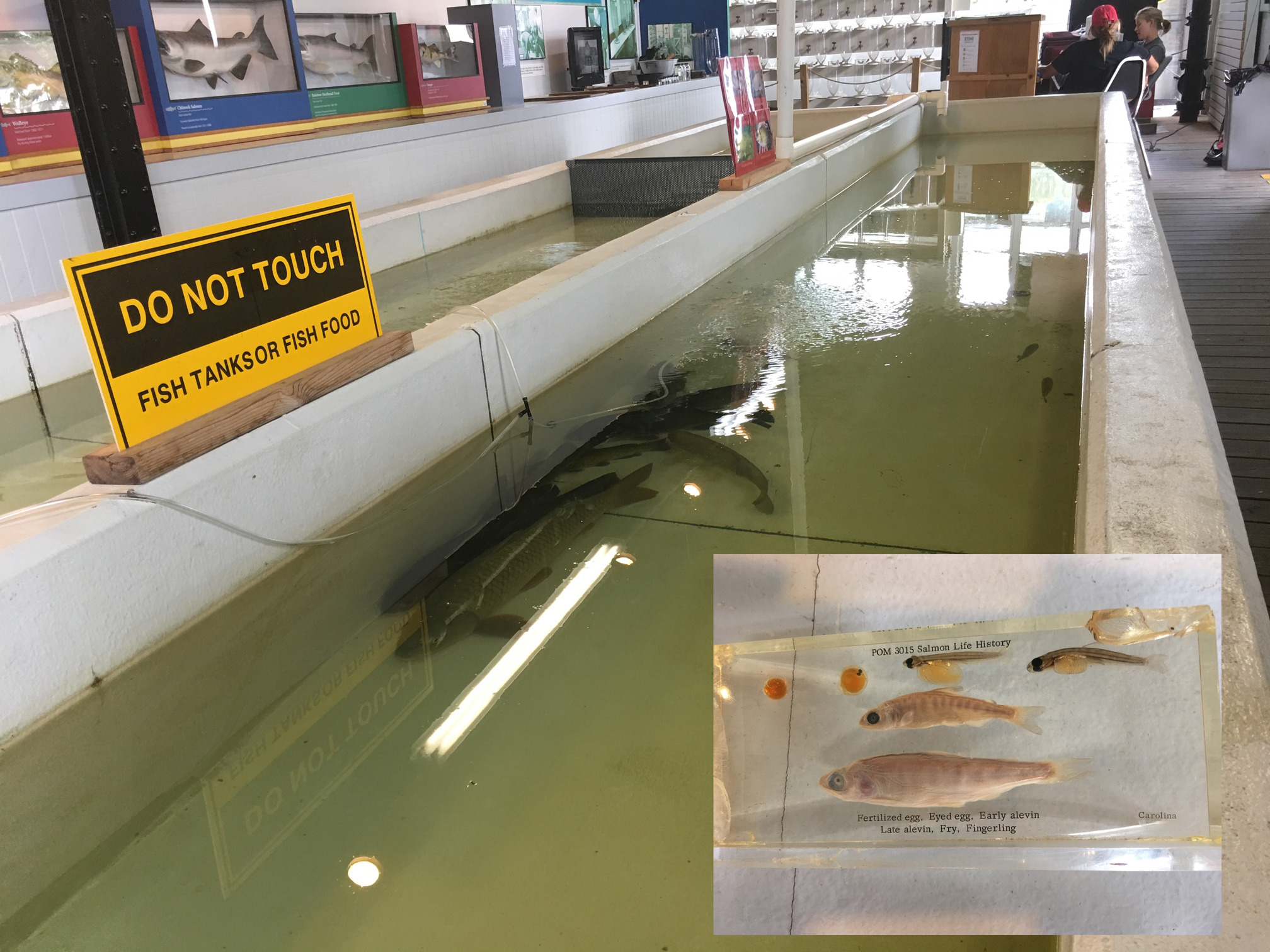 Opened in 1907, the Hatchery has released billions of small fry into Put-in-Bay to enhance the fish populations. Since 1992, Peach Orchard Point has been the Aquatic Visitors Center, where the Ohio Dept. of Natural Resources and then Ohio State began researching into water quality, walleye tracking, pollution, and invasive species. This plastic block shows the life stages of a fertilized egg.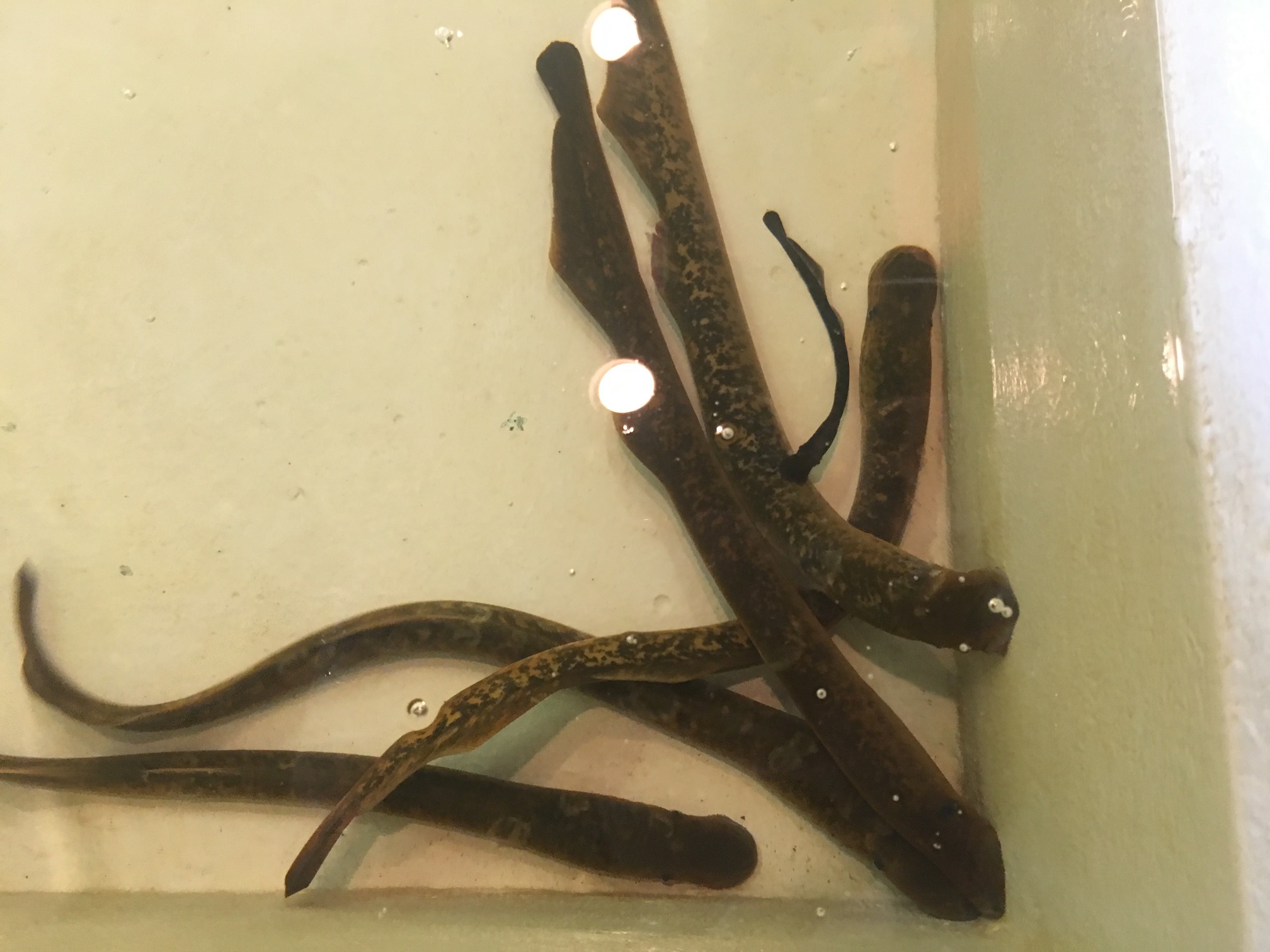 The parasitic sea lamprey, native to the North Atlantic, has been in Lake Erie since 1921. This jawless fish has a suction mouth full of sharp teeth that attach to the side of a prize fish like walleye to suck out the blood and can destroy forty pounds of fish per year. (In fact, one is doing that right now in this photo.) The lamprey has no known predators except man.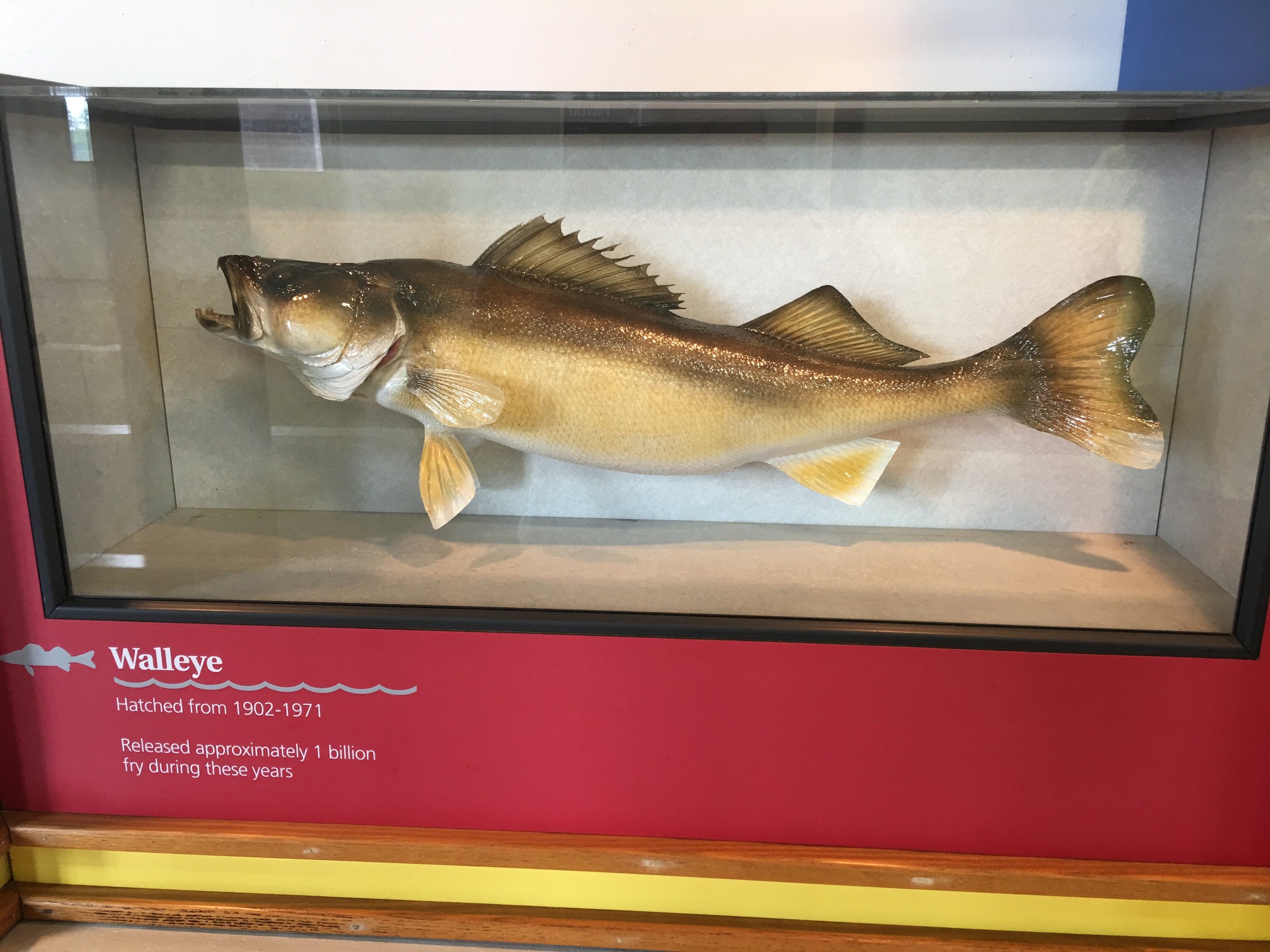 This is the reason the Fish Hatchery came to be. Walleye were spawned at the Hatchery into giant glass jars filled with water, and as the fertilized eggs grew, were flushed by giant pumps out into Lake Erie. The pumps and the glass jars are still here, where fans of Lake Erie can see them. There is also a microscope here that visitors can look through to see close-ups of lake water creatures.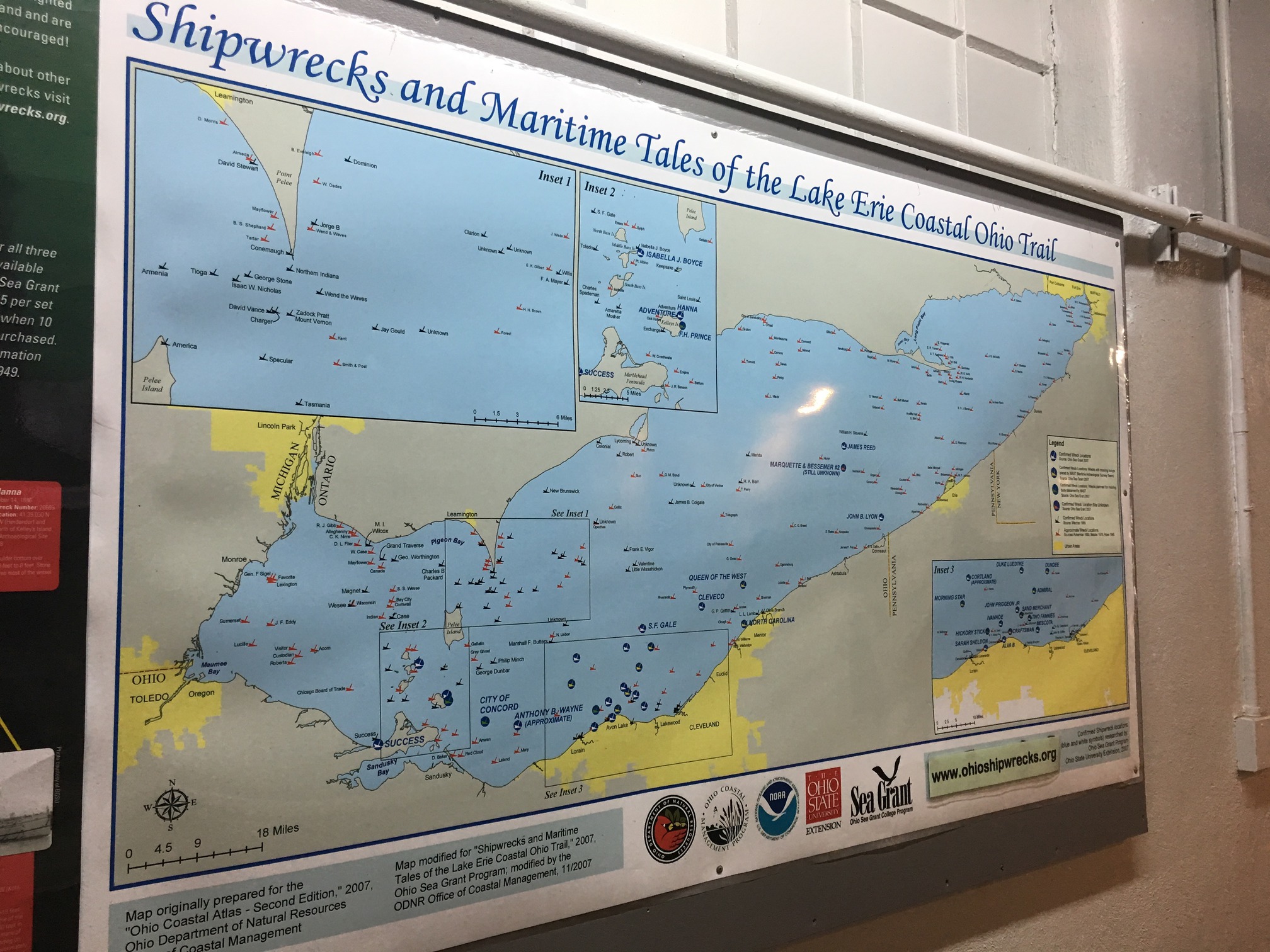 There are more than 1,700 shipwrecks in Lake Erie, and only 277 have been found. For instance, the Jordan Beebe Jr. steam propeller fish tug was lost in 1893 at Put-in-Bay. This map is available online at ohioshipwrecks.org. Done with shipwrecks? AVC also has a mini-theater when folks can sit down for a while to watch a movie about the silver Asian carp in Lake Michigan.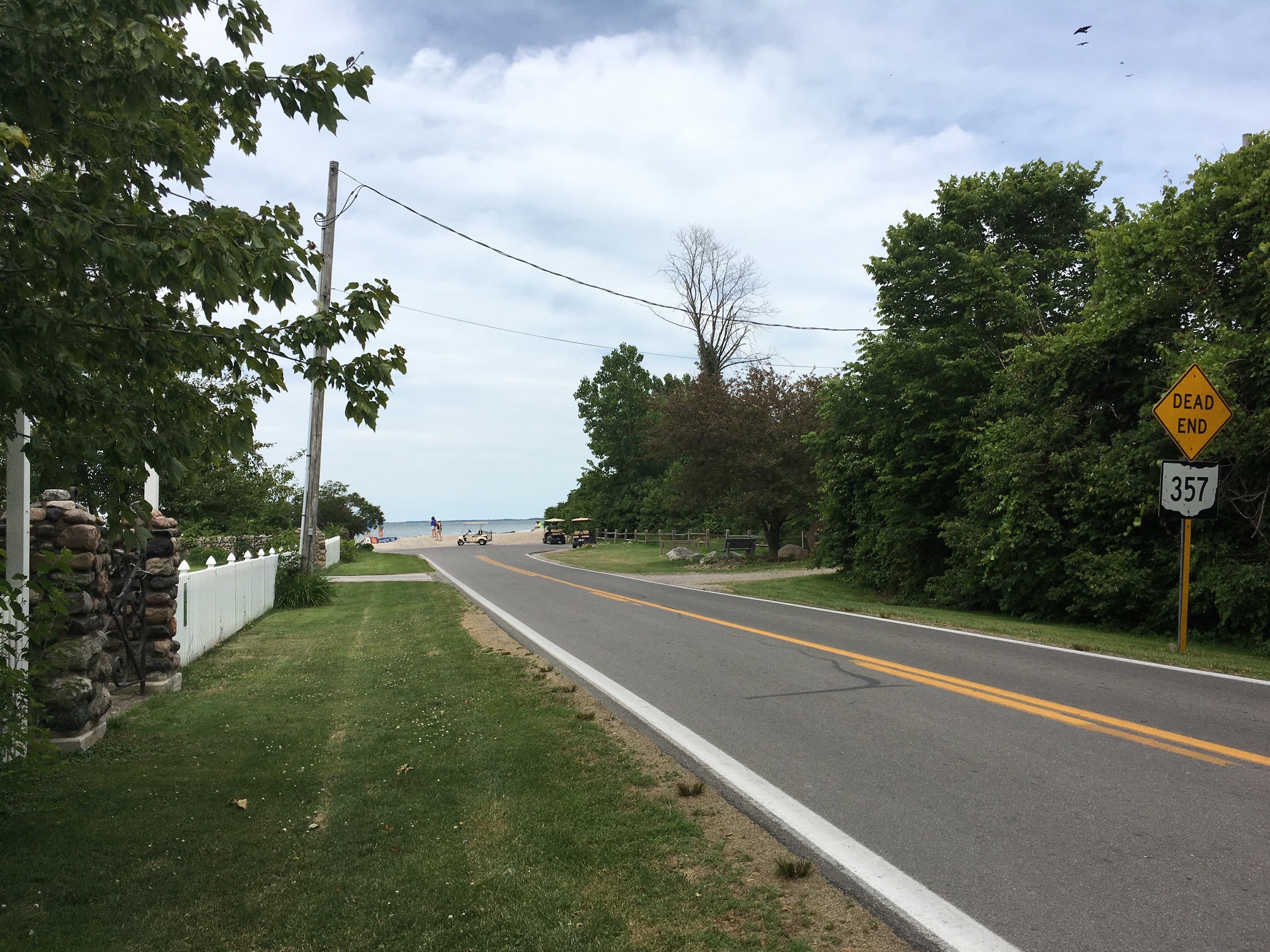 State Route 357 dead-ends at Scheeff's Point on the northeast end of the island, but this is where the fun begins. The Scheeff East Point Nature Preserve has nine acres of beach, trails, woodland, and bird sanctuary. (This blog editor has heard it pronounced "Chef" or "Cheffy" several times.) Buckeye Reef extends out past Scheeff Point into Lake Erie, but is not for the faint of heart.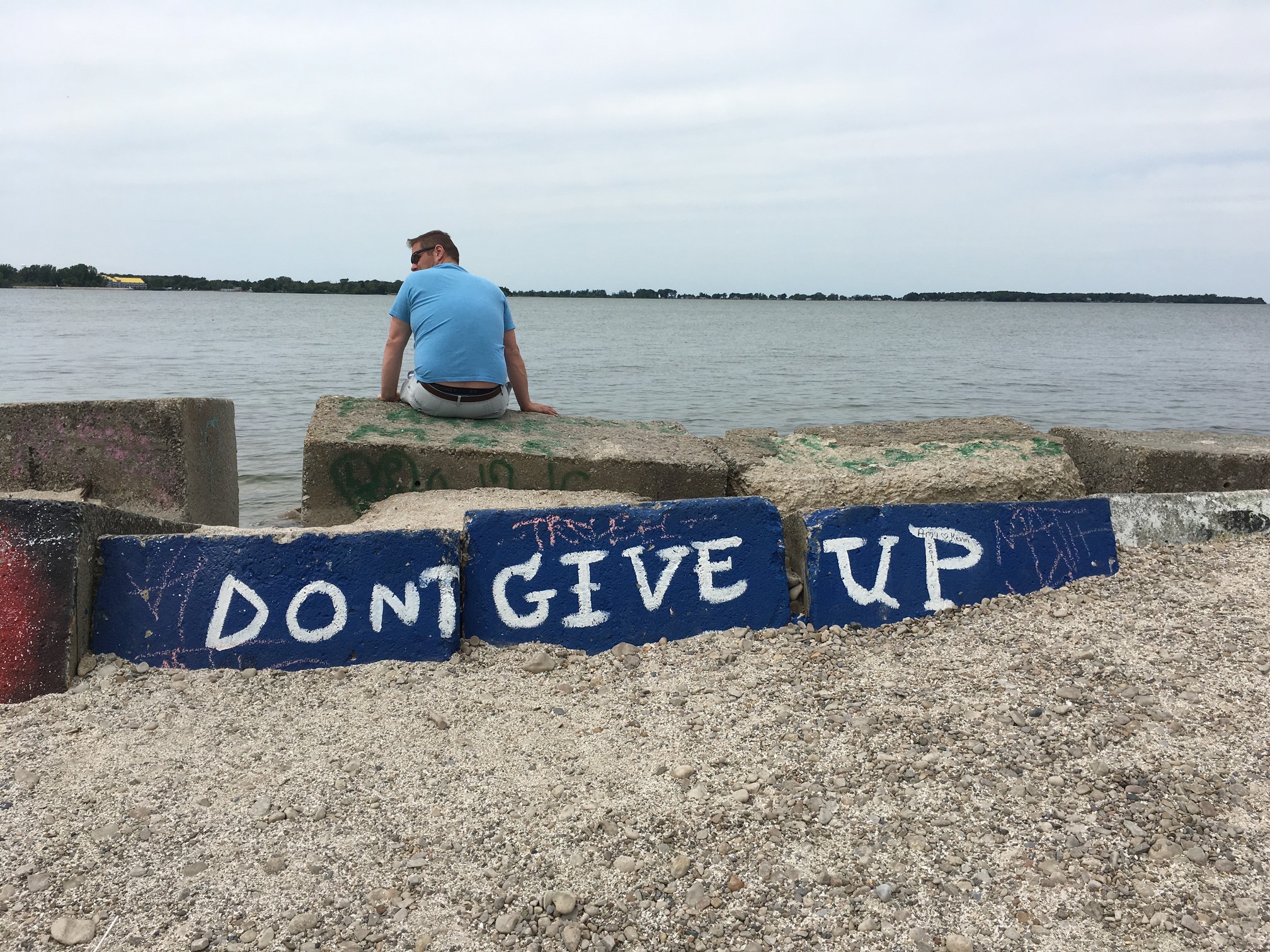 "Don't Give Up the Ship" were the words emblazoned on the personal battle flag of the Hero of Lake Erie, Commodore Oliver Hazard Perry. His blue pennant is now famous in Put-in-Bay for his success in capturing the Bass Islands for the new United States in 1813. The man is facing the southern tip of Middle Bass Island.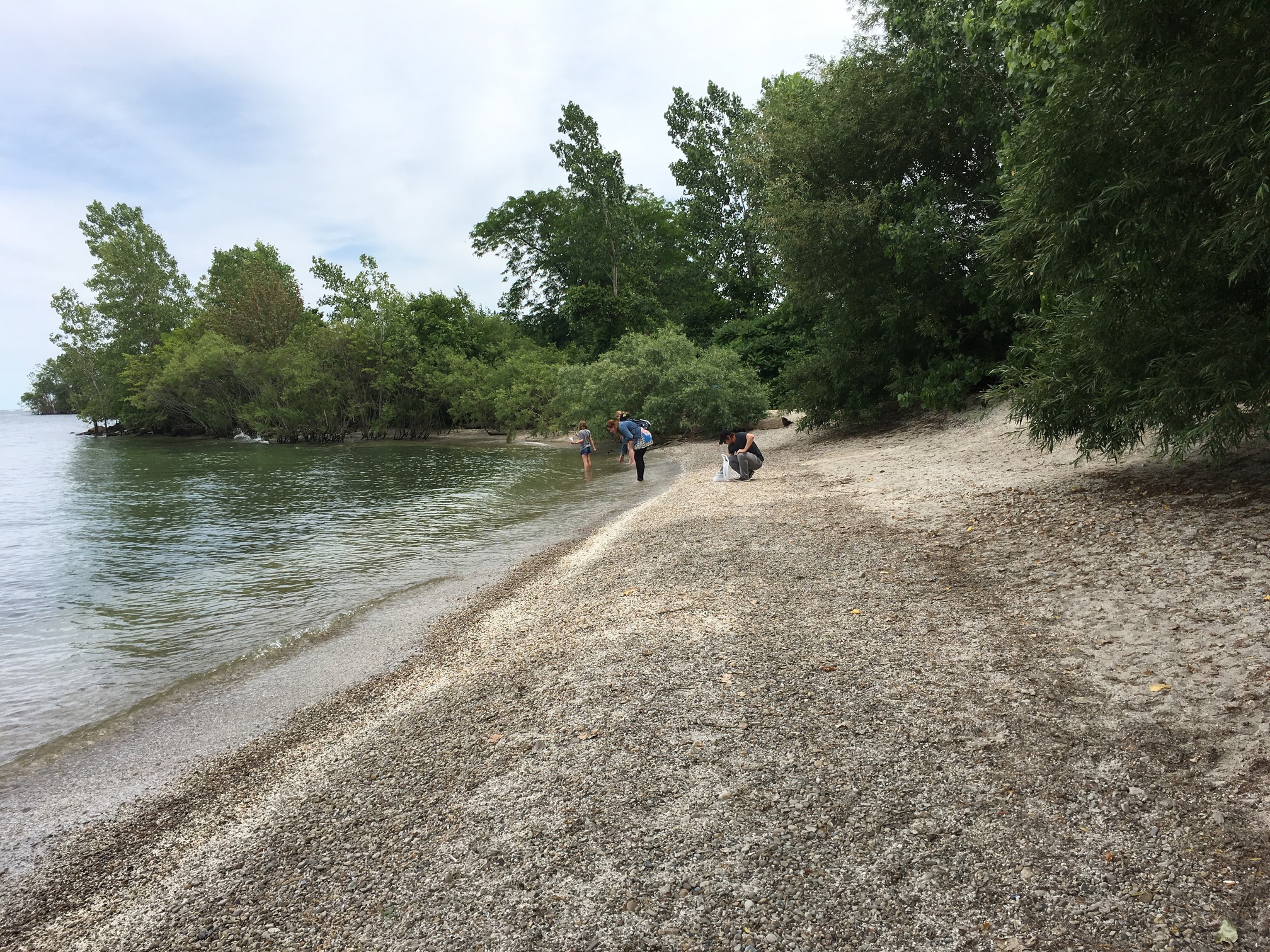 The Scheeff East Point Beaches are small, the sand is coarse, and there really aren't any large shells. That said, this place is a quiet, natural respite from the PIB village that is easy to get to either in a golf cart, on foot, or even in a taxi. The view is a classic Great Lakes vista. The Lake Erie watersnake abounds here, but is harmless. More natural preserves can be found on Middle Bass and North Bass.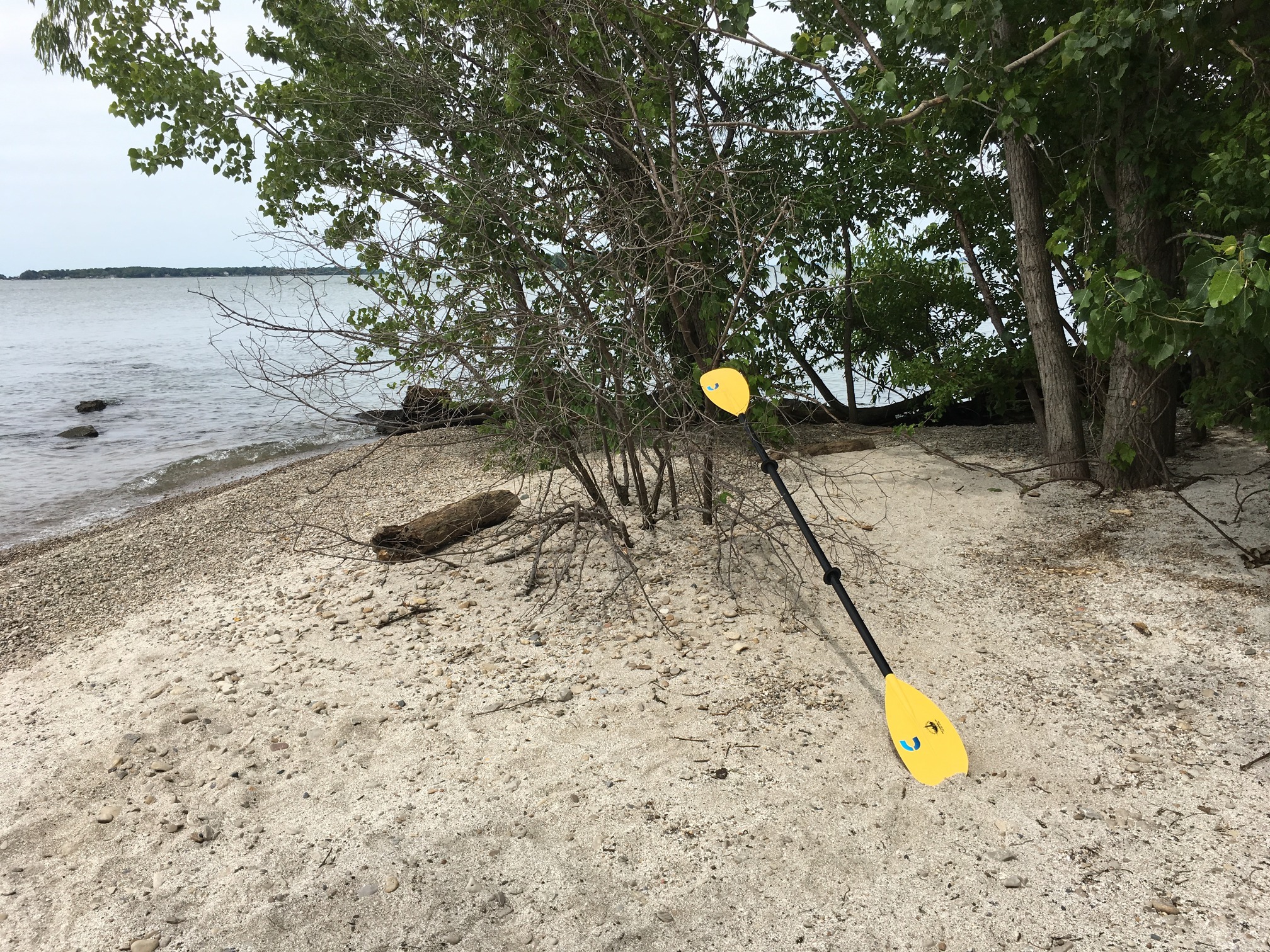 South Bass Island has nine access points for the Lake Erie Water Trail for kayakers and two are here at Scheeff's. Points six and seven have six-tenths of a mile between them; six is the "north" point and seven is the "east." The fifth point is at Massie Cliffside Preserve, also at six-tenths of a mile to the west of six. Massie is halfway between Perry's Monument and Scheeff on SR 357, Columbus Road.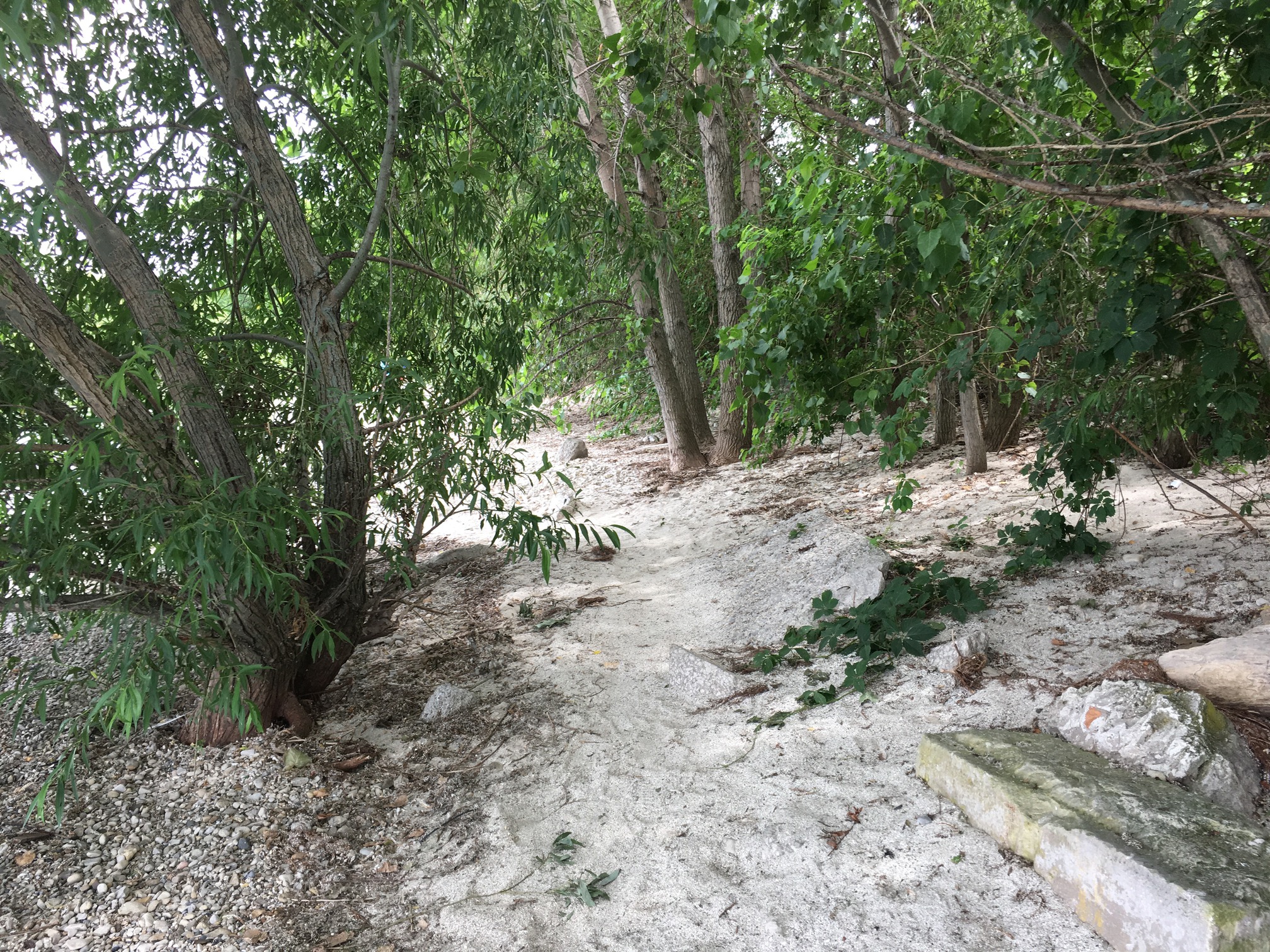 The trail shown here winds its way along Scheeff Point nature preserve, the beach, the woods, past a vineyard, and then back out to the preserve. There is a little open space, but visitors need to be careful of low branches. The trail takes about half an hour, which includes stops to step out onto the kayak access points on the shore.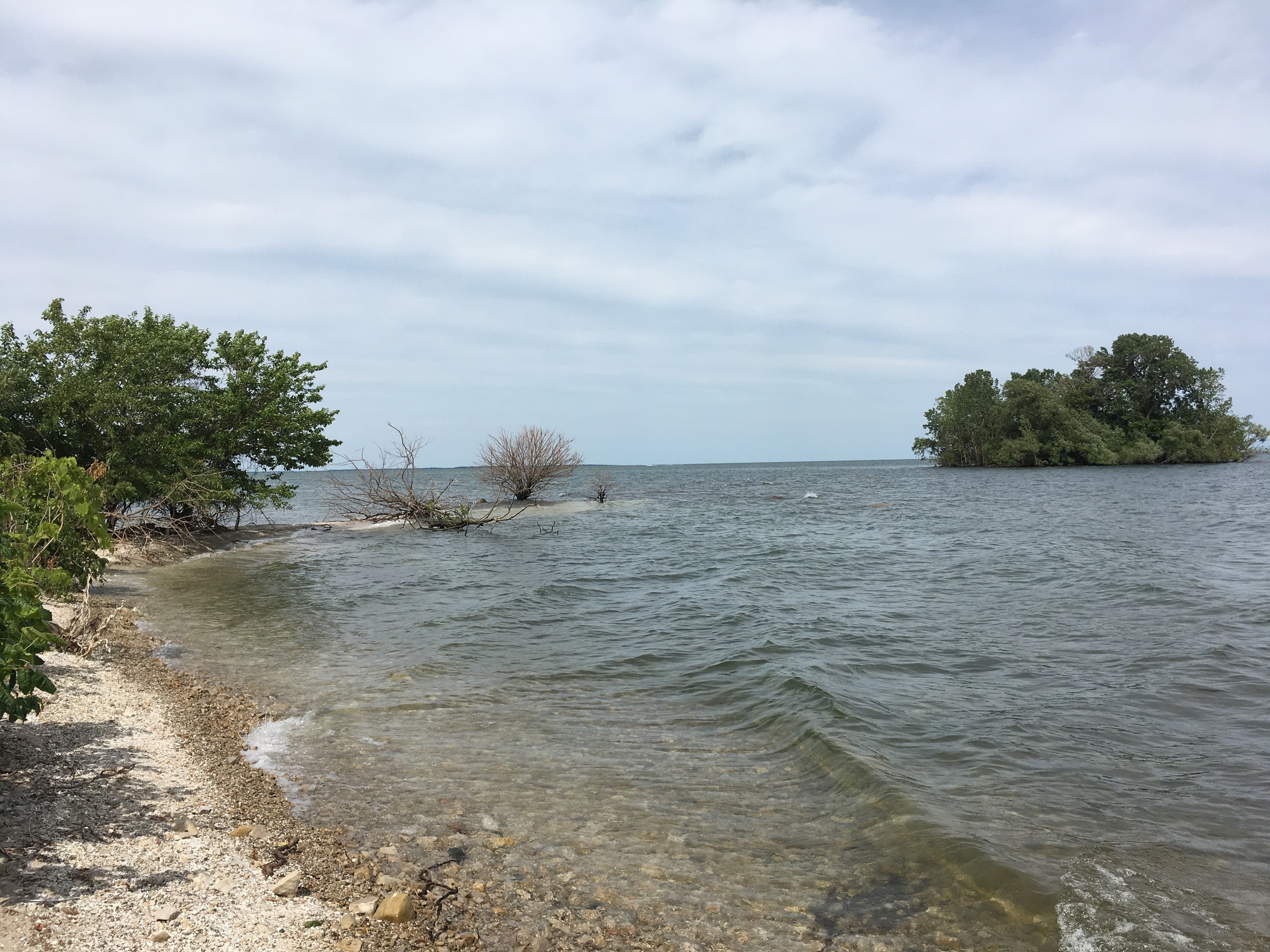 This is Buckeye Island, also known as Buckeye Point, which is privately owned, and would be incredibly difficult to get to in choppy water. Ohio State University students conduct habitat research out here, and ask that their materials remain undisturbed. Allegedly, there is a footbridge to access Buckeye Point when the water is low, but the sandbar out by the shrub is unstable right now.