---
Toronto Rogers Centre, Blue Jays
---
The dream of a Major League Baseball franchise in Toronto began in January 1976. The name Blue Jays was chosen during a naming contest by Labatt Brewery, the majority team owner. The color of royal blue has figured largely in Toronto sports for decades.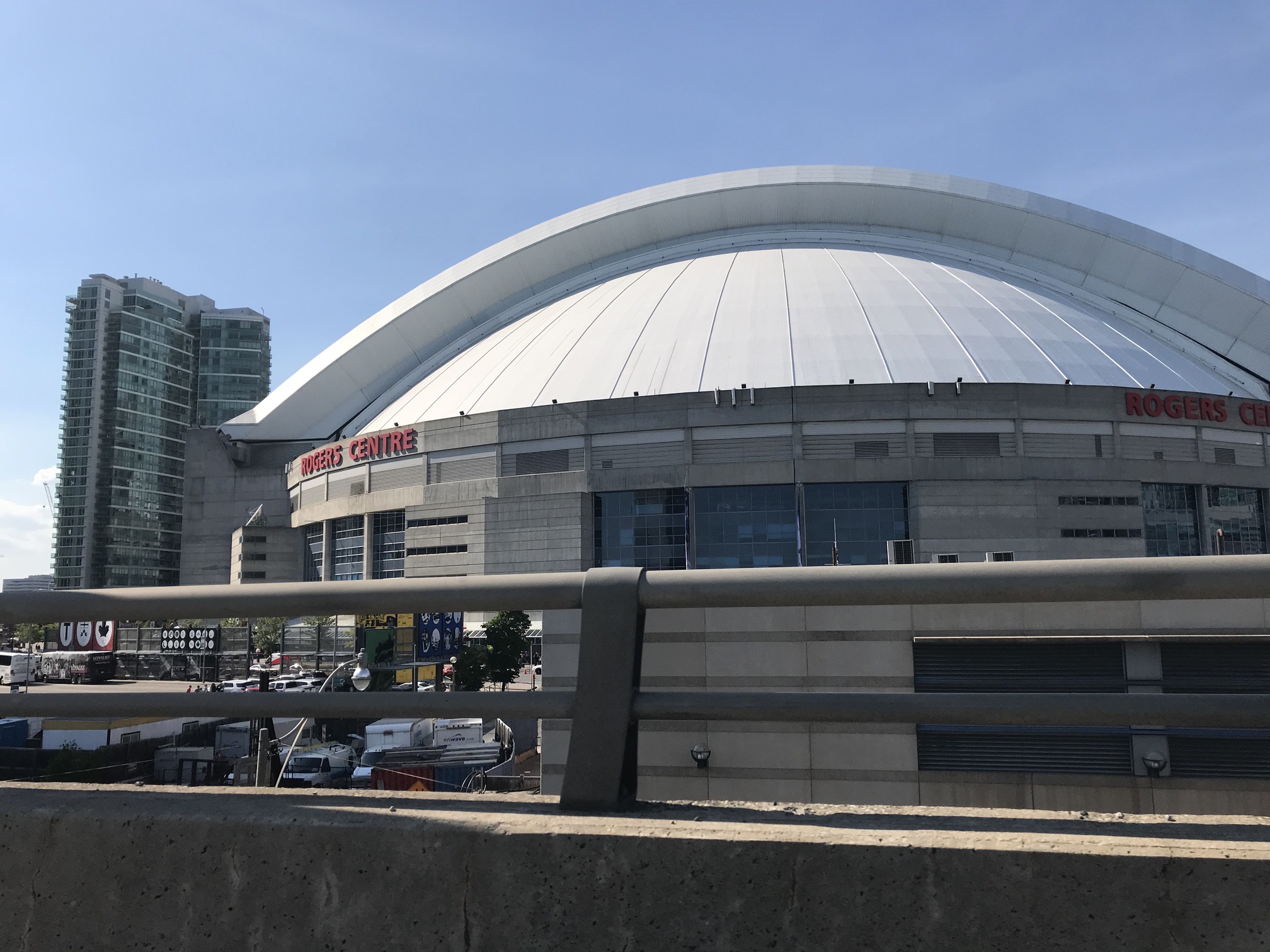 It's Friday night, June 29th, 2018, and the Blue Jays are back home again after a three game stand in Houston. This is Rogers Centre in downtown Toronto as seen from Gardiner Expressway.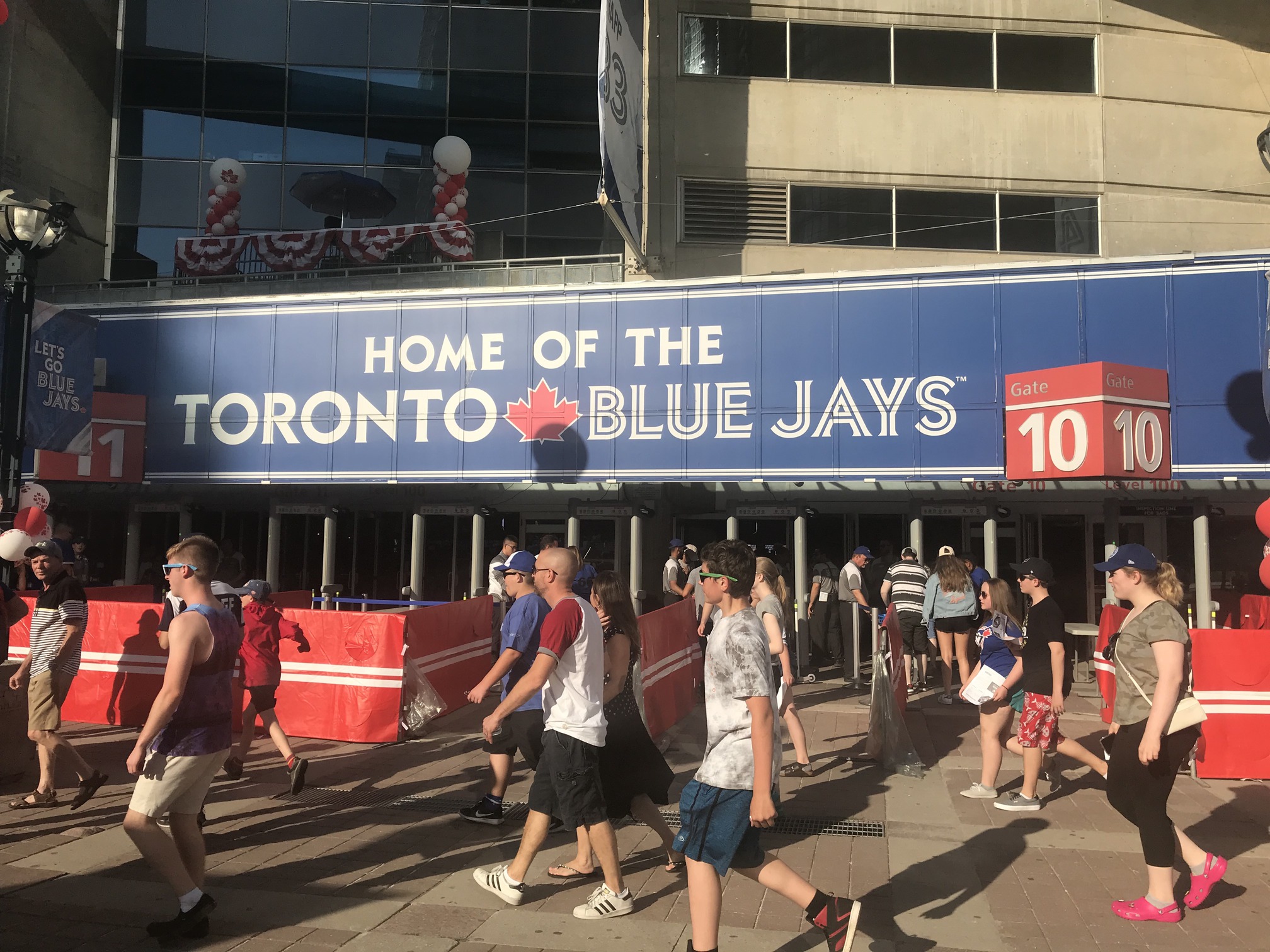 The Blue Jays start their four-game homestand with the Detroit Tigers at 7:07 tonight, which is in about half an hour. Marcus Stroman pitches for the Jays and Francisco Liriano for the Tigers. The Blue Jays are in the American League East and Detroit is in the A.L. Central.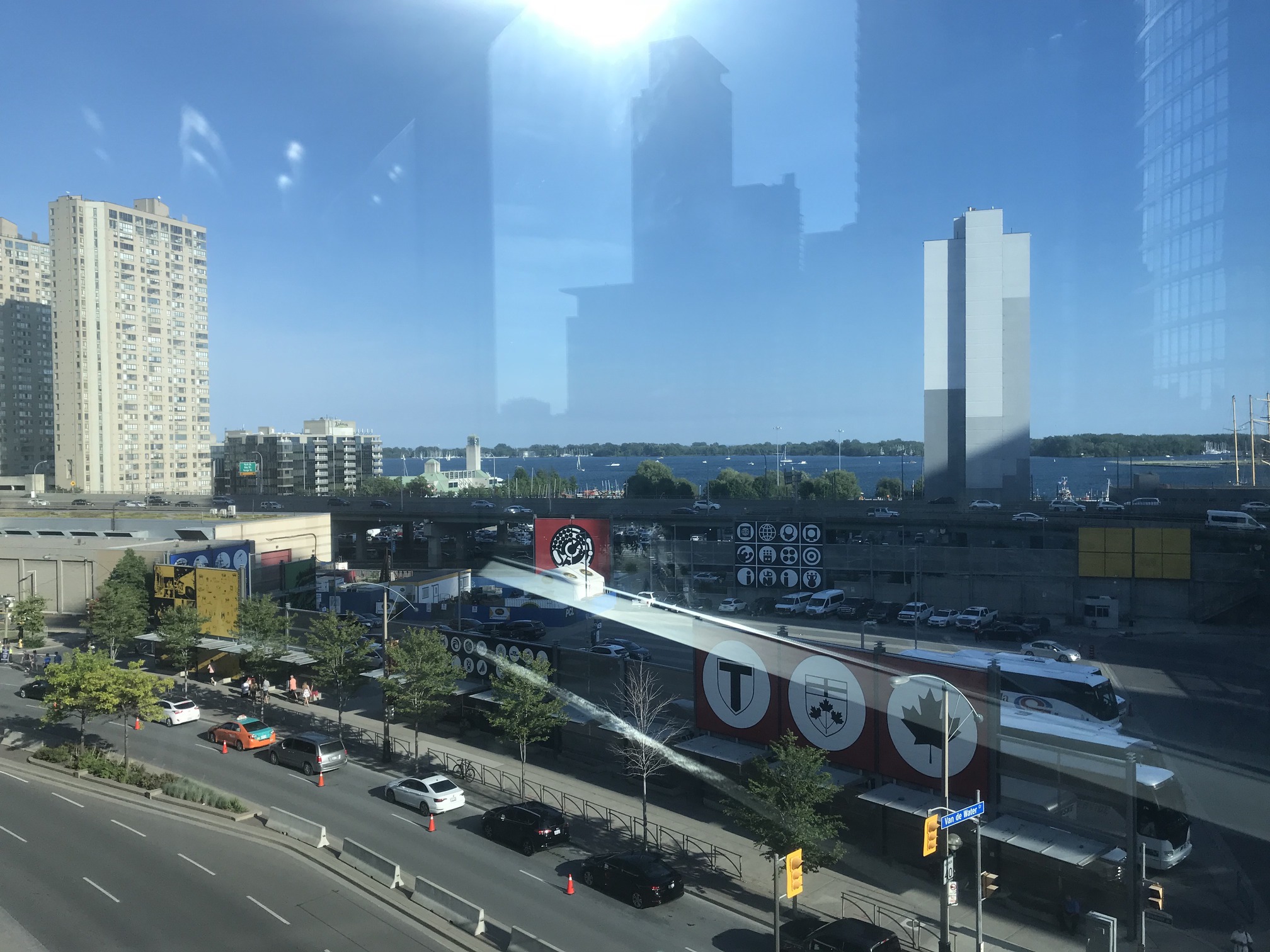 This view looks south across Gardiner Expressway toward Lake Ontario. Public transit in Toronto is wonderful and riders won't have to worry about parking. If driving, there is an app called Parking Panda that found parking at Sobeys Urban Fresh grocery store at Spadina and Bremner (a.k.a. Fort York Boulevard).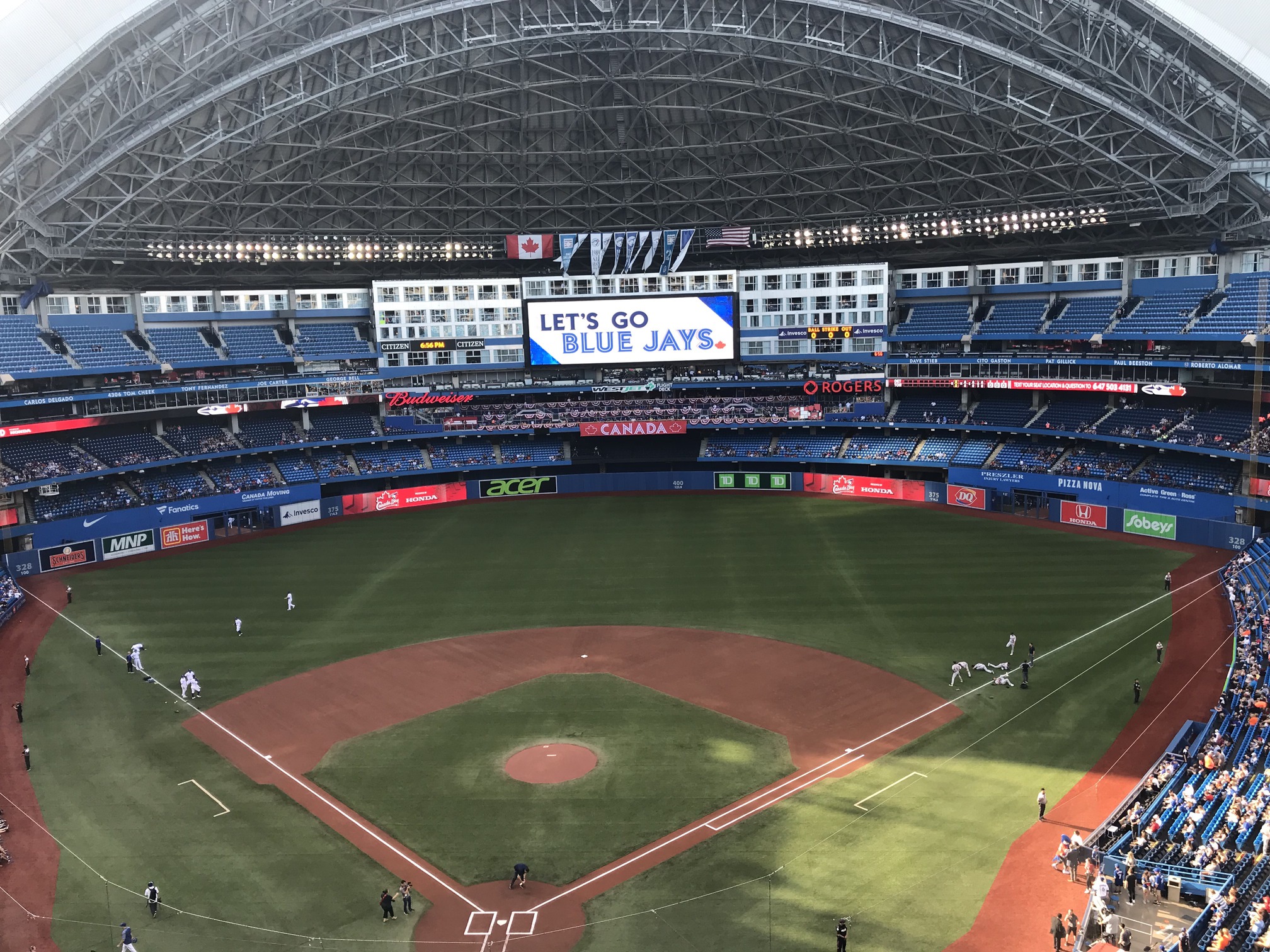 Rogers Centre was known as the SkyDome from 1989 through 2005, at which time telecom Rogers Communications bought it. The Dome, which has a retractable roof, was borne of a major world city suffering through autumn sporting events in freezing rain. Rogers Centre also has a hotel of 348 rooms, some of which overlook the outfield. Here is the view from section 524A behind home plate.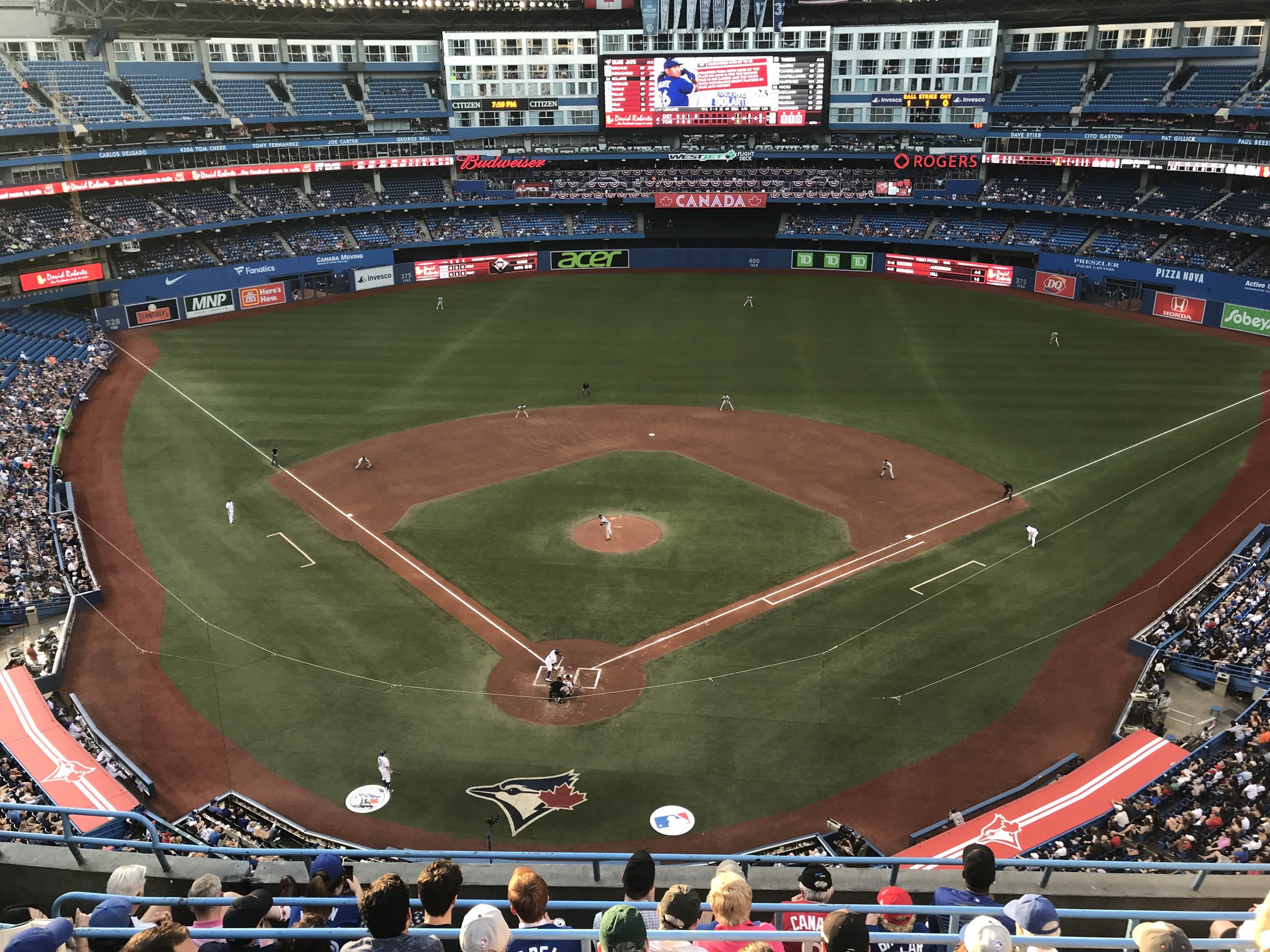 This image was taken at a minute till 8 during the Jays' at-bat in the fourth inning. Third baseman Yangervis Solarte #26 is at the plate, and on the next pitch he singles and that sets everything in motion for Toronto to pull ahead of the Tigers 2-1. Solarte was tagged out, but Kendrys Morales made it home on Justin Smoak's homer.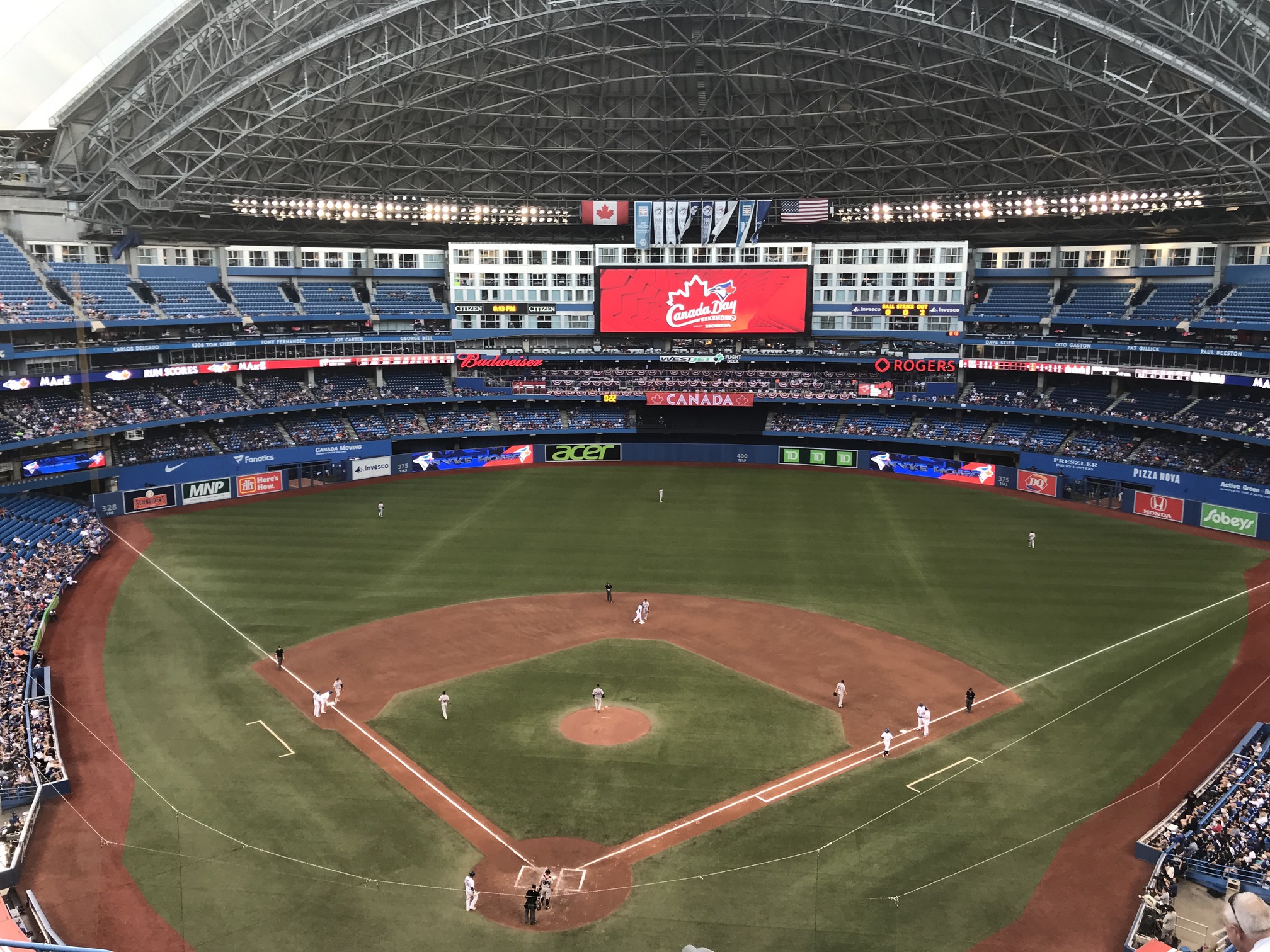 At about quarter after eight, the Blue Jays' bats got hot again. Catcher Russell Martin #55 scored a third run off a hit by right fielder Randal Grichuk #15. Detroit would go on to score a second run but that was it.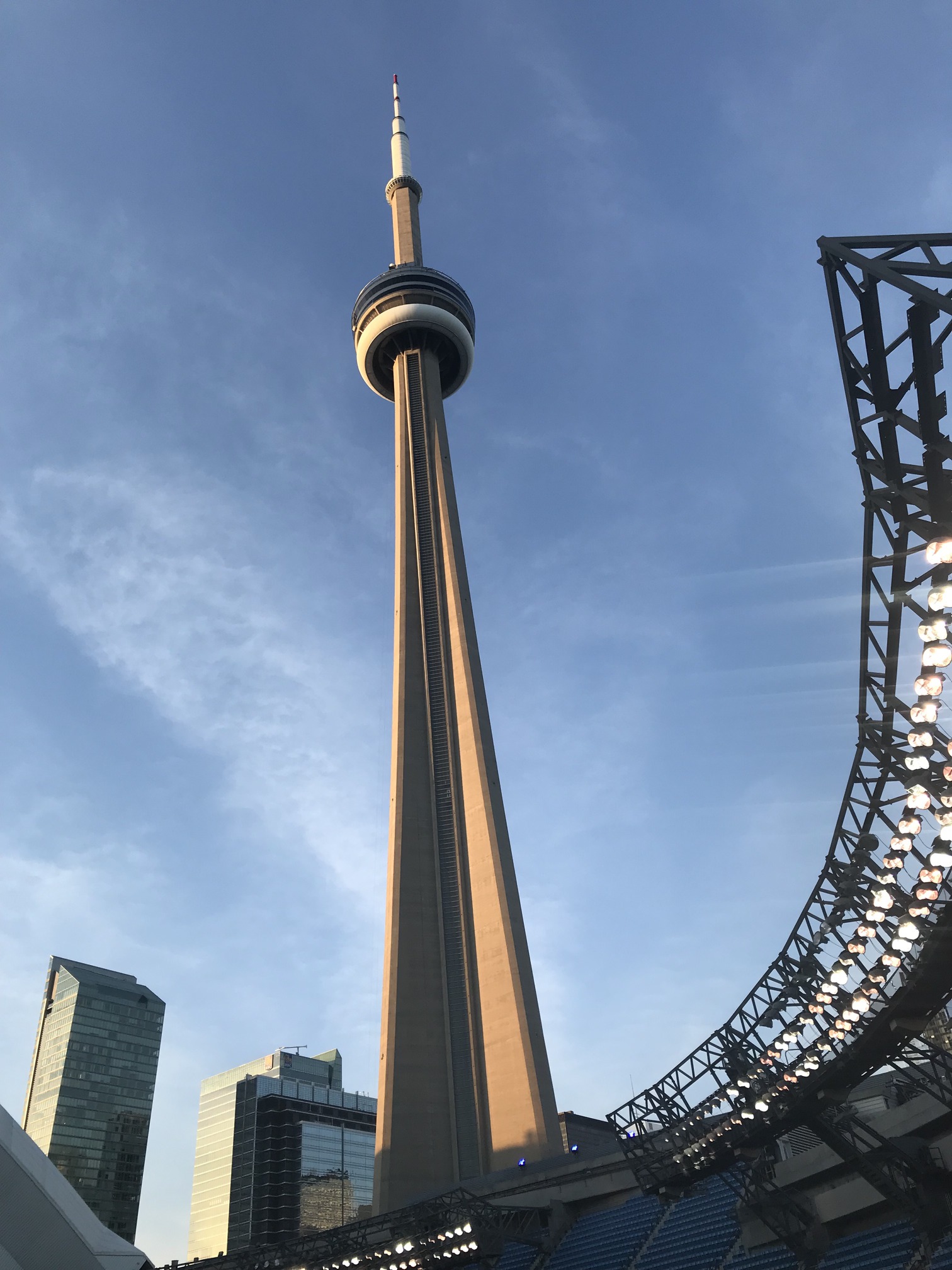 The seventh-inning stretch was a great time to look around the stadium. Right next door is the CN Tower, built in 1976. It is the Western Hemisphere's tallest freestanding structure at 1815 feet/553 meters. It has two million visitors each year and the rings are a lot of fun to go into.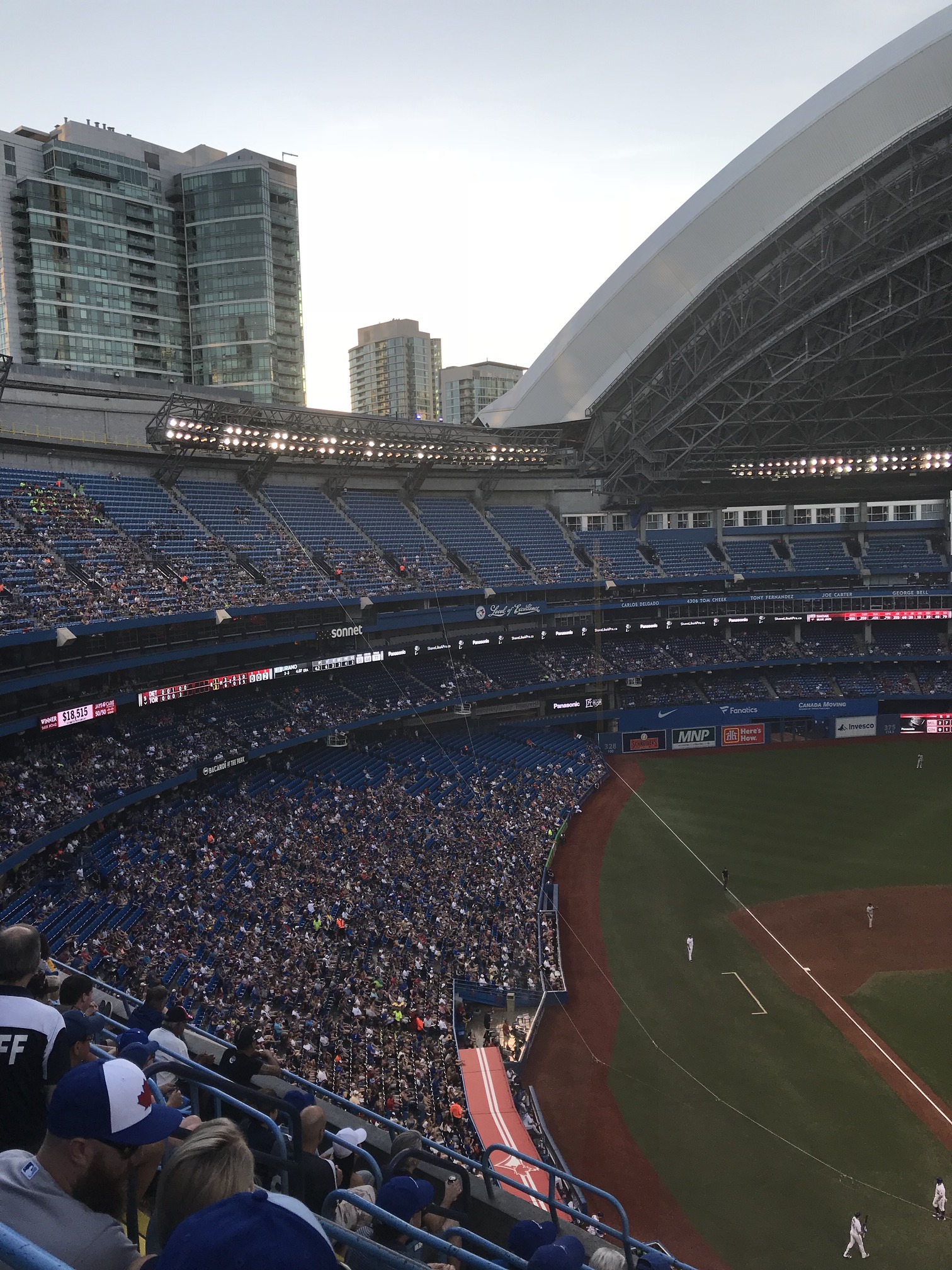 An image of left field shows a setting sun, as it is almost 8:30. Just before the game started, four hungry out-of-town Jays fans had a quick hot-food-bar dinner at Sobeys right across the street. Before that, they spent a few hours at St. James Cathedral in Old Town and had crepes for lunch.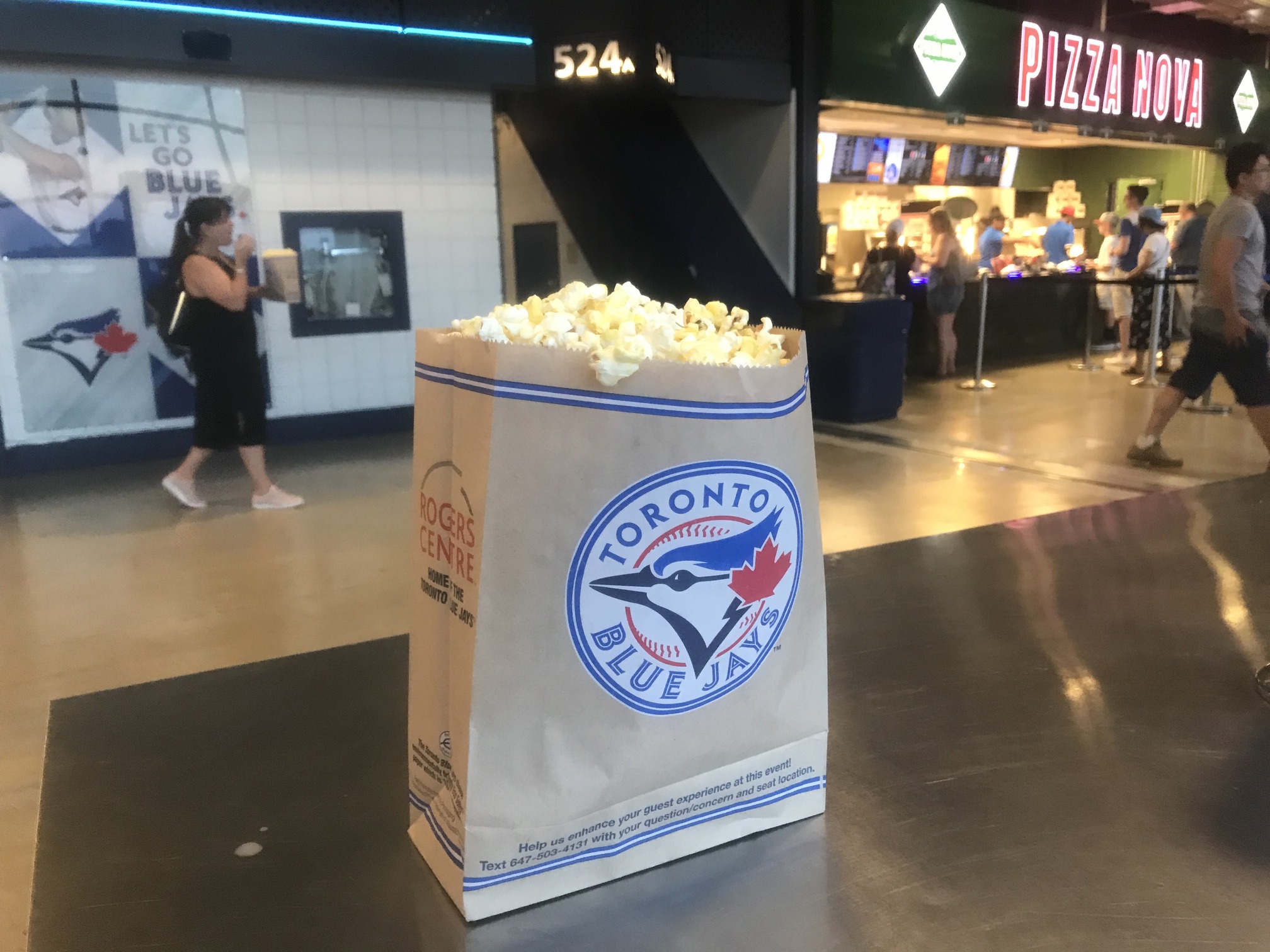 What's baseball without popcorn? This bag of corn was eight bucks, and there was also a ginormous souvenir tub of corn for $17. The soft-serve ice cream cones are identical to all other MLB soft-serve ice cream cones and also come in those little hats.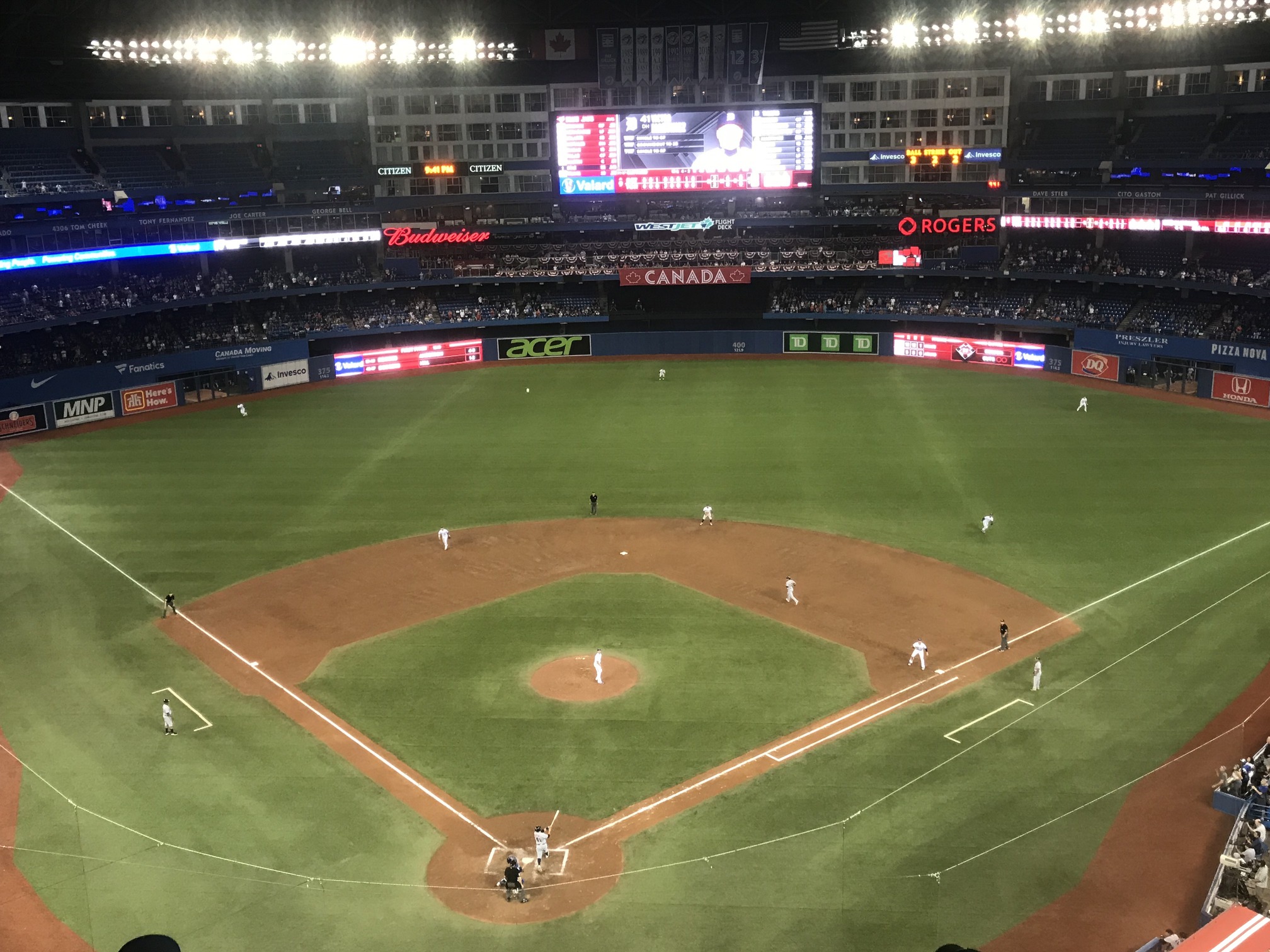 Marcus Stroman, the Jays' starting pitcher for the night, pitched his 500th strikeout in the fifth inning. But tonight's hero was Tyler Clippard. Tiger DH Victor Martinez flew out on a Clippard pitch to end the game, with the Blue Jays over the Tigers 3-2.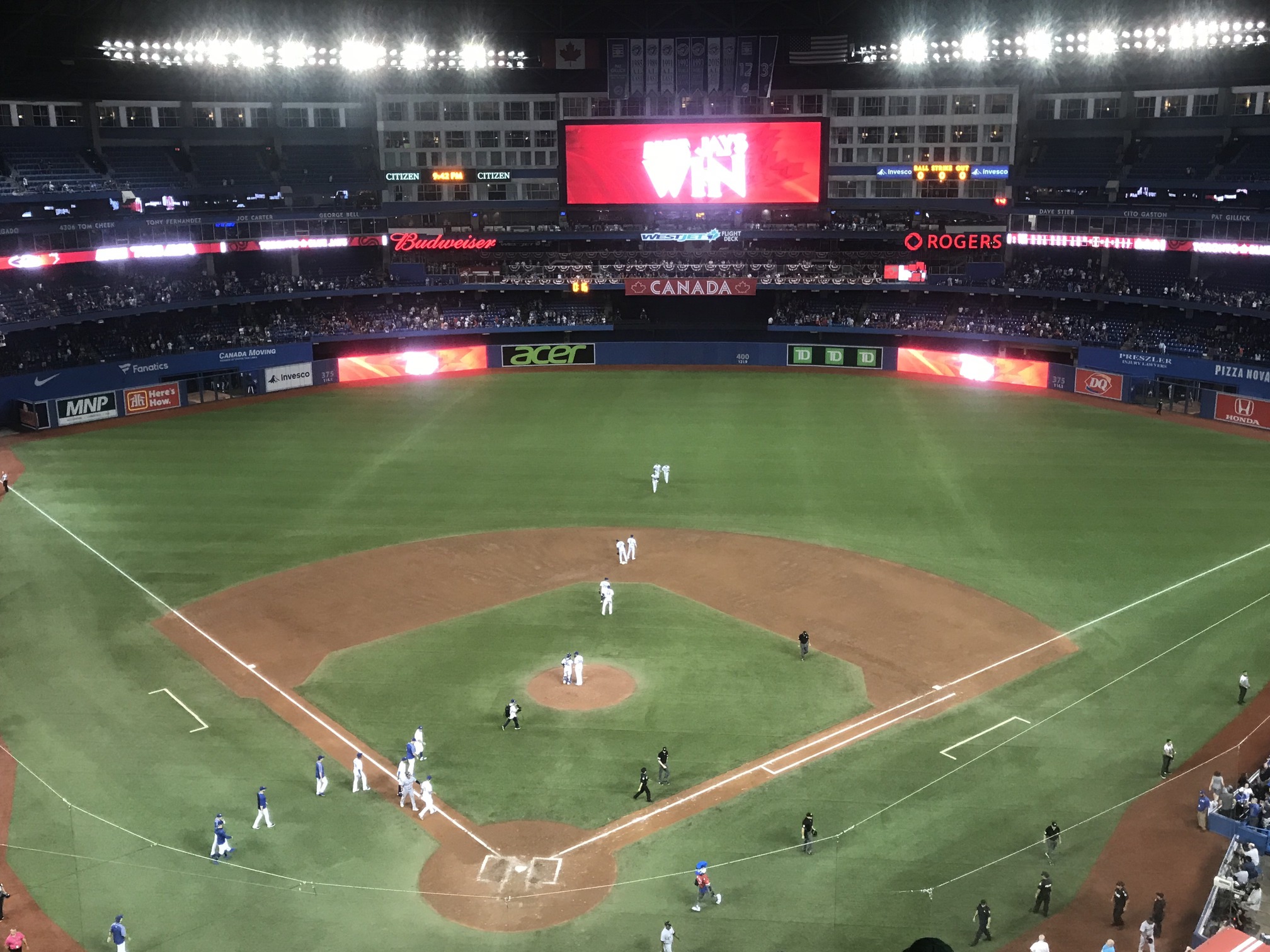 This game is over, but the Blue Jays and the Tigers have three more games to play at 1 Blue Jays Way thru July 2nd. Toronto would win tomorrow's game but would end up splitting this homestand with Detroit. At the time of this writing, the Big Toe is 4th in the AL East.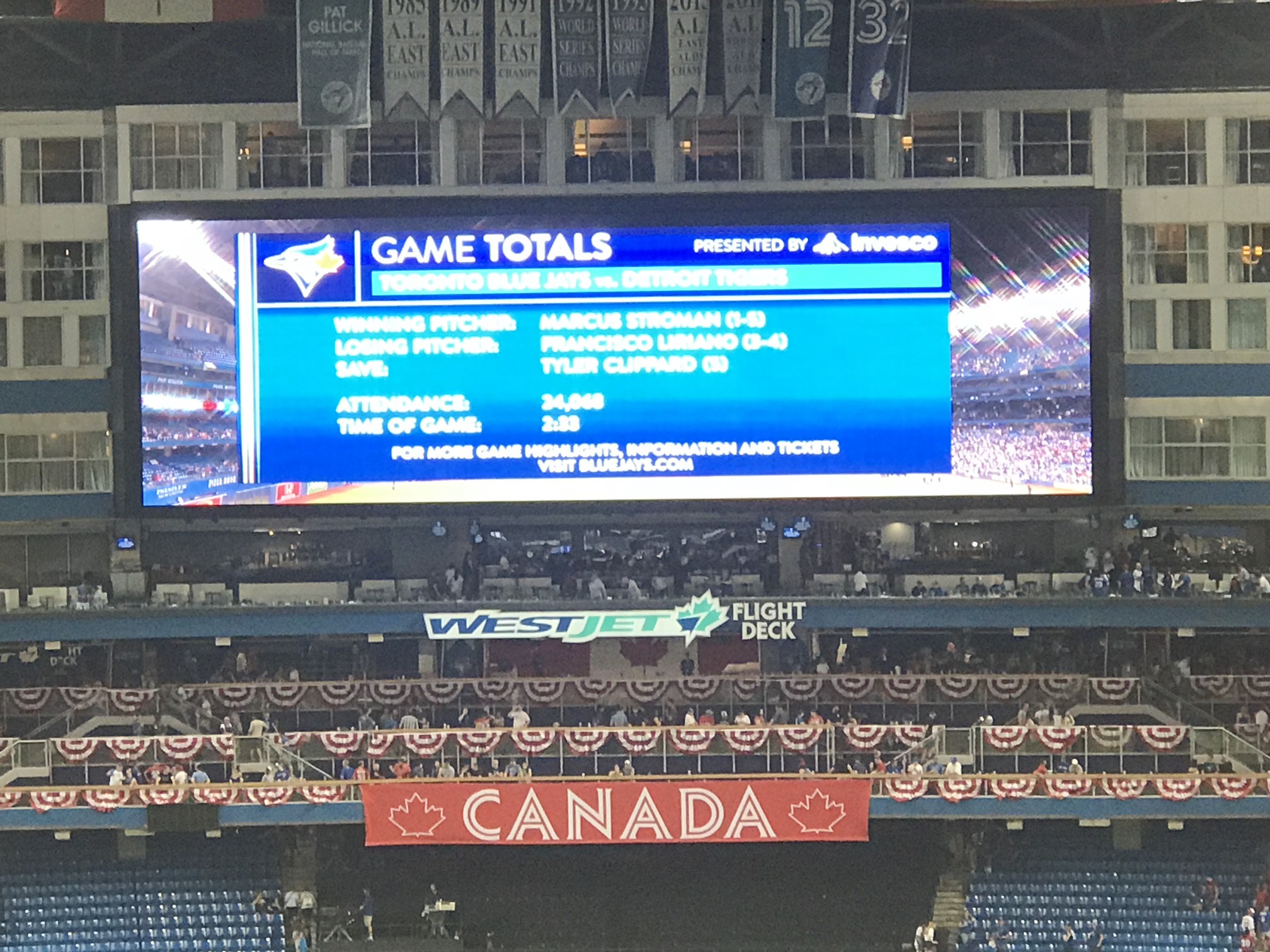 So what's next for the 24,068 fans here tonight? Some may be heading home and others may be enjoying the exciting nightlife in downtown Toronto. Because the Jays won, we got coupons to use at Sobeys and picked up the red-and-white Canada Day cookies to enjoy on the way home.