Toronto, ON, Canada Woodbine Beach
---
The name Canada comes from the Iroquois-Huron word that means village or settlement. The city of Toronto, in the Province of Ontario, is named for a channel of water inhabited by the Iroquois. Toronto itself sits on the northwest shore of Lake Ontario, which includes Woodbine Beach and Park, a blue-flag beach destination.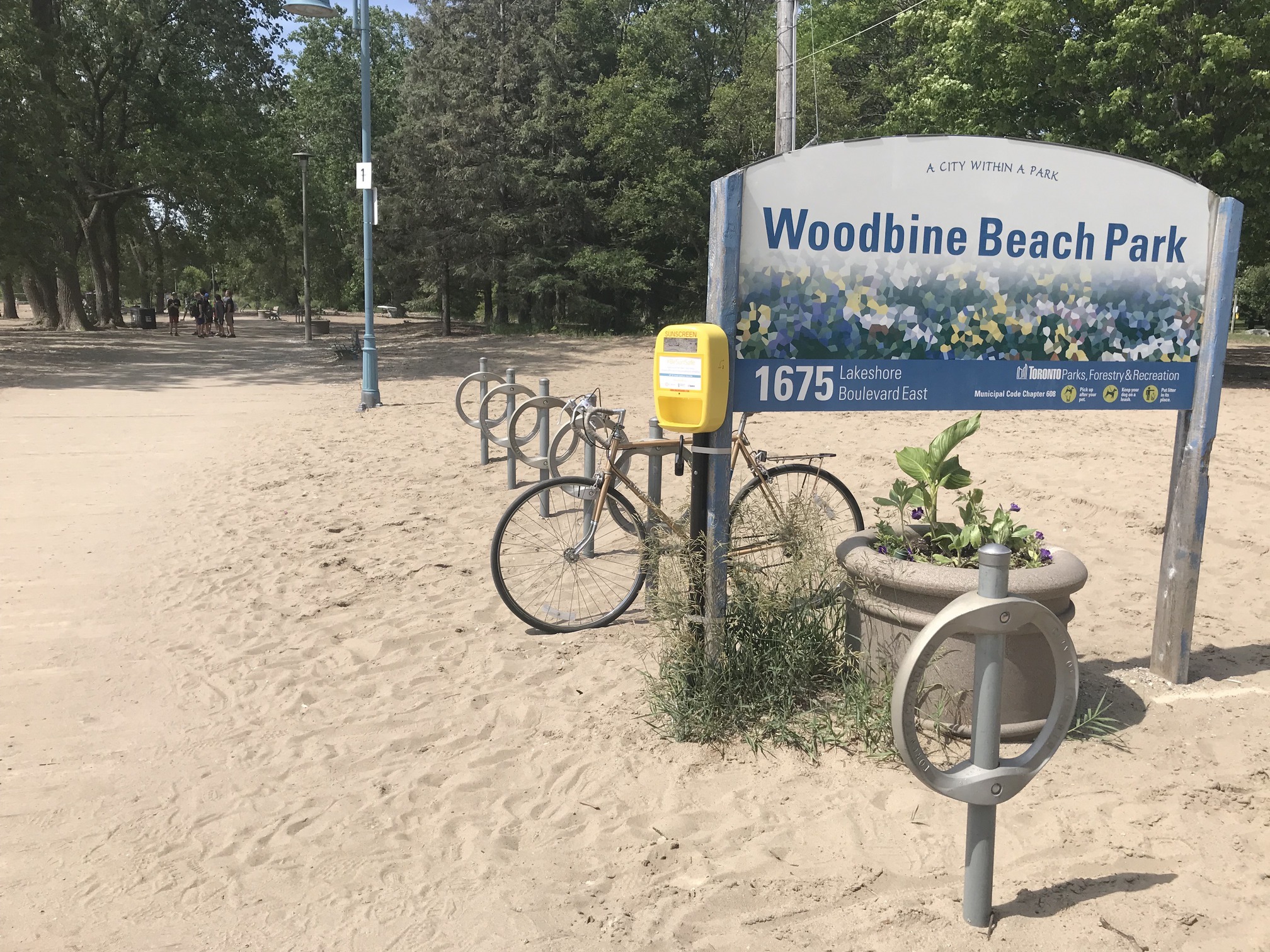 Woodbine Beach Park and Woodbine Beach itself are located along city transit lines for commuters and have plenty of parking for people arriving in cars (parking $5C). There are several bike stands, too. The Park is just steps away from the shoreline, and offers plenty to do just by itself, especially for the littlest visitors.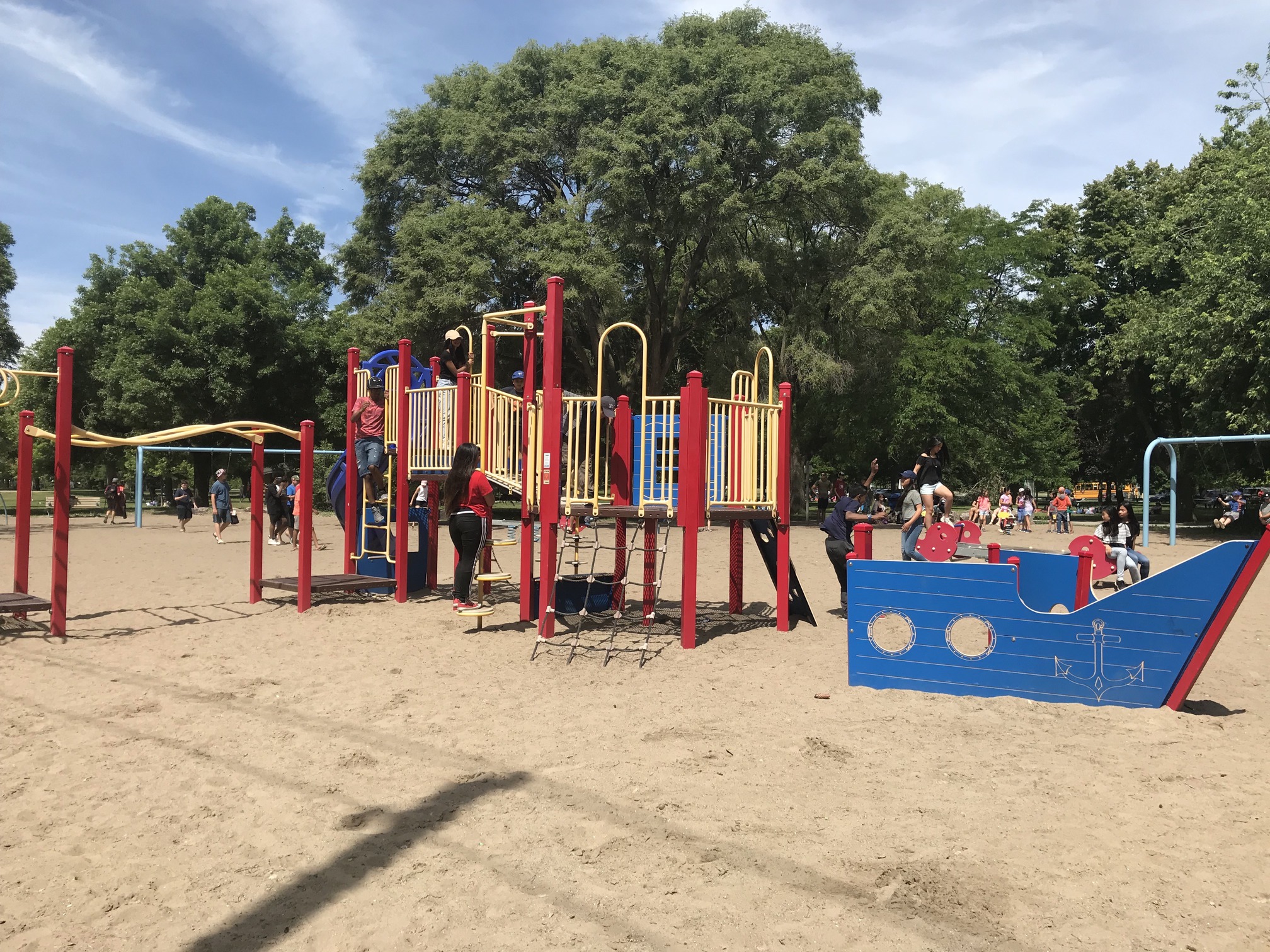 Woodbine Beach Park has a lot going for it, even without the beach. There are 15 hectares (six acres) of fun. Well-maintained playground equipment sits on a sandy surface. There are benches for adults to sit. School-aged kids from all grades are here, some on school trips on this late June day.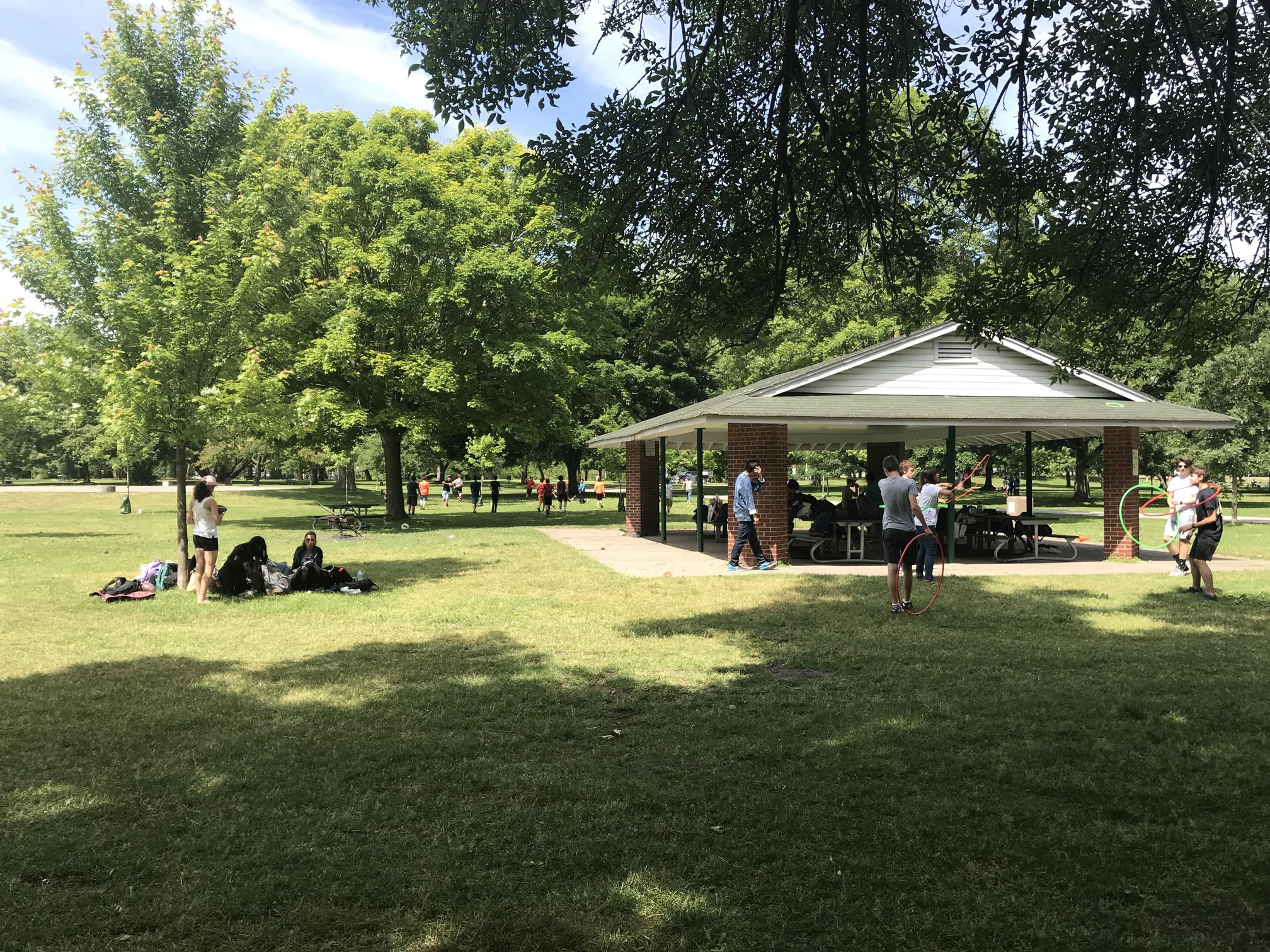 Located at 1675 E Lake Shore Boulevard, the Park has a nice picnic shelter (amenities can be reserved). Nearby is a Tim Horton's, a quick-eats fish & chips place and an upscale full-service restaurant. There is plenty of leafy green space for relaxing for people of all ages.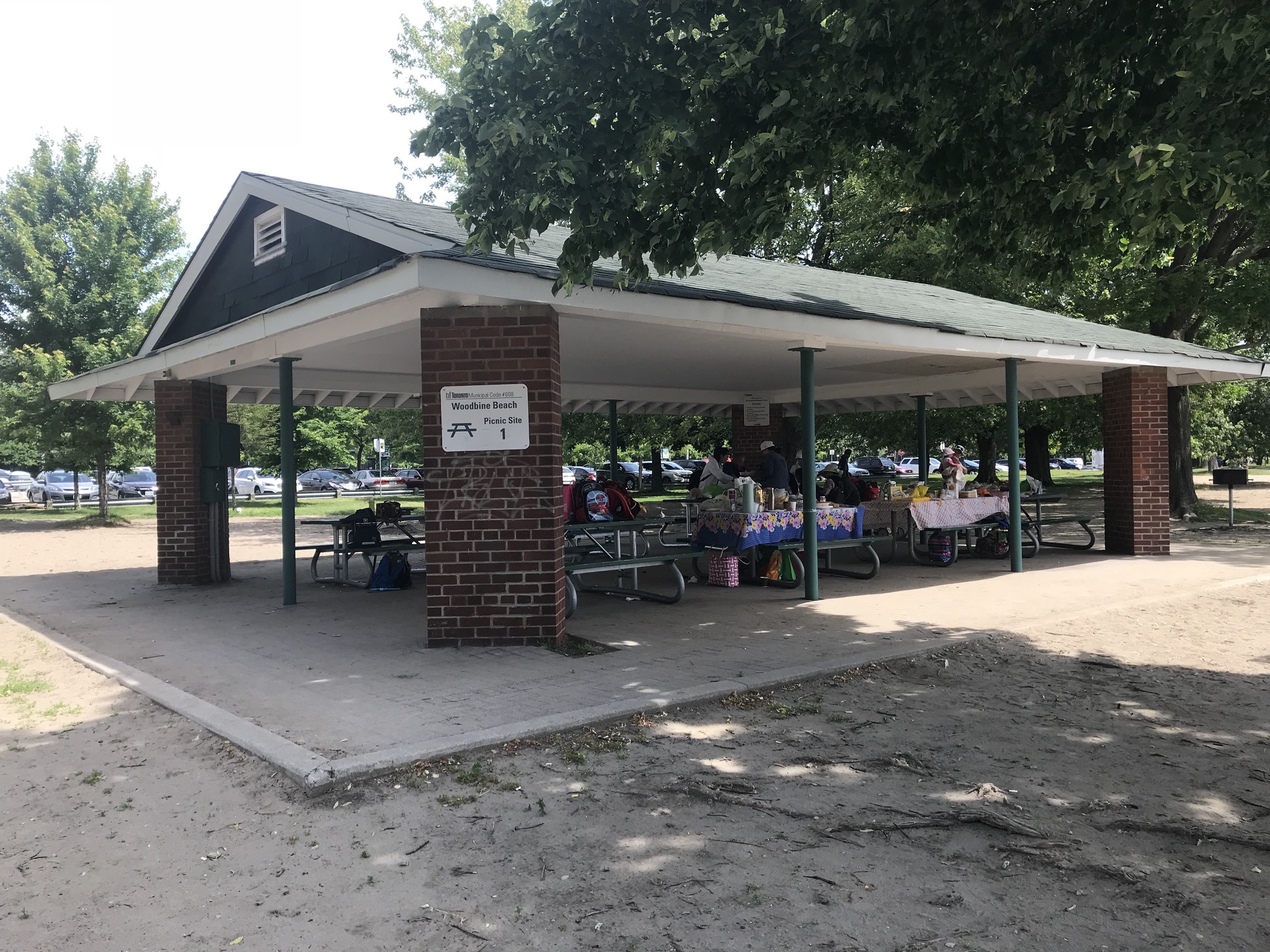 Here is a picnic shelter for Woodbine Beach itself (also reservable). Today is June 26, 2018, at half past 11 on a Tuesday morning with a high of 70 degrees F. School runs till this Friday in Toronto, and kids are on field trips here today. Note that the parking in the background is ample but is starting to fill up.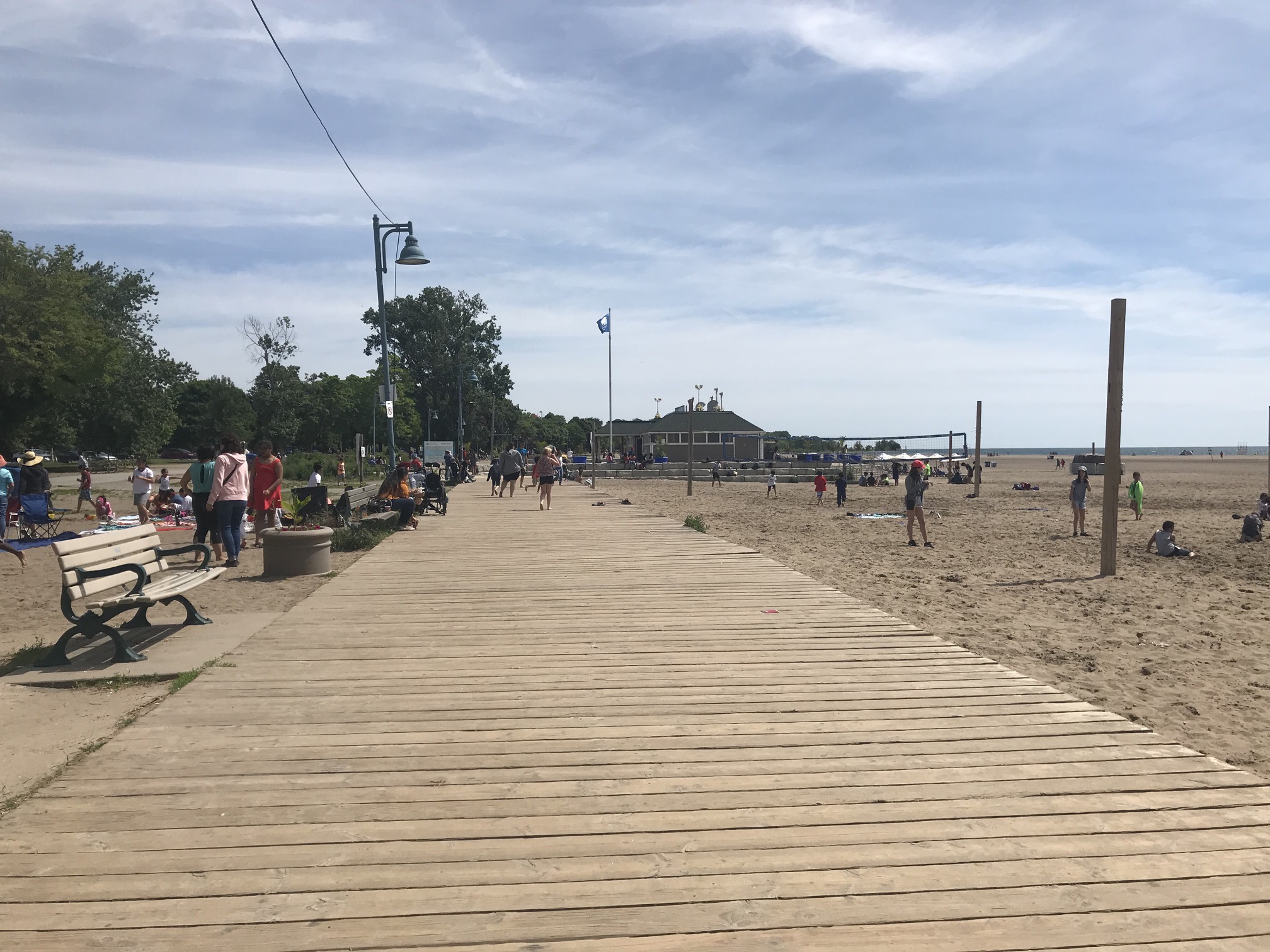 The Woodbine Beach Boardwalk runs eight kilometers in a loop all around the beach. It's a great walking path. This view looks northeast toward the washrooms. Note the sandy volleyball courts on the right; there are a couple dozen nets behind the camera.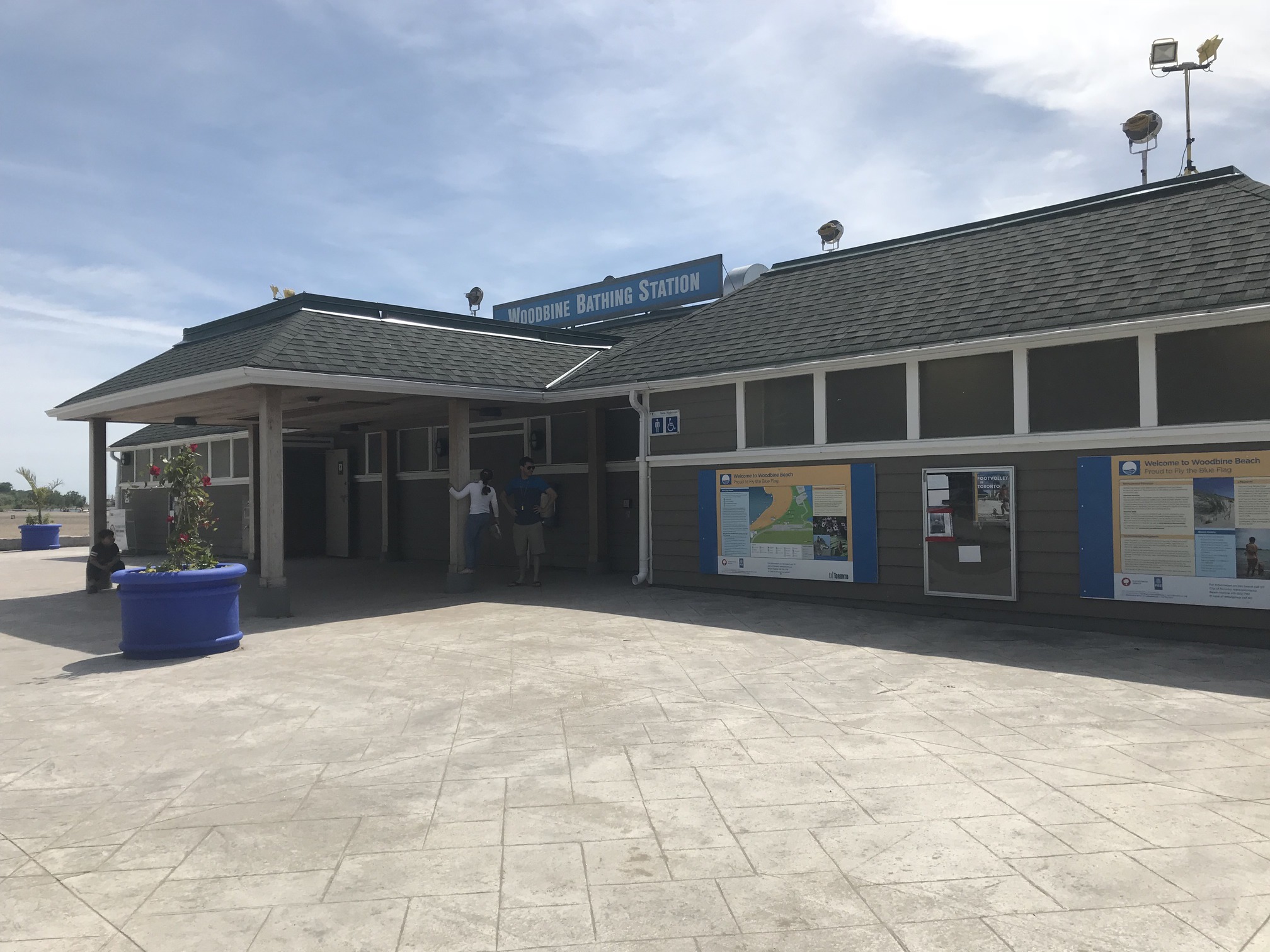 The Woodbine Beach Bathing Station sits near the parking lot, right off the Boardwalk. It does not have showers but has washrooms and change rooms. There is a bottle-filling station outside on the left but it needs refurbishment. The foot bath is broken, so visitors will have to use the one off to the right and down the steps. The accessibility ramp also needs refurbishment.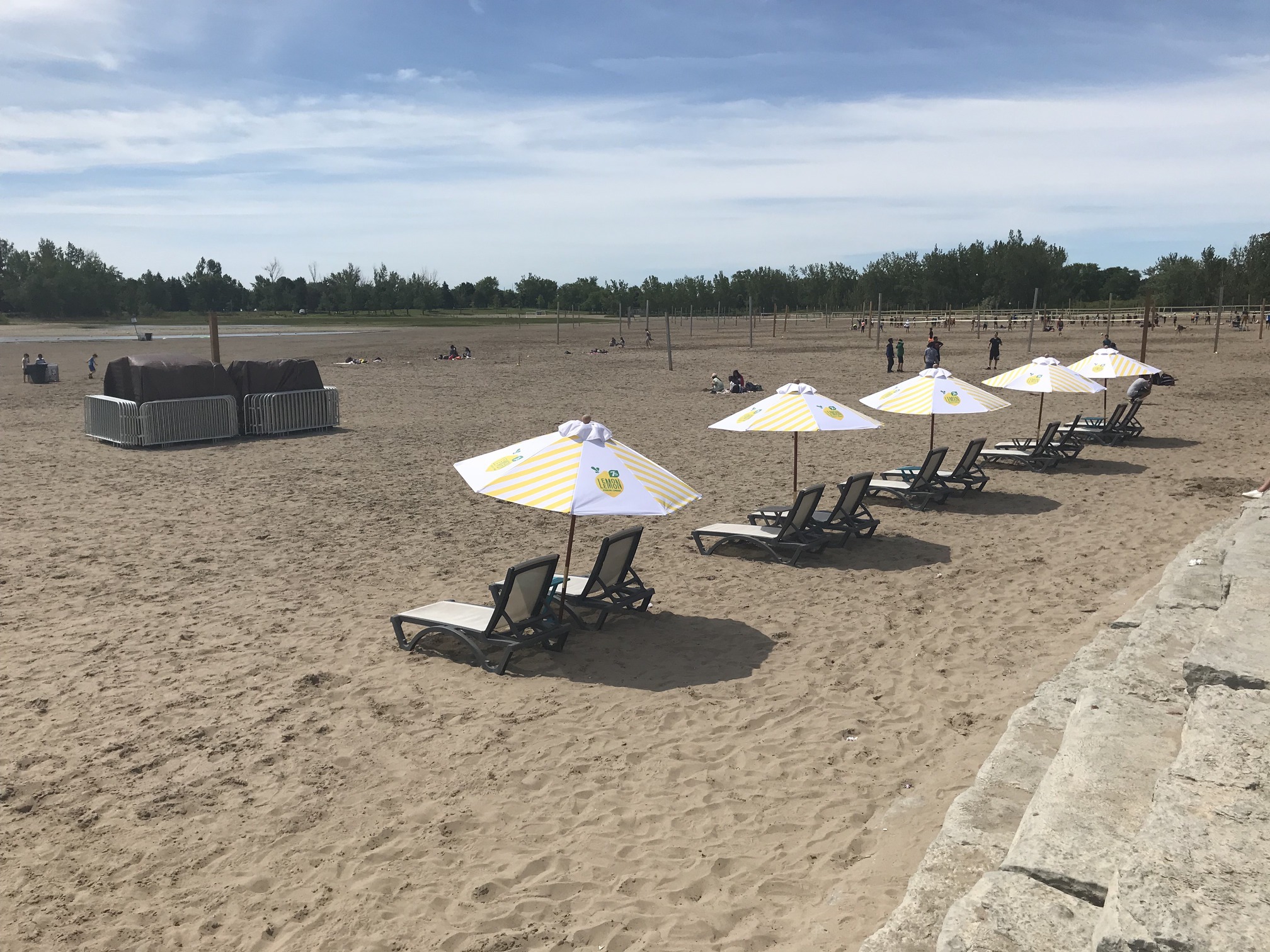 This is the beach-facing side of the bathing station. The umbrella chairs are a paid amenity, and the volley ball nets stretch on for some distance. To get to Woodbine from our hotel, we traveled on the 407 Toll Road. Ohio is a border state with Ontario, so we expect a bill to be mailed to us within the next few weeks.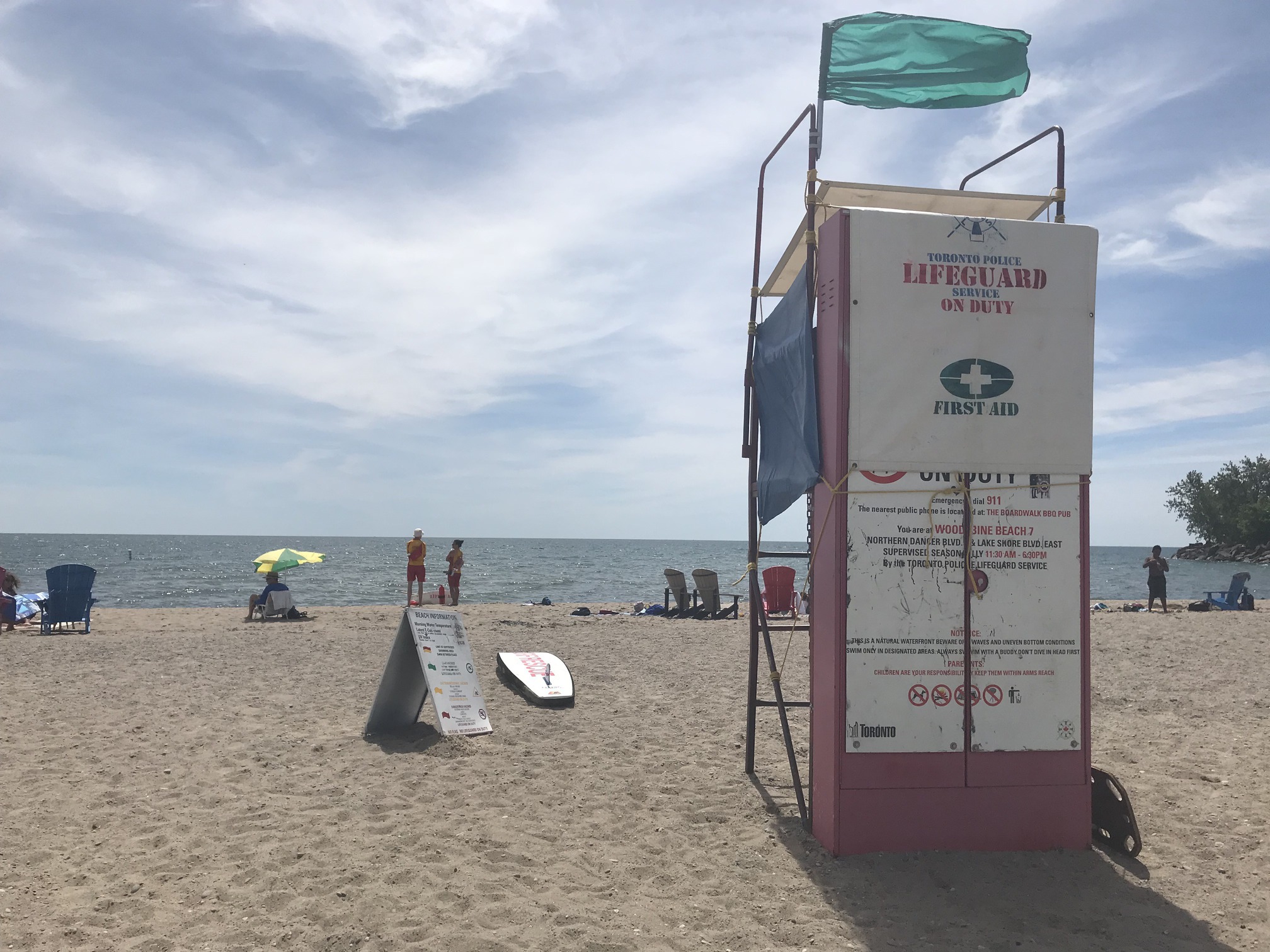 Woodbine Beach has seasonal lifeguards daily from 11:30 am through 6:30 pm. When guards are stationed, flags are posted at the lifeguard chairs. Water temperature, e.coli count, and the ultraviolet light (UV) index are posted on the sandwich board on the left. The green flag denotes a low e.coli count.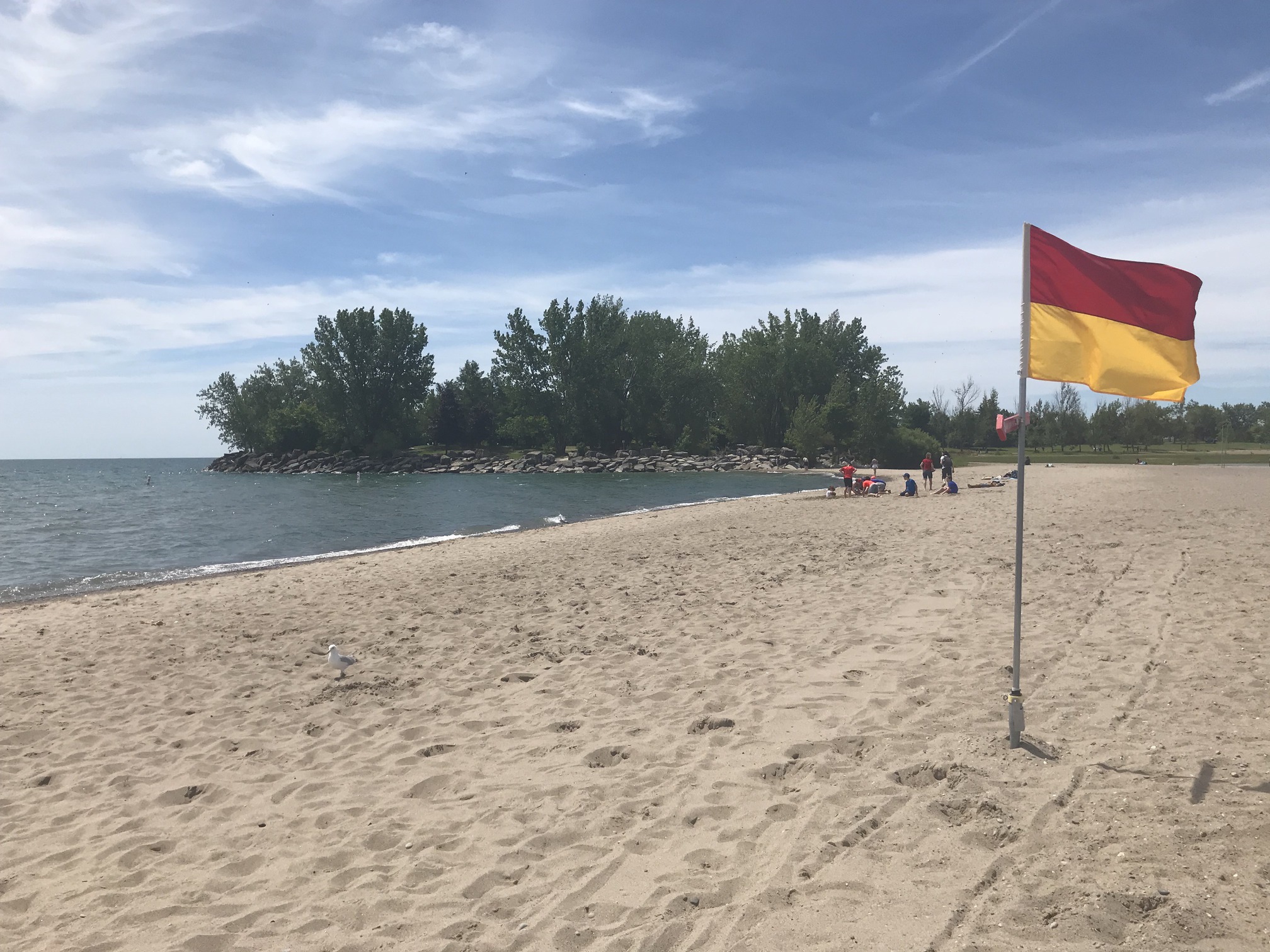 Flags denoting the swimming area were posted at each end of Woodbine Beach, this being the southern tip. (The Boardwalk goes all the way back here and loops.) People, mostly middle schoolers, go out on the rocks in the far back and swim past the flags.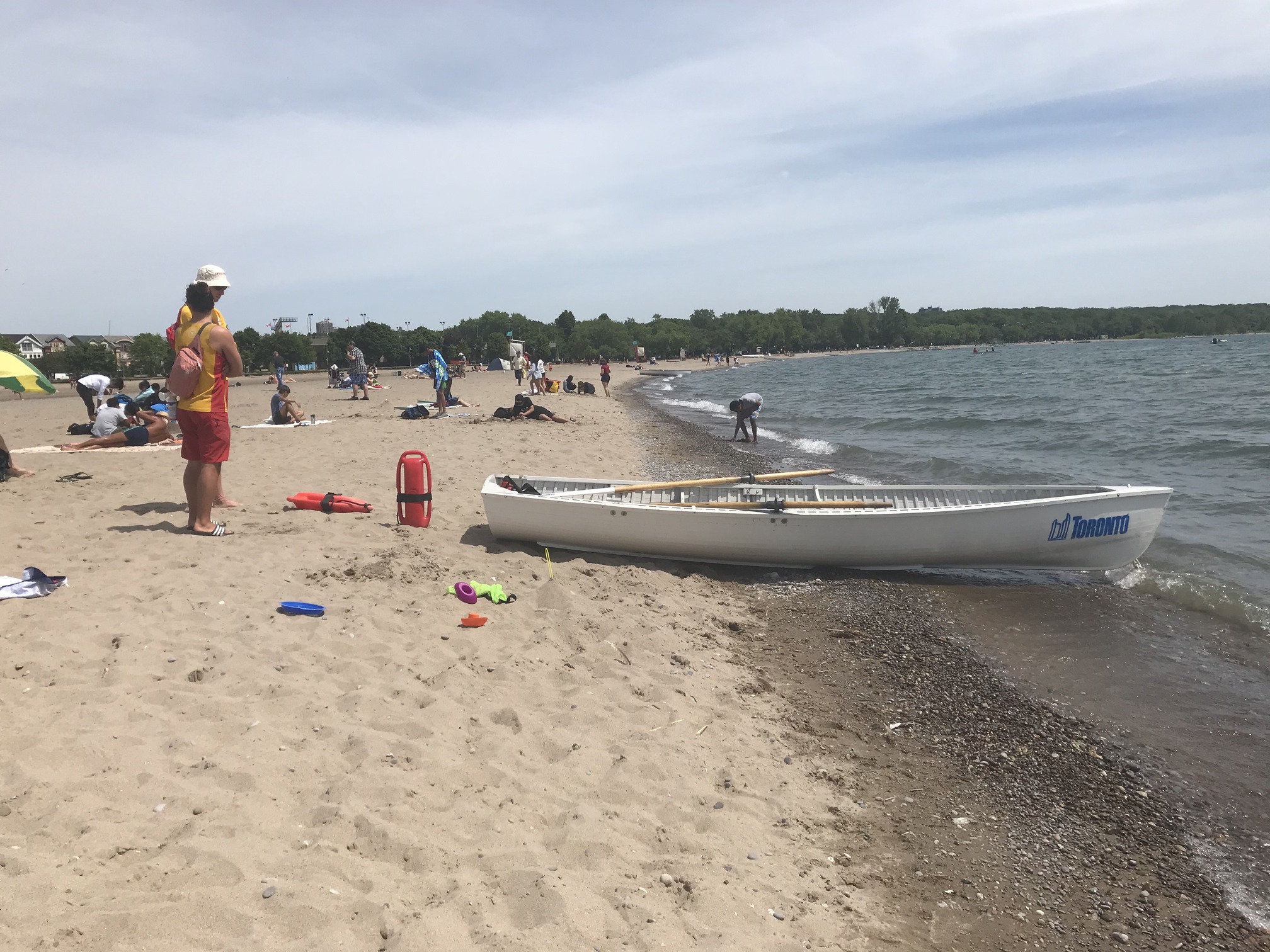 Lake Ontario is the smallest of the Great Lakes in surface area, with Lake Erie being the smallest by water volume. The water is eight degrees Celsius, which means it's 46.4 degrees Fahrenheit. Brrrrrrr. Cold water from deep within Lake Ontario washes ashore here.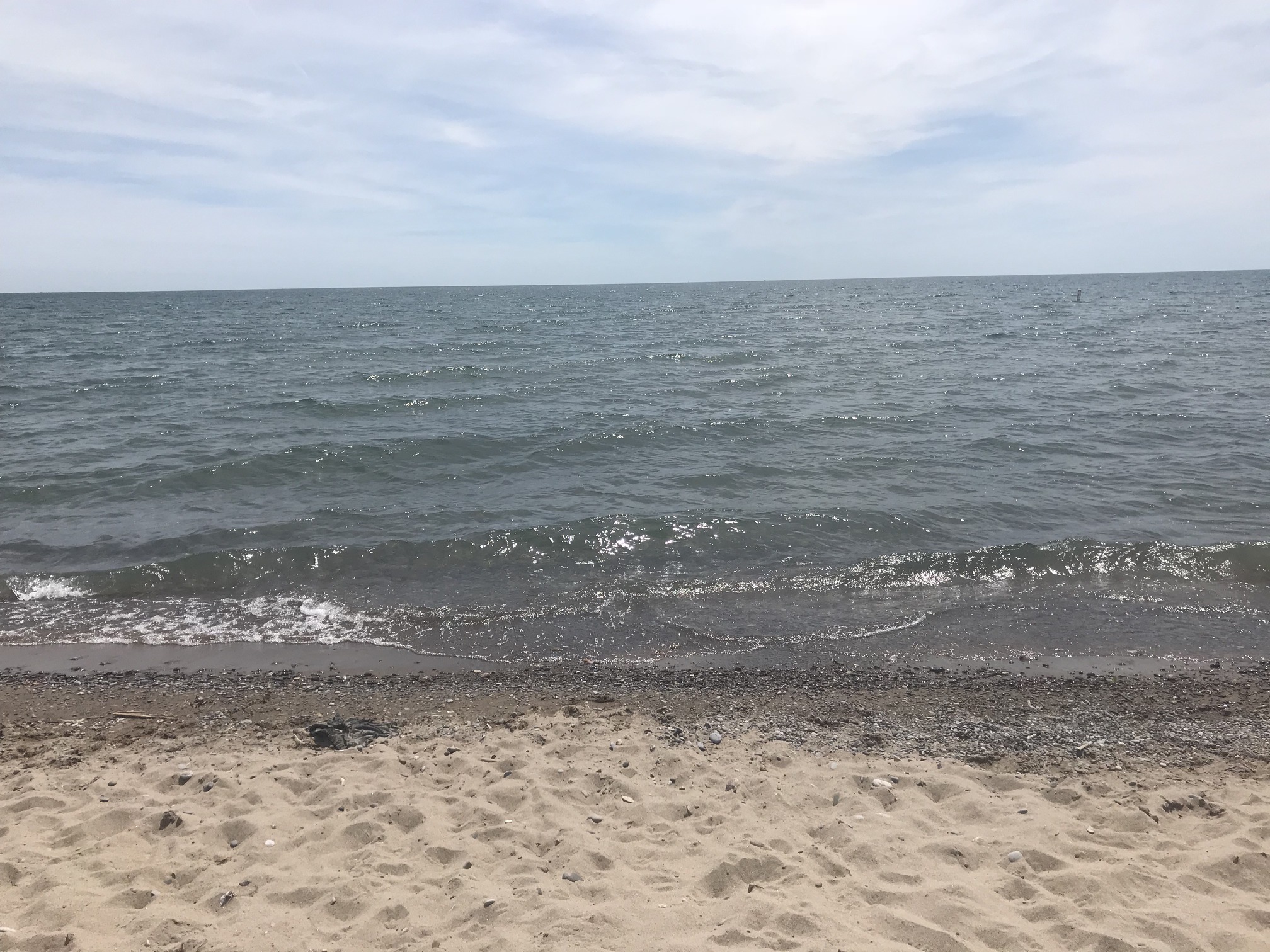 It's almost noon at Woodbine Beach and it's still too cold to go in the water. The sun is coming out and it's almost 70 degrees Fahrenheit and it will be a while before people start going in. There are no shells here and only rocks. There is a little bit of beach glass, though.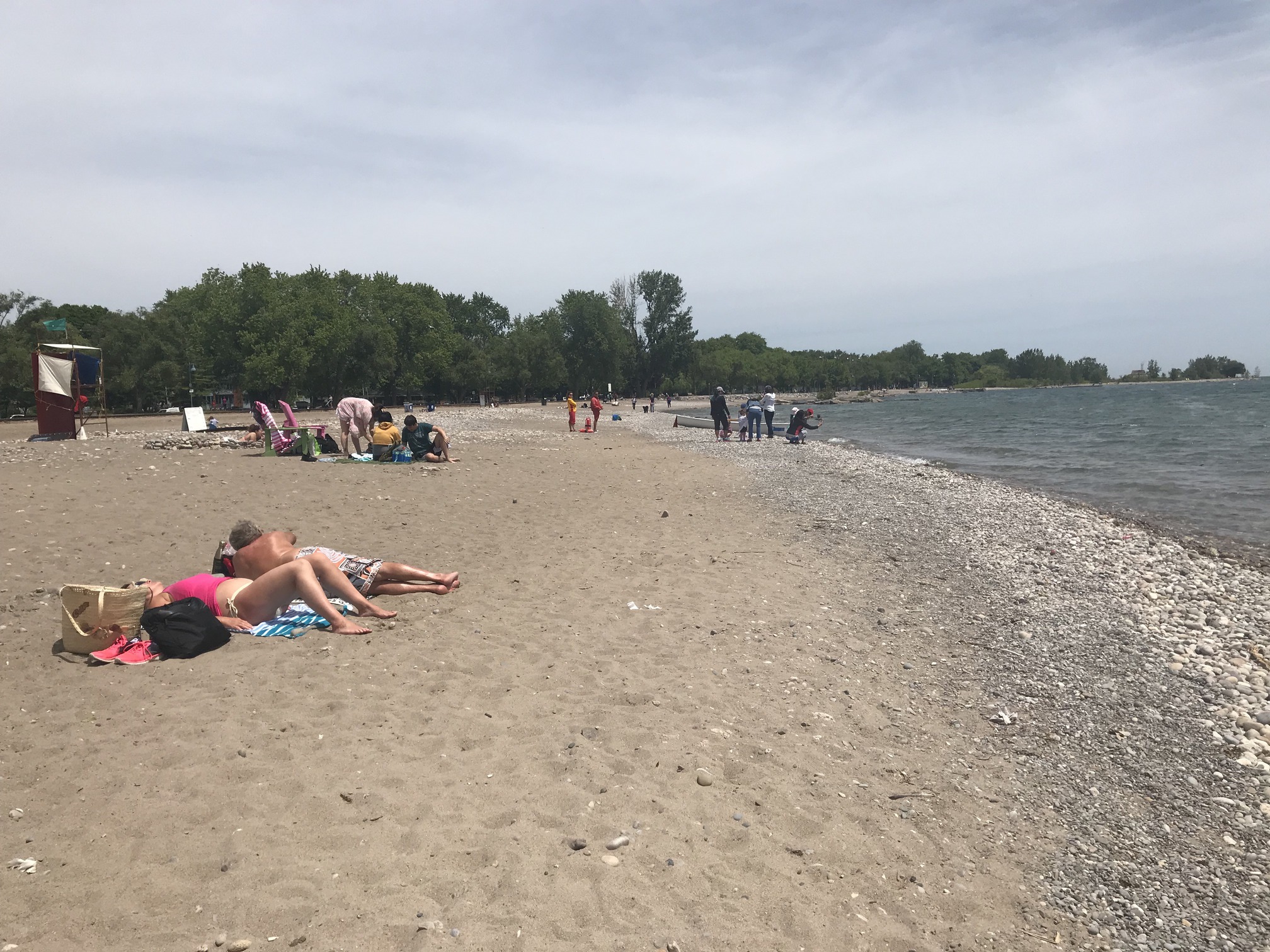 It's about 1 pm and the sun is finally coming out and warming the beach in this northward looking view. Woodbine is part of the international Blue Flag Beach program, which means the water is tested for e.coli bacteria daily to determine whether it's safe to swim. Today Woodbine has a green flag.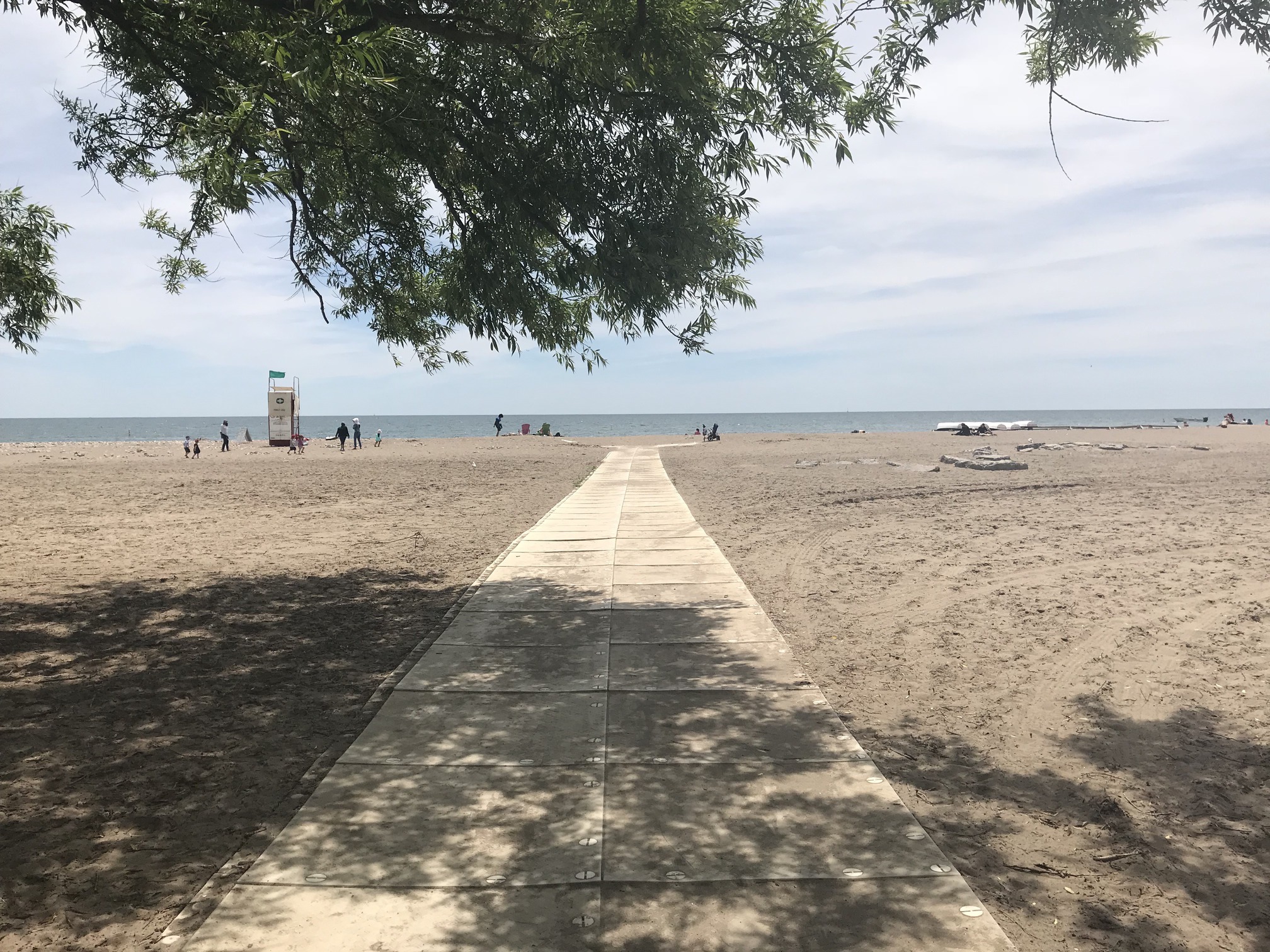 This pathway is constructed from plastic Mobi strips to create accessibility for persons using a special beach wheelchair that can be rented for free at the Donald D. Summerville Outdoor Pool (located directly behind camera). Just dial 311 for more info. A support person will be needed to push the chair.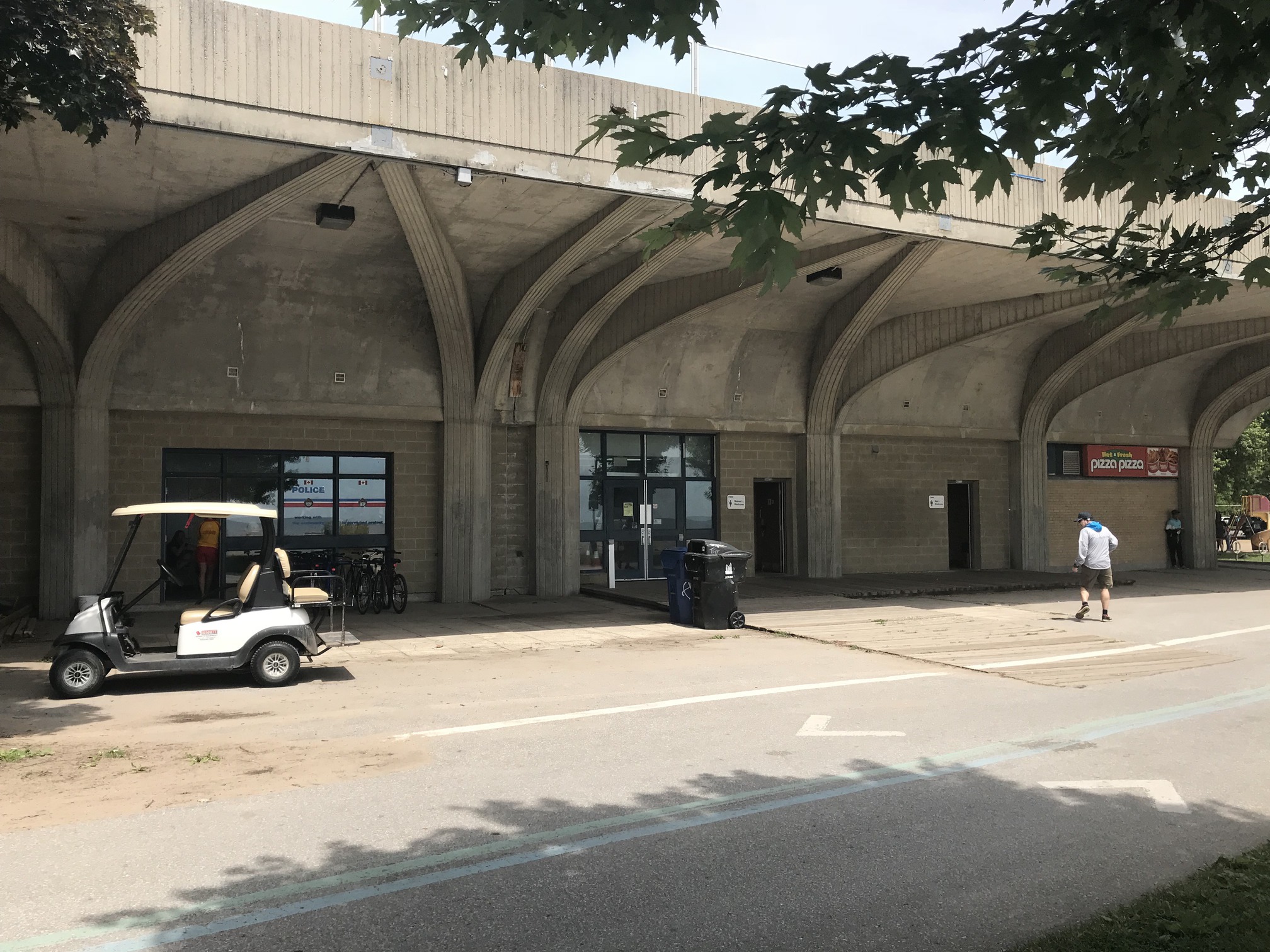 The Donald D. Summerville Outdoor Pool is right off the beach, across the Boardwalk and the Martin Goodman trail. There is a security station, washrooms, and a "Pizza Pizza" stand. The pizza stand is around the right hand side, and there is shaded seating and playground equipment.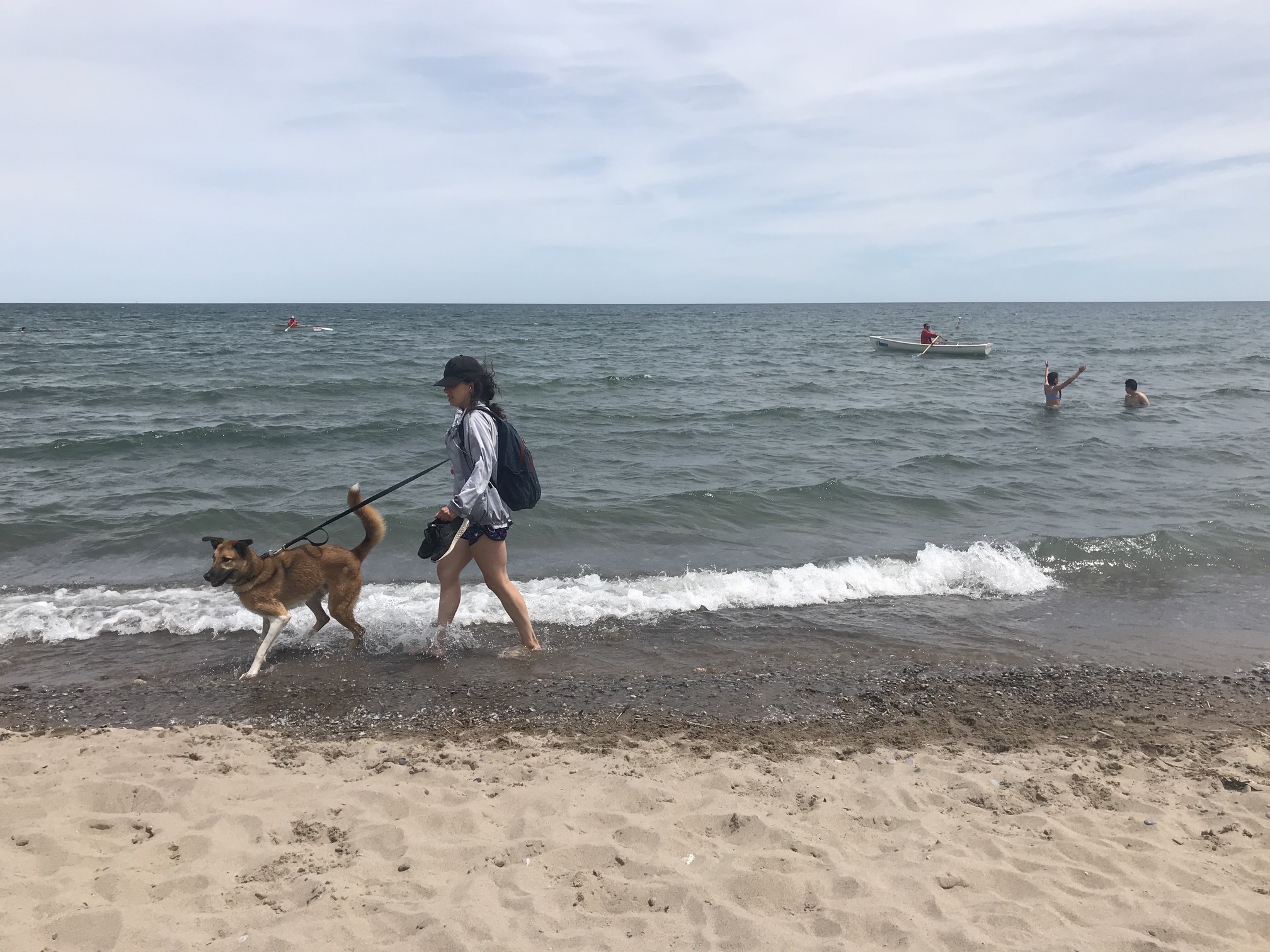 There are not supposed to be dogs on Woodbine Beach between March 1 and November 1, but that provision didn't seem to be in effect. (No dogs were seen off-leash during our visit.) Though the beach amenities were dilapidated, there was hardly any litter and the sand appeared to be groomed.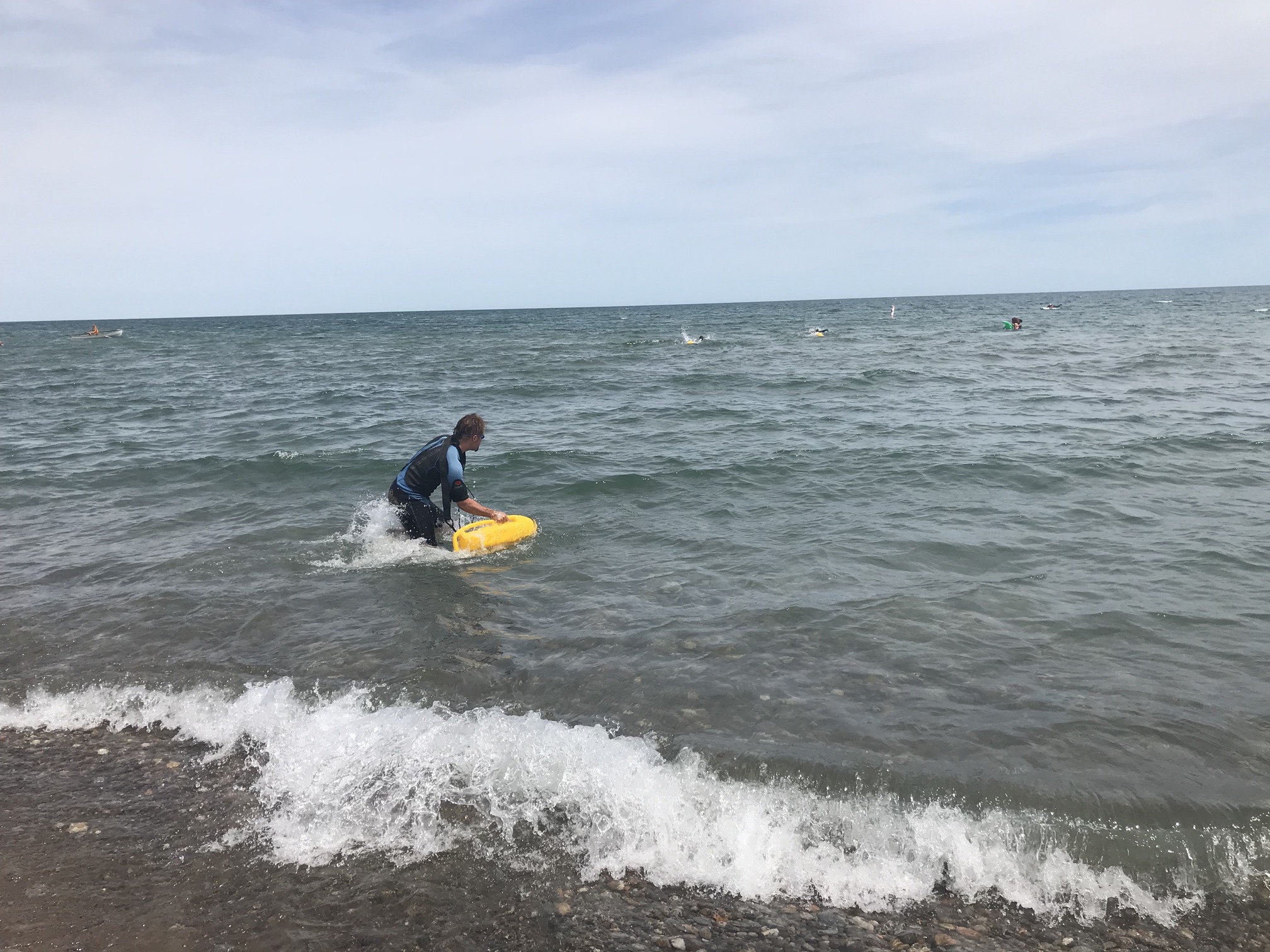 Most of the beach-goers who spent any time at all in the water wore full-body wetsuits. Under the water, the shore is lined with smooth stones and there are small divots everywhere. Perhaps wearing old shoes and clothes would be highly beneficial in the absence of a wetsuit.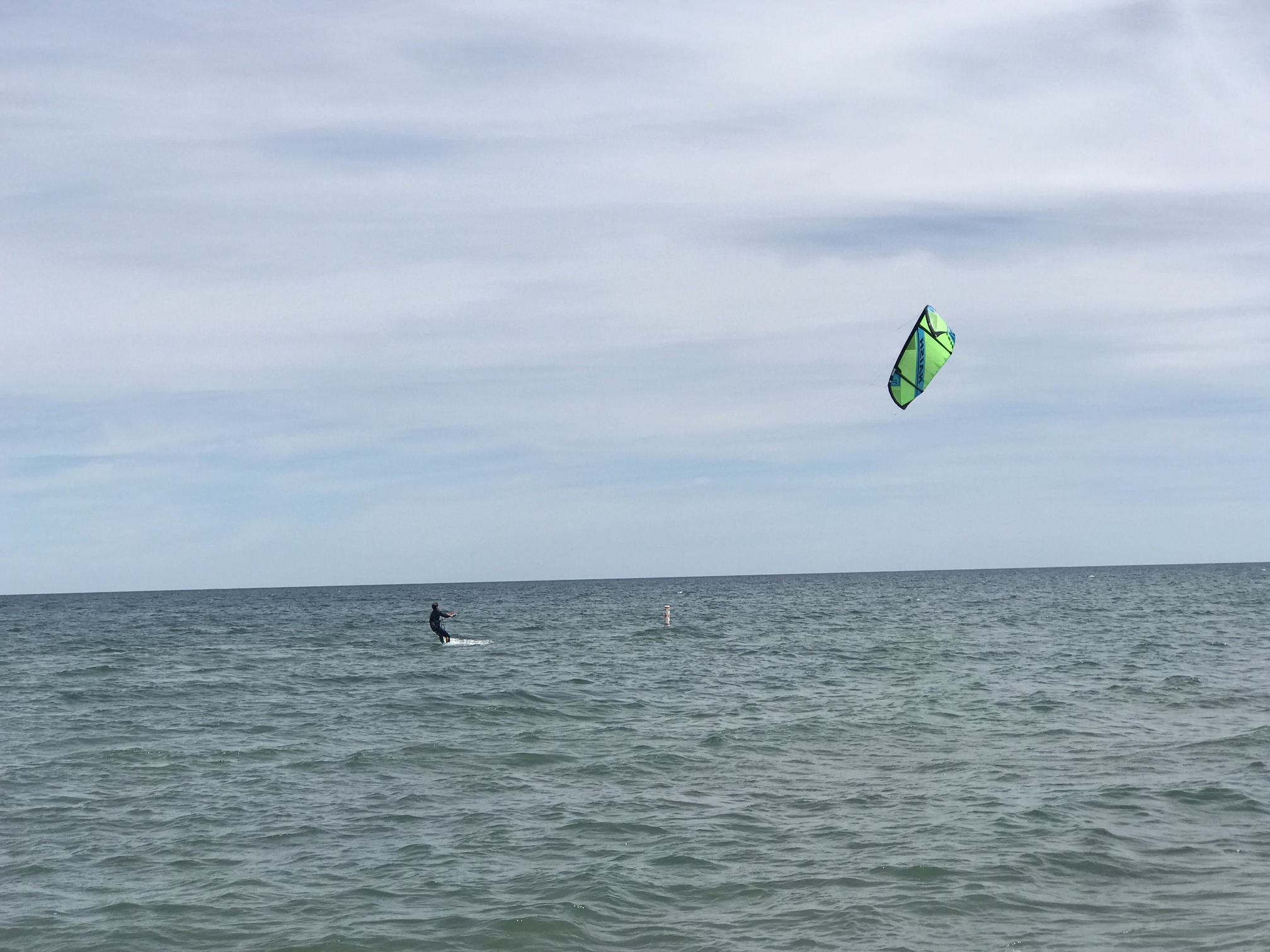 There is a strong tide on Lake Ontario but no waves, and Woodbine is quite windy. In addition to body-boarding, there is kite-boarding, as seen here. Woodbine is also a great place to fly a kite, as there is a lot of room to do so.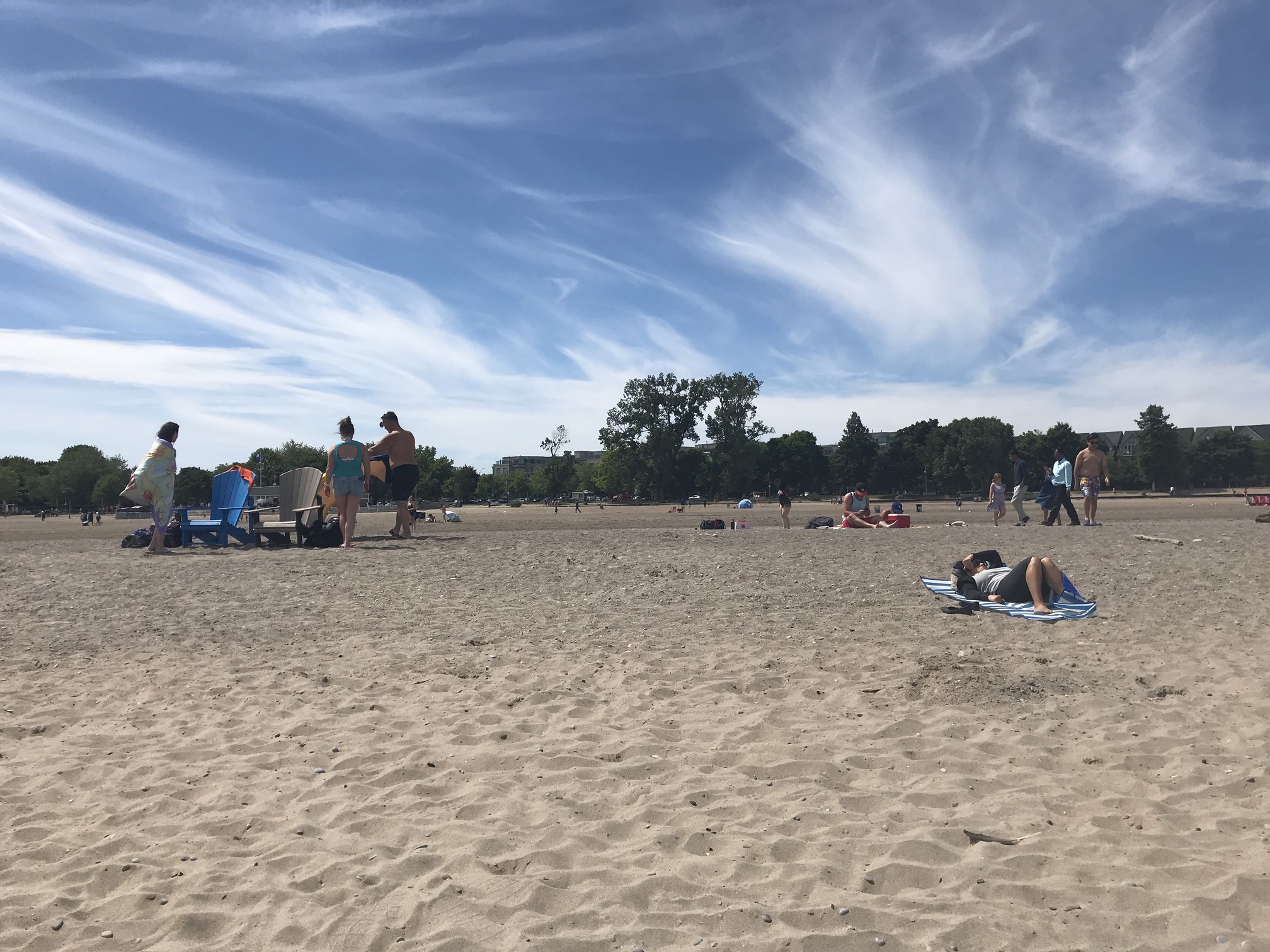 It's twenty after three and the sun is no longer directly overhead. The sun will set at 9:03 on this date and also tomorrow. Sunrise came at 5:37 this morning, resulting in a 15 hour and 25 minute day. June 21 was the longest day.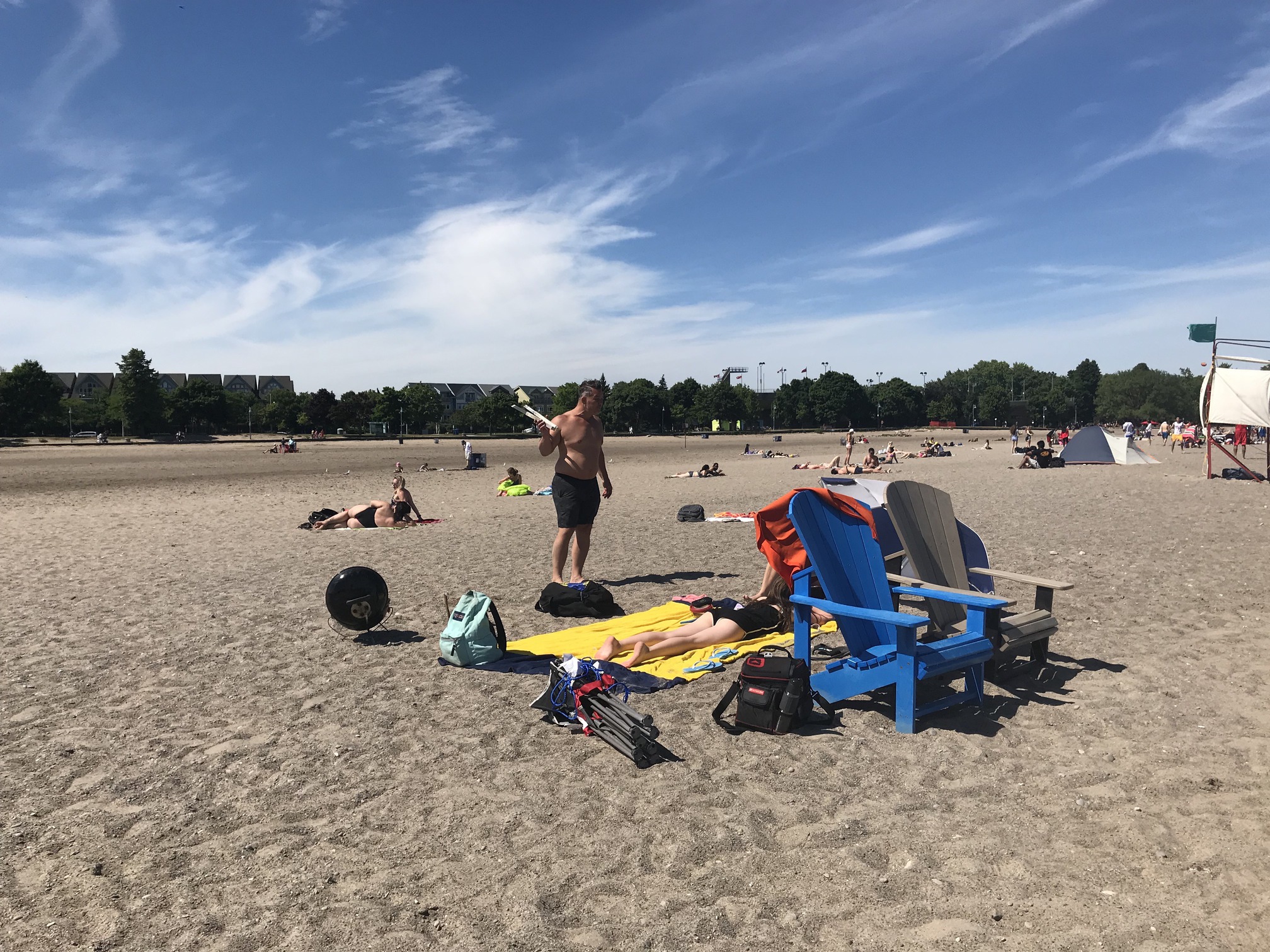 An early dinner on the beach is just the thing. There will be good sun for another two and a half hours, even though it is still a little windy. It will be easy to clean up, as there is trash disposal available. Bon appetit!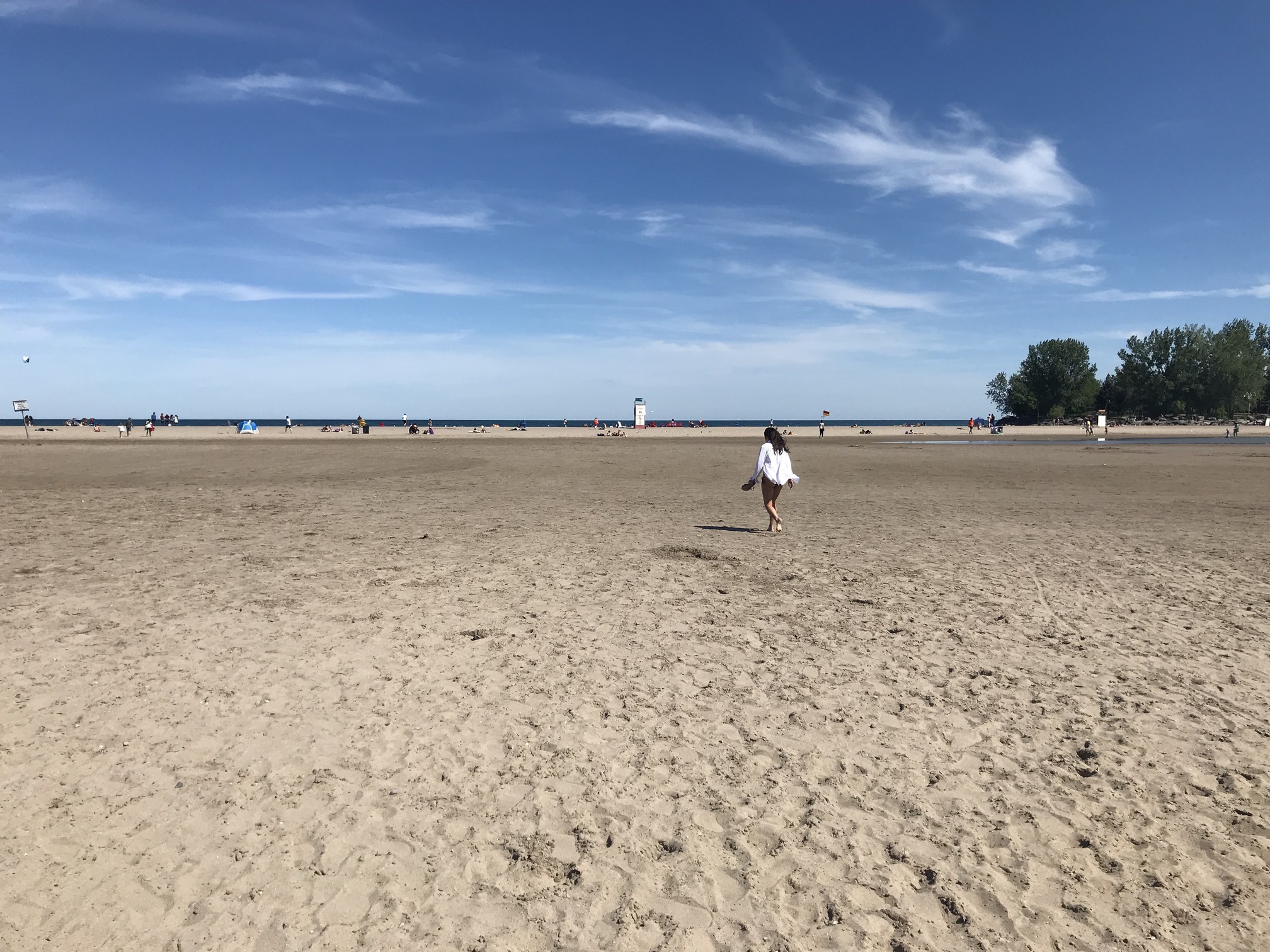 The drive back to Vaughan, to the north, will be about 45 minutes, and that's before rush-hour really begins. Some people are just now heading here, as their obligations for the day have ended. One last look at Woodbine shows a deep blue sky and a beautiful shoreline.